Springfield Armory continues to build out its XD-M Elite line of pistols. The newest XD-M Elite 3.8" Compact OSP adds an easy to conceal, easy-to-shoot .45 ACP to the line-up. It shares a lineage with the rest of the XD-M Elite family, but most closely resembles its 9mm cousin, the XD-M Elite 3.8" Compact OSP 9mm.
The .45 ACP 3.8" Compact is a 10+1 gun that offers a solid capacity of big-bore cartridges for those looking to supplement the 9mm they already own with an additional caliber, or as a big-bore option for those that prefer the larger .45 ACP.
Let's take a look at the details of this new .45 concealed carry handgun.
XD-M

Elite

When it comes to the XD-M Elite pistols from Springfield, you are getting a top-of-the-line polymer-framed pistol packed with all the features.
For me, the "M" stands for Modernized. The new .45 Compact has all the trimmings to make it a modern performance handgun. The hammer-forged, Melonite-coated 3.8" barrel is match grade and is stamped as such to prove it. It certainly outshot my abilities when I tested it at 15 yards.
The META trigger that the XD-M Elites sport is certainly a match-grade trigger. It's one of the best performing out-of-the-box triggers I've tried on polymer handguns.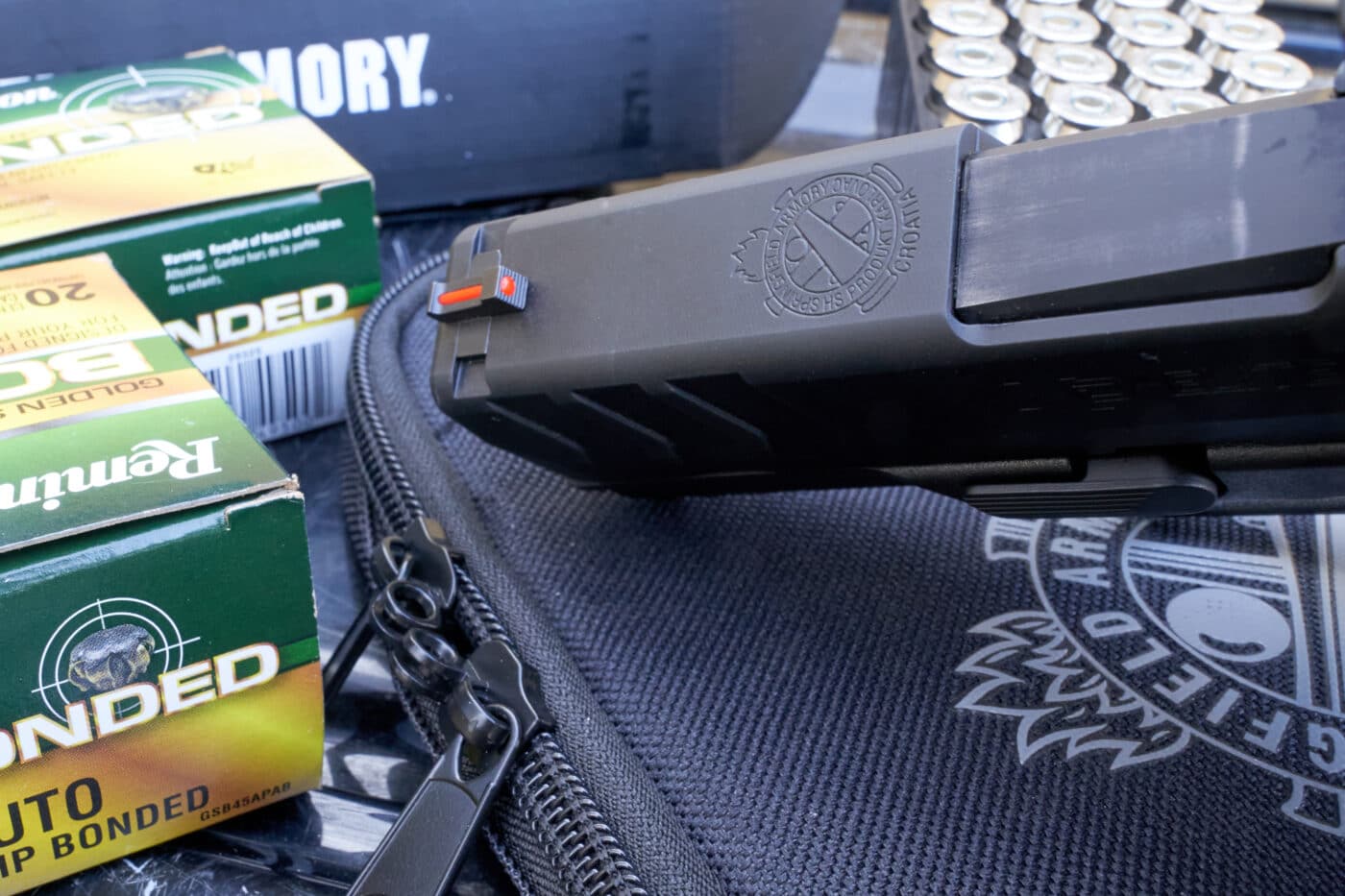 This particular trigger broke cleanly with a five-shot average of 5 lbs., 6.5 oz. The creep before the wall is long but smooth and consistent, and there was very little overtravel after the shot was fired and just a touch of a bounce. The reset spring is stout and provides a firm push as you move your finger forward. Again, I like this trigger a great deal.
Trigger Pull Measurements
| | |
| --- | --- |
| Measurement | Weight |
| 1 | 5 lbs., 11 oz. |
| 2 | 5 lbs., 5.5 oz. |
| 3 | 5 lbs., 3 oz. |
| 4 | 5 lbs., 6 oz. |
| 5 | 5 lbs., 7 oz. |
| Average | 5 lbs., 6.5 oz. |
The Slide
The XD-M Elite features don't stop with the match-grade barrel and trigger.
The slide is of forged steel, creating a denser, stronger part. The grain of the metal aligns during the forging process and allows for finer machining and a more durable part. The slide is finished with a rich and attractive Melonite coating for durability and corrosion resistance.
The slide features both front and rear slide serrations that are practical and attractive. As indicated by the OSP in the name (which stands for "Optical Sight Pistol"), the top of the slide is cut for an optic and it wears a set of very practical sights.
The rear sight is a Tactical Rack U-Dot sight and the front is a high-visibility fiber-optic sight. It should be noted that the sights are standard-height sights, and if you are looking for backup iron sights for use with an optic mounted you will need likely to change them out.
A Compact Frame
The polymer frame of the XD-M Elite 3.8" Compact OSP has all the features you expect from an XD-M Elite. It features effective texturing, and the hand fits high under the beavertail to assist in recoil control. The triggerguard is aggressively undercut and the backstrap is replaceable (between three included sizes) to fine-tune the fit. The dust cover features a Picatinny rail for the mounting of accessories such as a light or laser.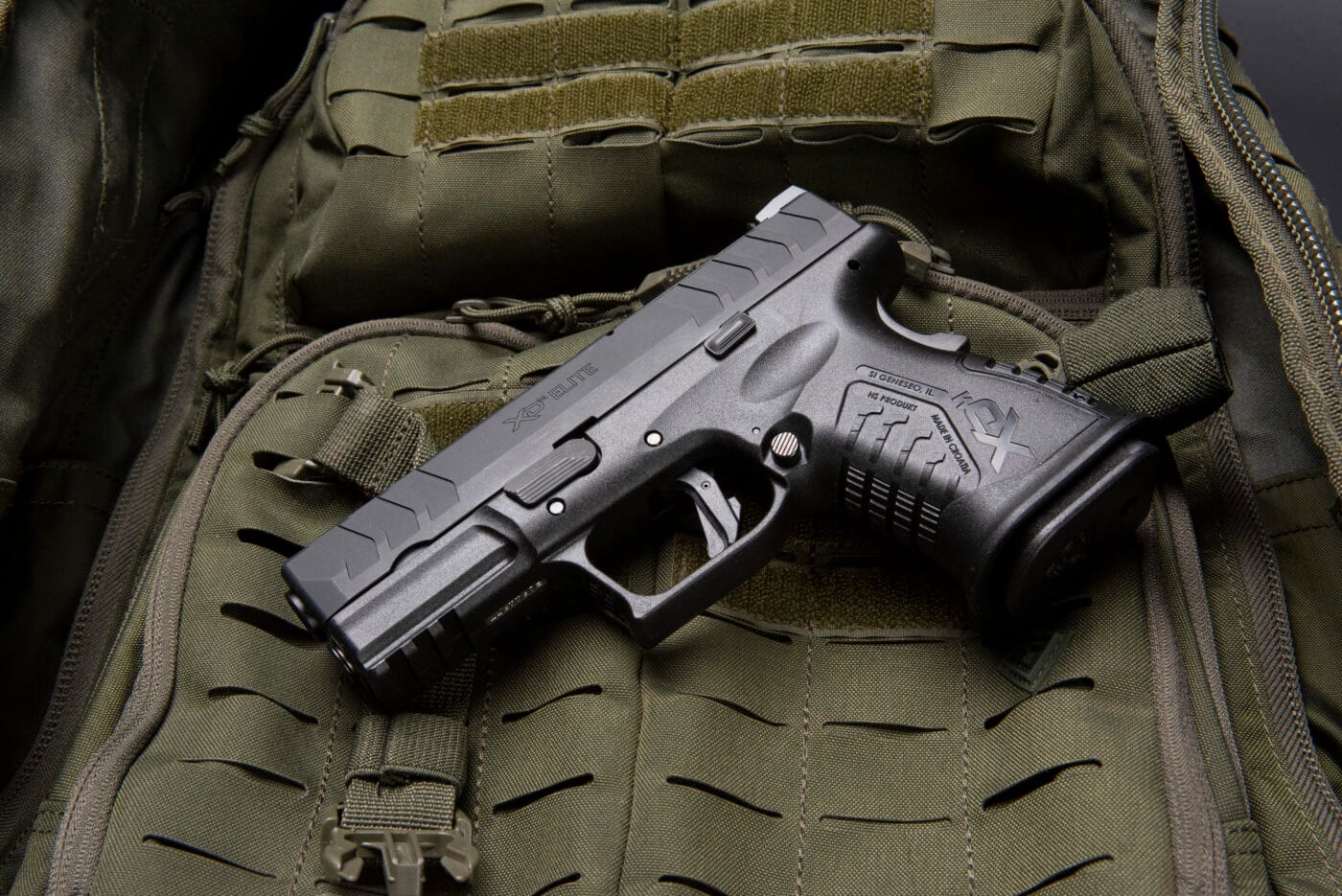 The short flared magazine well is removable and allows shooters to quickly funnel in a fresh mag during a reload. I did all the shooting with the magwell in place, but the next time I take this pistol out the magwell will be removed to see if I can find a bit more purchase for my littlest, but still important digit.
"Ambiness"?
We already addressed the META trigger, but I wanted to also address the rest of the controls on the pistol. One of my favorite features of the XD-M elite pistols is their completely ambidextrous nature. Both the magazine release and the slide stop lever are ambidextrous.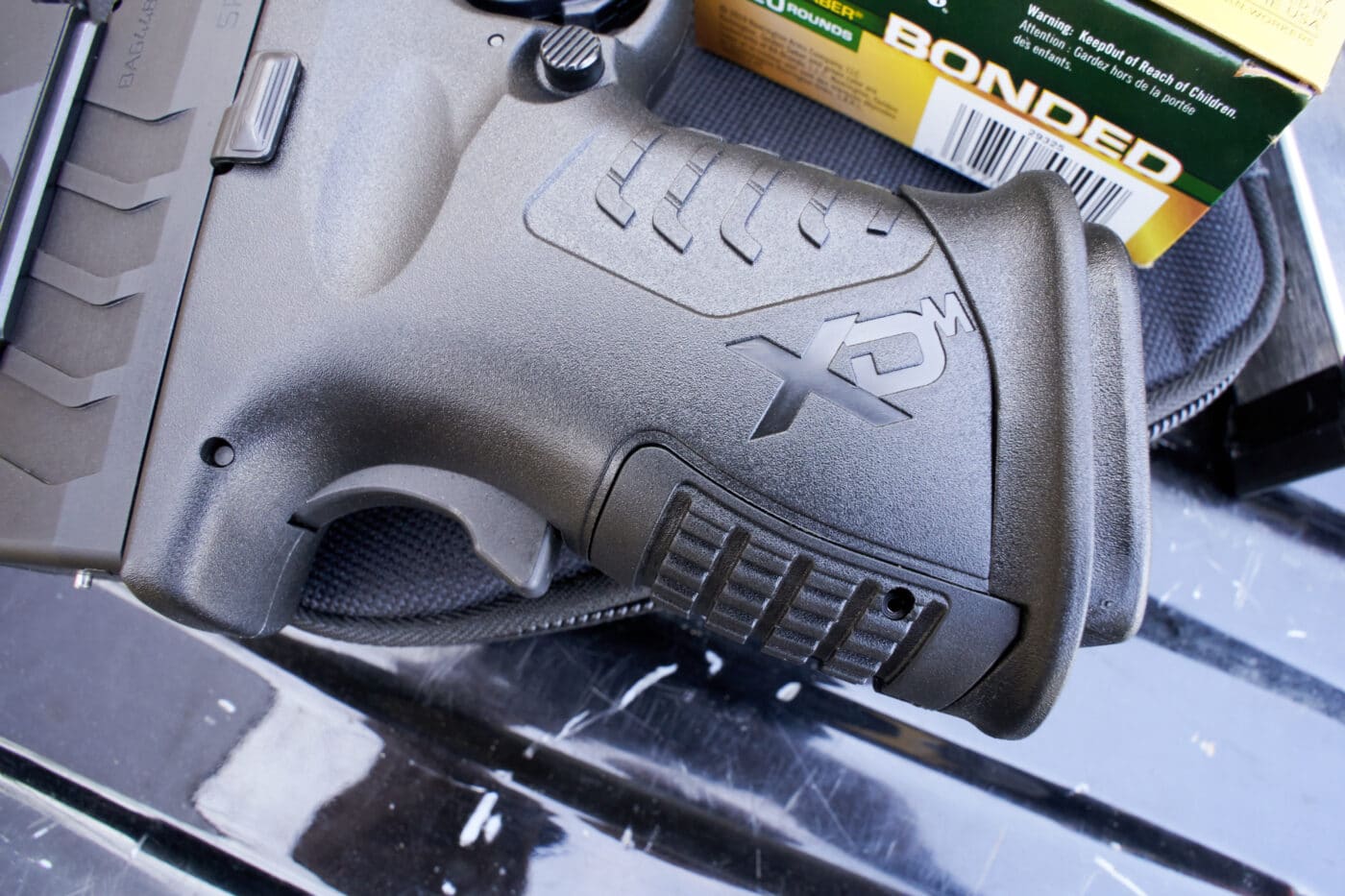 There is no need to swap controls to set them up how you want them. The mag release is on both sides of the gun all day, every day. The slide stop lever serves as both a slide lock and a slide release on both sides of the pistol. I very much appreciate the ability to operate the gun easily, regardless of which hand is my primary hand at the moment.
Specifications
Here are the specs on the Springfield XD-M Elite 3.8″ Compact OSP .45 ACP:
Chambering
.45 ACP
Barrel
3.8″
Weight
25-26.5 oz.
Overall Length
6.75″
Sights
Fiber optic front, Tactical Rack

U-Dot

rear; HEX Dragonfly red dot
Grips
Polymer, integral
Action
Striker-fired
Finish
Black
Capacity
10+1 (two)
MSRP
$653, $843 w/HEX Dragonfly
Have It Your Way?
As noted earlier, OSP stands for "optical sight pistol" and, from a practical stance, it means that the handgun is ready to have an optic mounted on the slide from the factory. Red dot sights are no longer the way of the future. Instead, they are here and now. Springfield is obviously aware of this, and the way they are developing their product line makes it clear.
The New XD-M Elite OSP is available with or without the HEX Dragonfly red dot sight (see the Dragonfly review), but you might notice that the option that isn't available is an uncut slide. This is a smart move on the part of Springfield. On the business end, it reduces the number of SKU's that need to be manufactured, shipped and stocked. On the customer end, it makes sense because it provides the greatest flexibility to the customer.
It's simple: If you don't want a red dot sight on your gun, leave the plate in place and run your irons. If you do want a dot, get one mounted up and sighted in. If you change your mind after you made your purchase? No big deal. Put the dot on or take the dot off. No need to have your slide cut.
Springfield is doing a good job of ensuring that you as the customer have all the options you might want in the future.
Shooting
I really enjoyed shooting the XD-M Elite 3.8″ Compact OSP. Both Remington and Federal Premium ammunition sent some ammo to help with the project and I dipped into some of my personal stash to round out my testing.
People talk about the .45 as being a big caliber, but in this XD-M Elite it doesn't shoot like one. Instead, the gun simply has a slow, solid push.
I was thrilled with how the 3.8" gun performed at 15 yards. I turned the HEX Dragonfly down so that I had a very fine aiming point. I simply did my work and pressed the trigger. The XD-M Elite Match barrel took care of the rest. My groups with all the ammo I had on hand sat pretty much between 2" to 2.5" range if you discount one serious flyer I called.
Shooting Results
Springfield Armory XD-M Elite 3.8" Compact OSP .45 ACP:
| | | |
| --- | --- | --- |
| Load | Group Size | Velocity |
| Golden Saber Bonded .45 Auto 185-grain BJHP | 2.170" | 900 fps |
| Federal Syntech Action Pistol .45 Auto 220-grain TSJ | 1.941" | 695 fps |
| Federal Hydra-Shok Deep 210-grain 45 Auto | 2.305" | 903 fps |
| Magtech .45 ACP 230-grain FMJ | 2.591" (without flier) | 753 fps |
The group size was measured center to center after shooting five-shot groups freehand at 15 yards. Velocity is the average of five shots using a LabRadar chronograph.
Reliability
When we are talking about a carry gun, reliability is paramount. The XD-M Elite 3.8" compact didn't disappoint. It ate everything I threw at it without a hiccup. I ran full metal jackets, synthetic jackets and hollowpoints. No issue. Bullet weights were all over the place, from 185-grain to 230-grain. The gun just ran.
My initial testing spanned a couple of hundred rounds, and I am confident that this pistol has the potential to be as reliable as you need it to be for self-defense.
Conclusion
The XD-M Elite 3.8" Compact OSP represents a solid offering for someone who is looking for a grip safety-adorned, optics-ready concealed carry handgun. It has a feature set that will please discerning shooters with reliability and precision to match.
Springfield offers this XD-M Elite with the HEX Dragonfly optic for an MSRP of $843 and without the red dot for $653.
Editor's Note: Please be sure to check out The Armory Life Forum, where you can comment about our daily articles, as well as just talk guns and gear. Click the "Go To Forum Thread" link below to jump in and discuss this article and much more!
Join the Discussion
Featured in this video
Continue Reading
Did you enjoy this video?
209