I'm probably not telling you anything that you don't already know, but shooting handguns is fun. Do you want to take that fun to the next level? Then shooting them with slide-mounted red dot optics is the answer, and the reason is simple — it's easier to get hits.
Today, I'm reviewing the new HEX Dragonfly optic that can make shooting easier than using traditional "notch and post" sighting systems. Regardless of your stance on the red dot vs. iron sights argument, we know that getting hits is the key to really enjoying a shooting session.
The popularity of slide-mounted red dots isn't just some random phenomenon. Instead, it has been based on a consistent improvement in technology and innovation over the years, as well as an understanding of the shooting issues people may face. As a result, it seems that dots are everywhere these days, and there are some very good reasons why. In this article, we are going to be looking at the Dragonfly. But first, let's consider why you might need a red dot optic.
The Why
Regardless of the sight radius of your gun, using a red dot on your pistol can help you shoot with more precision and accuracy, especially at distance. A moderately sized dot, say around 3.5 MOA, allows you to refine your aiming point and repeatedly put rounds on a small area of the target. At the same time, you are provided with feedback on the movement of your gun by the dot on the optic's window before you even press the trigger. That feedback generates a faster learning curve when it comes to getting hits at distance.
And when it comes to getting hits, being able to use a refined aiming point is always an advantage. But, depending on lighting conditions, sometimes it can be hard to pick up your iron sights. That's not the case with an electronic red dot optic. Red dots, especially either with manual brightness settings for fine-tuning or auto-adjusting ones that react to ambient light on their own, make it easier to aim regardless of the lighting conditions.
Another major advantage of a red dot is the ability to "target focus," which allows you to focus on your target rather than your sights. The principle is simple enough. The sight's emitter projects a dot onto a glass lens that's right on top of your handgun slide. Despite the fact that the projected dot is just a couple of feet away from your eyes, your brain imagines that the dot is at the same distance as your target.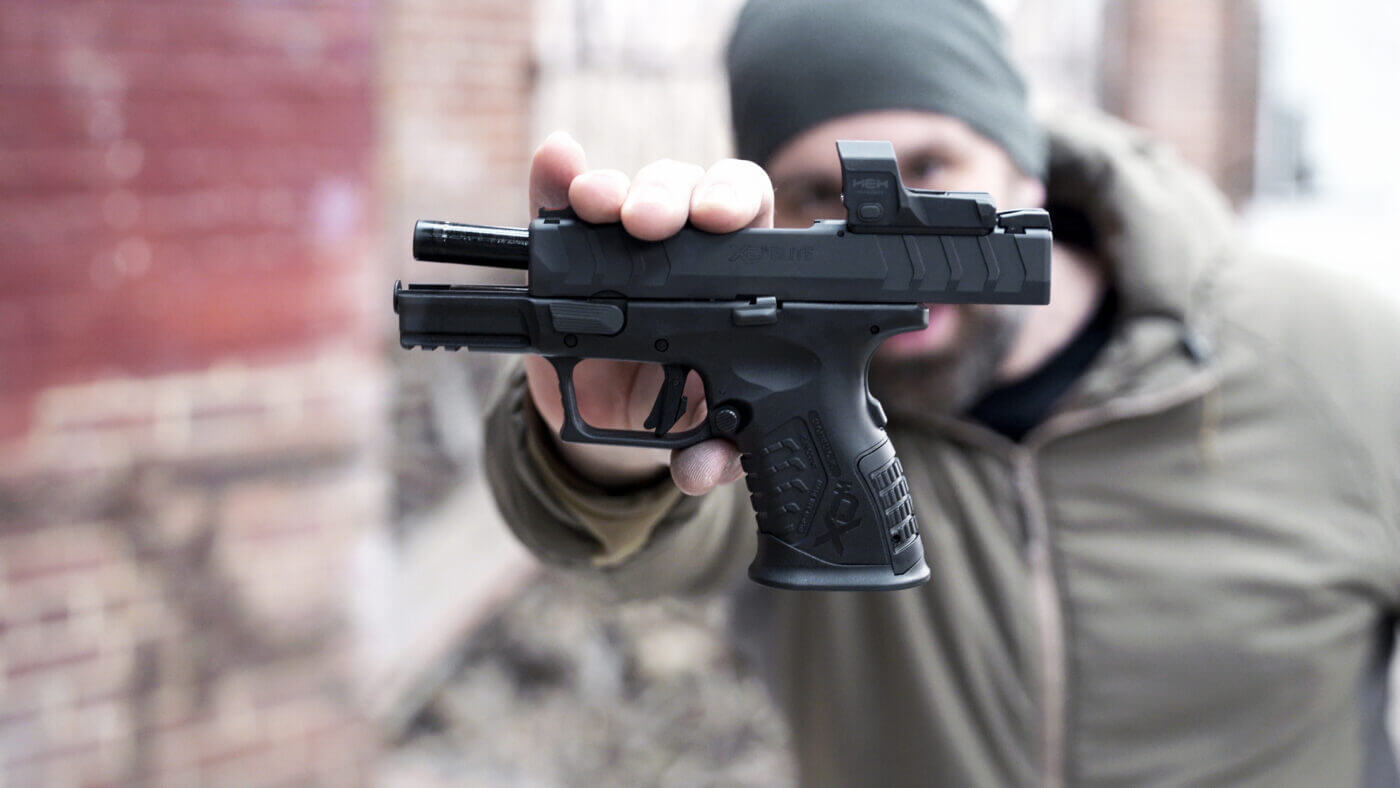 With a red dot, you never have to shift your focus from the sight to the target, or conversely from the target to the sight. Just look at your target, and the dot will be superimposed right where you need it. This applies to the red dot both on a pistol as noted, or also on a long gun.
All the Buzz?
So, let's get back to that HEX optic I mentioned. The red dot is the HEX Dragonfly, and it's a standard-sized red dot electronic optic designed with full-sized handguns as well as long guns in mind. Featuring the "Springfield Standard" footprint shared with the Vortex Venom and Burris FastFire, the Dragonfly is designed with durability and ease of use in mind.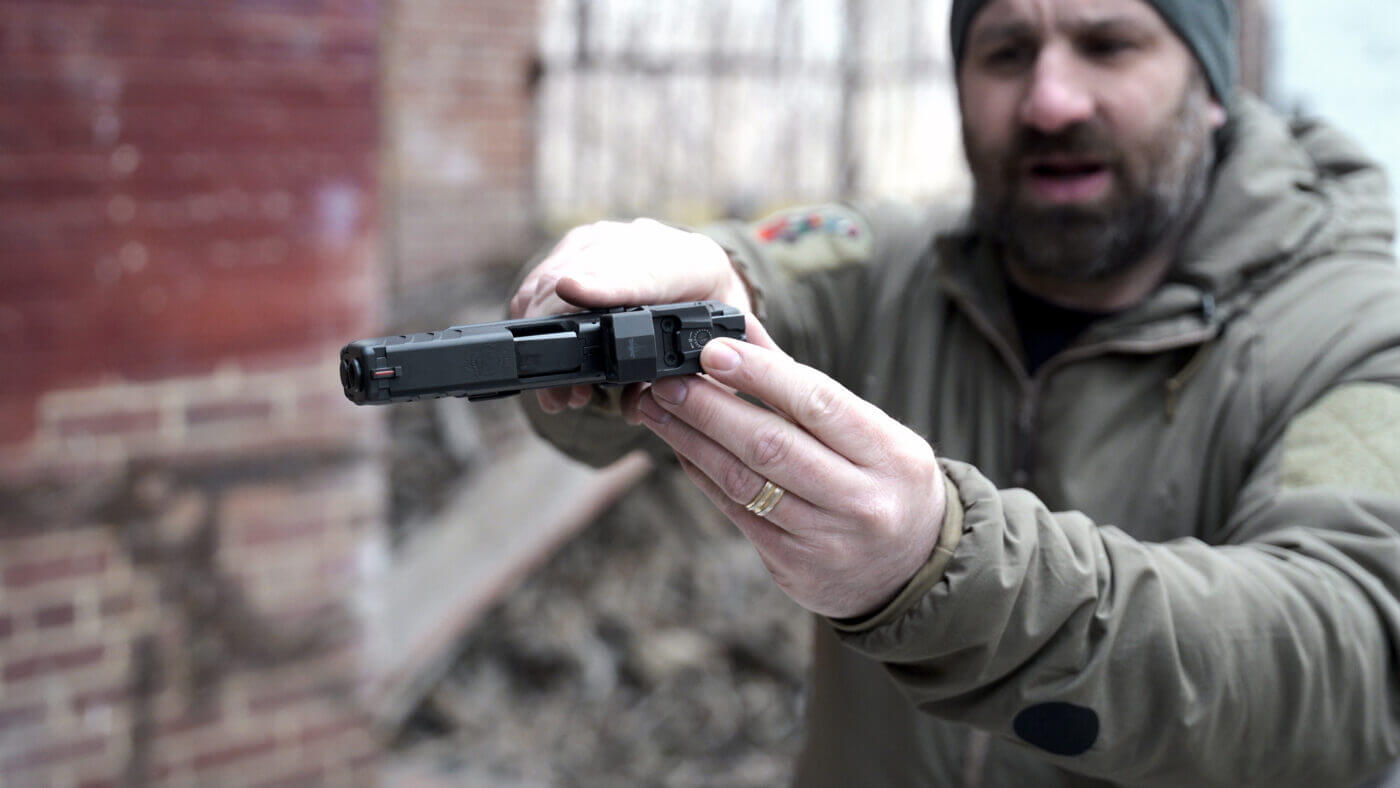 Frankly, when I think of what's important for an optic, reliability is at the top of the list. Life and death situations require solutions that are dependable, and the Dragonfly is designed with dependability in mind. The Dragonfly features a beefy housing that is machined from 6061 T6 aluminum, and it is thick. Topped off with Hardcoat anodizing, this optic is built to withstand the abuse of recoil and a whole host of hardships. And within this rugged housing is a scratch-resistant, anti-glare-coated glass lens for the 3.5 MOA red dot. Springfield's choice of durable materials and coatings set the stage for the duty-ready nature of the Dragonfly.
Simple Choices
When it comes to ease of use, the Dragonfly has everything you need. The red dot ships with a Picatinny mount for attaching the optic to a long gun, and as mentioned uses the Springfield Standard footprint for mounting to handgun slides. To mount onto a pistol like the XD-M Elite, you simply mount a Springfield #1 plate to the pistol along with the included sealing plate and then mount the optic. Easy. Oh, and matching up with the optic's durability is an IPX7 waterproof rating, meaning the optic can be submerged in water up to one meter for 30 minutes.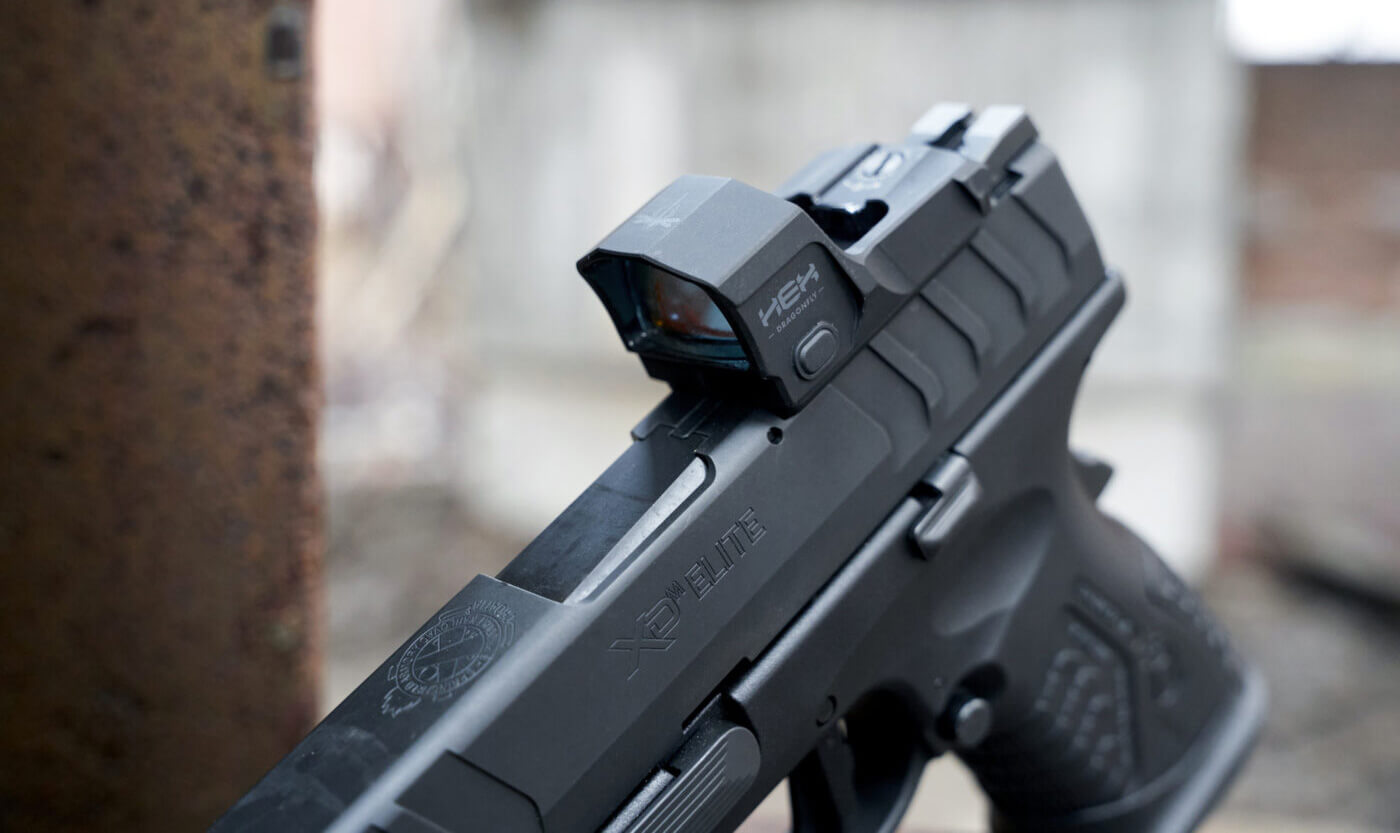 When it comes to using up the Dragonfly, it's an easy process as well. The Dragonfly depends on a single button to control the emitter. One press turns the dot on to the lowest brightness setting. Each push cycles the dot's brightness up through the eight different settings, and one more push turns the optic off.
All the functions are on a single button. It doesn't get any easier than that.
The Dragonfly runs off of a single, bottom-loading CR2032 button battery that is included with the red dot. It's a common cell, easy to find at your local store, and it lasts. The single battery will run for more than 100,000 hours (or three years according to the HEX website). To improve power consumption, the optic cycles off after 16 hours. When you turn your optic on, you select the brightness level. The Dragonfly remains at the brightness you chose until you change it or the optic turns off.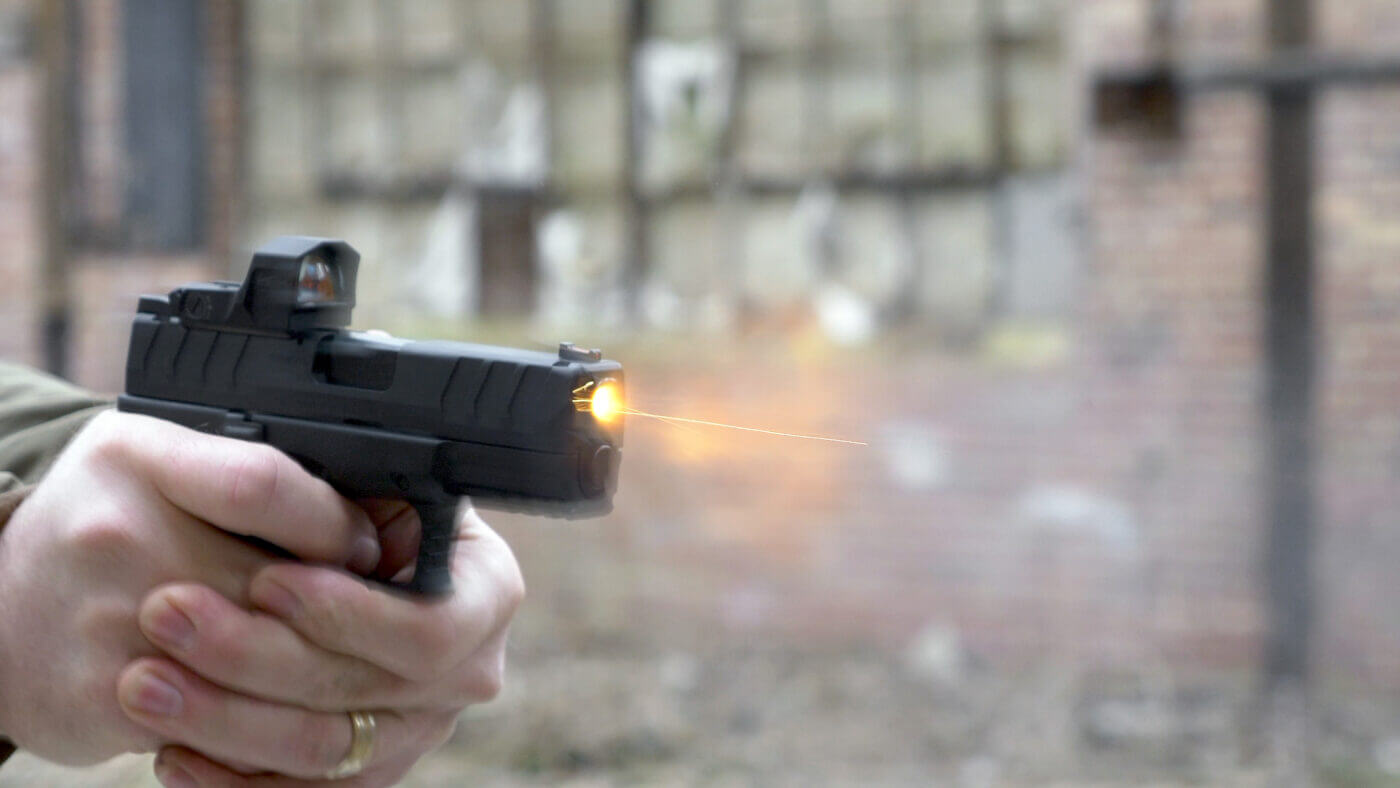 The Dragonfly's housing features a hood that extends out in front of the glass lens. This serves as a shield to protect the glass from impacts and adds further protection for the lens if the optic's face were to come into contact with anything. Finally, the rear of the housing is serrated to help reduce the glare, which helps the shooter focus on the dot.
Clearly, the HEX Dragonfly has an impressive feature set, especially when you consider that its MSRP is just $249.
HEX Dragonfly Specifications
| | |
| --- | --- |
| Optic Type | Standard Red Dot |
| Dot Size | 3.5 MOA |
| Magnification | 1X |
| Weight | 1.2 oz. |
| Dimensions | 1.90″ (L), Width: 1.14″ (W), 1.01″ (H) |
| Body | Machined 6061 T6 Hardcoat aluminum |
| Lens | Glass, scratch-resistant & anti-glare coating |
| Operation | Manual adjustment, eight settings |
| Battery/Life | One CR2032, 100,000 hours |
| MSRP | $249 |
Range Time
I had a chance to get some range time with the Dragonfly mounted on top of a Springfield Armory XD-M Elite Tactical OSP 4.5" 9mm as well as an XD-M Elite 3.8" Compact OSP 9mm, and it shot great on both. The Dragonfly was easy to track. On presentation, all it took was some intentional pressure from my pinkies, and the dot dropped into the window right where I wanted it. With each trigger press, the 3.5 MOA dot would lift and then drop right back to the point of aim.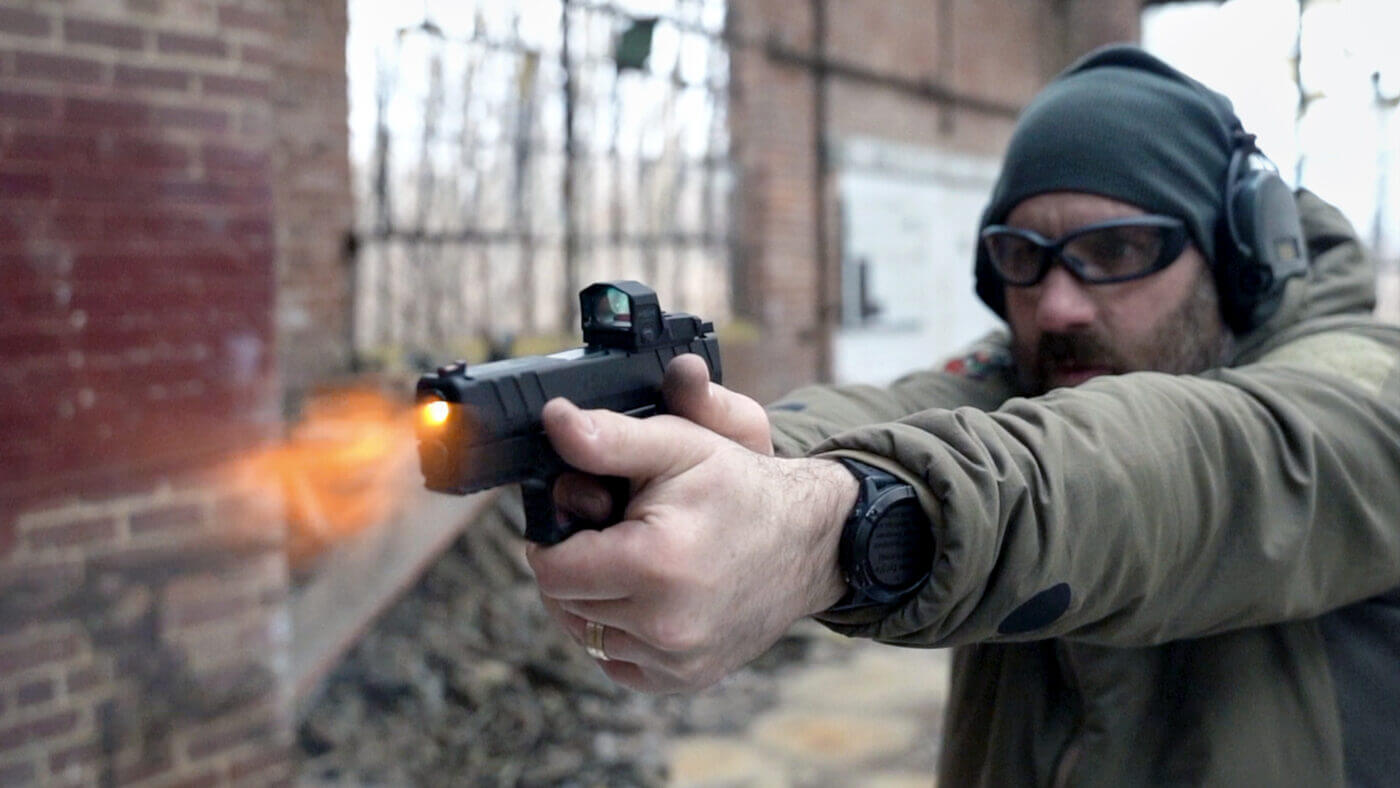 Regarding adjustments, that single button is really the way to go when it comes to setting the brightness. No complicated button press combinations to remember to lock the brightness in. Simply set it and forget it.
Also, the Dragonfly has plenty of adjustments when it comes to windage and elevation. The sight features 160 MOA windage and elevation adjustments. I especially like that the clicks are audible and tactile, and they can be easily made with a 9mm case. I had the Dragonfly zeroed in no time, and it has remained zeroed since. Check out Gunspot's article on how to sight in a red dot for a quick way to sight in your optic.
Conclusion
While there are plenty of red dot sights out there from which to choose, Springfield Armory's HEX stands out. The Dragonfly is a very reasonably priced optic, but with premium build quality and features. I have no doubt that the Dragonfly will serve you well, whether you are mounting it on a handgun or a long gun. It can handle all the hard knocks you can throw at it on the range, at the match or in the field. If you have been wondering if a red dot belongs on your gun, the HEX Dragonfly certainly deserves a look.
Editor's Note: Be sure to check out The Armory Life Forum, where you can comment about our daily articles, as well as just talk guns and gear. Click the "Go To Forum Thread" link below to jump in!
Join the Discussion
Featured in this video
Continue Reading
Did you enjoy this video?
100