I've always been drawn to the "tactical" style firearms. Call it too many movies or videos games as a kid, but to me they're just plain cool. Let's face it, a huge reason most of us got into firearms in the first place is because of how much fun they are, their look, and how they make us feel. The fact they are useful tools for self-defense, sport and more is a nice, added bonus!
The beautiful thing about firearms here in the United States is, you can have as many as you want! I've got my carry guns, SHTF guns, utility guns and fun guns. So, when I had the chance to attend a Pistol 3 class from ER Tactical, I immediately knew which gun I wanted to run. The Springfield Armory XD-M Elite OSP in delicious FDE.
Where It Counts
In my opinion, the best way to see what a gun can or cannot do is to run it through a formal class, rather than just plinking freely at the range. There is usually more stress, positions you don't normally shoot from, and a high round count. You are certain to see where the firearm shines or fails in these scenarios in which your skills are tested.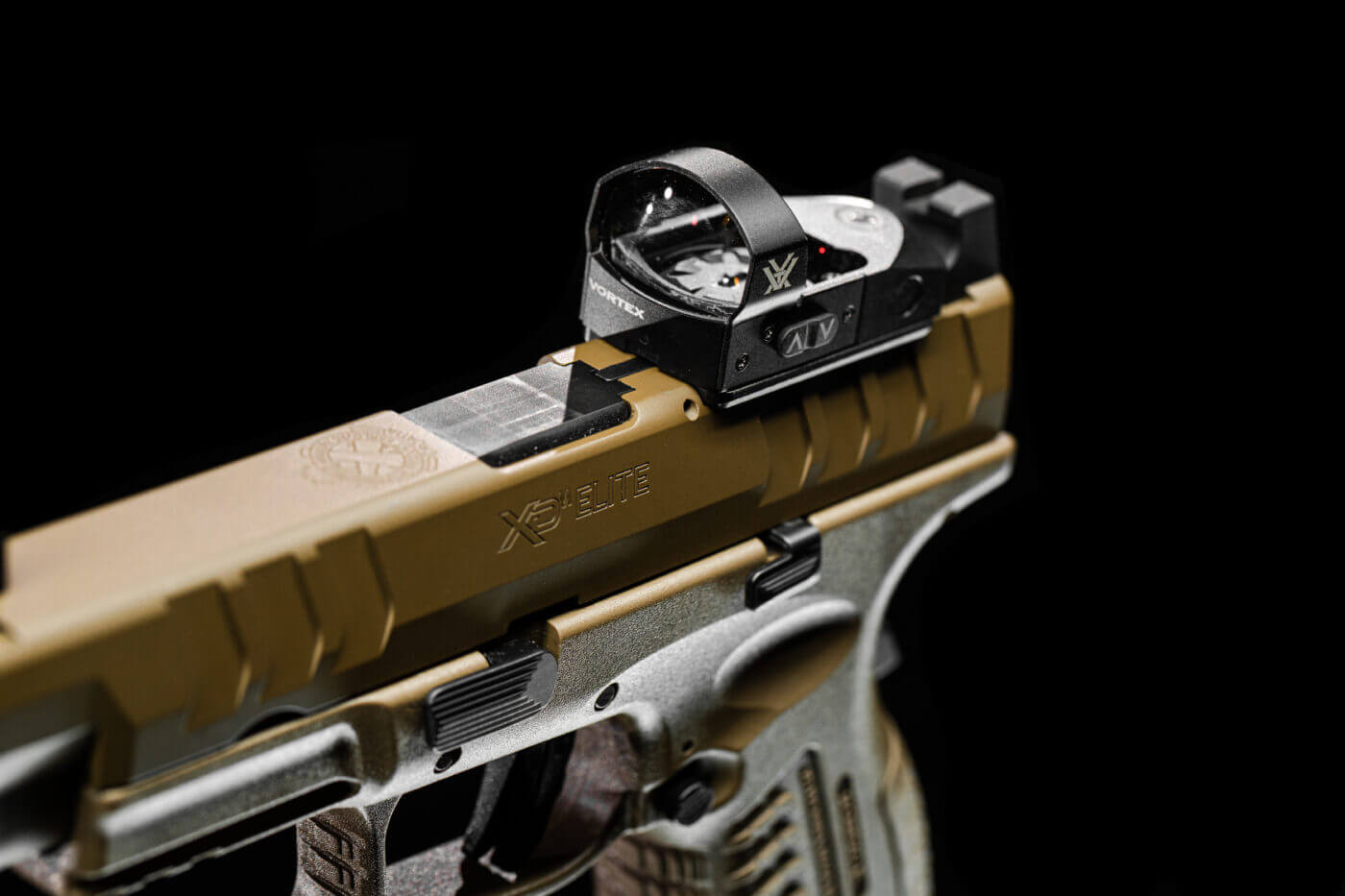 When testing a firearm, I like to run down the list of features and benefits the gun has and see how those play out in the real world for me. For the XD-M Elite OSP, here are my areas of interest from front to back:
5.28" hammer-forged steel threaded barrel
Co-witness suppressor-height sights
Enhanced slide serrations
Optic-ready slide
META trigger
Position of the slide release
Grip texture
Ambi mag release
Flared magwell
Backstrap safety
General reliability
A secondary benefit of testing out a new firearm is testing supporting equipment. For my belt set up, I chose a favorite of mine: Esstac KYWI Pouches and their Shooter's Belt. For the holster, I went with a T-Rex Arms Ragnarok with a mid-drop Safariland QLS. Finally, to test the optic capabilities of the XD-M I went with the Vortex Venom 6MOA Red Dot.
At the Range
We began the day warming up our draw and recapping some of the basics of pistol manipulation and safety. It's amazing how perishable these skills can be with extended time between training sessions, so a quick refresher is always appreciated. Throughout the class we worked on off hand shooting, reloads, one handed reloads, shooting from supine, firing from the draw once the handgun has cleared the holster and oriented towards the target, firing while moving, hammer pairs, NSR drills, failure drills and shooting under stress with an elevated heart rate. Let's take a look at our list of features and see how the pistol did under these circumstances in my hands.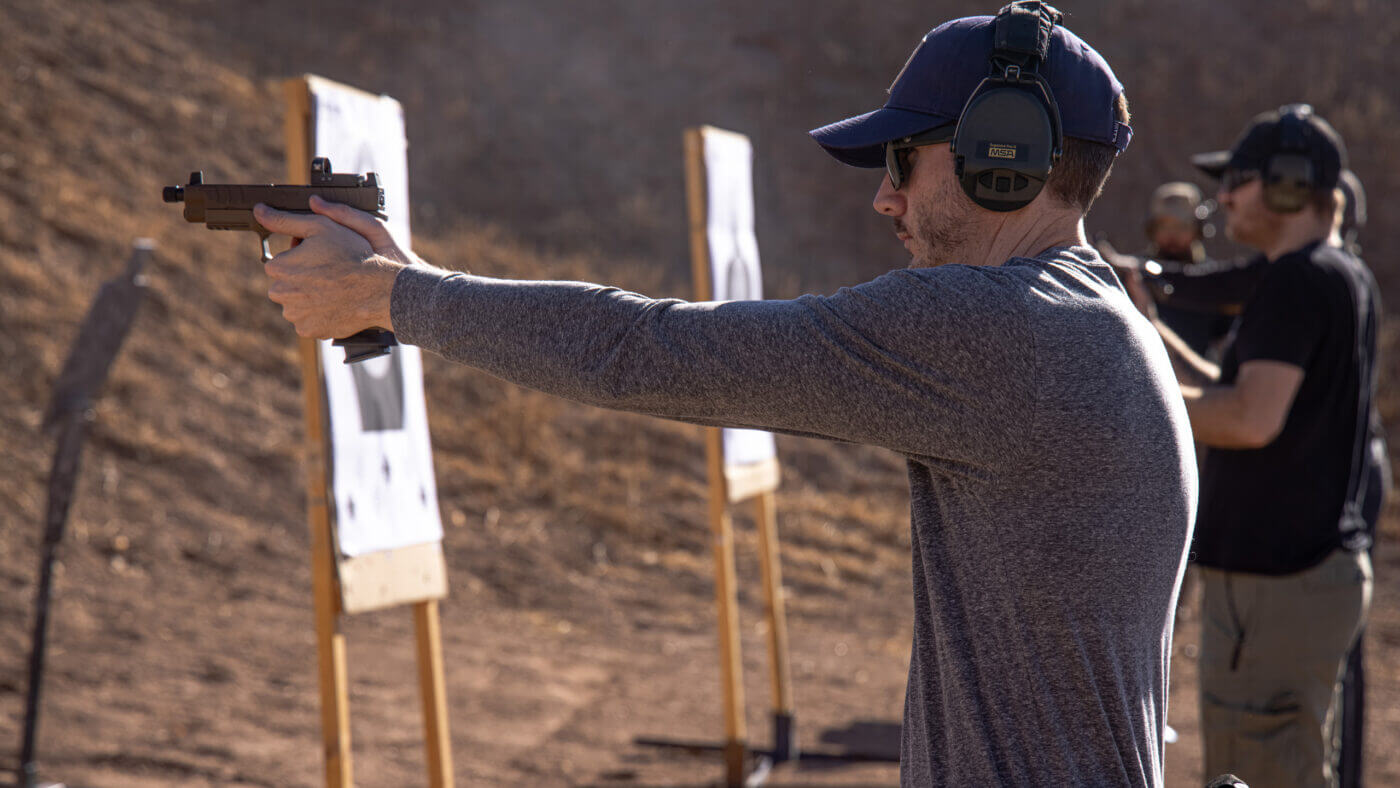 5.28" Hammer-Forged Steel Threaded Barrel: I wasn't running a suppressor, so the only advantage of the threaded barrel could be a slightly more accurate gun — and accuracy was never a problem here. The gun will always be far more accurate than I am capable of. In the future I do plan to test my SilencerCo Osprey on the XD-M Elite.
Co-Witness Suppressor Height Sights: These are very high sights. They can easily see over a suppressor, they aid in single handed reloads to rack the slide, and generally should be able to co-witness over any optic. With the Vortex Venom I was running, they kind of co-witness. You can certainly pick up the irons, but it's a bit slower as there isn't a full 1/3rd because the venom is one of the taller-bodied optics. Without an optic, the sights are very quick to pick up and very accurate. I usually prefer a colored dot on my front sight, but when running the red dot I didn't mind blacked out sights.
Slide Serrations: I found these serrations to be a great aid in manipulating the slide from the front or rear. They weren't too aggressive or too light. The perfect amount of form and function. When clearing the pistol, I didn't have to think twice, the grip was always available on the slide.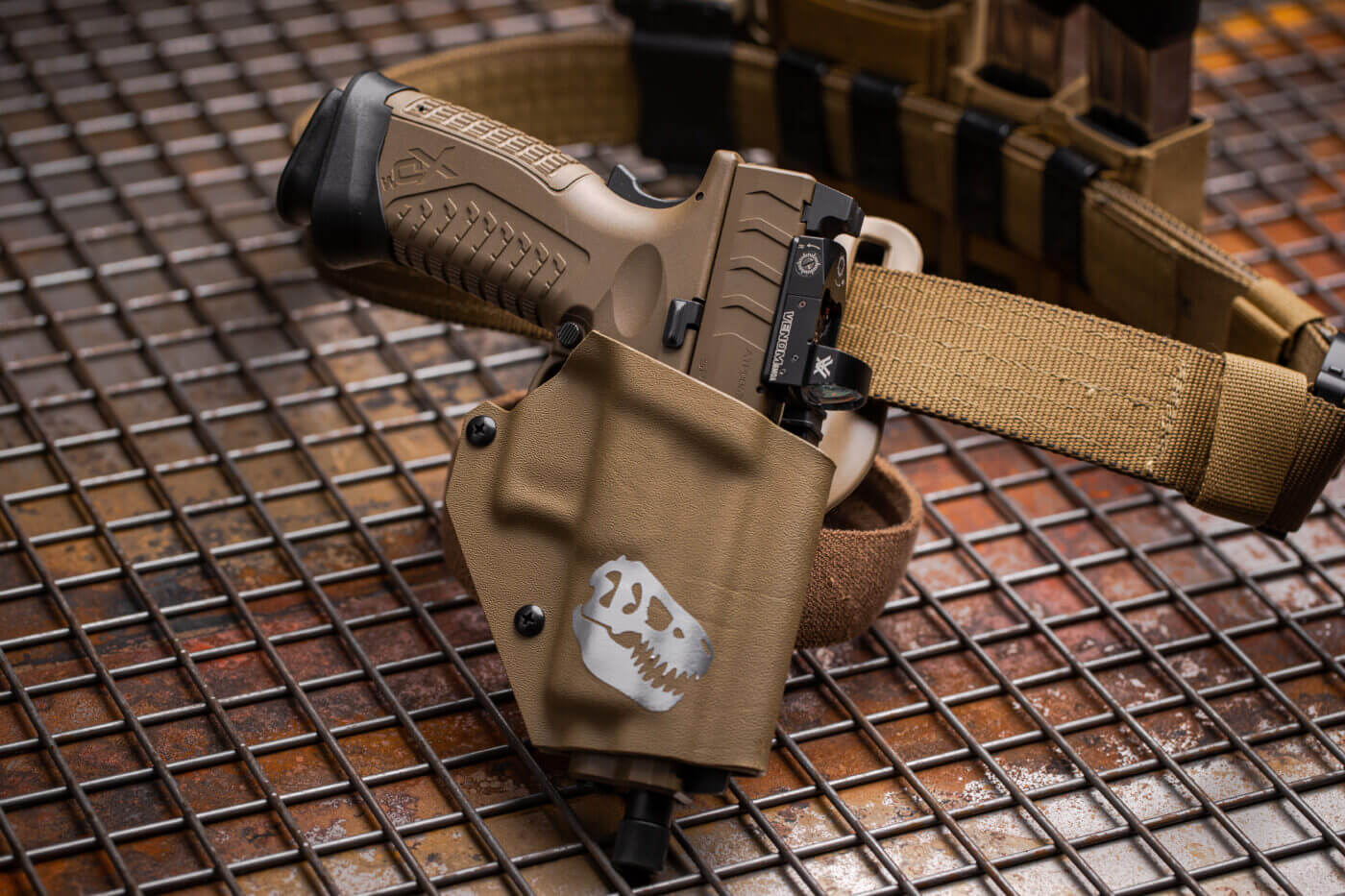 Optic Ready Slide: Red dots on pistol are all the rage these days. Fast sight picture acquisition, easier shots at distance, and keeping both eyes open are among the biggest benefits and it's great to see Springfield giving users the option of optics with this OSP (Optical Sight Pistol). Instead of just getting the cut or the pistol for a single optic footprint, SA opted to create plates for multiple optics. The benefit is that you can use or try out many optics; the drawback is that the optic doesn't sit quite as low as it could. But again, with a dot and suppressor sights, that isn't going to affect you all that much. The install was a breeze and the optic stayed put during the course.
META Trigger: I love tinkering with my guns and trying new parts, especially triggers. I love to get deep into the gun to see how it works and see where others can improve upon designs. But before changing out the trigger, I like to run at least a couple hundred rounds through the stock trigger to get a good feel for the differences. I was pleasantly surprised at how much I enjoyed the stock trigger of the XD-M Elite Tactical OSP. The flat face is a preferred design for me, and it was very crisp with a nice positive reset. The trigger made follow up shots a breeze.
Position of the slide release: The design and the position for the ambidextrous slide release makes manipulating it a breeze; in fact, almost too easy. I noticed I had to adjust my grip a bit from normal because I was putting pressure on the slide release and not letting the pistol go into slide lock when empty. Not a deal breaker, just something I had to adjust.
Grip Texture: I really love the look and design of the XD-M Elite's grip. It's a large grip with plenty of room for your hands, and with interchangeable backstraps I think most people will have an easy time finding a perfect grip size. Never during the course did I feel a lack of grip, or conversely my hands being torn up from too much grip.
Mag Release: I love that SA made the mag release ambi for off-hand manipulation. Its design is a fairly small circle, so I was curious if I would miss some of my larger aftermarket magazine releases on other pistols. For me though, the mag release was in the perfect position to reach without adjusting my grip, and the circle helped in actuating it from multiple angles of my thumb, especially at speed.
Flared Magwell: Between the stainless-steel mags and the removable flared magwell, it made me look forward to that slide lock and feeding the pistol again. It is an absolute breeze to quickly reload the XD-M Elite even blindfolded. It's almost difficult to not be John Wick on reloads with this pistol. The mag drops perfectly on empty and feeds with 100% confidence every time.
Grip Safety: If you would have asked me about this prior to running this pistol in a course I would have been wary of it's effect on reliability under duress. However, while participating in this class, never once did I even think about this feature, nor did it hamper my ability to handle or operate the XD-M Elite in any way. It was just simply there, but never got in my way. So, for those of you who like that extra layer of safety, no worries on reliability or function even under duress.
General Reliability: During the course of this pistol class I fired over 500 rounds over during a six hour session. The temperature was pushing 100 in the desert, the range is mostly dust and dirt that gets whipped up with wind or quick movements, and mags are dropped, kicked or stepped on all the time in that same dirt. We don't baby the firearms, we invite them to fail to see where we can or cannot trust them when needed most. I can happily say that I had zero malfunctions of any kind with the XD-M Elite OSP. It was extremely smooth, and it went GO every time I told it to.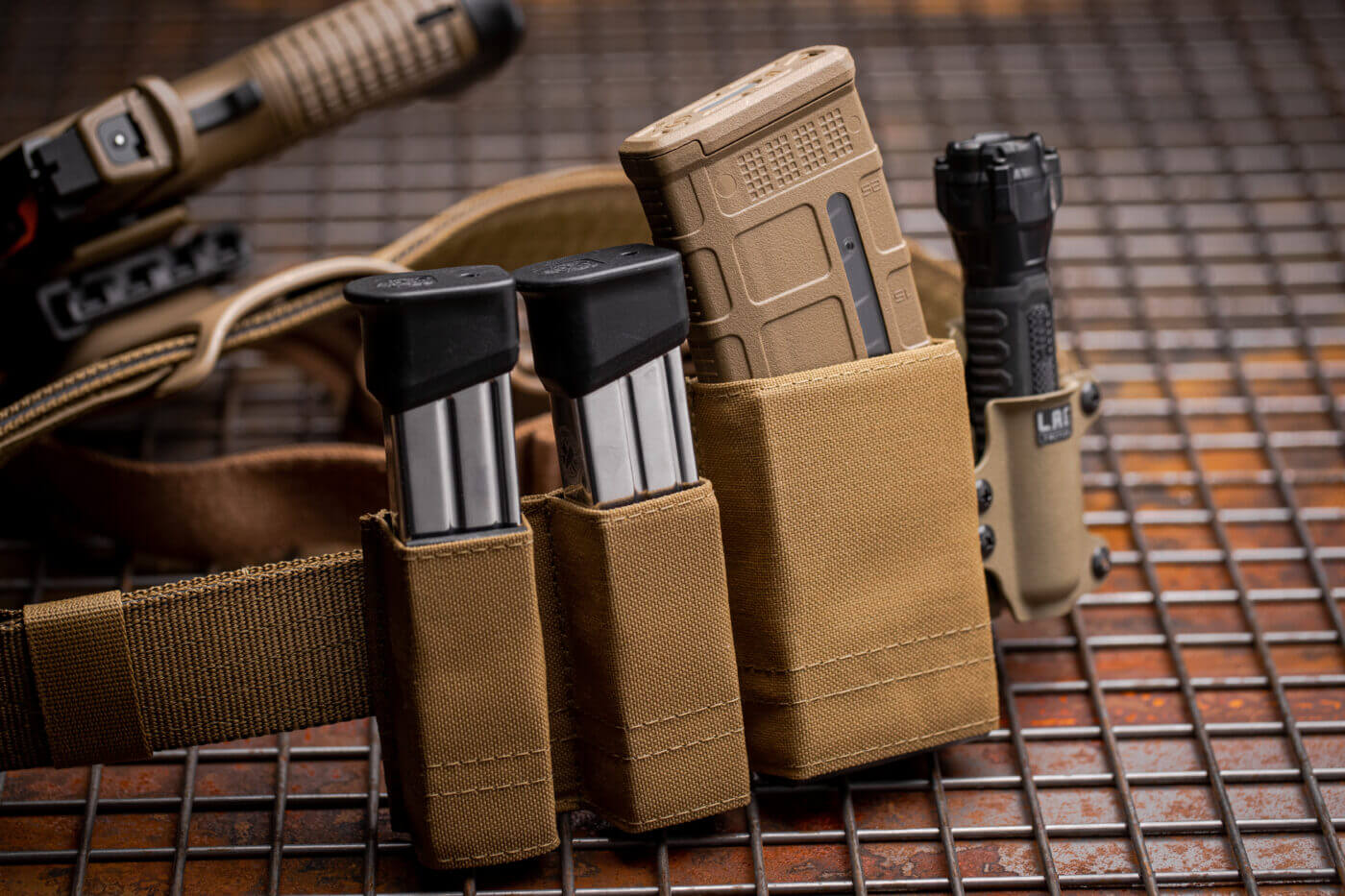 Secondary Gear
Esstac: If you haven't had a chance to check out the gear Esstac makes yet, do yourself a favor and head over to their website. Their KWYI mag pouches are an ingenious mixture of Cordura fabric and Kydex. They have great retention, and slamming a mag in quickly requires very little effort. There are plenty of mag pouches out there that let you grab quickly, but when it comes time to stuff them it's a chore. Not the case with the Esstac KWYI. I also ran their inner/outer 1.75" shooters belt. This inner/outer style is my favorite because you get the benefit of keeping your belt perfectly configured, as well as having a secure retention to your body via the Velcro inner. The belt also utilizes the tried and true cobra buckle, hard to go wrong there.
T-Rex Arms: I've always been a fan of T-Rex Arms holsters and their unwavering dedication to the 2nd Amendment and the gun community at large. They make a solid kydex holster that has a great amount of retention without using secondary devices such as buttons or snaps. They also make great use of the Safariland QLS system which is my preferred method of attachment for all my holsters.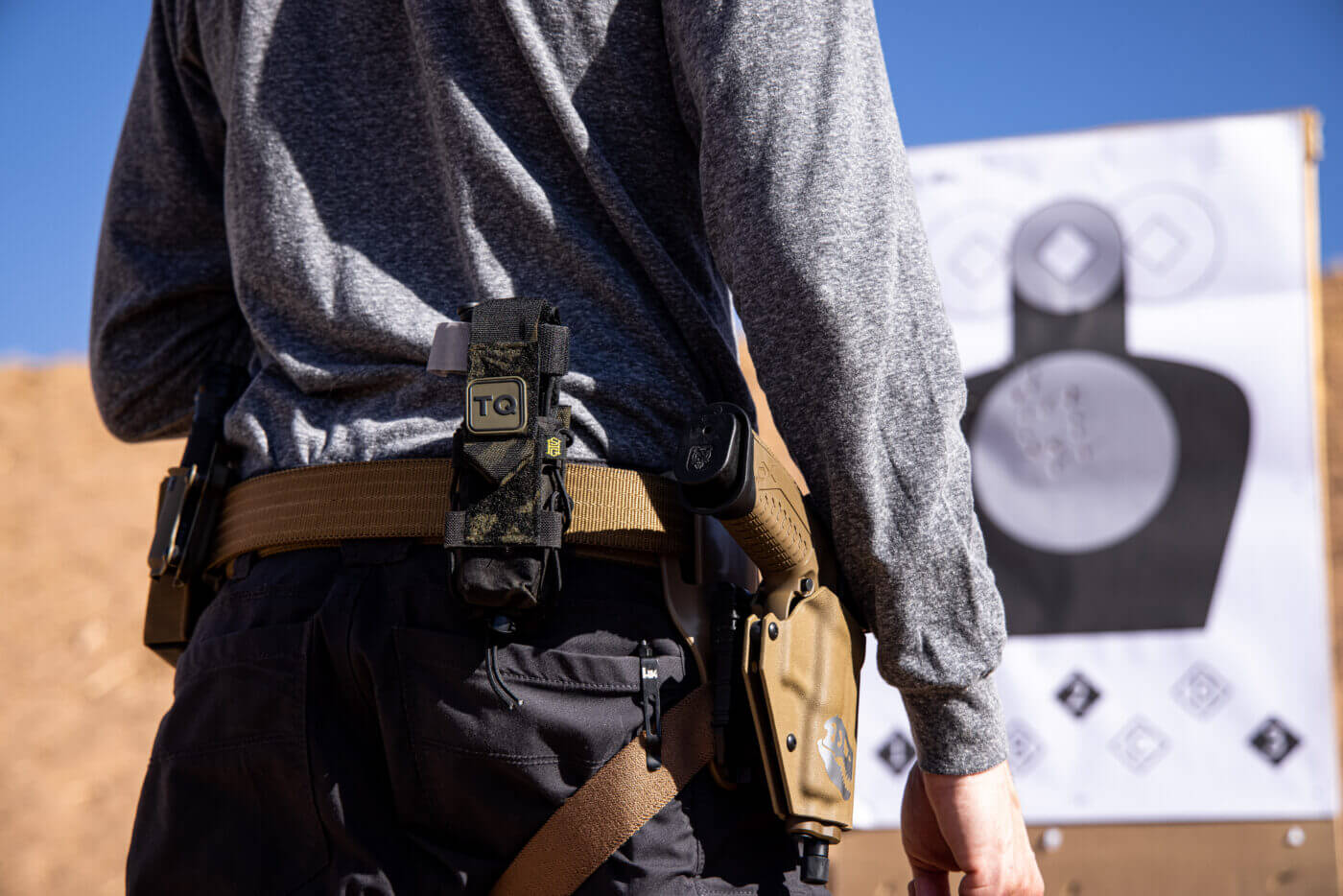 Vortex Optics: Shooting with a red dot takes a fair amount of practice but once mastered you can blaze targets with ease. The Vortex Venom has a large viewing window and a nice 6 MOA dot that is super easy to pick up. I also like the design choice of placing the battery compartment on top so that it is easily accessed and doesn't rely on the actual mounting screws to keep it in place.
Final Thoughts
This XD-M Tactical Elite OSP was such a joy to run. It wants to go fast. It is a fairly large pistol which means follow up shots are a breeze, recoil is negligible and reloads are a dream. The ability to attach an optic and a suppressor are icing on the cake. Also, this has to be, visually one of my favorite pistols. I would recommend if you are into the larger tactical style pistols for their modularity and ease of operation.
Editor's Note: Please be sure to check out The Armory Life Forum, where you can comment about our daily articles, as well as just talk guns and gear. Click the "Go To Forum Thread" link below to jump in and discuss this article and much more!
Join the Discussion
Featured in this video
Continue Reading
Did you enjoy this video?
62