Today, we get to know a little more about Rob Orgel of Emergency Response (ER) Tactical. Rob has been a great friend and firearms instructor of mine for a little over a year. Rob really opened my eyes to how much value there was in firearms training, testing theories and tactics, as well as EDC/preparedness mindsets.
This connection has helped me to be a safer, more confident and competent firearms owner. Rob doesn't just teach what he has been taught or read, he teaches what he has experienced, and he makes it a point to test gear and theories to figure out what holds up and what doesn't. Without further ado, here's the interview with Rob in the video above and article below.
Jeremy Tremp (JT): Tell me a bit about your background and how it makes you qualified to be a firearms instructor.
Rob Orgel (RO): I spent 10 years in the Marine Corps as an infantry rifleman, then I went on to become a combat instructor, which entailed a very difficult school of formal instruction and evaluation. I trained several thousand Marines in combat skills from throwing hand grenades to shooting machine guns. After my service in the Marine Corps, I became a private military contractor while also instructing fellow contractors in Iraq. I did this job for four years and instructed hundreds of advanced operators.
Since 2012 I've been teaching underneath my own logo, Emergency Response (ER) Tactical. At ER Tactical I have taught numerous military and law-enforcement entities as well as many individuals within Mil/LE.
What is important about my time as an instructor in the military, as well as my time as a contractor and a private instructor, is that I teach every day. Every day I improve the techniques and skills that I instruct others in and further refine my curriculum. It's important when selecting an instructor to know their background not just in the operational sense, but also in the instructional sense.
JT: What do you enjoy most about firearms training?
For me, it's getting through the fundamentals and then understanding how the brain works on an individual level. Once the fundamentals are laid out it is quite easy to reinforce. I like to dig deep beyond which part of the fundamentals we failed and understand where our head was at that caused that failure.
RO: Grooming this combat mentality aids in our ability to survive unfortunate situations, giving us a deeper understanding of why we do the things we do. This is paramount in helping my students develop skills that become second nature.
JT: Do you have a favorite class to teach, and if so, why?
RO: I love teaching the Long-Range Precision class because understanding the effects on a bullet from the time it leaves your barrel to the time it reaches your target is extremely rewarding to impart on a student. (To see Rob train Jeremy on running the M1A Loaded Precision out to 1,000 yards, click here).
Also, I genuinely enjoy teaching the Women's Pistol Class. This has served as a great vessel for many clients to understand how to increase their survivability and understanding in all circumstances as well as empower women in their self-defense capabilities.
JT: Can you share an example from your military career that gives you credence for teaching?
RO: My favorite story of lessons learned is not one of great conquering or success, but one of understanding points of failure. In this case, I quickly deployed my carbine overseas in Iraq and my battery powered optic was in the off position, therefore creating a less-than-positive situation. I was lucky to come out on top and placed a good shot only by chance. This led me to identify procedures and equipment failures so that I could create better success in the future.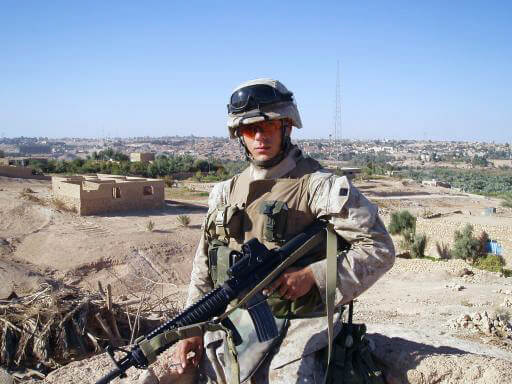 As we come to understand our equipment and procedures, we continually develop our depth of understanding of them. I find all too often we are afraid to modify a system or procedure because it's worked most of the time in the past — when in fact, we should be looking for procedures that work all of the time. I'm grateful for experiences such as that where I have seen firsthand what works and what does not, in a real-life combat scenario.
JT: What makes you different from other trainers?
RO: The firearms instruction market is a saturated one. Many people have received credentials via online applications and are teaching others how to shoot. While it is necessary to have many people educating the masses on safe weapons handling and fundamentals, finding a tactical instructor can be difficult. There are many examples of good operational backgrounds that maybe are not so well-suited to be educating people.
It's best to find someone with a deep background in firearms education as well as operational experience. This can often be hard to find and leads us to settle for one of the two; a background in combat or a background in education. I have been lucky — or unlucky, depending upon how you see it — to have a background in both.
I was able to apply my combat experience to the education field as an educator of several thousand Marines followed by several hundred private military contractors and, then again, currently into the private industry.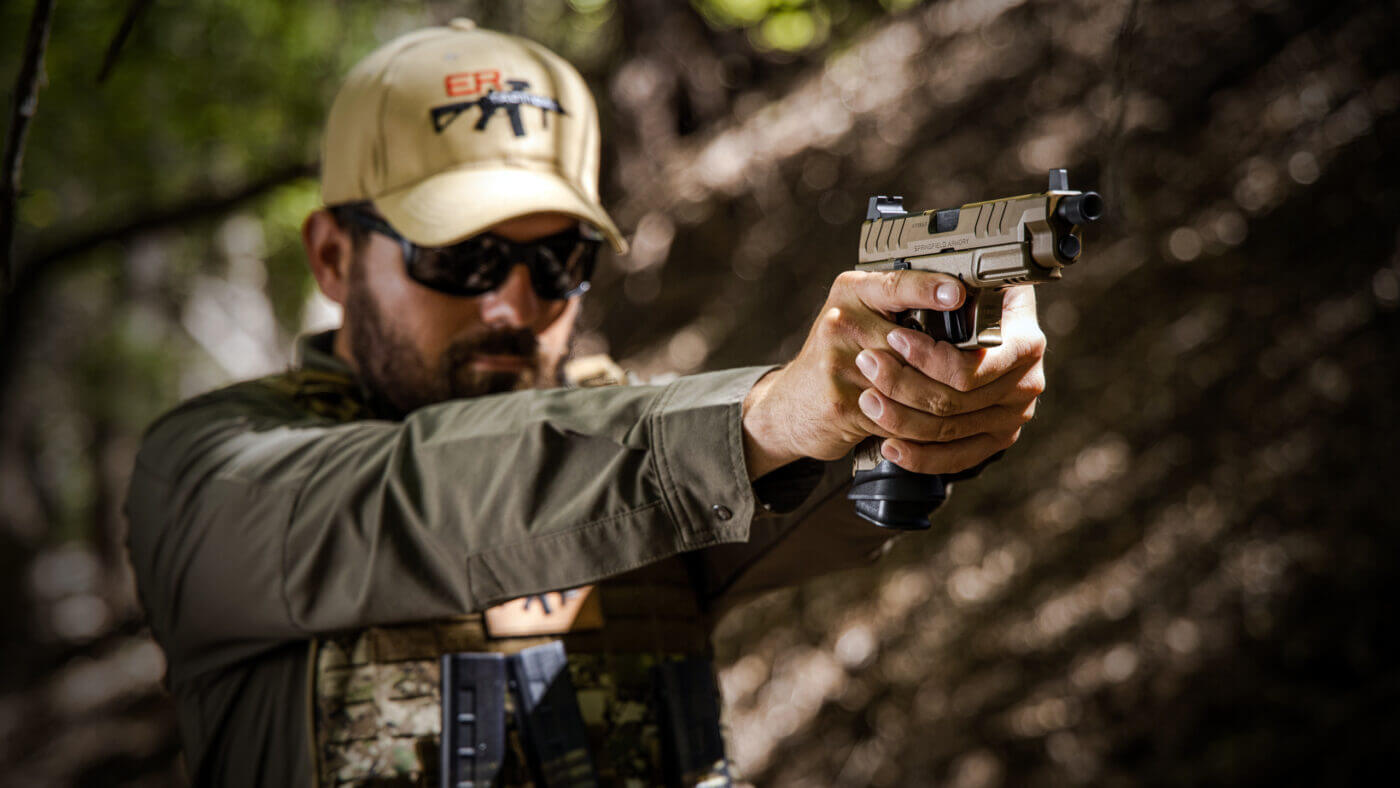 JT: What is your favorite Springfield Armory firearm?
RO: That's a tough call as they have several of which I am a fan. I have to say for nostalgia I would pick the M1A Loaded. But we can't turn our back on modern advances in pistol technology and design like with the Hellcat. I will also say that the first pistol I ever personally owned was a Springfield Operator.
Now, all things considered, I am really impressed by the SAINT. I have seen several of these come through my Carbine classes, and not one has failed. In these classes we shoot over 500 rounds per day, and we try to see where our guns will fail. There are few more reliable carbines out of the box than the Springfield SAINT.
JT: What's your biggest pet peeve regarding the firearms community?
RO: While I'm a big fan of owning several collectors' items, nostalgic firearms and other such tools, I'm also an even bigger fan of understanding how they work as well as how to best use them. We often go to the tool store and buy several different tools before we ever learn how to swing the hammer. This is fitting of something Bruce Lee said: "I fear not the man who has practiced 10,000 kicks once, but I fear the man who has practiced one kick 10,000 times."
Let us apply this theory to ourselves. Do you have many firearms that you know a little about or one you know very well? Can you pull one rifle from your safe at random and have the confidence of testing ammo, understanding flight path of that bullet and understand how to correct all malfunctions with that weapon system?
JT: If you could impart one piece of wisdom to the viewers, what would that be?
RO: With a massive growth in new firearm ownership, the best advice I can give to all firearms owners new or old is, know your firearm safety rules. As soon as I say this, many of us turn the page because we can recite, verbatim, the four or five firearm safety rules. But that doesn't mean we know them. It means we've memorized words.
I challenge you all to write down each one of the rules and review it with the people you care about and/or the people with which you train. Come to a depth of understanding of each of these safety rules. Not simply reciting them, but understanding how they help keep us safe and when they apply. Lastly, seek good training because not all training is good training.
JT: Thank you for taking the time to do this interview with us. To find out more about Rob Orgel or Emergency Response Tactical, check him out at www.ertactical.com or on Facebook and Instagram with the handle @ERTactical.
Editor's Note: Please be sure to check out The Armory Life Forum, where you can comment about our daily articles, as well as just talk guns and gear. Click the "Go To Forum Thread" link below to jump in and discuss this article and much more!
Join the Discussion
Featured in this video
Continue Reading
Did you enjoy this video?
39