As technology has evolved, so too has the American rifleman. From the lever-actions of the late 19th century to the M14 (and it's civilian-legal sibling, the Springfield Armory M1A), a quality rifle with reach has long been the core tool of the marksman.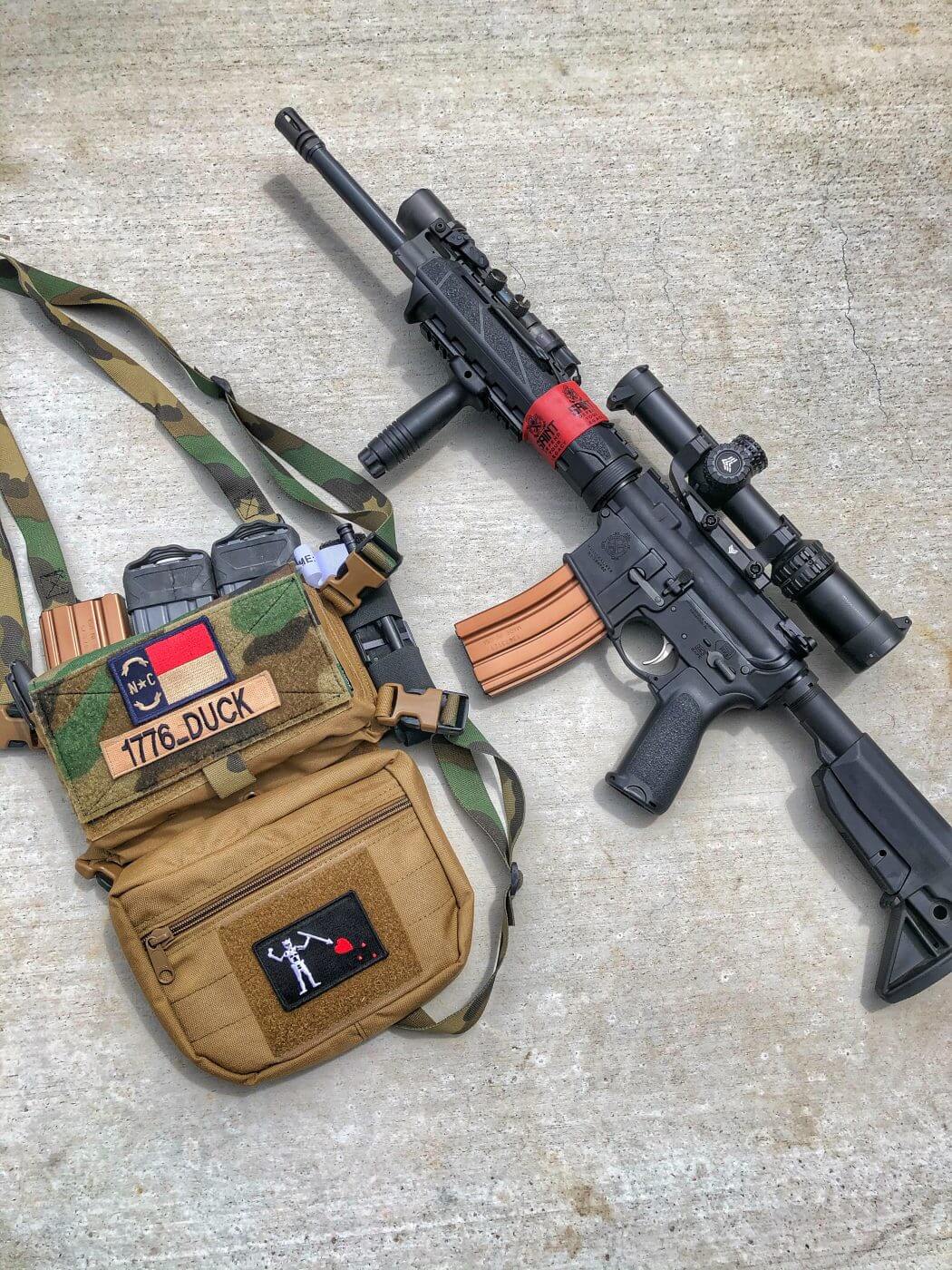 However, while those more traditional rifles were made of wood and steel, in the 1950s the American marksman was introduced to a new rifle: the AR. Since its introduction more than sixty years ago, the AR-style rifle has become the symbol of the civilian marksman.
One of the most versatile platforms created, the AR is suitable for defense, competition and hunting. The key to unlocking this rifle's full potential lies in quality manufacturing. Rising to the challenge, Springfield Armory has produced the SAINT series of rifles, in chamberings ranging from 5.56mm to .300 BLK all the way up to .308 Win.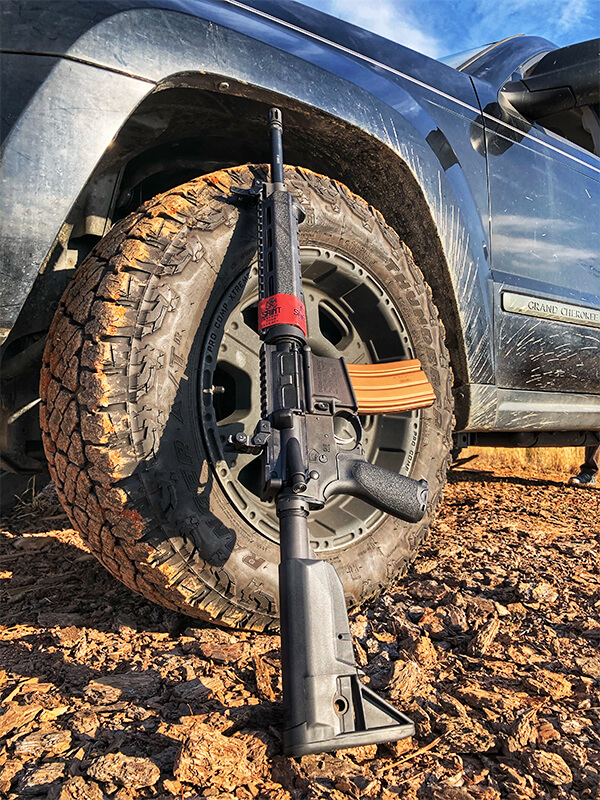 I recently had the chance to test out one of these for myself, in particular the 5.56mm SAINT Rifle with Picatinny gas block. Want to see how it did? Then check out my video at top as well as this article which continues below.
Devil's in the Details
I was impressed with the SAINT even before I saw the actual rifle. Springfield ships the SAINT in a very nice rifle bag with two external magazine pouches, as well as a quality PVC patch that bears the name of the rifle. Once the rifle was unsheathed, I was shocked by how light this carbine was compared to many of the other rifles I have worked with. Weighing just over 6 lbs., the rifle feels solid, and comes to the eye nicely from the low ready.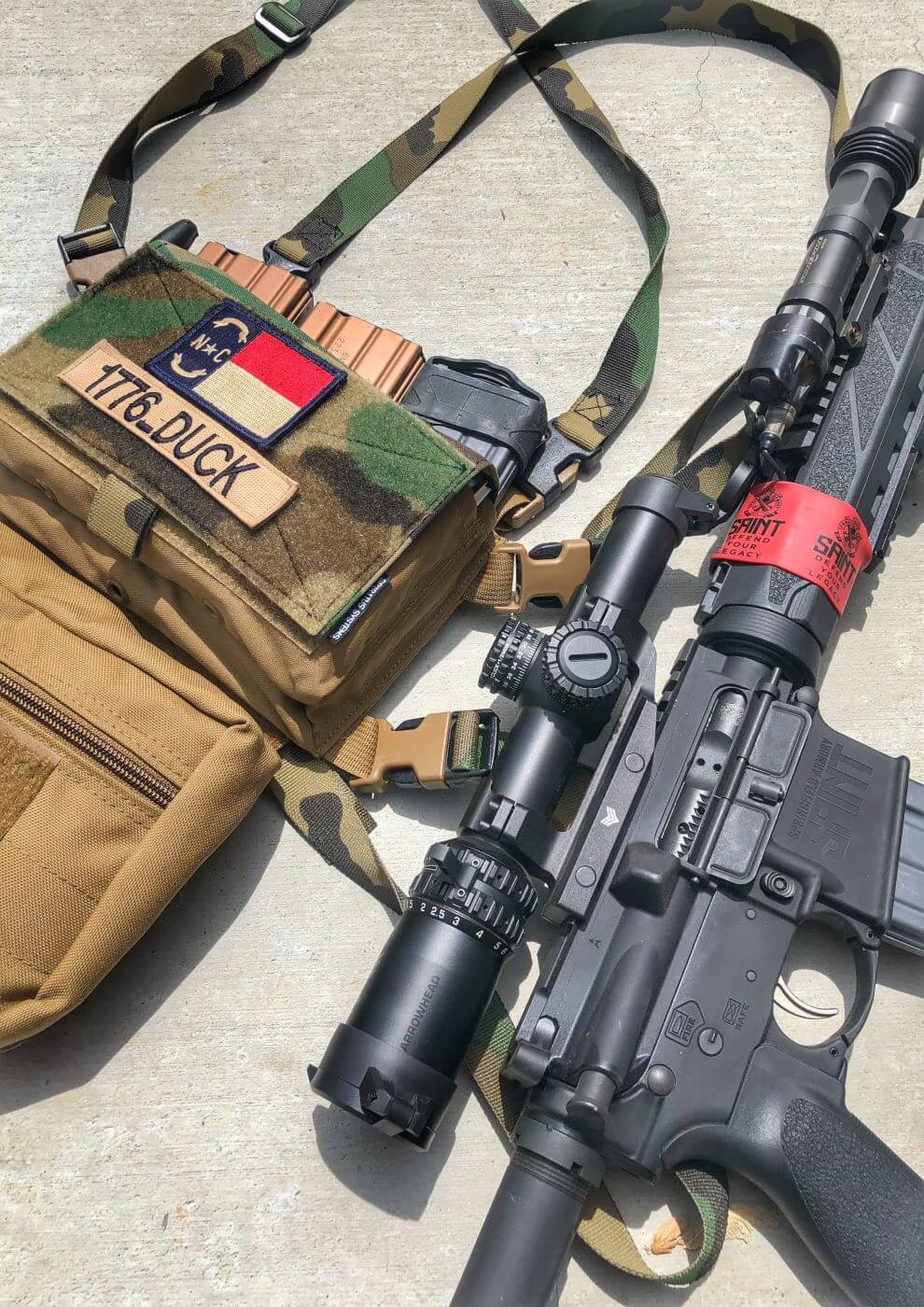 The furniture is from Bravo Company Manufacturing (BCM) and is very ergonomic. The BCM Gunfighter PMCR forearm encompasses M-Lok slots at the three, six and nine o' clock positions, ideal for mounting lights and a vertical foregrip. For the stock, a BCM Gunfighter Mod 0 is used, and fits very tightly to the buffer tube. This offers virtually no play when shouldered, unlike many stock options seen on AR carbines from the factory. A BCM Gunfighter Mod 3 pistol grip is used, which is fantastic. It has a greatly reduced angle compared to the traditional A2 grip, which forces the elbow upward. The gun was very well fit and finished.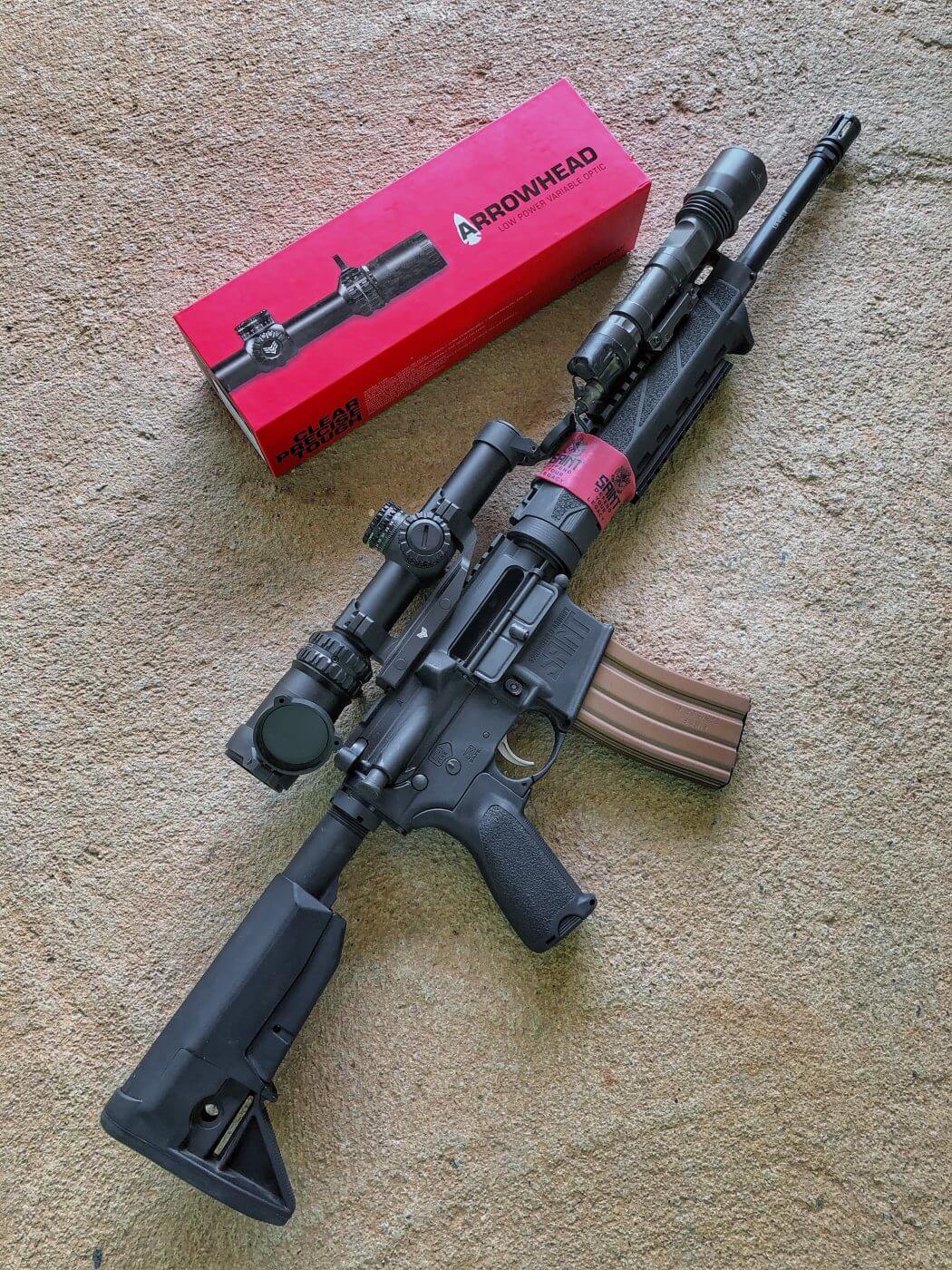 Heart of the Matter
While ergonomics are important and ensure a solid interface between rifle and shooter, the accuracy capability of a rifle comes from the barrel and trigger group. The barrel of the SAINT is 16" in length, made of CMV, offers a 1:8″ twist and is topped off with a traditional A2 flash hider.
This barrel twist is great for bullet weights up to 77 grain, but I have also found fantastic accuracy from this gun with more common, lighter weight loads. Springfield's SAINT comes standard with a nickel boron coated trigger group, and it is much smoother than the traditional mil-spec trigger, at just over 6-lbs. of pull.
Range Crusade
Pulling the SAINT out of its rifle case at the range and after the first course of fire, I couldn't help but to smile. The gun is INCREDIBLY soft shooting. As we all know, the AR carbine is an inherently soft-recoiling rifle, but the SAINT is buttery smooth. Upon further investigation of the rifle, I noticed that it had a mid-length gas system and utilized a heavy tungsten buffer. This combination results in a ridiculously smooth rifle, unlike anything else I have shot in this price bracket (it has an MSRP of $972, in case you were wondering).
The SAINT shreds on the range, being fast when transitioning targets and putting rounds exactly where they're needed. The iron sights are flip-up in both the rear and front, and are very adequate sights. I was able to quickly move across short range targets and progress to farther steel targets at one-hundred yards with ease. Running and gunning with the SAINT was a blast, as its low weight and soft recoil allowed me to push myself harder when running a drill.
While I am no benchrest shooter by any means, I did take the SAINT to a static range where I shot a few five-shot groups. This is not something I tend to do, but while fighting an inconsistent rear bag setup, I was able to get some good groupings using Fiocchi 55-and 77-gr. .223 loads.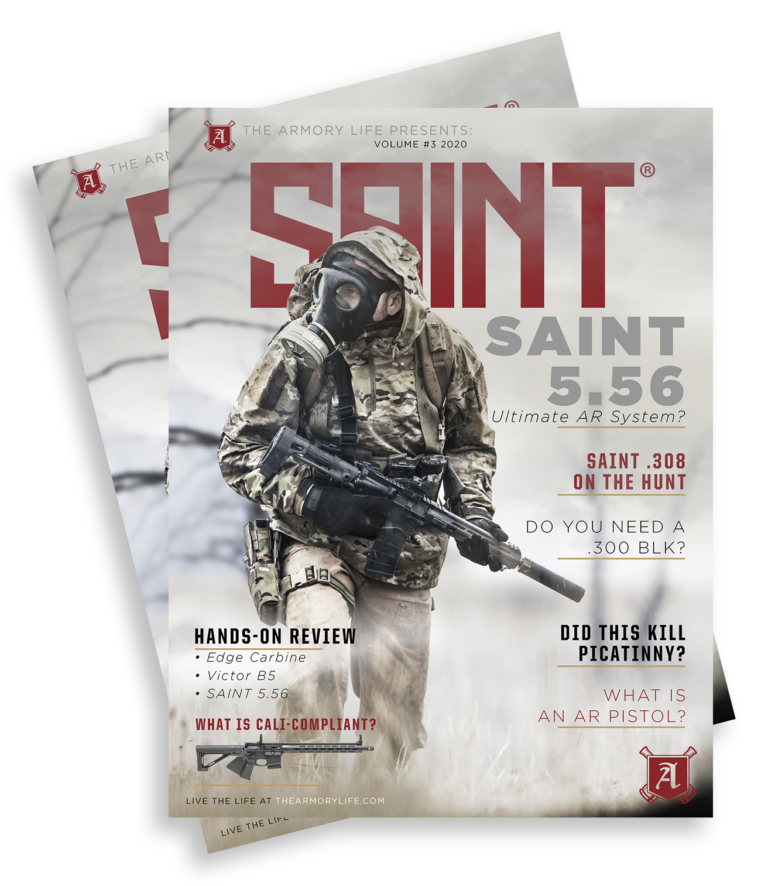 I am quite confident that the ammunition and rifle are leaps and bounds more accurate than I; however, after two flyers (cursed bag set up, or just me), the Fiocchi 77-gr. HPBT clustered three shots nicely at one hundred yards. The Fiocchi 55-gr. FMJBT was far more accurate than any of the other FMJ ammo that I brought to the range, and more importantly had far greater consistency.
At 300 yards, hitting a steel torso with both 55- and 77-gr. Fiocchi became somewhat boring as I scored hit after hit with relative ease. The 77-gr. HPBT was incredibly consistent at 300 yards, as it should be when paired with the SAINT's 1:8″ barrel twist.
My Patron SAINT
One of my favorite things to come out of the rise of "tacticool" is the modularity associated with the AR carbine. Once I did some initial testing with the gun, I began to outfit the gun to better suit my needs. I added two 1913 Picatinny rail sections at the three and six o' clock positions. At the three o' clock, I have a Surefire M961 that was laying around in my gun room. For a forward grip, I have an older Knight's Armament Company "broomstick" vertical foregrip.
Topping the gun off is a 1-10X SwampFox Arrowhead LPVO (Low Power Variable Optic) scope. This optic ranges from one to 10 power quickly with the help of a throw lever and incorporates an illuminated reticle.
An LPVO like this offers a plethora of advantages, allowing me to engage targets at close distances then quickly transition to identify and engage targets at farther distances than traditional red dot sights or iron sights. The reticle incorporates bullet drop and is quite efficient at distances outside of 100 yards.
The SAINT ships with one 30-round Magpul PMAG, but I also tried out some aluminum "G.I."-style magazines from Okay Industries and Dura-Mag. For a sling, I used the Galco Gunleather SLC Strap.
In Closing
The Springfield SAINT has proven to be a capable rifle in the realm of defensive and sport shooting. While testing the SAINT, I managed to put around 800 rounds downrange without cleaning the rifle and it performed flawlessly.
Throughout our history, the American marksman has been paired with some great firearms. The SAINT is no exception. An AR that performs beyond its price, I can confidently say I would trust the SAINT with my life. Light in weight, accurate and reliable, this carbine continues to impress, making for a fine addition to anyone's Arsenal of Democracy.
Editor's Note: Be sure to check out The Armory Life Forum, where you can comment about our daily articles, as well as just talk guns and gear. Click the "Go To Forum Thread" link below to jump in!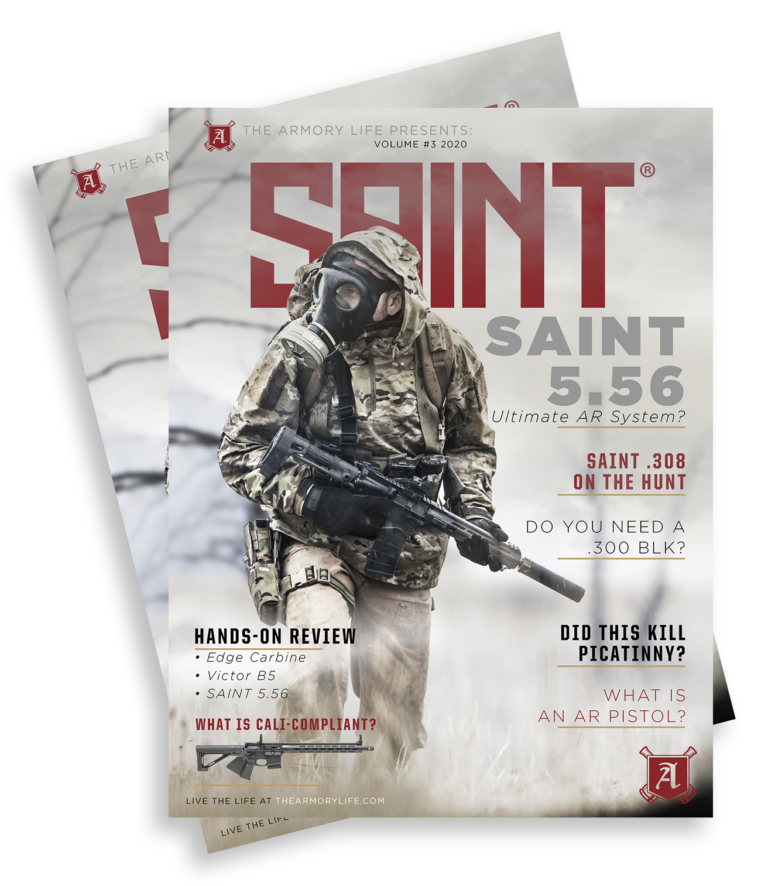 Join the Discussion
Featured in this video
Continue Reading
Did you enjoy this video?
121