Since I was a young boy, I've always been interested in the more vintage aspects of life. From motor vehicles to clothing, it seemed that I could not shake my yearning for goods of antiquity. Therefore, when I received my concealed carry permit shortly after my 21st birthday, it was no surprise that my weapon of choice would be a 1911 variant.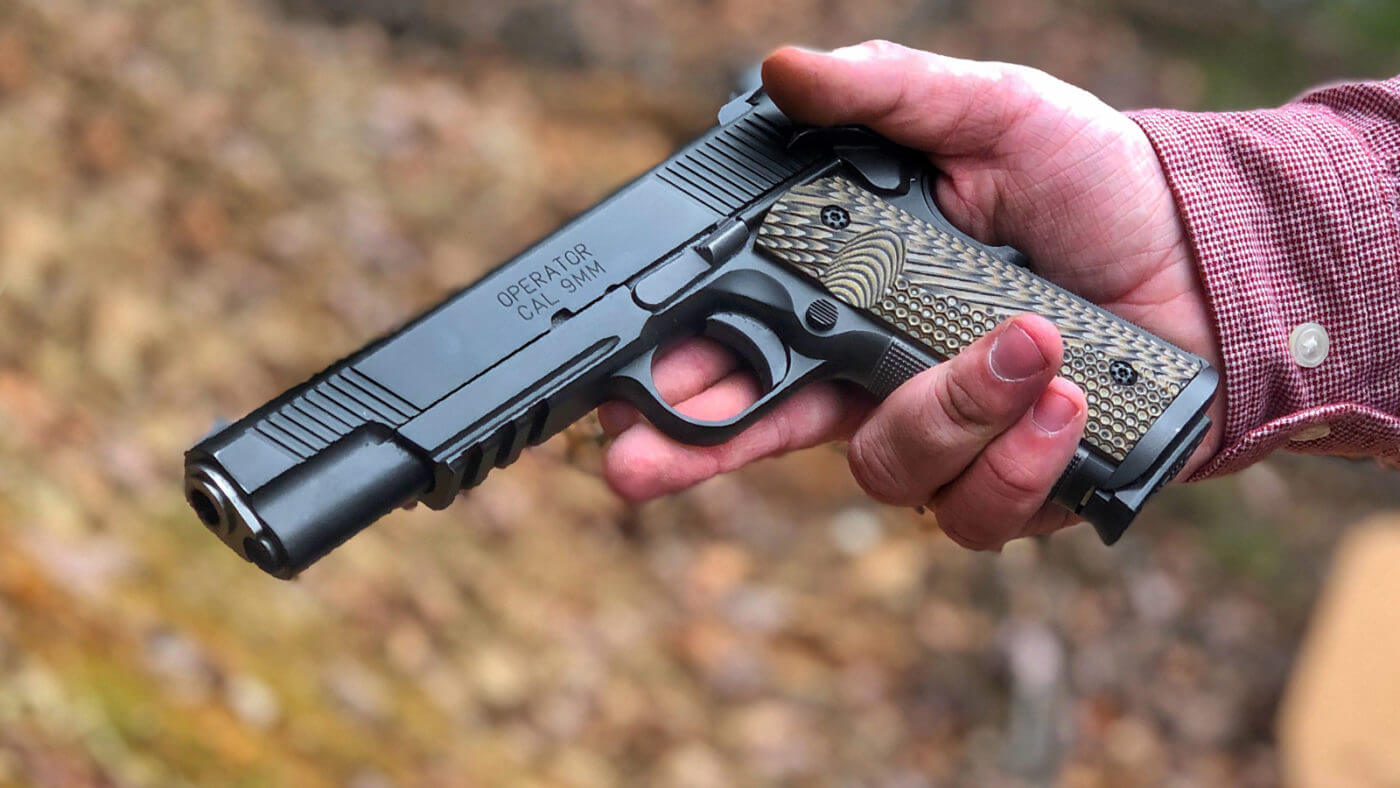 While the original design of the 1911 platform harkens back to the pre-World War I era of Industrial America, I required a more "modern" rendition to meet my needs for defensive carry. Improved sights, a flared magazine well, maybe even a light rail would be additions I wanted to see on my ideal modern 1911. I had grown up shooting this platform, and while I do enjoy many of the polymer-framed options available, no other handgun design felt more at home to me than the 1911. This handgun is timeless and has an ergonomic feel that has yet to be rivaled by any other gun, in my opinion. Hours of reading reviews, watching YouTube, and time on the range with various platforms and calibers led me to the Springfield Range Officer Elite Operator, in 9mm. Check out my full video review of it at the top of the page.
Blasphemy in the Church of Browning
At first, many scoffed at my selection of a 9mm chambering for the great John Moses Browning's famed .45 ACP design. The stones were cast, as I became labeled a heretic. However, there were a number of reasons why the 9mm won my favor. Firstly was ammunition cost. As a college student with a part-time job, the 9mm presented an opportunity to be able to shoot more for less at the range, allowing me to gain the training I felt I needed to confidently carry a handgun for self-defense.
Additionally, the platform was not only easy to shoot but also fun. I can shoot more accurately, faster, as the low recoiling 9mm allows me to regain my sight picture much quicker than with other calibers in a similar platform. The standard 9mm 1911 magazine from the factory holds 9+1, versus the .45 ACP's factory standard of 7+1.
It is at this point in my monologue that the frustrated .45 fan would be inclined to mention the "stopping power" advantage of .45 ACP over the 9mm. While I try to avoid the ensuing dumpster fire of a .45 vs 9mm ballistics argument, I simply reply with "shot placement," to which there is no argument for the ability to put shots where you need them using the Range Officer Elite Operator in 9mm.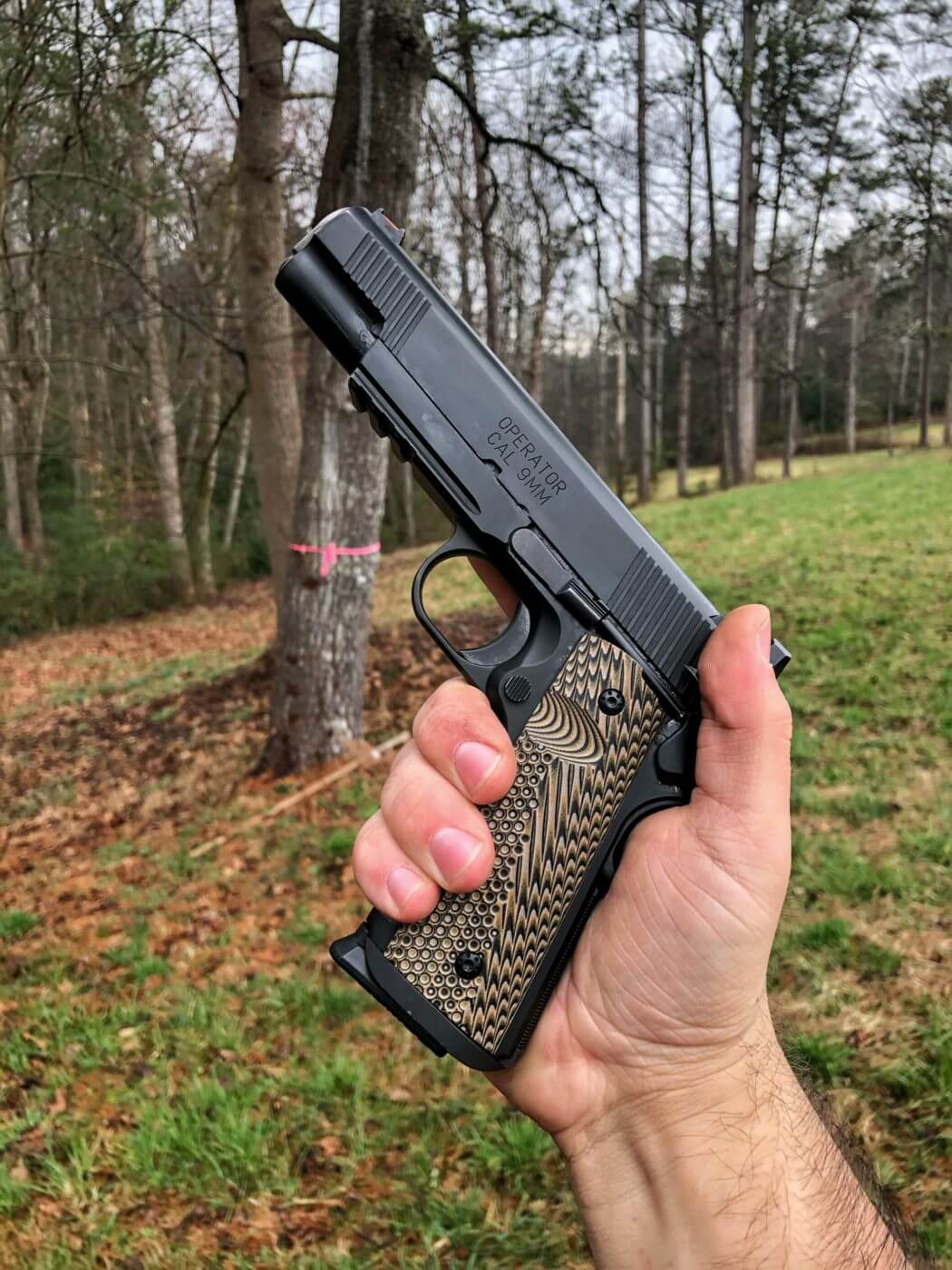 Vintage Past, Springfield Future
The Range Officer Elite Operator wasn't my first carry handgun; however, it is my most carried handgun. Shortly after turning 21 and receiving my concealed carry permit in May of 2019, I purchased a 1976 Combat Commander in .45 ACP. After devoting a great amount of time both on the range and in the waistband with the Commander, I found that I wanted to have the gun rebuilt to meet my standards for a modern carry handgun, (i.e, a larger thumb safety, upswept grip safety, flared magazine well, new barrel bushing, new sights, etc).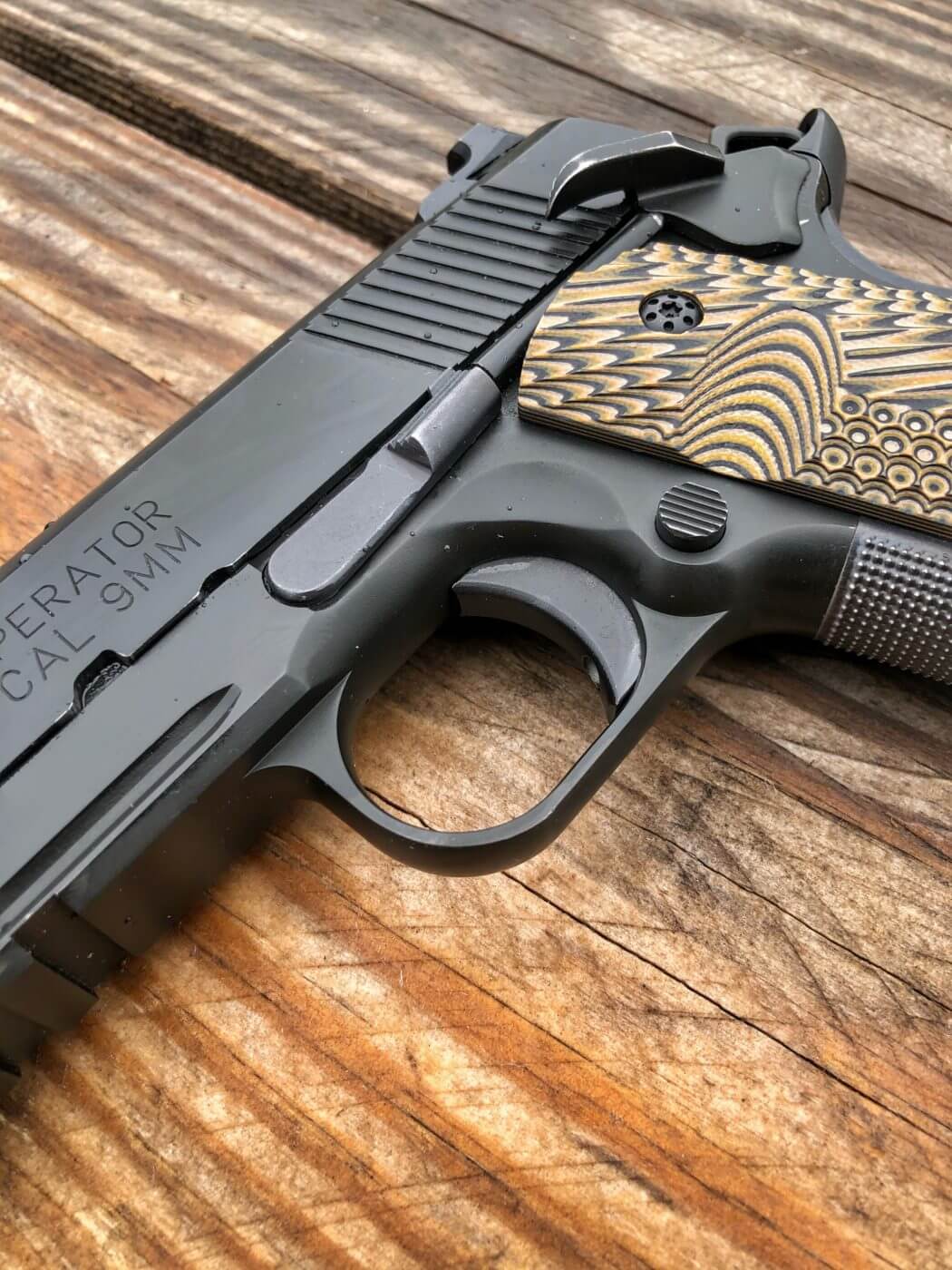 I needed to find a replacement for the Commander while it was in the shop, preferably in 9mm as my wallet was beginning to recognize the impact of a steady range diet of .45 ACP. August of 2019 brought the Springfield Operator into my hands as the Commander left for the custom shop, and after a friend-accompanied range trip consisting of around 600 flawless rounds fired through the Operator, I determined it was a reliable companion for defensive carry.
It was on this day that my life changed forever (as far as handguns are concerned). I was absolutely fascinated with the quality of my new Springfield Armory pistol. Furthermore, I developed a profound admiration for the unquestionable "shootability" of the 9mm 1911 platform. The Operator left me with a smile that grew more and more as magazine after magazine was fed into the gun, producing a consistency on steel and cardboard targets that I had never experienced before.
To this day, the Range Officer Elite Operator is still my favorite gun to take to the range, period. Since the reliability test on that hot August range day, the pistol has become the cornerstone of my everyday carry equipment.
Hands-On
This pistol just screams duty gun, from the minute you first pull it out of the Springfield Armory-provided range bag, feeling all 41 oz. of American steel balanced perfectly in your hand. I refuse to own a cast frame 1911 handgun, and those of like-minded thought can take comfort in the fact that the RO Elite Operator boasts a match-grade forged frame and slide that are extremely well fit.
Another point of interest for many with Springfield Armory 1911s is that they are 70's Series-style guns. This means they lack the trigger disconnect that came about in the early 1980's on many 1911 platforms. Many describe these types of guns as having a better trigger for this reason. Also, this reduces the amount of parts that can break in the firearm.
The gun is handsome to say the least, featuring the Black-T finish from Springfield, but with silver-colored accents from the barrel, barrel hood, bushing, and trigger (the trigger is a four-hole skeletonized Gen 2 trigger from the factory). I have found this finish to be among one of the strongest I have ever used, even after carrying the gun consistently for going on seven months now, it has shown only a minimal amount of wear.
Springfield Armory delivers this gun with a 5″ stainless steel match grade-ramped barrel, fit to the barrel bushing and slide. The light rail on the gun is a very sturdy mounting point for lights and lasers. Other features of the gun include an ambidextrous thumb safety, "tactical rack" white dot rear sights with a fiber optic front sight, a nicely fit upswept grip safety, forward and rear cocking serrations, and thin-line G10 grips.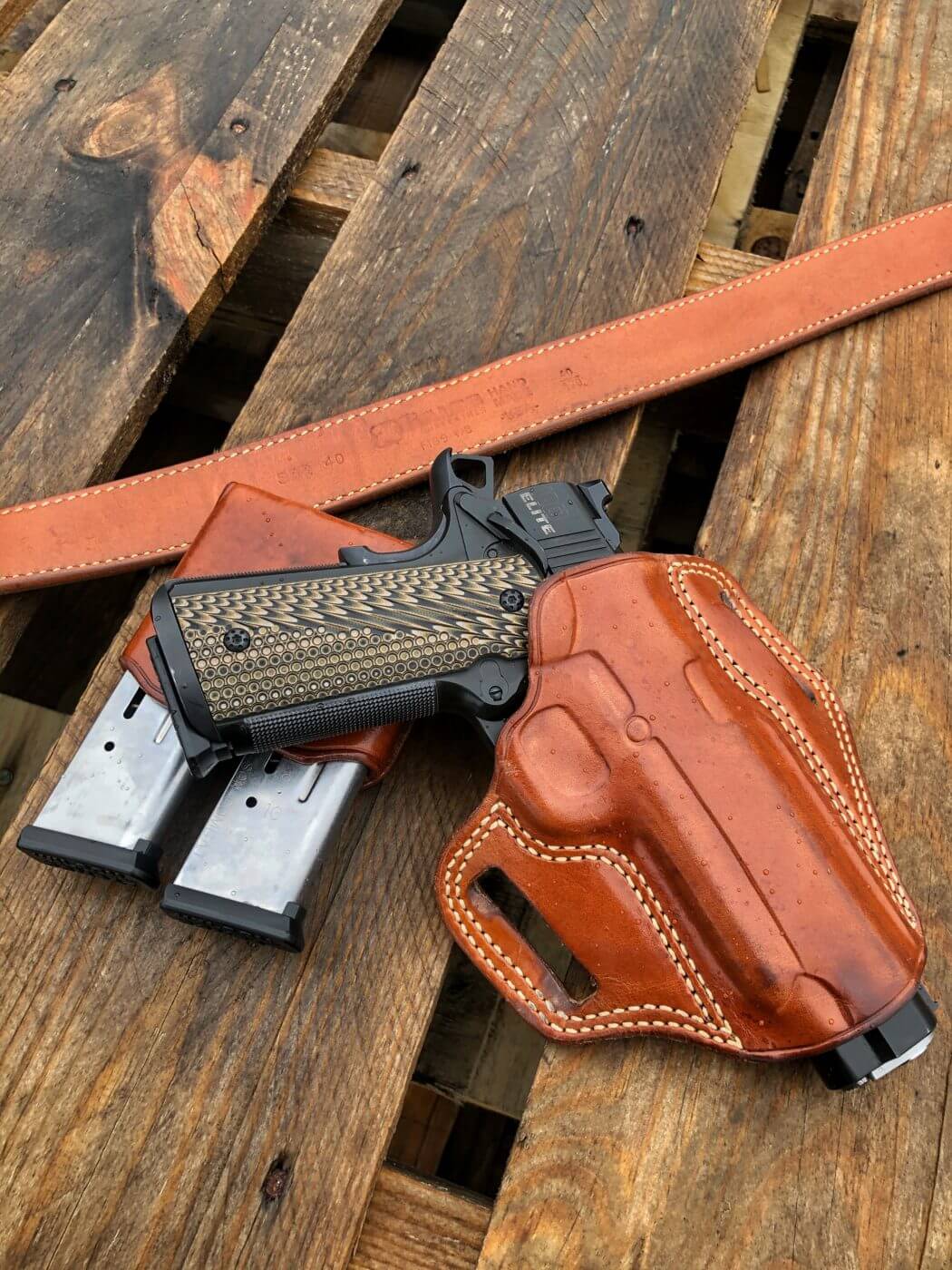 Personal Touches
While Springfield Armory makes a phenomenal pistol, there were a few upgrades that I felt I would benefit my handling of the Operator, resulting in increased performance. To quickly funnel magazines into the gun, I utilize a Stan Chen SI (Shooter Installed) magazine well. This is hands-down one of the best purchases I've ever made. The magazine well not only looks amazing but fits the Operator perfectly with no fitting of any kind. Reloads can be made quickly and securely, which tends to happen quite a bit when running a single stack handgun.
For added grip, I installed the effective and inexpensive Wilson Combat checkered front strap insert. This has never felt loose and produces a very nice grip texture to the frontstrap of the gun.
Adding to the grip of the firearm, I purchased a set of CoolHand grips from eBay, for two main reasons: the stock G10s were a little too thin for my personal preference, and the CoolHands were cut for a flared magazine well, which gave a more uniform look, as well as the thicker grip that I desired.
I changed the trigger to a Fusion Ultra Match Grade solid and short trigger. Growing up I had always shot "A1" style 1911's, so the short trigger was added. Additionally, I have always preferred the look of a solid trigger to that of a skeletonized one.
Only As Good As…
What more could you need in a duty 1911? Why, a holster, of course! As you may remember, I am a fan of the more vintage pleasures in life. For this, I looked to Galco Gunleather, which offers absolutely beautiful holsters of the highest quality. I wrap my Operator in the Galco Combat Master OWB (outside the waistband) accompanied by the Galco SB2 Sport Belt and the Galco DMC (Double Magazine Carrier).
Concealment has become fairly easy as I have learned to wear slightly larger shirts that easily conceal the firearm. A slight imprint may be visible from time to time, but in the hustle and bustle of today's world, I feel that this negligible trace is acceptable. This is a full-sized, railed 1911, after all.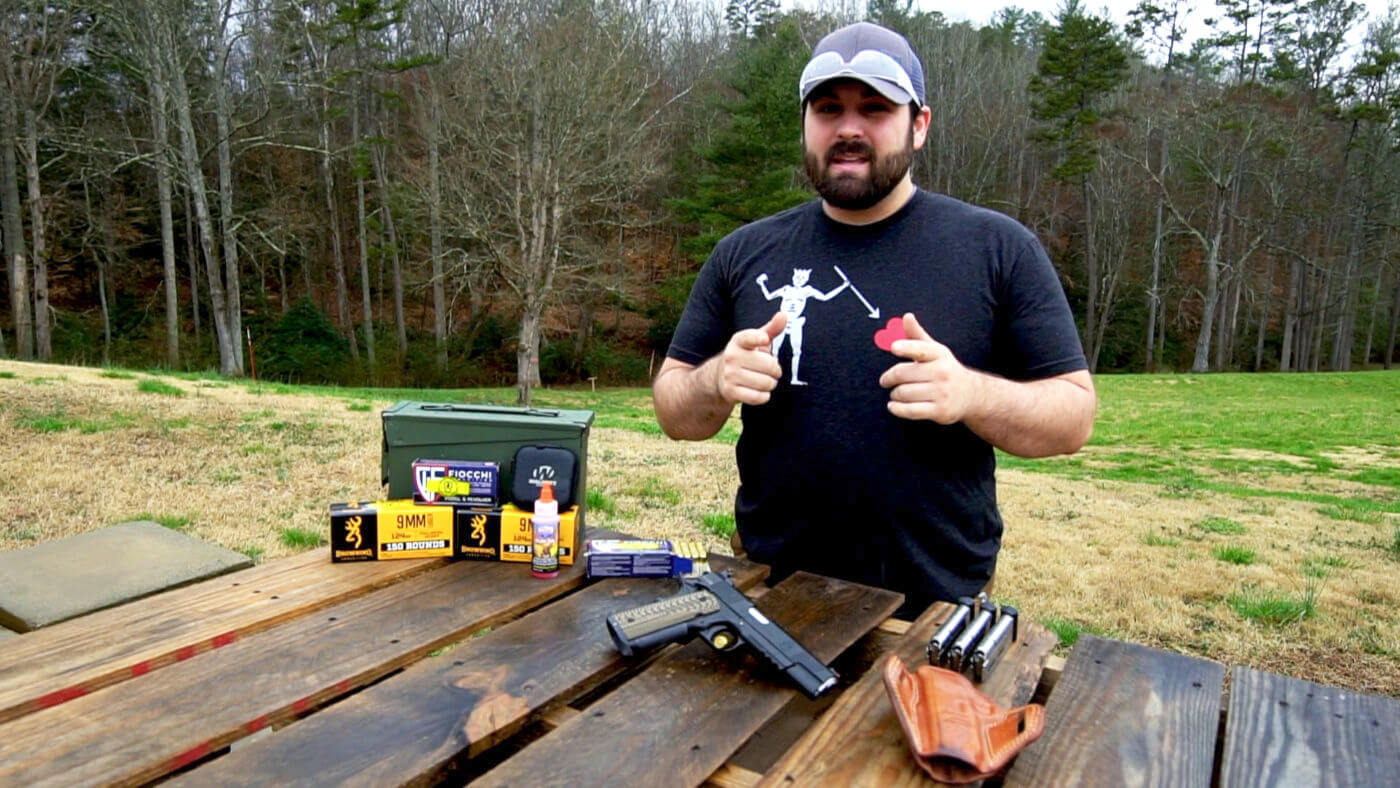 You've Made It This Far
It's hard to decide what my favorite gun in my collection is; however, my Springfield Range Officer Elite Operator is absolutely among my top choices. The accuracy and soft shooting nature of the 9mm Operator makes it an essential for range trips. Throughout my time with the Operator, it has become my trusted defensive weapon. An embodiment of the work and play proverb, the Operator has proven time after time to be a fun shooting weapon on the range and a seriously reliable duty handgun on the streets.
Editor's Note: Please be sure to check out The Armory Life Forum, where you can comment about our daily articles, as well as just talk guns and gear. Click the "Go To Forum Thread" link below to jump in!
Join the Discussion
Featured in this video
Continue Reading
Did you enjoy this video?
184