Twist Rate and the SAINT: What Does 1:8" Get You?
April 23rd, 2022
5 minute read
The heart and soul of an AR-15 is the barrel, and I wanted to see what the SAINT Victor's 16" Melonited CMV barrel was capable of with more task-oriented ammunition. The versatile 1:8 twist can stabilize a variety of bullet weights, opening up the options beyond the standard full metal jacket plinking fodder. I reached out to Hornady for this project and was able to acquire a selection of options to try out.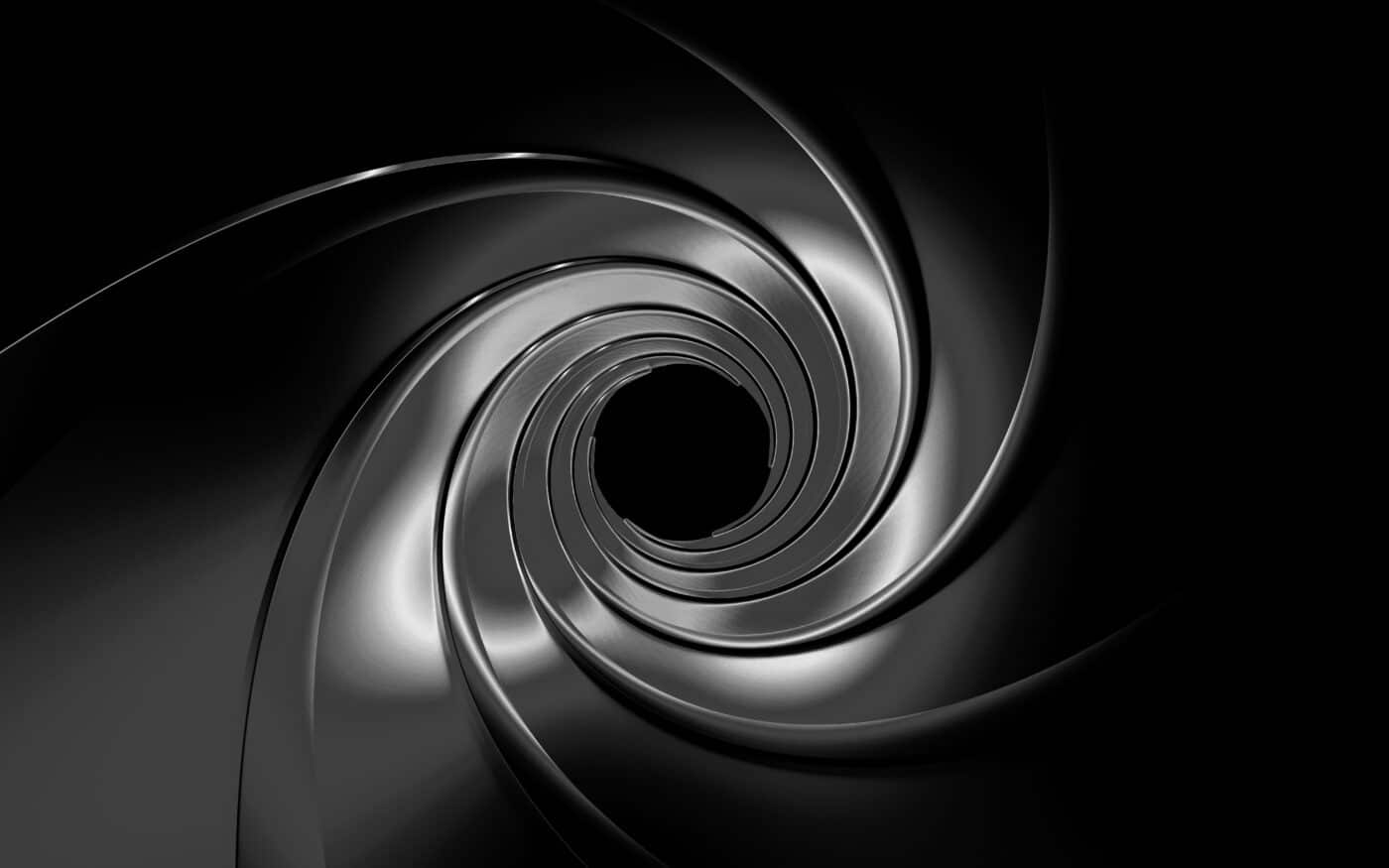 Editor's note: Don't know if you can shoot .223 or 5.56 in your rifle? Check out our article on 5.56 vs .223.
Multi-Gun Competition Rifle
On occasion, I shoot 2-Gun matches where we could be engaging targets from just a few feet away all the way out to 500 yards. Ammo needs to be reliable, accurate and cheap enough that I don't mind burning through a few hundred rounds over a weekend. I found the Hornady Frontier 55-gr. HP to be an excellent option, easily checking all the boxes above.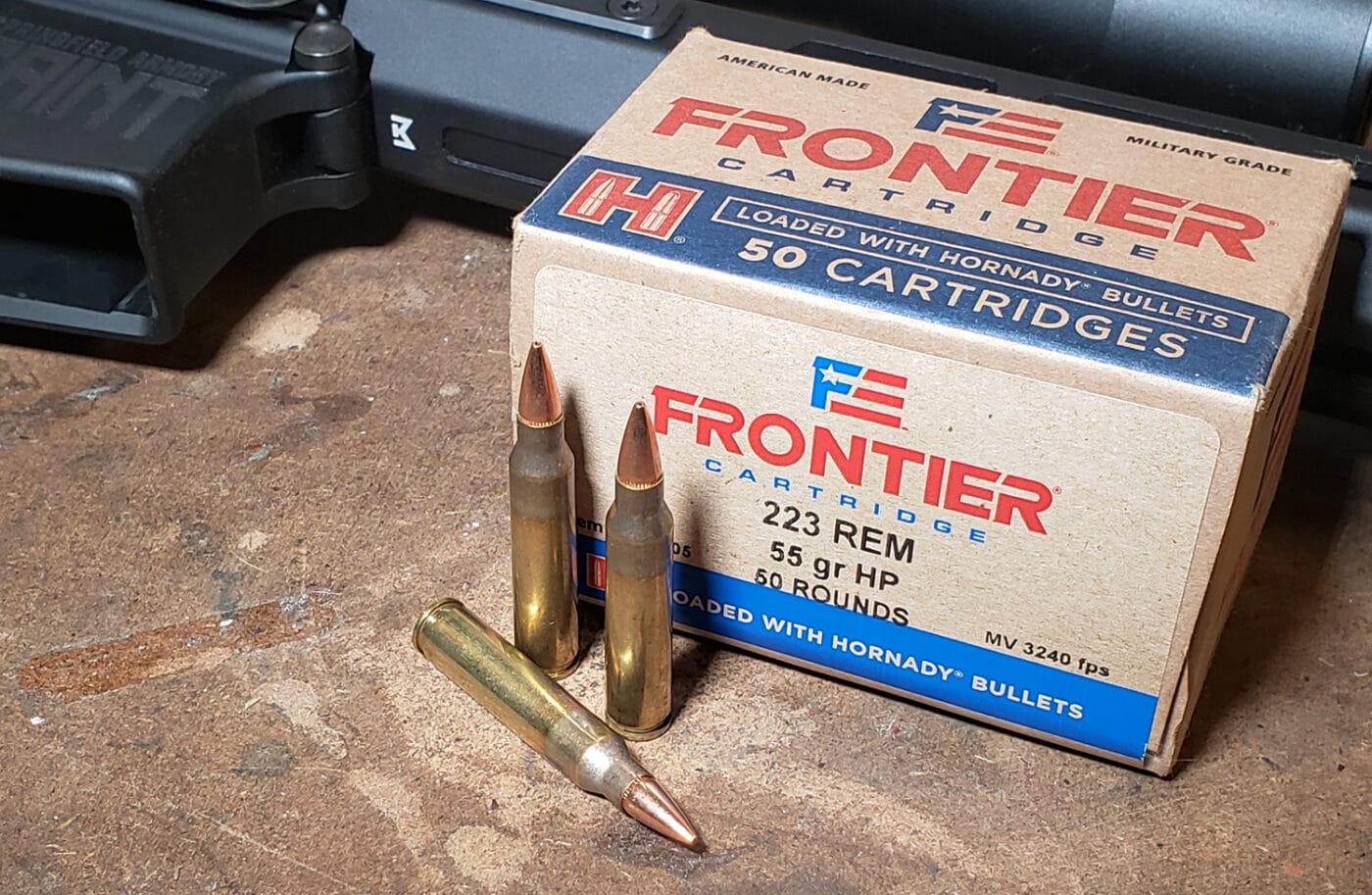 At 100 yards, the Frontier 55-gr. HP shot an average of 1.52" over four 5-shot groups with the best group being a hair over 1". Those groups were easily half what you'd see from standard 55-gr. FMJ, despite costing about the same per round. I pushed out to 300 and 480 yards, distances where some competitors switch over to heavier match ammo, but the 55gr HP kept on trucking. I easily connected with steel and while it didn't have a ton of energy, hits were audible and still swayed the target well enough in my book.
The Ranch Rifle
Modern sporting rifles get a lot of flak from people that don't really know any better, saying they're no good for hunting. The truth is they can be, and also make great ranch rifles for predator and varmint control.
I tried the Hornady Varmint Express 55-gr. VMAX and it turned out to be one of the better performers in the group. Four 5-shot groups yielded an average 1.24" group size with the best being just .8" when I really buckled down. At 300 yards rounds were stacking up inside a 6"X6" square, well inside the kill zone of most animals at that distance and probably good enough for a fat groundhog, too. Later, at 480 yards the little V-MAX was holding its accuracy, consistently ringing a 12" plate despite some switchy winds blowing across the range.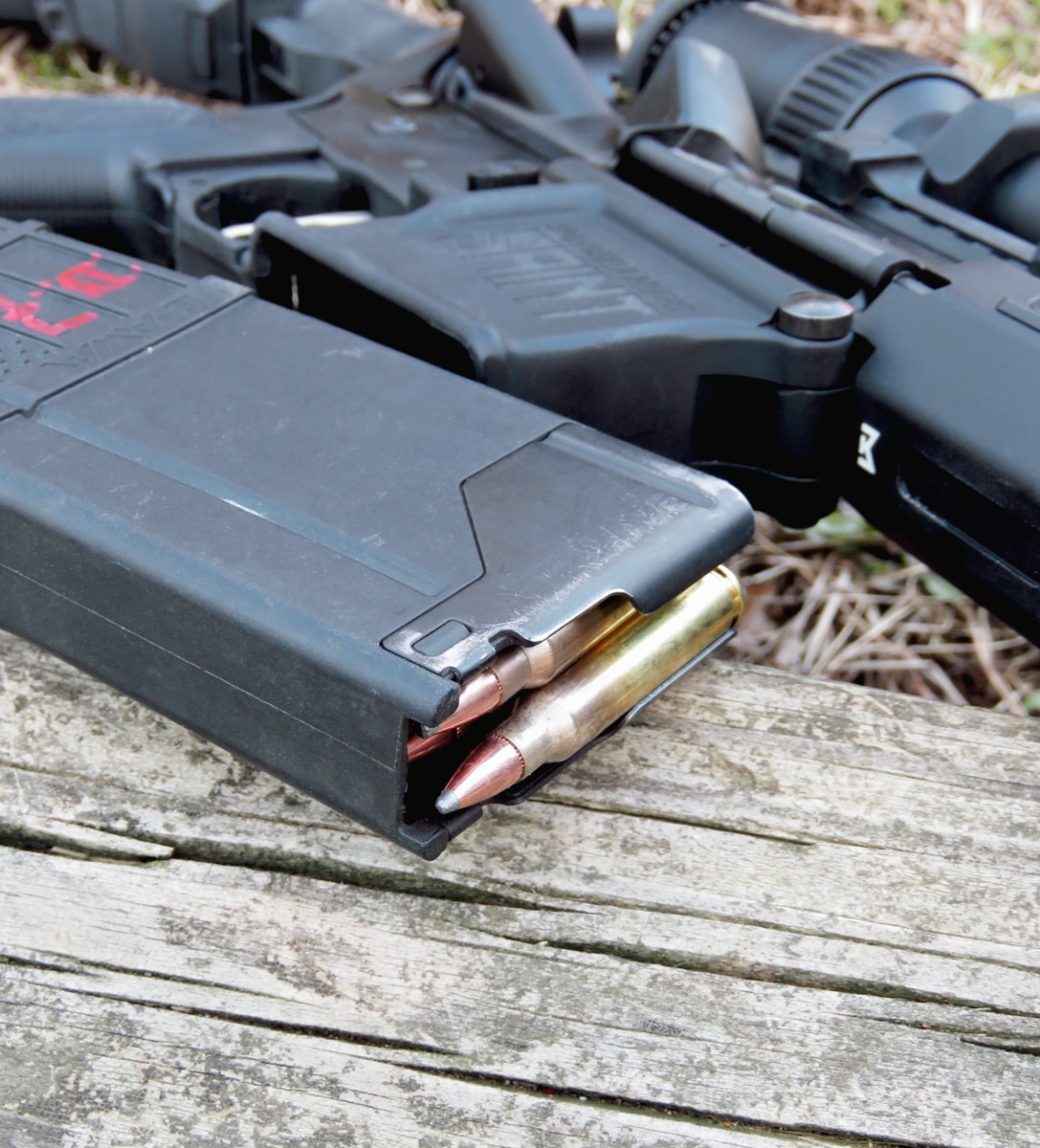 I also tried some of the 62-gr. Spire Point ammo from their Frontier line, a lead nose option that is loaded to 5.56 pressures to provide more energy on target and better penetration over the 55-gr. V-Max. The lead nose did get deformed by the feed ramps, and I believe accuracy suffered a little because of this. The average group size was 2.19" at 100 yards. I did not take it out to longer distances, but I'd still trust it to hit consistently out to 200 yards or so.
Self-Defense Carbine
Chances are the SAINT Victor is going to be someone's "do-all" carbine, self-defense being one of those important roles it must fulfill. Ammo selection is an important choice to make, and you have to look at the environment where you are to make that selection.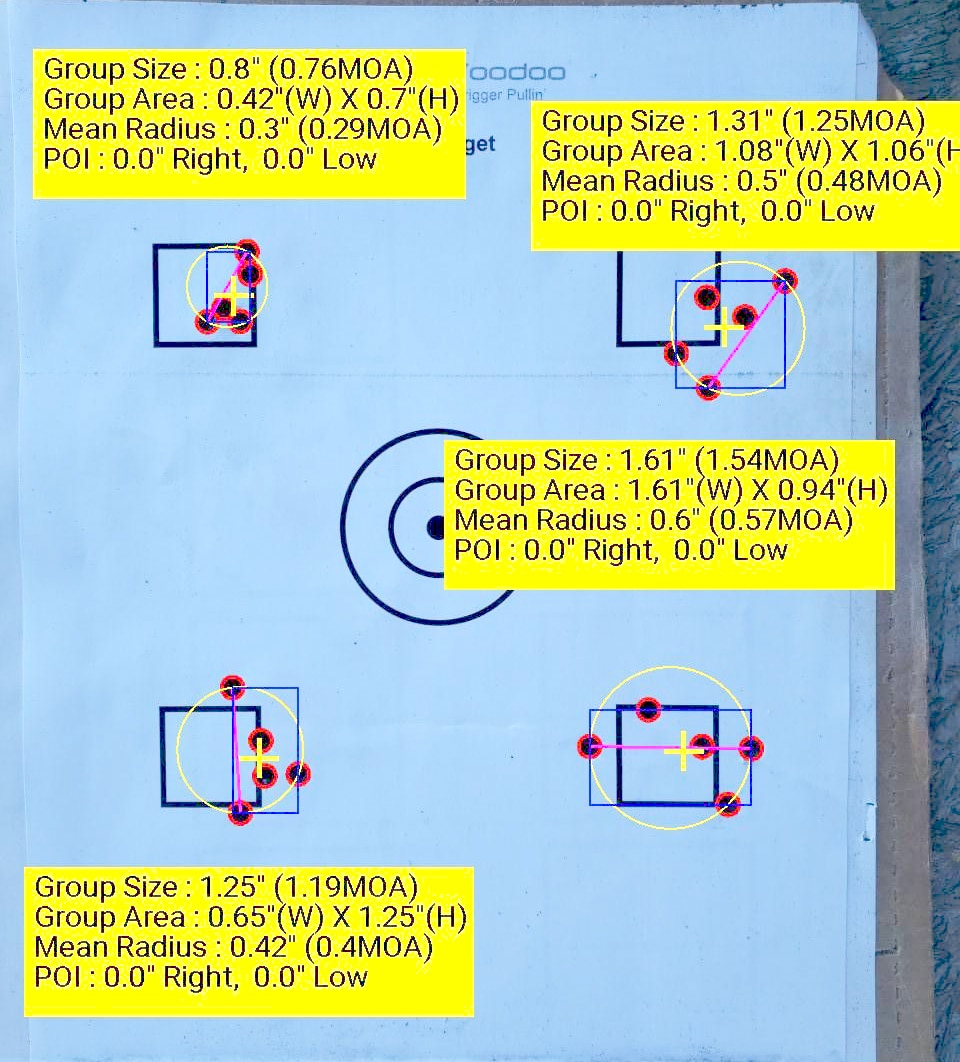 Out of the ammunition that I have tested here, I would consider the 55-gr. Varmint Express and 62-gr. SP as viable options. The 55-gr. V-Max bullet has a thinner jacket designed to come apart on contact with tissue and disperse its energy, which great if you want to mitigate over-penetration.
The Frontier 62-gr. SP has a 4% speed advantage over the 55-gr., Varmint Express, but the heavier bullet also carries about 23% more energy on target. In areas where over-penetration isn't as much of a concern, the 62-gr. SP could be the better overall option.
Long-Distance Target Rifle
The Victor isn't a precision grade rifle, so to speak, but it does have the ability to reach out to longer distances when needed with more than capable accuracy. I tried out Hornady's 73-gr. ELD Match ammo in it for this role, with average accuracy being 1.62" for four 5-shot groups and a best group of 1.18". It had very respectable ES and SD numbers for factory ammo.
| | | | | | | |
| --- | --- | --- | --- | --- | --- | --- |
| Ammunition | Muzzle Velocity | ES | SD | G1 BC | Avg Group | Best Group |
| Frontier 55-gr. HP | 2719 fps | 69 | 27 | .254 | 1.52" | 1.08" |
| Varmint Express 55-gr. V-MAX | 2844 fps | 91 | 36 | .255 | 1.24" | .80" |
| Frontier 62-gr. Spire Point | 2971 fps | 20 | 10 | .264 | 2.19" | 2.0" |
| ELD Match 73-gr. | 2538 fps | 44 | 19 | .398 | 1.62" | 1.18" |
While this performance was more than acceptable, sometimes a bullet just doesn't shoot well through some barrels, which is why it's always a good idea to test different types. Luckily, Hornady has a number of options for this role that are sure to fare even better. Be sure to run your gun with the ammo you want to use to make sure it "likes" it.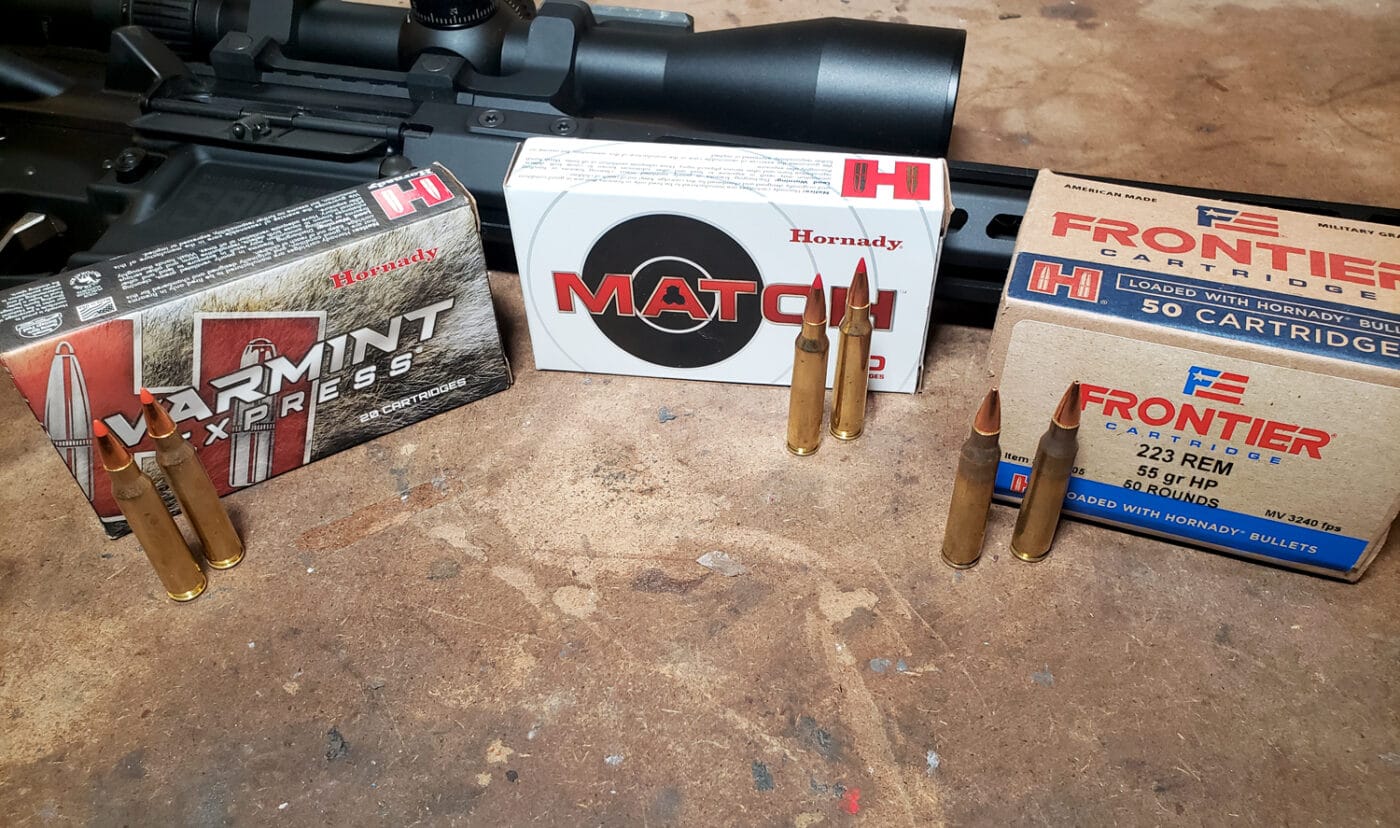 Conclusions
I knew going into this that the SAINT Victor wasn't a precision rifle. What it is, though, is a perfectly practical carbine with a 16" 1:8 twist barrel. That means if you select the right ammunition for the job, it will get it done with sufficient accuracy and impeccable reliability. From steel plates to varmints and predators, I'm confident that the SAINT Victor will hit what I'm aiming at.
Editor's Note: Please be sure to check out The Armory Life Forum, where you can comment about our daily articles, as well as just talk guns and gear. Click the "Go To Forum Thread" link below to jump in!
Join the Discussion
Featured in this article
Continue Reading
Did you enjoy this article?
95