Night-Shredding Brilliance
November 6th, 2019
4 minute read
John Moses Browning, the greatest gun designer who ever lived, dreamt up the .45 ACP cartridge in 1904. After some unfortunate experiences with the anemic .38 Long Colt revolver round against maniacal Moro juramentado warriors, Uncle Sam wanted something spunkier. Two years prior Georg Luger developed the 9mm Parabellum to feed his eponymous P08 pistol. Mr. Browning took this superlative German bullet and roughly doubled its weight. Throwing 230-grains of full metal jacketed All-American chaos downrange, old John Moses effectively excised the ambiguity from an armed exchange.
Now fast forward more than a century and the landscape is littered with laser designators and weapon lights. Lots of folks make them, and quality ranges from superb to doorstop with everything in between. Previously, a decent onboard weapon light put out perhaps 500 lumens of white light. When Streamlight decided to build tomorrow's weapon-mounted tactical illuminator, they took yesterday's performance and doubled it.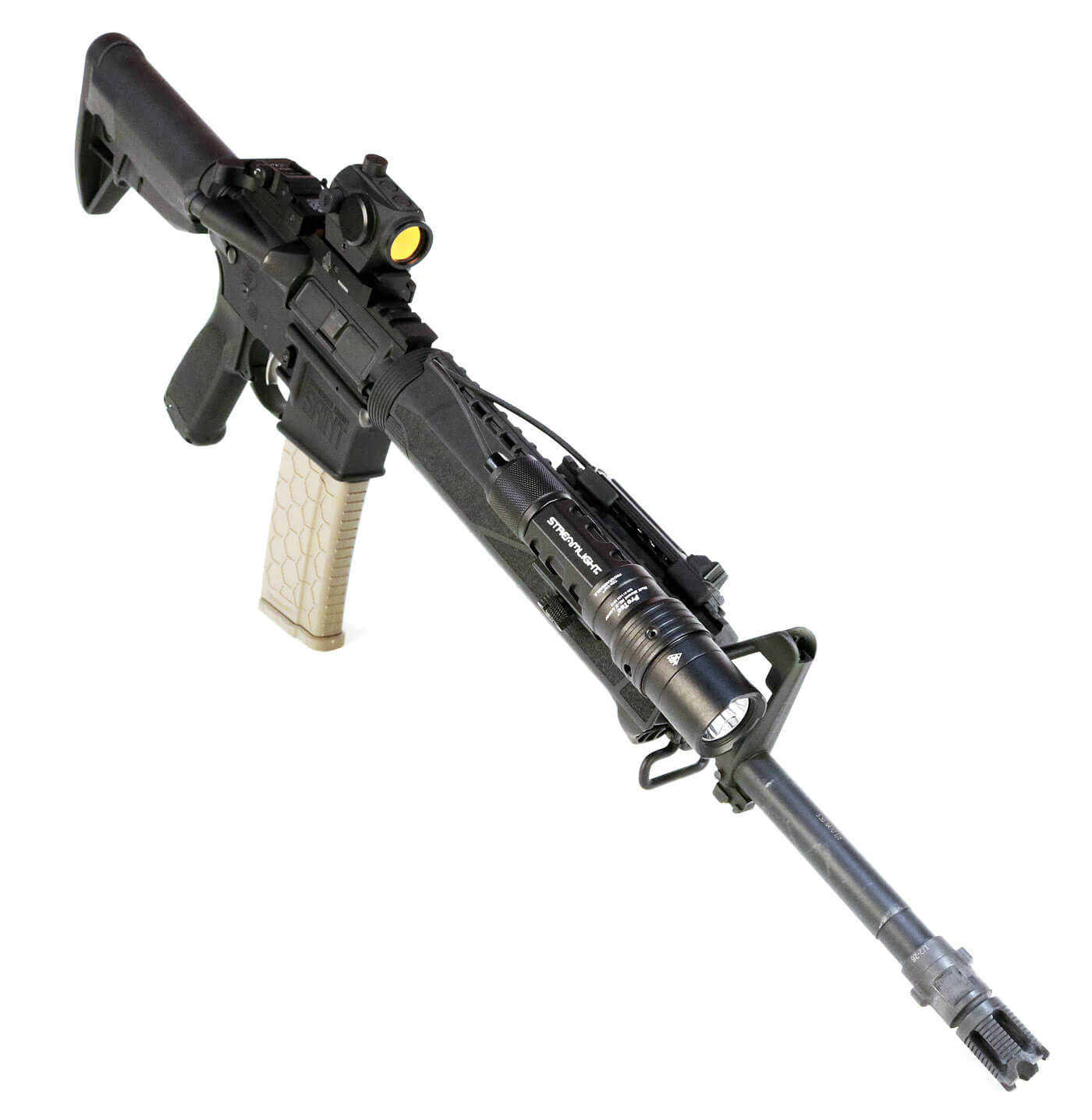 Hot Stuff
Streamlight's Protac Rail Mount HL-X Laser Long Gun Light is programmable, rugged and versatile. It runs off of either two CR123A batteries or a rechargeable lithium ion cell. The rechargeable battery charges via a USB port and included cable. If this light could cook, you'd marry it.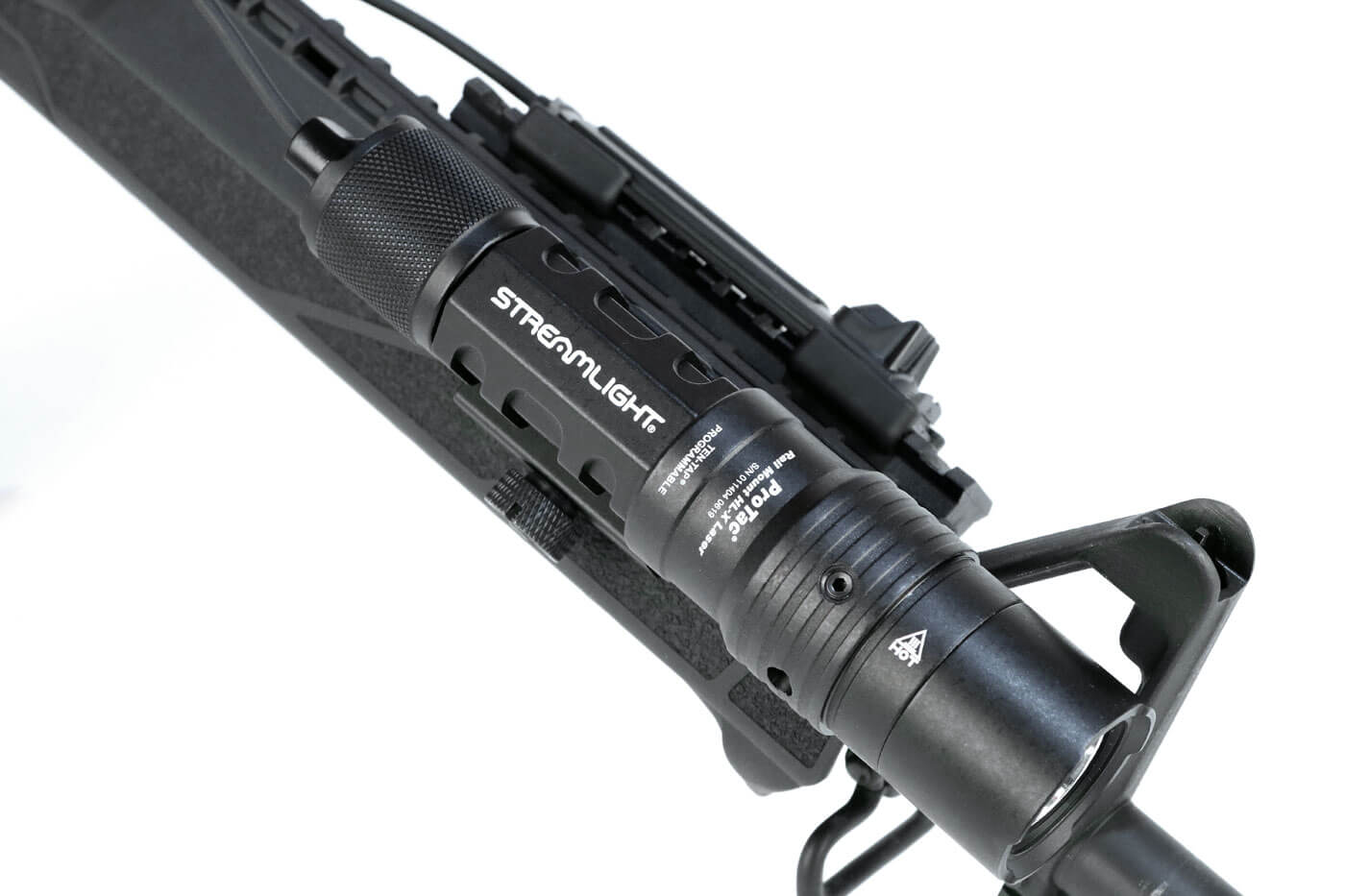 This light/laser unit is slightly longer than most, but that means exceptional capabilities and raw unfiltered power. Pardon the hyperbole, but it's like this thing channels the power of a tiny sun right there on your rifle. The Protac HL-X comes as a system with both a dual-function detachable tail cap and a remote pressure switch. The remote switch includes both Velcro mounting pads and a robust snap-on rail-mounting system. Construction is aircraft-grade aluminum and impact-resistant tempered glass. Operating limits are -40 to +120 °F. It is waterproof to one meter for half an hour.
The Streamlight TEN-TAP system offers three different operating programs — high/strobe, high only, and low/high. When set on high and powered by the Streamlight rechargeable battery, the light produces 1,000 lumens and 27,600 candela for 1.5 hours. On low the light puts out 60 lumens and 1,600 candela for about 23 hours. Lumens are how much light is emitted. Candela measures visible intensity. The strobe function is intentionally disorienting and operates for nearly 3.5 hours on a full charge.
The tail cap switch has two waterproof rubberized controls that are easily differentiated, even in hard dark. One switch activates the red laser. The other controls the light. The remote pressure switch features a long pressure pad for momentary use as well as a separate on/off component for extended activation. I've concluded this light is likely smarter than I am.
Both the pressure switch and light secure to any standard Picatinny rails. A unique rail grabber mount is separate from the light to help maintain the laser's windage and elevation settings. The whole shebang is 5.43″ long and weighs a bit shy of 7 oz.
Defensive Synergy
To put the Protac Rail Mount HL-X Long Gun Light through its paces, I mounted it up on the forearm of my trusty Springfield Armory SAINT AR-15. I was an early adopter so mine is one of the first KeyMod rifles. Featuring a 1-in-8 twist 16″ Chrome Moly Vanadium barrel, superlative Bravo Company furniture, and a nickel boron-coated greasy slick trigger group, the Saint AR-15 is a top-end black rifle at a working man's price.
The SAINT includes a mid-length gas system and heavy tungsten buffer for optimal reliability. An Accu-Tite tensioning system keeps the rifle shooting straight. The gun comes standard with a flip-up rear sight, so you can shoot it right out of the box.
I topped off my SAINT with a Silent Legion Multi-Caliber sound suppressor. This versatile .30-caliber can mounts via either a proprietary twist-on flash suppressor or a thread mount. This rugged high-efficiency suppressor will handle short-barreled 5.56mm platforms up to .300 Win Mag monsters efficiently, easily, and quietly.
Ruminations
Choosing a tactical light is actually a fairly delicate affair. If the light is too bright and used in tight enclosed spaces it can ruin your night vision. However, I live way out in the sticks on a rural farm. I have had to clear the yard on several occasions when the dog just wouldn't shut up in the middle of the night. Under those circumstances having an onboard weapon light powerful enough to reach out three football fields and penetrate the tree line is a serious combat multiplier.
When mounted on my tricked-out SAINT, the Protac Rail Mount HL-X Long Gun Light offers laser-guided precision and night-shredding brilliance. The light mounts up out of the way, runs about forever, and is easy to control even in the dark. It's the next best thing to a light saber.
Join the Discussion
Featured in this article
Continue Reading
Did you enjoy this article?
39