Five Top Springfield Armory TRP 1911 Holsters
October 15th, 2021
6 minute read
The iconic 1911 pistol has been with us for more than 110 years now, and it remains a top choice for discriminating handgunners. There are many reasons why it has endured so long, and the fact remains that most shooters are able to shoot this classic to a higher standard than just about any other self-loading pistol.
The 1911 has proven itself on the battlefield, the mean streets and in competition, and it's highly unlikely its success will ever be eclipsed by another pistol. A quality often overlooked about it is the fact the 1911 is readily adaptable to shooters through the complete range of hand sizes, which is yet another feather in its cap.
Tip-Top Option
Several years ago, Springfield Armory introduced the TRP family of 1911s, which has since gone on to receive rave reviews. This line incorporates several in-demand enhancements as standard, representing a huge savings over having your pistol tricked out by a custom gunsmith after purchase.
Like all full-size 1911s, there is simply no getting around the fact that the TRP is a big pistol. This complicates the picture for discreet, concealed carry. Contrary to popular opinion, it is well within the realm of possibility to carry a full-size pistol and stay under the radar. The key remains having the right carry rig and dressing around the gun.
I recognize that no matter what we do, it's impossible to hide a full-size service pistol when wearing certain types of clothing or in different social settings. But many of us have no such limitations and, by employing a little creativity, carrying a full-size pistol like the TRP is well within the realm of possibility. Let's look at a few holsters that might help our cause. And remember, as a standard-sized 1911 pistol, the TRP shares a lot of holster options with all those 5" 1911 pistols out there!
Mitch Rosen 5JR Express Holster
Mitch Rosen has long been recognized as one of the nation's premier craftsmen when it comes to the design and building of traditional leather holsters. The 5JR Express is a full-length belt slide made of premium leather that offers both comfort and superior concealment qualities.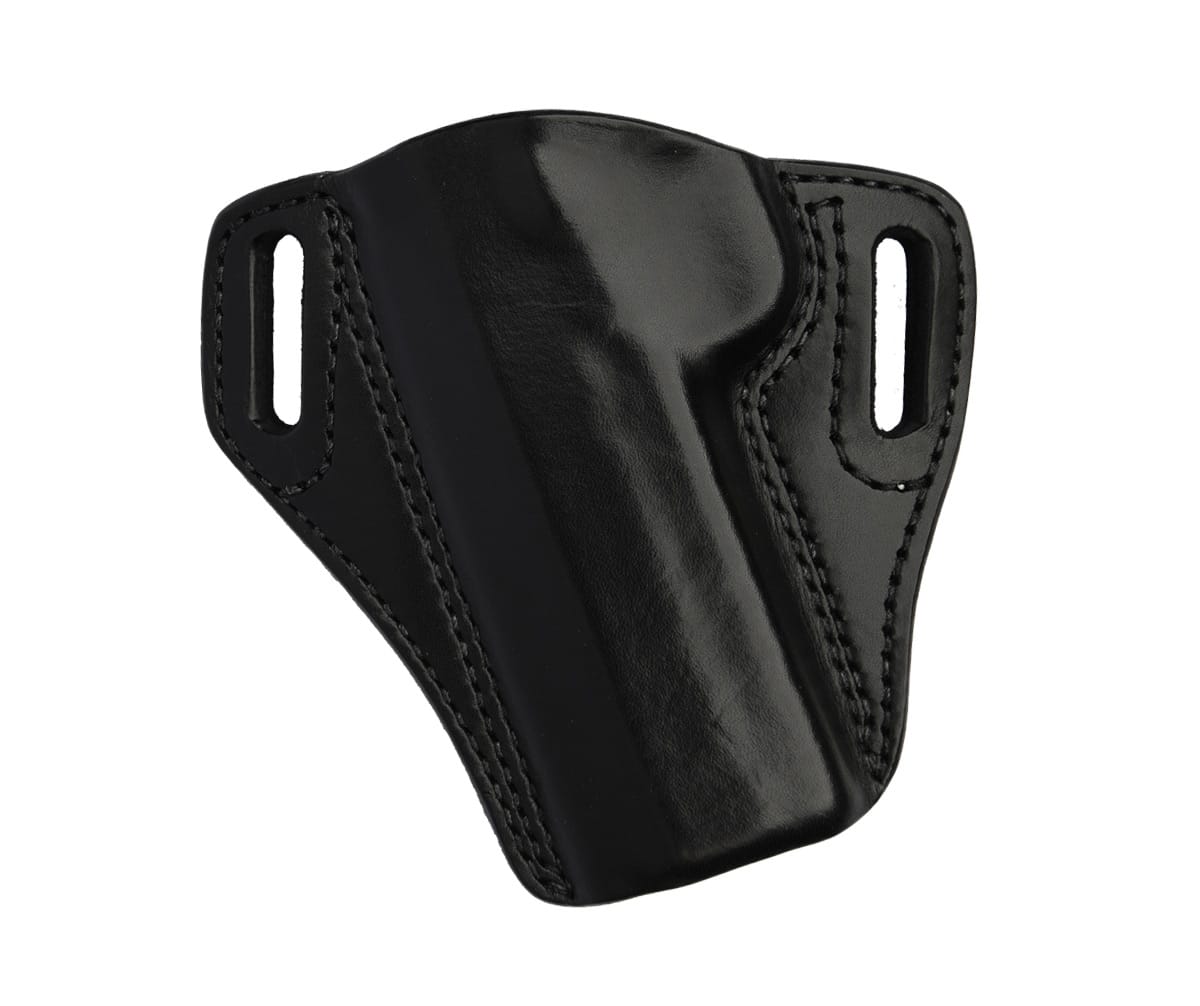 Rosen's Express line is a lower-cost option compared to his standard offerings, yet the quality is truly first-rate. Belt slots are cut to 1½", and the 5JR features an FBI-style forward rake to aid concealment. The Mitch Rosen 5JR represents the best buy for shooters who favor a top-quality, leather outside-the-waistband holster.
Galco KingTuk Deluxe IWB
The most discreet method of carrying any sort of handgun is in an inside-the-waistband (IWB) holster. With an IWB holster, the slide and barrel are hidden from view below the beltline and one need only conceal the grip of the handgun to remain discreet. Inside-the-waistband holsters are especially useful in helping conceal a full-size fighting gun like the TRP. So, what's not to like?
After carrying a concealed firearm every day for most of my adult life, I can tell you that my strong-side hip feels like it has been worked over by a jackhammer. As a result, I find wearing most IWB holsters unbearable. The KingTuk fixes all that.
The KingTuk features hybrid construction with Kydex/saddle leather components. The leather steerhide backing plate is against the body while the Kydex shell allows for a smooth draw and easy reholstering. The KingTuk is affixed to the belt by a pair of clips, which allow the shirt to be bloused over the grip of the pistol if so desired. I prefer to wear my KingTuk as a standard IWB holster under a light covering garment and would rate the comfort factor as excellent. If you too find IWB carry uncomfortable, the KingTuk may give you an entirely new perspective.
Galco VHS Shoulder Holster
I tend to view shoulder holsters as specialized rather than a general-purpose concealed carry holster. While they indeed sport that 1940s noir detective vibe, drawing and reholstering are more challenging than a belt rig, and a jacket of some sort is always required. Yet again, if you spend the better part of your day in a seated position or behind the wheel of a car, a shoulder holster offers better access and comfort, especially with a full-size pistol such as the TRP.
Although horizontal carry seems to be a more popular choice with shoulder rigs, I find this only works well with smaller handguns. Big guns are best carried in a vertical shoulder holster. Without question, one of the better shoulder rigs for the 1911 is the Galco VHS (Vertical Holster System). The VHS is rendered from premium steerhide and is convertible for right- or left-hand use. A dual magazine carrier is included on the side opposite the holster. To achieve the perfect fit, a comfortable Flexalon backplate with a 2.75″-wide shoulder harness can be adapted to a wide range of body types. Tie-downs keep both the holster and ammo carrier in check.
A shoulder holster may not be the best choice for everyday carry, but for those with special requirements, it remains a solid choice. If a vertical shoulder holster suits your needs, it doesn't get any better than the Galco VHS.
Safariland Model 6360 ALS
The trend in police duty holsters in recent years has been toward retention designs that can help defeat a disarm attempt by an assailant. Safariland commands a huge segment of the law enforcement holster market, and their extensive line includes a number of well-thought-out designs that offer different levels of retention.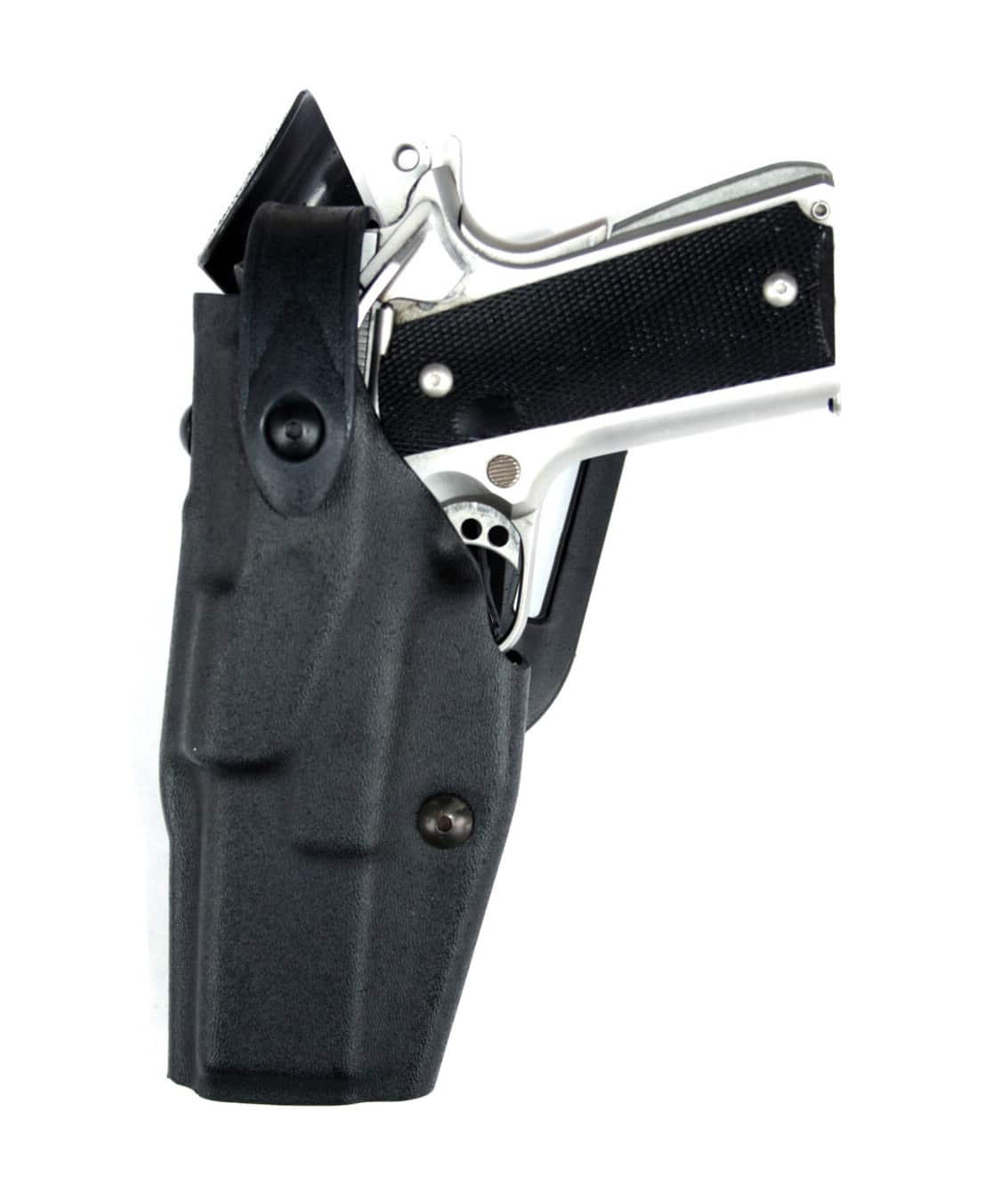 Perhaps the most popular police holster on today's market is the Safariland Model 6360. The 6360 is a Level III retention, mid-ride design that features the proprietary ALS (Automatic Locking System). The gun is automatically secured in the holster on return and an intuitive, thumb-activated security system makes for a quick, straight-up draw stroke.
The 6360 is available in a wide range of finishes to suit preference. Models are available to accommodate the TRP with or without a weapon-mounted light. For the uniformed law enforcement officer or armed security specialist, it doesn't get any better.
Comp-Tac Paddle Holster – Speed Cant
Kydex is a rigid material that has been extensively used in the manufacture of holsters. Positive qualities of Kydex include resistance to moisture, durability, low friction for a fast draw and ability for a fumble-free, one hand return to the holster. I daresay there are scores of outfits turning out Kydex holsters but few boast the reputation of Comp-Tac for turning out a quality product.
From the extensive Comp-Tac line, a personal favorite of mine is their Paddle Holster – Speed Cant. Unlike conventional belt holsters, paddle designs are quick on-quick off. Curving tabs on the paddle keep the Comp-Tac variant very stable on the belt while executing the draw stroke.
The holster is cut low in the front and is of straight drop design, however, it is also available with a 15 degree FBI cant if so desired. The Paddle Holster – Speed Cant is available in a number of different colors and fits belts up to 1.75″ wide. This holster will keep your TRP or other full-size pistol tight to the body and help provide for an efficient, fast draw.
Conclusion
There are of course, hundreds of other options for carrying a full-size 1911 pistol. Those of us who carry a pistol on a daily basis will discover that no one holster suits all our needs and ultimately, you may be using two or three different rigs depending on clothing or time of the year. In the end, your gun is only as good as the holster you carry it in. Choose wisely!
Editor's Note: Please be sure to check out The Armory Life Forum, where you can comment about our daily articles, as well as just talk guns and gear. Click the "Go To Forum Thread" link below to jump in and discuss this article and much more!
Join the Discussion
Featured in this article
Continue Reading
Did you enjoy this article?
82