When it comes to 1911s, I have always felt about them pretty much the same way I do about classic cars. They're beautifully designed, rock-solid in their construction and are from an iconic era that predates me and my generation. I guess I would call it a general appreciation.
There's also no denying that they stir an emotion not only for their elegance and aesthetic, knowing that the pistol served as the standard-issue sidearm for the United States military between 1911 to 1985. Perhaps it's my own naivety, sheer ignorance or generational bias, but I also associated them with simply being older technology, that had its time in the limelight, but had been surpassed and resigned to being heirlooms and cherished keepsakes for all modern-day practical purposes as firearms technology had evolved beyond them.
Being a "generation-polymer" kid that mostly trains for self-defense, tactical and for sport, my primary time behind the trigger has involved a lot of weapons systems that revolve around plastic frames, custom components, and modularity versus steel and standard-issue. Whether it be building out 9mm pistols or tricking out ARs (my primary go-tos), for some reason I just never felt like the 1911 was meant for me.
There was certainly no lack of respect on my part for the platform, as I've always thought it was a cool design and appreciated it and the legacy behind it. The community trash-talking from the diehard elitist modern platform crowd, who persistently extolled the virtues of only running newer, faster, lighter-weight pistols when compared to the tried-and-true legacy guns never meant much to me, either. Frankly, it always seemed silly.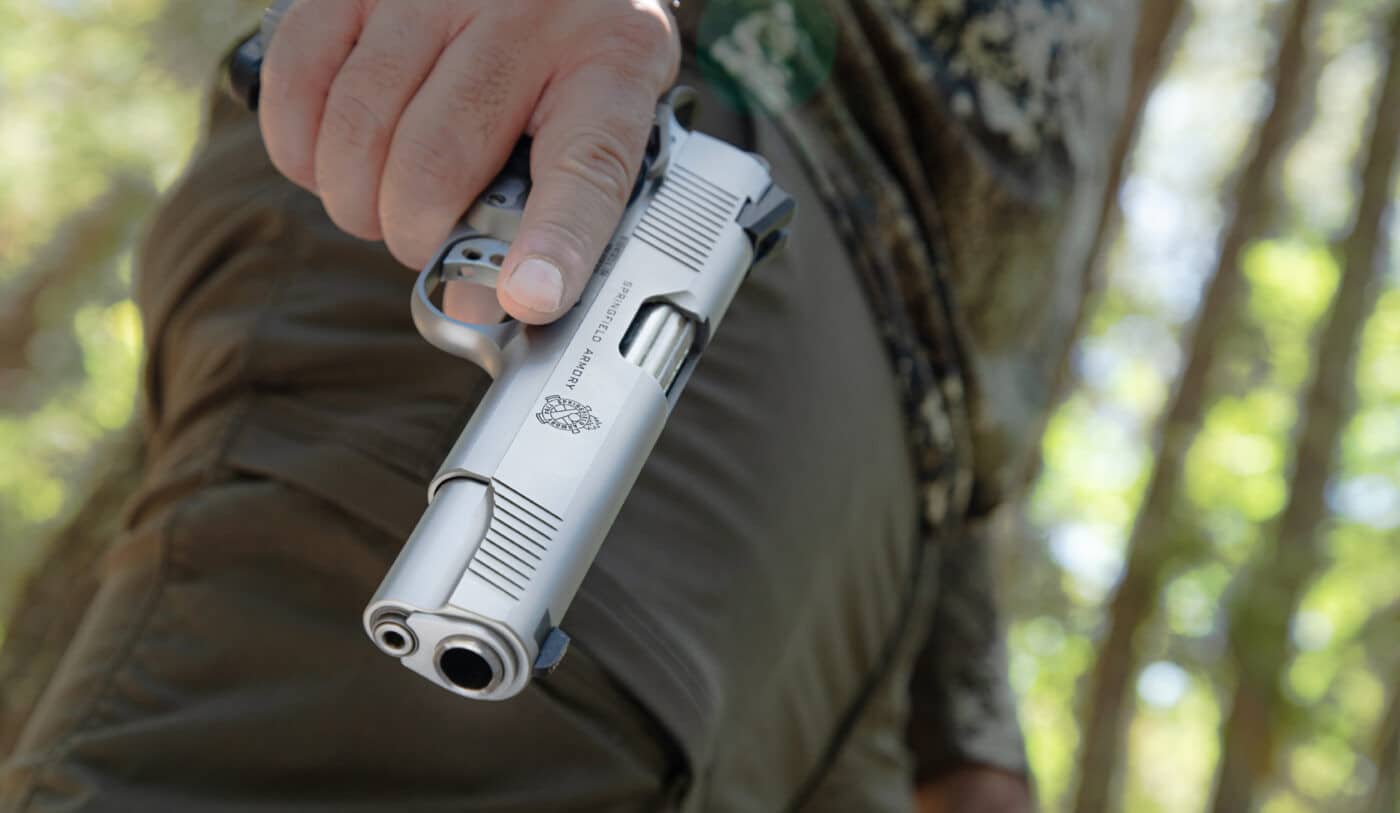 To me, it was apples and oranges. And much like fast, beautiful cars, I appreciate them all for what they are in different ways but had just developed a taste for one over the other based on my experience and interests. It wasn't until recently that a 1911 with a modern flair hit my radar and had me reconsidering my entire preconception of the pistol itself. And this pistol had me interested in taking my turn at actually putting some "mileage" on one for myself. Enter the stainless steel Springfield TRP (Tactical Response Pistol) 1911, chambered in .45 ACP.
The Backstory
First, a bit of history. Back in the 1990s, FBI regional SWAT teams were seeking a 1911 that could meet their demands when it came to being a rugged, reliable, accurate, service pistol in the field. Springfield entered the bidding process and won the contract, besting all competitors who were contending for the honor, and delivered on what the agencies were asking for: a .45-caliber, semi-automatic, single-action pistol, manufactured of steel, featuring a grip safety and an ambidextrous frame-mounted manual thumb safety that hosted a single-column magazine.
After extensive accuracy, reliability, durability and safety assurance testing, the pistol that we now know as "The Professional" met and exceeded all expectations. While that pistol is a full custom-grade pistol (with a price tag north of $3,000), it inspired the creation of the .45 ACP Tactical Response Pistol (TRP) from Springfield. The TRP is a 1911 that captures the design philosophy of that pistol but at a more attainable price.
Just like the Professional (and all Springfield Armory 1911 pistols), a key contributing factor to the ruggedness, reliability, and manufacturing consistency of this 1911 lies at the very heart of the pistol itself: a forged stainless steel frame and slide. (Want to know why this is important? Read our article comparing forged and cast steel.)
The rugged, weatherproof stainless steel chassis begins its life cycle out as a billet of steel that endures the intense heat and pressure of the industrial forging process, being heated to a high degree, compressed and mechanically pressurized, and then finished within CNC machines and at the hands of the craftsmen at Springfield.
This process is superior in terms of imbuing the steel with its strengthened properties when compared to frames and slides that are made through the casting process. The result is a beautifully polished and finished piece that will stand the test of time, both as an heirloom in the family war chest and in action on the battlefield.
The Details
Beyond the perfectly mated satin-finished stainless steel core of the Springfield TRP is a handful of features that caught my eye and set it apart from the pack. First, the frontstrap and mainspring housing each feature an aggressive matching 20 LPI (line per inch) checkering pattern that pairs beautifully with the aggressive matte black G10 grips.
For me, in hand, the pattern bites at just the right amount for providing maximum control during a few hours-long range-session without being so sharp that they'll leave my mitts looking like hamburger. Modern, refined, and not overly serrated, the pattern combines for an exceptionally rigid, slip-resistant foundation in the palm.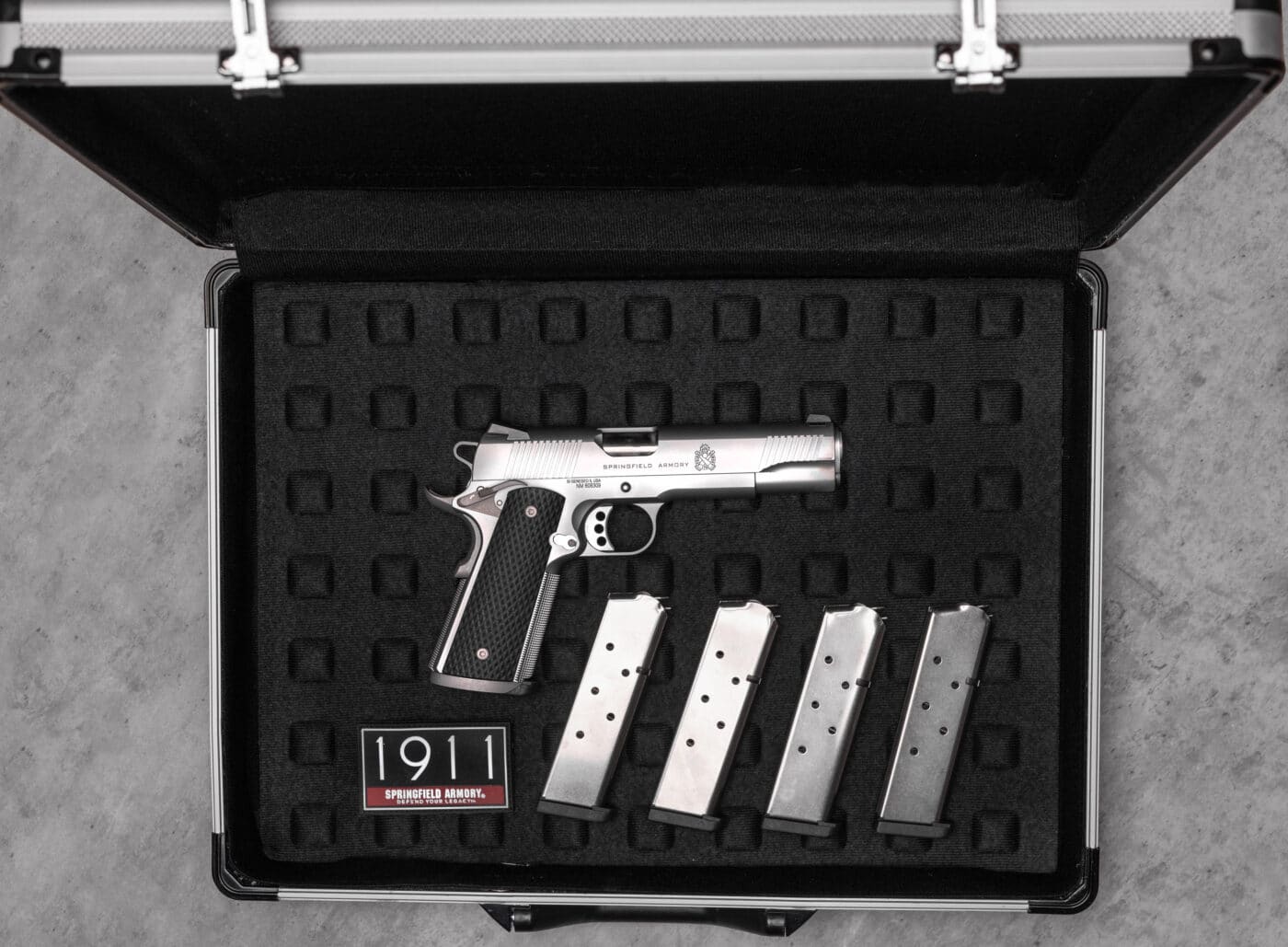 The grip also features an ample relief cut on the left side of the panel that really enhances easy access to the magazine release, which I like from an operational standpoint. And the pistol's blended extended and flared magwell is sleek and makes insertion of your mag a breeze. I also appreciated the modern Low Profile Combat 3-Dot Tritium sight setup.
When held in hand, the Springfield 1911 TRP is comfortable, intuitively balanced and has a certain gravity that my polymer-framed pistols lack … and not due to the physical weight of the pistol. While the pistol weighs in at 42 oz., the fact is that 1911s just feel more substantial no matter their weight.
Beyond that, it looks and feels like a master-crafted hand-built 1911 versus a production gun. To parallel the automobile analogy yet again, as we all know, looks are one thing, and sitting in the seat behind the steering wheel is another. How the machine actually drives provides the real test of capability of both the vehicle and the driver.
Springfield Armory 1911 TRP SS Specifications
Here are the specs on the Springfield 1911 TRP in stainless steel:
| | |
| --- | --- |
| Chambering | .45 ACP |
| Barrel | 5.0″ match grade |
| Overall Length | 8.6″ |
| Weight (unloaded) | 42.0 oz |
| Action | Single-action |
| Grips | G10 |
| Sights | Low-profile, three-dot |
| Finish | Stainless |
| Magazine Capacity | 7 |
| MSRP | $1,648 |
Range Time
At the range, the TRP runs exceptionally smooth all around, like a well-oiled machine. I spent over an hour running a Springfield Armory XD-M Elite chambered in 9mm, one of my favorite polymer-framed pistols, putting lead on steel and paper during training drills for an upcoming tactical competition. I figured this would be an interesting way to establish my baseline for what I am most comfortable and familiar with when it comes to training at the range with my go-to pistol.
I'll admit, I expected the transition to the TRP 1911 in .45 ACP to present challenges and a dramatic difference in performance if based solely on caliber change and operator dynamic differences and familiarity alone. However, the result was fairly surprising.
In my hands, the TRP was impressive, and I not only adapted to the change in hardware and caliber quickly but found the difference in performance back-to-back to be really enjoyable and intuitive. My grip was firm and steadfast between the G10 grip and checkering, the trigger wall and break was crisp, and the placement of shots while employing the three-dot tritium sights was natural and quick. Recoil was extremely manageable, and follow-up shots were easy to place.
To be honest, all of the technical and mechanical handling I typically look for during testing was noted, but quickly forgotten as I found myself just enjoying shooting the Springfield 1911 TRP. It was fun and it was easy, which is a testament to the engineering, design and finishing detail that went into this beautiful 1911, especially chambered in .45.
Not long after I began shooting, the gun had me recalling the first (and few) times I had a chance to shoot my dad's prized 1911 back when I was a kid before I knew a damn thing about the difference between one platform or the other. This was before I was initiated to and swiftly inundated with all of the firearm enthusiast culture, technical conjecture, preferences and hearsay from the community at large about the "superiority" of one gun over another.
Don't get me wrong, I geek out over all of it, but I also take it all with a grain of salt. The experience of shooting the TRP, a modern 1911 of exceptional design style and quality, reminded me to enjoy the basic feeling, power, capability and handling of the firearm along with the craftsmanship that makes it so.
Conclusion
As a takeaway from my review, if you are like me, and had some general appreciation but very little actual hands-on time with the 1911 platform, I highly recommend you check out the TRP. Take her out for a spin and put some lead downrange. The modernized, master-crafted nature of the classic platform will have you hooked. I can tell you all day long about what it feels like to hit the gas and go fast in a classic car, but nothing will come close to you being the one in the driver's seat.
The same principle applies to getting behind that beautiful stainless steel Springfield Armory 1911 TRP and pulling the trigger yourself. And not for nothing, but the auto-enthusiast world can give the gun-gurus a run for their money when it comes to holding staunch opinions on every little bit of minutiae within their respective industry.
So don't take my word for it. Get your hands on a TRP and put it through the paces yourself. You won't be disappointed. At an MSRP of $1,648, it's a hell of a lot cheaper than that classic auto you've been looking at and it might even be more fun to drive.
Editor's Note: Please be sure to check out The Armory Life Forum, where you can comment about our daily articles, as well as just talk guns and gear. Click the "Go To Forum Thread" link below to jump in and discuss this article and much more!
Join the Discussion
Featured in this video
Continue Reading
Did you enjoy this video?
163