A 1911 with Soul: Springfield Custom's Professional Light Rail 9mm
July 21st, 2021
6 minute read
Since I acquired my concealed carry permit at age 21, I have carried a Springfield Armory Range Officer Elite Operator almost religiously. Of course, I would shake up my EDC here and there, but for the better part of almost two years it would prove to be a difficult task to find me without my RO Elite.
I believed this gun would be the one that I would carry the rest of my life, and I found a deep emotional attachment to this modern rendition of John Moses Browning's classic design. That is until SHOT Show 2020 came around and I visited the Springfield Armory booth. It was there that Springfield's Steve Horsman put a Springfield Custom Professional in my hand.
I was awestruck by it and had a hard time putting it down. As the show went on, I made a point to stop by the Springfield booth to study the Professional, for I had never held a gun that felt so perfect. I knew I had to get one. This would prove to be a difficult task for a college student working part-time behind a department store gun counter. Unless, of course, that college student is obsessed with 1911 handguns and would work tirelessly toward getting one.
After almost exactly a year of missed meals and late nights working, I was filling out a 4473 at my local gun store — blood pressure at an all-time high — as I signed my name and became the new owner of one of the coveted Professional Light Rail pistols. I could hardly contain my excitement. In fact, I didn't, as I called all my buddies to come over and check out my new pistol.
A Professional's Professional
To understand the insane cool factor that the Professional carries, we'll need to roll the clock back to before I was born. In the mid-1990s, regional FBI SWAT teams were looking for a new pistol. The request was for a single-stack 1911 in .45 ACP, preferably with a steel frame and features an ambidextrous safety.
While a large number of custom gunsmiths, builders and manufacturers offered samples for consideration, it was a pistol from Springfield Armory that was selected. But what exactly did that pistol face during these tests?
The test requirements were extremely demanding. Starting with a stringent inspection for compliance to the specifications, the test then required a safety check, abuse test, firing test, field suitability test, accuracy test, endurance test, and, finally, a second accuracy test. Regarding ammo choices, the pistols were required to be able to reliably feed Remington Golden Saber hollowpoints — the ammo chosen by the FBI.
The testing required unassailable reliability, through a grueling endurance test of 20,000 rounds per sample tested. It also demanded an accuracy requirement of an average of 1.5″ at 25 yards for three consecutive 10-shot groups fired from a Ransom Rest. The Springfield made it through the testing with flying colors and was selected by the FBI.
The Professionals, originally known as the Bureau Model, began service with the FBI in 1998 and served with FBI SWAT members and even the FBI's Hostage Rescue Team (HRT). Even as we slip further into the age of soulless polymer-framed guns, the legacy of the Professional lives on today.
Professional Light Rail 9mm 1911 Specifications
| | |
| --- | --- |
| Chambering | 9mm |
| Barrel | 5″ |
| Weight | 45 oz. |
| Overall Length | 8.6″ |
| Sights | Novak, three-dot tritium |
| Grips | Cocobolo |
| Action | Semi-auto |
| Finish | Black-T |
| Capacity | 9+1 (six) |
| MSRP | $3,465 |
Standing Apart
It is said that Jeff Cooper was fond of saying that all a gun needs is sights you can see, a trigger you can press and to be dehorned. Check, check, check with the Professional. However, one could argue that most pistols fulfill that checklist, so what makes this one so special?
For starters, the Professional is a fully custom gun, hand-tuned and hand-fitted by the gunsmiths of Springfield Custom. Each piece of this artfully built gun is touched and fitted by human hands — something to which most guns cannot lay claim.
I'm often asked why in the age of CNC I would want something done by hand versus the precision machining of the finest manufacturing instruments known to man. Well, the answer is both simple and complicated. You see, these accomplished gunsmiths impart something a CNC machine never could: soul.
At first glance, the Springfield Professional appears as just "another 1911" because of the gun's straightforward and subtle aesthetics. It isn't until you pick the gun up and feel the smoothness of its operation that you realize this gun is truly something special.
Where It Counts
The Professional is finished in W.E. Birdsong's proprietary "Black-T" coating, which is incredibly durable and attractive. My particular 9mm Professional is an "Operator" model, meaning that this gun has a light rail, upon which I have mounted a Surefire X300U-B. It is interesting to note that the Professional Light Rail has a slightly longer rail than my other light rail Springfield RO Elite Operator, as this frame was designed from the ground up to be used for a Springfield Custom pistol.
For sights, the Professional has Novak low-profile night sights in the rear and an SA dovetail front, Both with Trijicon inserts. The Professional's expertly fitted slide lacks the modern use of front cocking serrations, which were precluded by the contract, but does feature a very attractive front ball end mill cut. "V2" markings adorn the slide, with the famous "Springfield Custom" logo on the right side of the slide as the only immediate indication this pistol was hand-built.
Additionally, the frame features a positive-clicking ambidextrous safety lever, beautifully fit grip safety and a fully blended barstock magazine well. Original Professionals used a Smith and Alexander magazine well, but Springfield Custom has since moved to producing a fully machined billet version in-house.
The trigger is an aluminum, three-hole "speed trigger". The hammer and sear are SACS tool steel components. Typical of most 1911's, it has an impeccable pull, with a clean and crisp break, and tight reset. Rich checkered cocobolo grips adorn this pistol, with the only other pop of color coming from the gun's stainless match trigger and barrel bushing. To say this is a handsome gun would be an understatement.
Frame to slide fit is absolutely impeccable, as the slide feels as if it was riding on ball bearings. A "hard fit" is done to the Professional's barrel, ensuring the legendary accuracy that guaranteed the Professional's victory in the FBI trials. My Pro's barrel is ramped, to accommodate the less-traditional 9mm chambering. Dynamic 20 line-per-inch checkering adorns the pistol's frontstrap and mainspring housing. Springfield Custom addresses each point of the checkering individually by hand to ensure a perfect checkering pattern.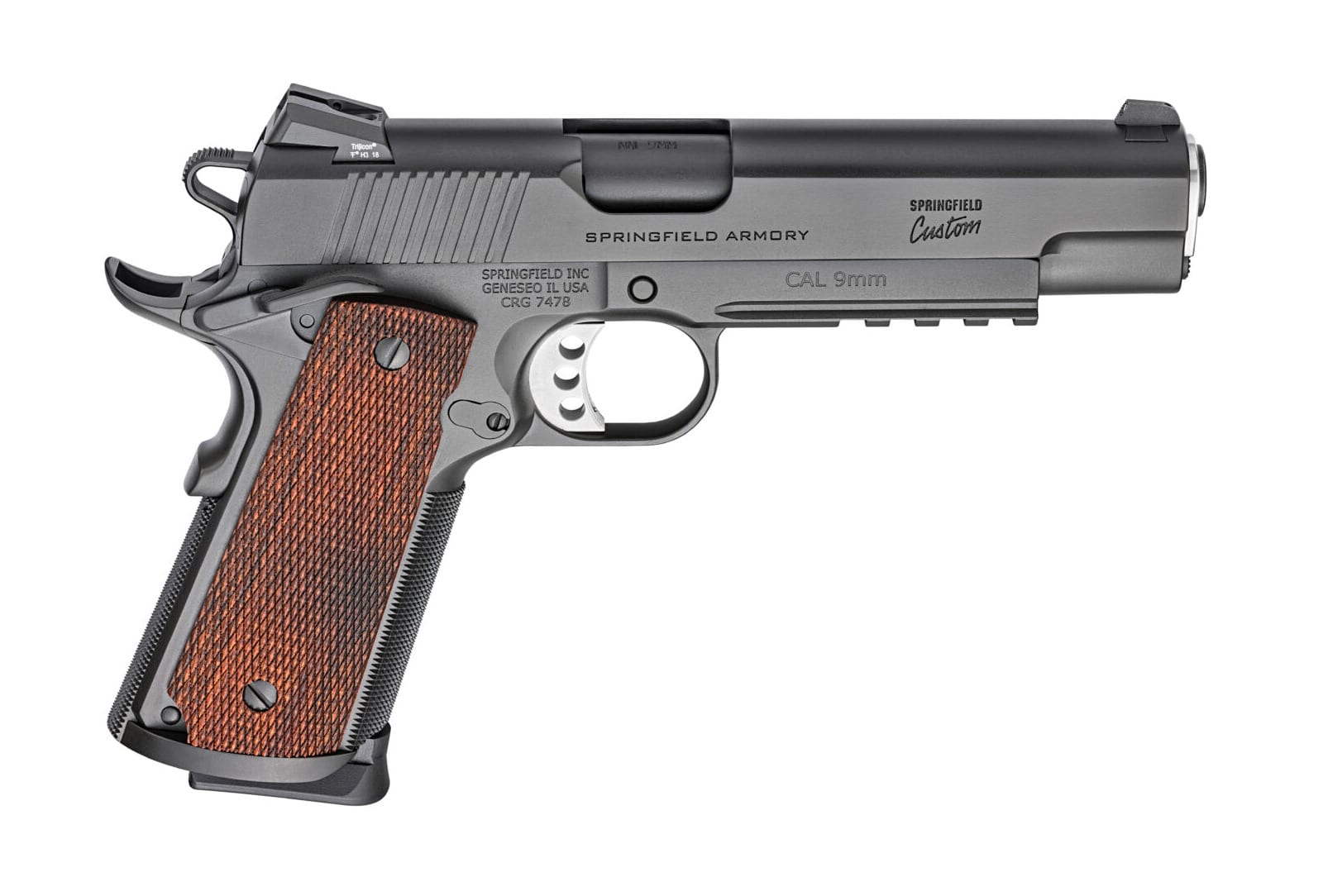 "By hand" is a term used often when describing the Professional, as the sweat and elbow grease of some of the most talented pistolsmiths in the country makes up the very DNA of the pistol. Because of this extreme build quality, the Professional is not a cheap gun by any means. But, it is an amazing deal considering what you get. As an investment-level pistol with an MSRP of $3,465, many of my friends assumed that my new Professional would live out a quiet life in my safe and were quite surprised to learn that the costly Pro quickly earned its place as my EDC.
A Professional EDC
Never before have I felt so connected to a 40-plus ounce chunk of steel. Every line, every radius combines to become a pistol incredibly pleasing to both the eye and the hand. Bulletproof reliability with an amazing recoil impulse creates a fantastically accurate and fast-shooting pistol. In an age of polymer and strikers, it goes to show the old 1911 still has a place in the modern world.
The hunt for the perfect combat handgun by the FBI fostered a new legacy for the 1911 and produced a pistol that would remain famous for decades to come. Developed for professionals and coveted by enthusiasts, Springfield Custom continues to shine with the production of high-quality, custom 1911 pistols like the Professional Light Rail. It truly is a 1911 with soul.
Editor's Note: Be sure to check out The Armory Life Forum, where you can comment about our daily articles, as well as just talk guns and gear. Click the "Go To Forum Thread" link below to jump in!
Join the Discussion
Featured in this article
Continue Reading
Did you enjoy this article?
201