Was John Moses Browning Overrated?
September 22nd, 2020
4 minute read
In many minds, the title of this article would be the start of a drop-down, drag-out brawl. How dare you disparage the name of John Moses Browning!? Cool your jets, though, because the opinion is not mine — it's Browning's.
Yes, that's right. John Moses Browning thought the world of another less famous but remarkably skilled designer. And in many ways, the two men's careers mirrored one another.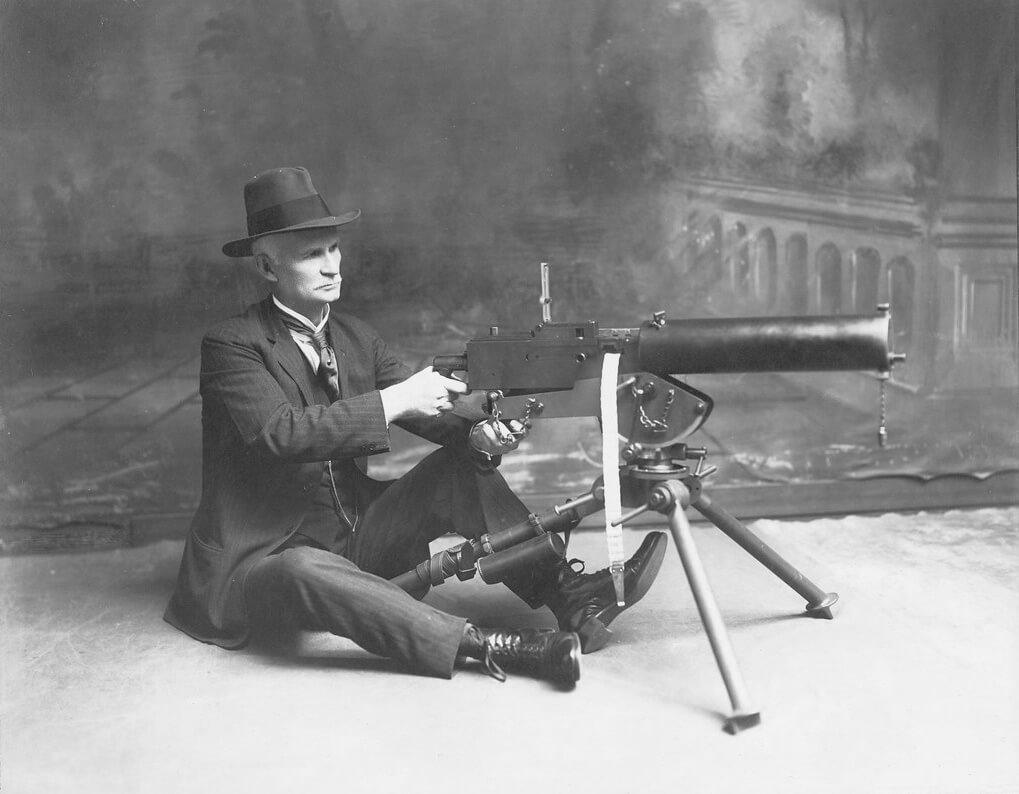 The Mystery Man
That man was John Douglas Pedersen, and Browning went as far as to tell Major General Julian Sommerville Hatcher, "Pedersen was the greatest gun designer in the world."
When you look at Pedersen's career and the timeframe in which Browning made his claim, it becomes much easier to see how he could have come to that conclusion. Born in 1855, Browning was 26 years older than Pedersen, who was born in 1881. Because of their age difference, Pedersen was likely seen by Browning as part of the next generation of great gunsmiths when he bestowed such kind words in the early 20th century.
As I stated above, the two men's careers mirrored one another. At the very least, Browning's career afforded Pedersen a sturdy pair of shoulders on which to stand. Like Browning, Pedersen spent a good bit of his time developing arms for the military as well as the civilian market.
Best known for the "Pedersen Device," which turned the bolt-action Springfield Model 1903 bolt-action rifle into a semi-automatic that fired pistol-caliber cartridges, his device was slated to be pushed into service for the spring 1919 offensive of World War I.
What the pistol cartridges lacked in power compared to the rifle cartridges, they more than made up for in terms of quantity and capacity. Simple math proved that a soldier could fire far more shots in a shorter period of time with the semi-auto Pedersen Device than they could with the bolt-action M1903.
With the armistice taking place on November 11, 1918, the 1919 offensive never came and the device never saw service. The devices sat as surplus before being destroyed to prevent the design falling into the hands of one of America's enemies.
Unsung Genius
Pedersen also designed a handgun to compete with the newly adopted, Browning-designed Model 1911. Tested by both the U.S. Army and Navy, it was reviewed favorably, but was never adopted. The Army dismissed it because arms factories had already been tooled up for a large 1911 contract. The Navy's interest in Pedersen's pistol design stemmed from a lack of 1911 availability, but to re-tool a factory for another different design would have only further exacerbated the 1911 supply shortage.
Pedersen also submitted a gun to compete in the trials for the M1903's replacement rifle. Pedersen's entry was a toggle-lock design that fired rounds in his own .276 Pedersen caliber (to learn more about that rifle, click here). It ultimately lost the rifle trials to a design by John Cantius Garand (to learn more about Garand, click here).
However, Pedersen did find some success. During World War II, the partnership of Irwin-Pedersen produced 3,500 M1 carbines before the remainder of the contract was shifted to Saginaw. (To learn more about the M1 Carbine, click here.)
Working Together
Pedersen and Browning were not always just friendly rivals; in one instance, the two men designed a shotgun together. Introduced in 1921, they completed the design for a 20 gauge pump-action shotgun. The success of that design led to several more very successful shotgun designs.
The two gunsmiths who had so much in common also had a commonality to their deaths. Both men died of heart disease — specifically, heart failure for Browning and a heart attack for Pedersen. Browning died in 1926 at the age of 71; Pedersen at the age of 70 in 1951. The former had more than 100 arms-related patents to his name, while the latter had 69 — no slouch, to be sure.
Conclusion
John Pedersen may not be as widely known as John Browning, but that doesn't make his accomplishments within the arms industry any less impressive. To have Browning call him the greatest gun designer in the world is, without a doubt, the highest praise an arms designer could receive.
If Browning thought he was the best, well, then that's good enough for me. In my mind, that settles it; I'm not going to argue with a man whose middle name was Moses!
Editor's Note: Please be sure to check out The Armory Life Forum, where you can comment about our daily articles, as well as just talk guns and gear. Click the "Go To Forum Thread" link below to jump in and discuss this article and much more!
Join the Discussion
Continue Reading
Did you enjoy this article?
154