Today, we are looking at the Surefire X300U weapon light, a tactical flashlight from one of the most respected manufacturers of gun gear in the business.
I've heard a lot about these, and I wanted to try it out for myself so I picked up the X300U-A for review. Check out the video above and keep reading my full evaluation below.
The Facts
First of all, let's go over some of the specs of this light. This light is bright with 1,000 lumens of total light output. It has a moderately tight spot with a measurement of more than 11k candelas and a beam distance greater than 200 meters.
That's a lot of power, so you might ask how long you can leave the Surefire on. Runtime to 10% of the initial output level is given as 1.25 hours.
The X300U-A light runs off of two 123A lithium batteries which are included when you purchase the weapon light.
It's not as short as some gun lights, but it fits perfectly on a full-sized pistol like my Springfield XD-M Elite. This light is 3.6″ long, and it has an aerospace aluminum body that is anodized, which should make it durable enough for duty use.
Surefire seals the light against water intrusion. It is rated as IPX7 which means it is designed to withstand complete immersion to 1 meter for 30 minutes.
It has a custom Total Internal Reflection, or TIR, lens that creates a smooth, far-reaching light with a larger center spot beam that is ideal for close- to medium-range engagements.
Integral ambidextrous momentary- and constant-on switching provides easy instant activation. This light attaches to both Universal and Picatinny accessory rails.
What's the Difference Between X300U-A and X-300U-B?
Looking at the Surefire catalog, you will see a -A and -B model of this light. So, what is the difference between the two? Simple answer: the mounting mechanism.
The X300U-A uses a quick-mount mechanism for easily attaching the light to nearly any firearm with an accessory rail. This is the model I tested. You just pull down the two plastic tabs on the sides and it slides onto the rail.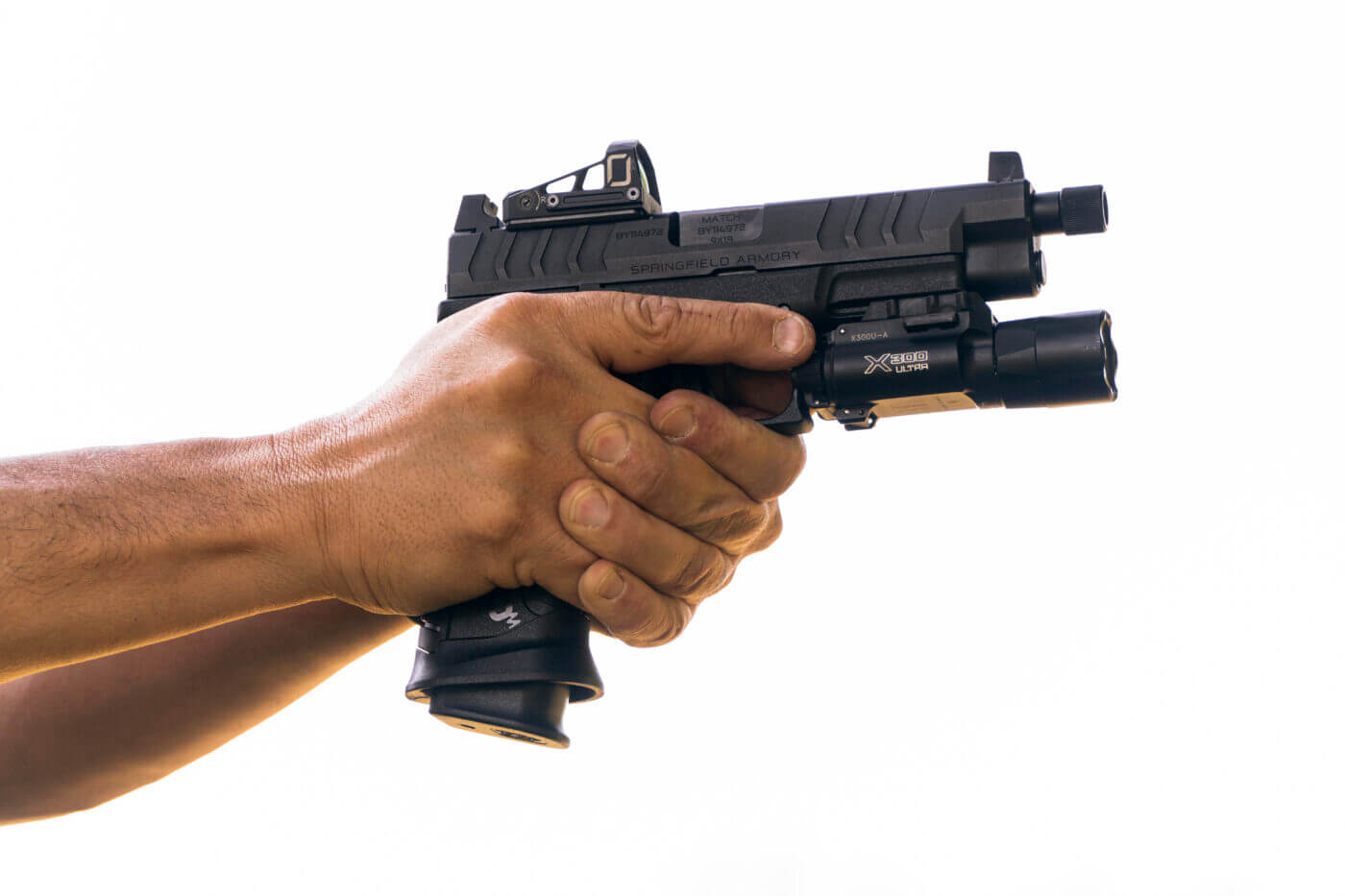 The -B model attaches with a more traditional screw fastener on the right side of the light. While I like the -A version, I can see that the -B variant might be a more solid connection for some pistols. With my XD-M Elite, the X300U-A was a perfect connection.
X300U Specifications
| | |
| --- | --- |
| Total Light Output | 1,000 lumens |
| Peak Beam Intensity | 11,300 candelas |
| Beam Distance | 213 meters (~233 yards) |
| Runtime (to 10% output) | 1.25 hours |
| Water Resistance | IPX7 (1 meter@ 30 minutes) |
| Batteries | 2x CR123A |
| Weight (with batteries) | 4.0 oz. |
My Thoughts
So, what are my thoughts on the Surefire X300U-A?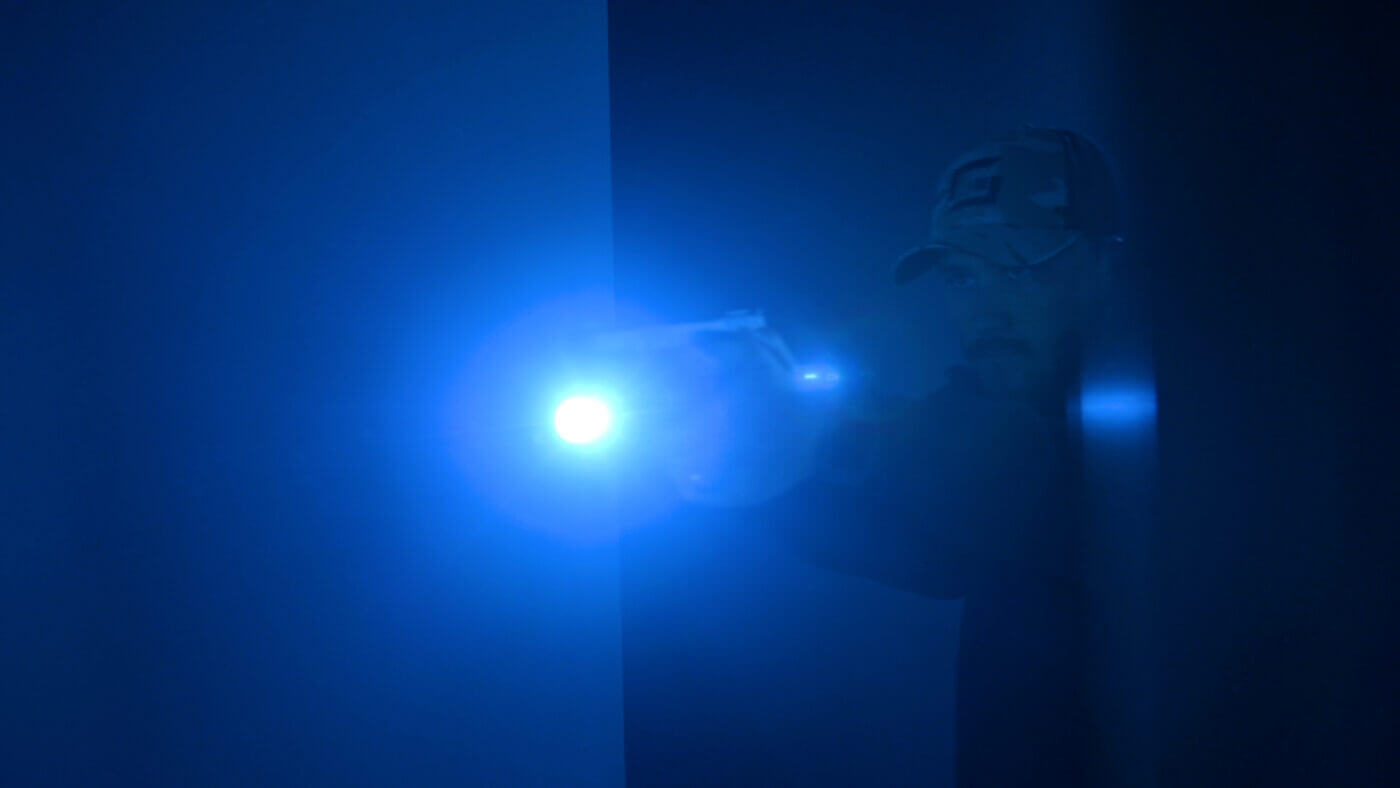 Most importantly, the light quality is fantastic. It has a good focused center beam that helps you see out over a distance, but it still has some soft bleed on the edge of it that makes it still very usable at close distances. (Note: Make sure you watch my video review at the top of this page for examples of what I am describing.)
The construction feels solid. With a name like Surefire manufacturing the light I'm sure that it lives up to being duty quality so I don't have any concerns there. It certainly performed well in my testing.
X300U Compatible Holsters?
Another huge plus is that Surefire is incredibly popular, and has been at this for a long time. This means there will be no shortage of holsters, switches or other accessories for this light.
This is a huge advantage because if you're constantly having trouble finding accessories to fit your light, especially holsters, it's going to be a headache for you.
If you are looking for a retention holster in a duty-type configuration, you might want to look at the Blackhawk Omnivore. This holster locks onto the light instead of the gun to hold it in place. The X300 is one of the lights it is compatible with.
Check out Michael Mills' review of the Omnivore where he is able to switch between a Springfield Armory 1911 Range Officer and a Springfield XD-M Elite without changing a single thing on the rig.
Another Direction?
If there were anything I would change about this light it would be the mount. The X300U-A model like this one has a quick release method for its mounting.
While this does give you the ability to quickly swap it on and off, I've found it to be a little loose-fitting on some guns, but not all. With some pistols, the flashlight was a solid fit.
If that's something that concerns you, Surefire has this exact light with a more rigid mounting system that clamps down with a bolt. If the quick release feature is not important to you, you can pick up the other version — the X300U-B — for the same price as this one. I think you really have to admire Surefire having both of these options available.
Conclusion
At the beginning of my video review at the top of the page, I said I'd tell you why I hated this light. Well, I used the past tense "hated" for a reason – now, I love this light.
Initially, I didn't care for this light at all because as soon as I got it I pulled it out of the box put it on my gun without reading the instructions. Therefore, I didn't think it had a toggle switch.
Once I read the manual, I realized it did have that toggle option. Further, I discovered it comes with two different mount styles plus some customization options for different rails.
My point in this I guess is that you should read the user manual before you jump to conclusions, right?
This is a great light. The light beam is one of the best you're going to find and with a name like Surefire backing it, you know it's going to have a seal of quality.
Editor's Note: Please be sure to check out The Armory Life Forum, where you can comment about our daily articles, as well as just talk guns and gear. Click the "Go To Forum Thread" link below to jump in and discuss this article and much more!
Join the Discussion
Featured in this video
Continue Reading
Did you enjoy this video?
38