Take a trip back to grade school with me and let's talk about what an omnivore is. For those of us who remember our lessons, an omnivore is an animal that eats plants and meats.
Well, the Blackhawk Omnivore Multifit Holster is kind of the same, only with inorganics. It will pretty much eat everything from steel-framed guns to striker-fired polymer pistols. But how does it accomplish this astounding adaptability?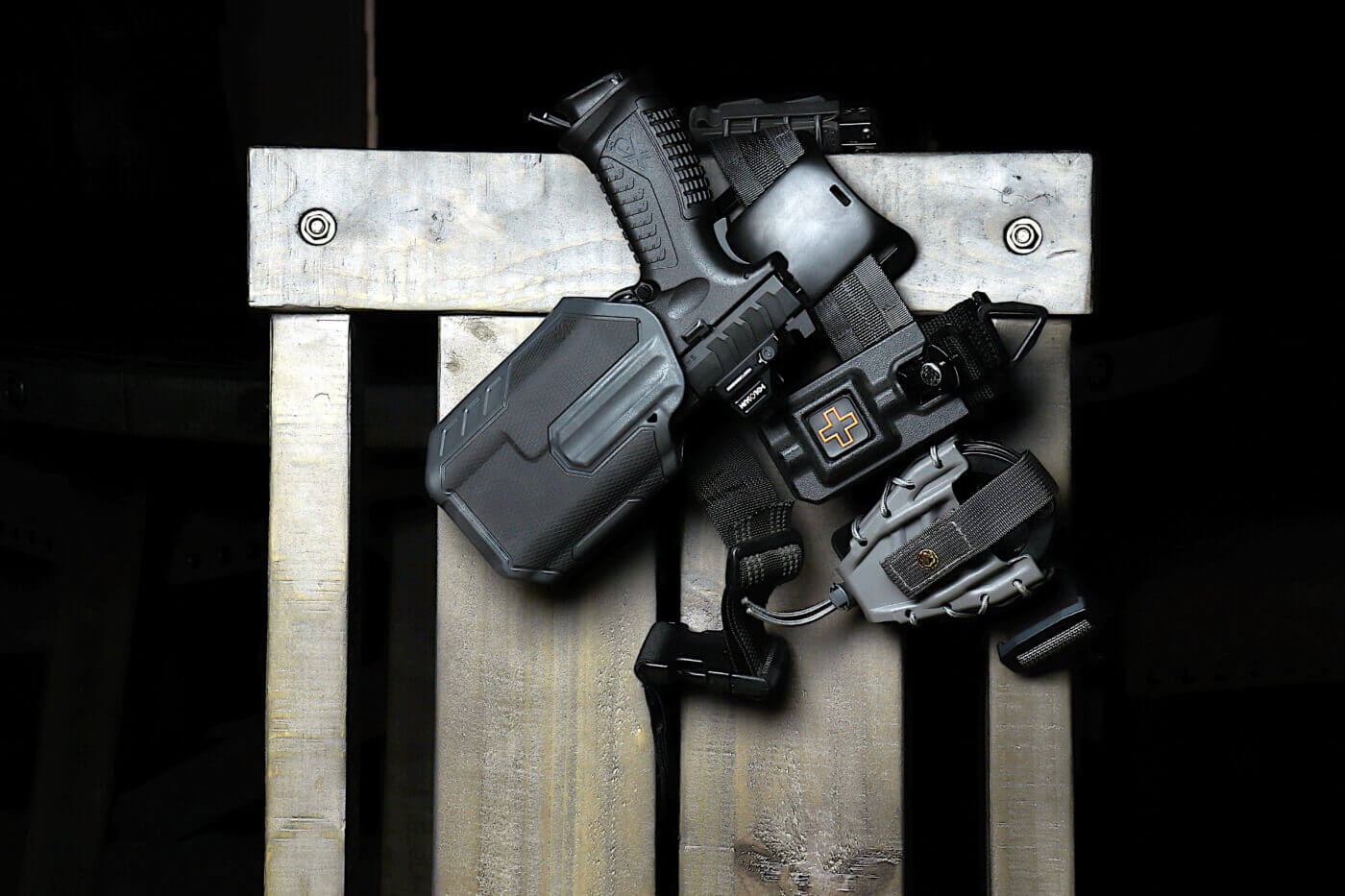 What's the Catch?
Technically, the catch is a small piece of polymer inside the holster that locks onto your chosen weapon-mounted light, be it a Surefire X300 or Streamlight TLR-1 or TLR-2. The Omnivore itself is a ruggedly made synthetic holster that can fit more than 150 semi-auto-style pistols with an accessory rail, and it employs a Level 2 retention system that locks the pistol in place.
How does it achieve this? The difference in the Omnivore as noted earlier is where its retention locks onto the firearm. Unlike most other active retention holsters that either lock onto the slide or have a closing hood, the Omnivore uses the attached light itself for retention.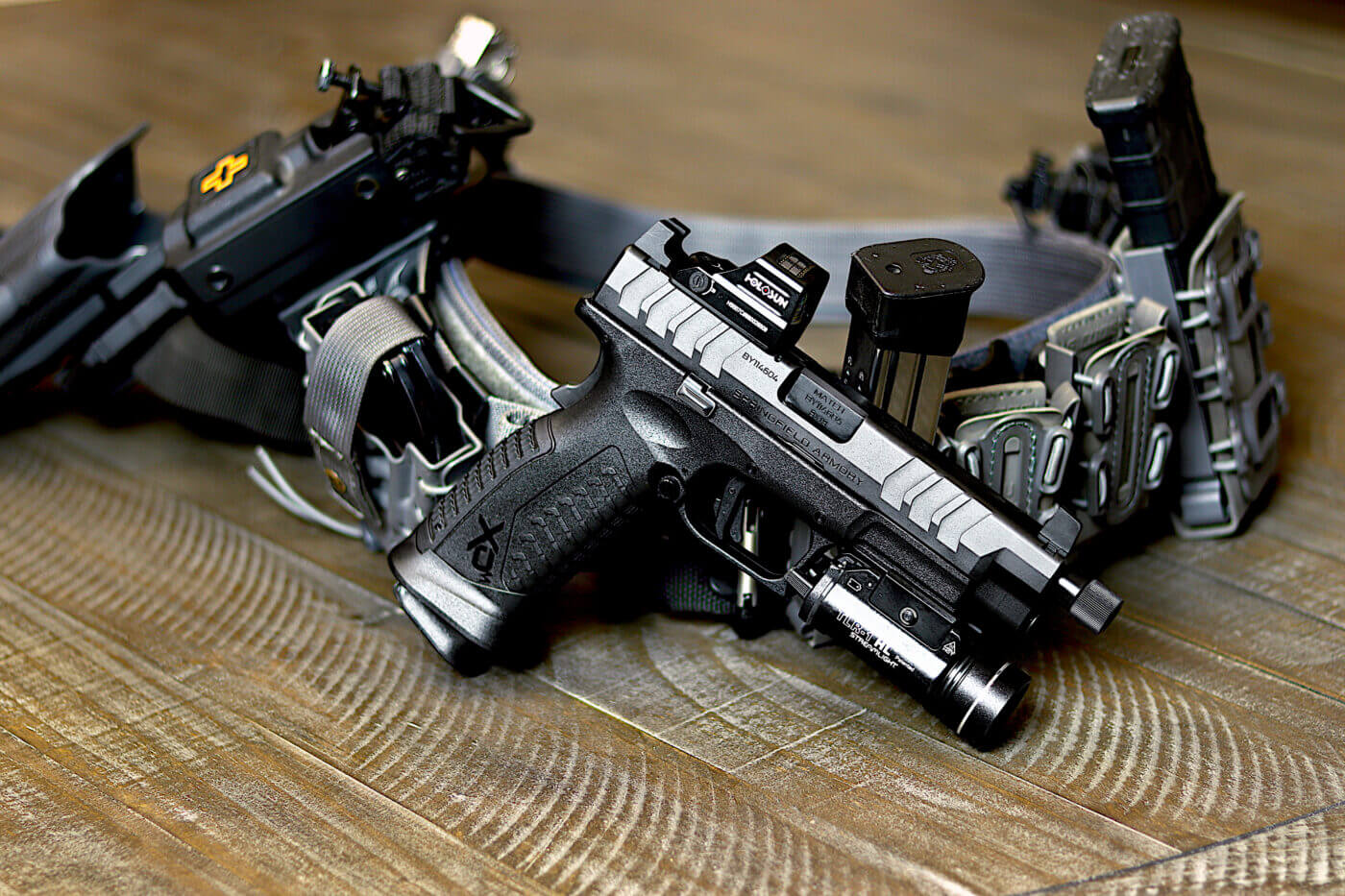 What You Need
All you need is your current duty-style pistol — in my case a Springfield Armory 1911 Range Officer with a Recover Tactical Grip & Rail System and an XD-M Elite Tactical OSP — fitted out specifically with either a Surefire X300 or Streamlight TLR-1 or 2. Those are the types of lights with which the Omnivore is designed to work.
Basically, if you have a gun with a rail and you can get one of the aforementioned lights on the rail, you will likely be able to use this holster. There is a list on Blackhawk's website of over 150 pistols that currently have been test fitted in this holster design.
The holster is offered in black, black and tan, or black and gray. I tried out the latter of those myself for the test with both my pistols and a Streamlight TLR-1 HL and came away very impressed. It locked up tightly, released the pistol quickly, and was a pleasure to use on the range.
Skeleton Key Holster
Look, I get that it's cool to have a lot of different guns and accessories. I do myself. However, I also like saving money when and where I can. That's what's so great about the Blackhawk Omnivore. No more swapping holsters every time to go to the range with a different pistol. Bring all of your toys and in moments go from one pistol to the next in the same holster. Just buy that one holster — which has an MSRP of $59.95 — and you are good to go.
You'll need to spend some time getting used to the thumb retention, but after a trip or two to the range you will have it down and be drawing your pistol fluidly. And, you'll have a solid holster that will eat just about anything you throw at it.
Editor's Note: Please be sure to check out The Armory Life Forum, where you can comment about our daily articles, as well as just talk guns and gear. Click the "Go To Forum Thread" link below to jump in and discuss this article and much more!
Join the Discussion
Featured in this video
Continue Reading
Did you enjoy this video?
70