A Gun-Mounted Camera? Viridian XTL Gen 3
April 27th, 2020
5 minute read
While we have been able to stick all manner of things at the muzzle of our pistols (and long guns), from red and green lasers to lights bright enough to help land a 747 on a darkened runway, the Viridian XTL Gen 3 gives us a new twist. It adds an HD camera to your tactical light.
Lights, Camera, Action!
I was really excited to try out the Viridian as soon as I first heard about it, so when The Armory Life's editor reached out to me and asked if I wanted to do a review for the site, I jumped at the chance.
So, you might ask, why would you need a camera on your gun? While the "tactical" applications of this are pretty obvious, like for law enforcement officers who would need to have a record of any action they might take with their firearm, there are other users for this cool product in the civilian realm as well. Let's dig in and take a look at the product and explore this more deeply.
The First Look
Upon first look of the Viridian XTL this is a surprisingly slim and compact product, for packing in not only a 500 lumen LED light but also 1080p HD camera. The XTL is light as well, weighing in at just 3 oz. It measures in at 3" long by 1.4" wide by 1" high. It is designed to interface with a standard Picatinny rail.
It is described by Viridian as a "Gen 3" and this gives it a waterproof rechargeable battery, and a two-stage momentary switch for quick and easy use in the day or night. The unit comes with a USB cable for attaching it to your computer to upload video and also doubles as a charging cord. The XTL has a rechargeable battery and features two push buttons for ambidextrous use of the 500 lumen LED Tac-Light & 1080P HD camera.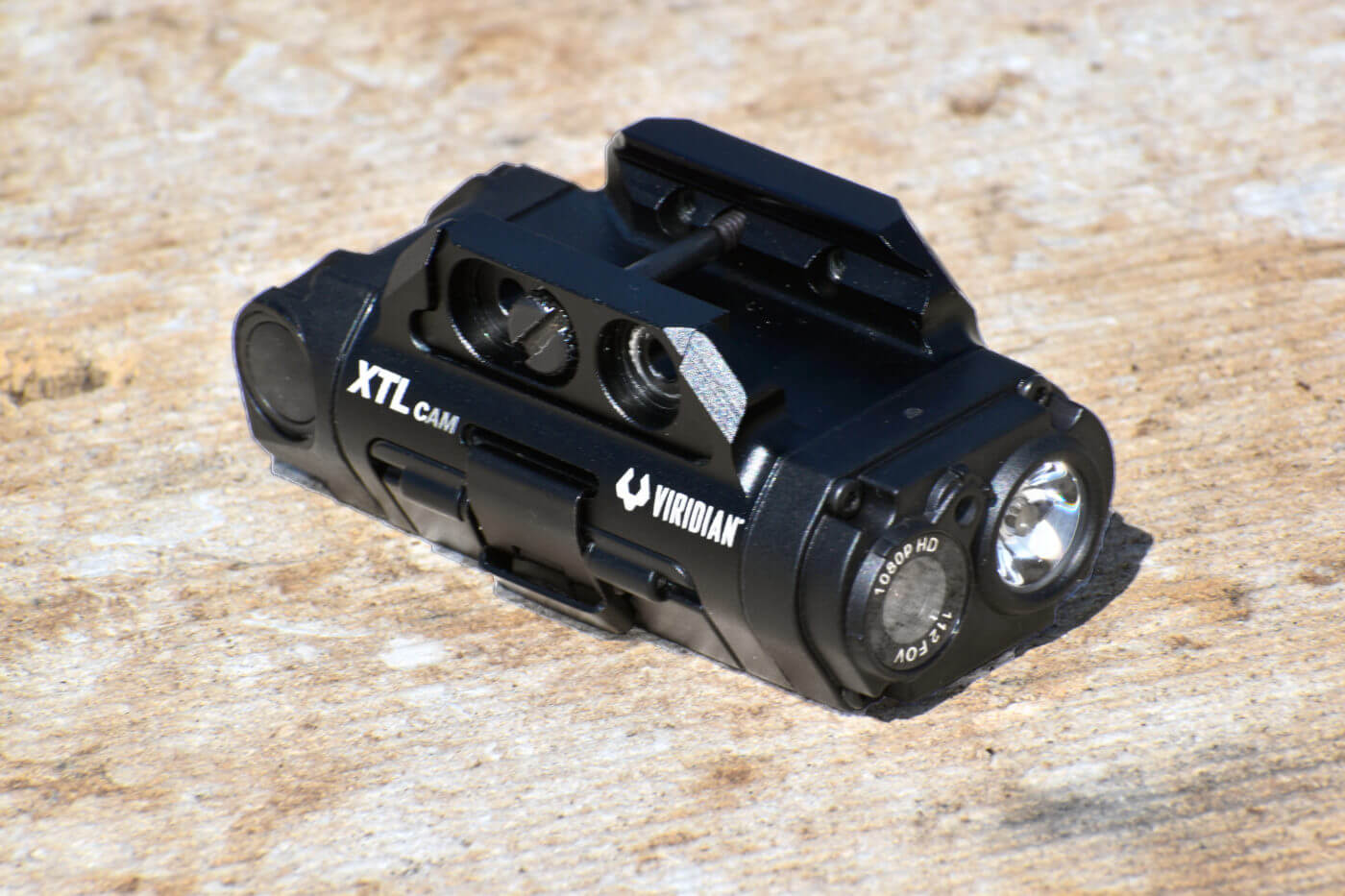 This unit is designed to clearly capture full-HD video and crisp audio from handguns and long guns. Installation of the Viridian XTL is extremely easy, taking me less than a minute to install on my Springfield XD-M .45 ACP. The only tool required is a single flat headed screwdriver not included.
Applications
The application of this device can be suited for multiple roles. Take the Vernon Police Department for example, which deploys these on all their officers' firearms. In fact, this has already been used in court for one officer on April 2019 where an officer was attempting to make an arrest of a felon who had multiple felony arrest warrants. The felon pulled a shotgun on the officer and fired at him striking him in his left shoulder, knocking him to the ground. His body cam and the Viridian XTL caught it all on camera. The XTL showed the unobstructed view of the shotgun pointed right at the officer and proved that he was justified in returning fire.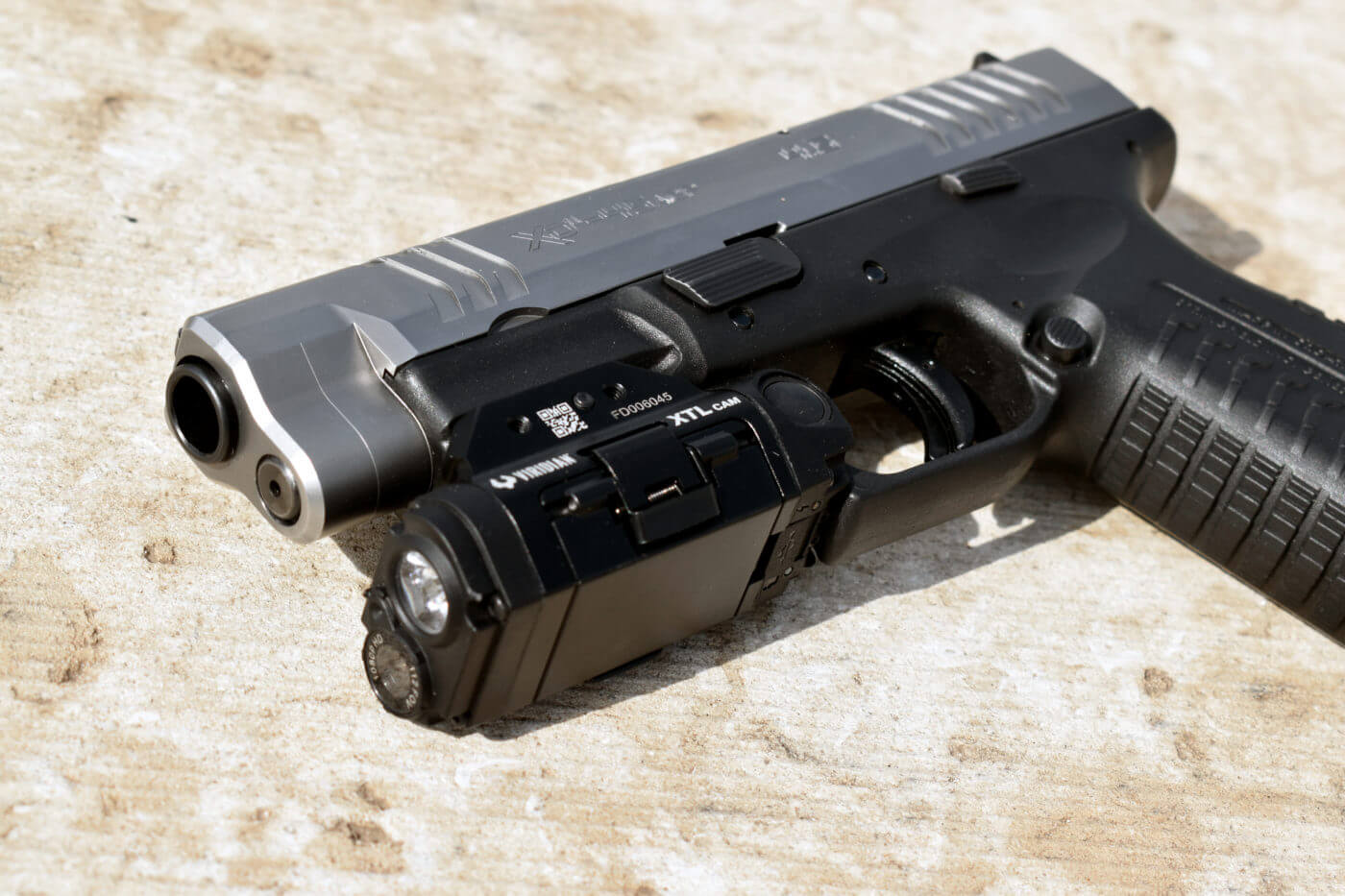 However, let's say you're not a police officer and you do a lot of sports shooting or you just love the thrill of doing tactical training in a shoot house. This device will suit your needs and will help you out by providing you with a different perspective. Whether you're a police officer or a civilian, having something like the XTL could be great for you.
My Take
Personally, I love the XTL. I put around 500 rounds down range with the camera on. It has a wide-angle view, crisp video quality and sound. It doesn't weigh down the front of the pistol as the unit doesn't weigh much at all considering what it has on it. It's easy to see why Viridian is a leader in weapon-mounted technology.
I personally would love to take this to a shoot house to see what it has to offer in a training scenario. The idea of a camera on your pistol can give you a different look when training in a shoot house or tactical range. Did you miss your fatal fronts? Was there someone behind a door? Or, maybe just show you a different angle you could've taken. This video gives you a chance to review what you did and be able to make changes to your training routine on your next trip to the range.
Hands On
The Viridian XTL is very easy to use. The XTL has two ambidextrous push buttons, one on either side of the device. A simple click of the button and the device turns on. To enable the camera while the unit is on, double click the two buttons at the same time and the memory status light will start blinking. To stop recording just simply click one of the two buttons. The light and camera will both turn off. When you turn the unit back on it will be recording. To disable the camera, follow the same steps you did to enable it.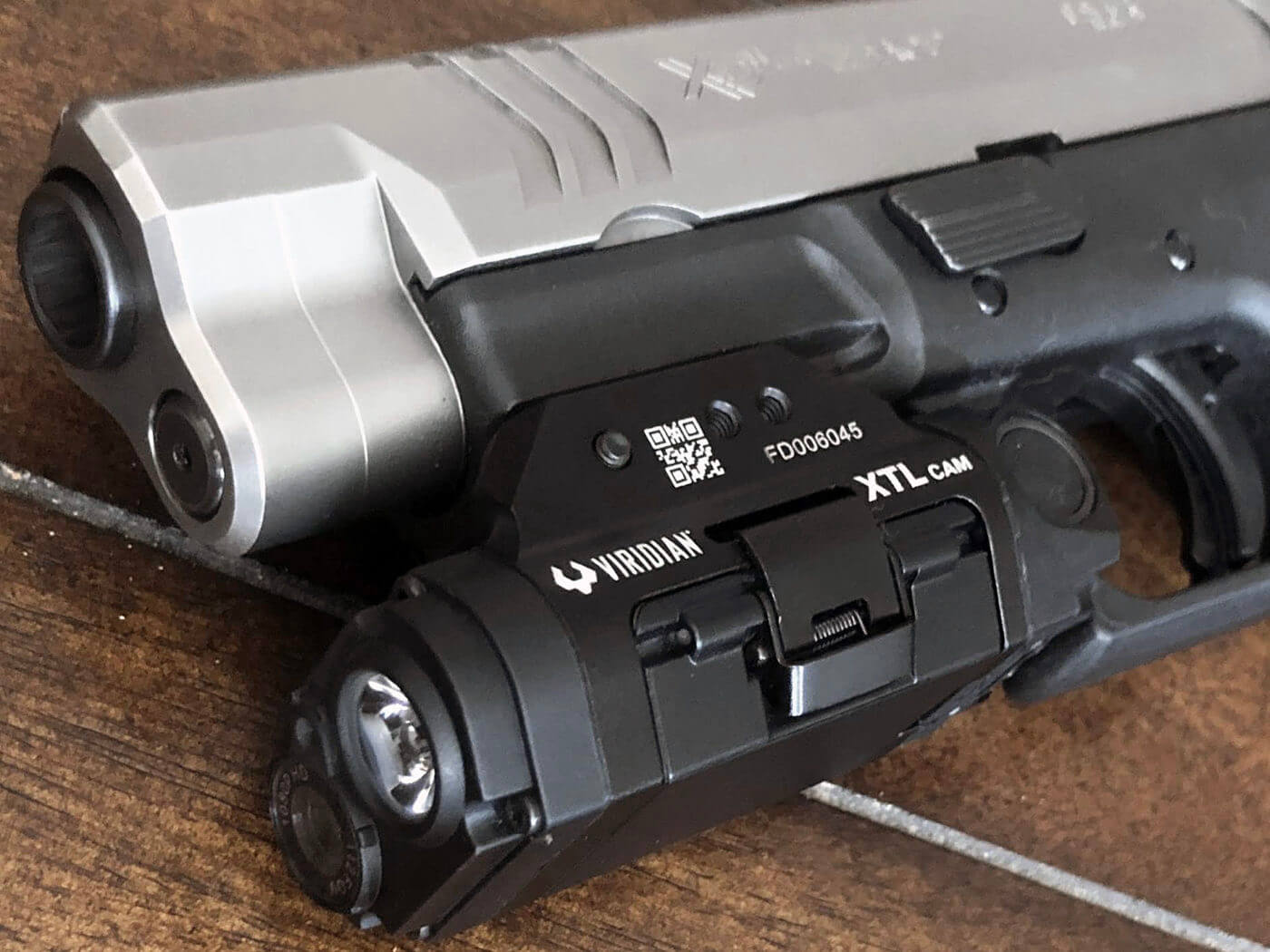 This product also comes with a Instant-On feature when holstered in a ECR (Enhanced Combat Readiness) holster. With this system, the unit will turn on to the last-used setting when drawn from the holster and turn off when reinserted. While Viridian doesn't currently make an ECR holster for the Springfield line, they offer an ECR upgrade kit to accommodate your EDC holster with the Instant-On feature.
Conclusion
The Viridian Weapons Technology XTL Gen 3 gives you the option of defending yourself with the peace of mind that what happened can be fully caught on camera from the unobstructed view of your pistol or long gun and prove that you were justified in using force. It also can be a great training tool. Viridian was definitely a step ahead with the XTL, and I can't wait to see what they come out with next. Great job, Viridian. Keep up the great work.
Editor's Note: Please be sure to check out The Armory Life Forum, where you can comment about our daily articles, as well as just talk guns and gear. Click the "Go To Forum Thread" link below to jump in!
Join the Discussion
Featured in this article
Continue Reading
Did you enjoy this article?
71