The Only 1911 I Want: The TRP
January 17th, 2021
6 minute read
The TRP is the only 1911 I want. It's a production gun, but you would never know it. Springfield Armory builds the TRP (Tactical Response Pistol) with many features like you would find on a custom gun, and all the right ones in my opinion. You can't fake a great 1911, and the TRP has everything I want in a custom gun — but without the custom gun cost.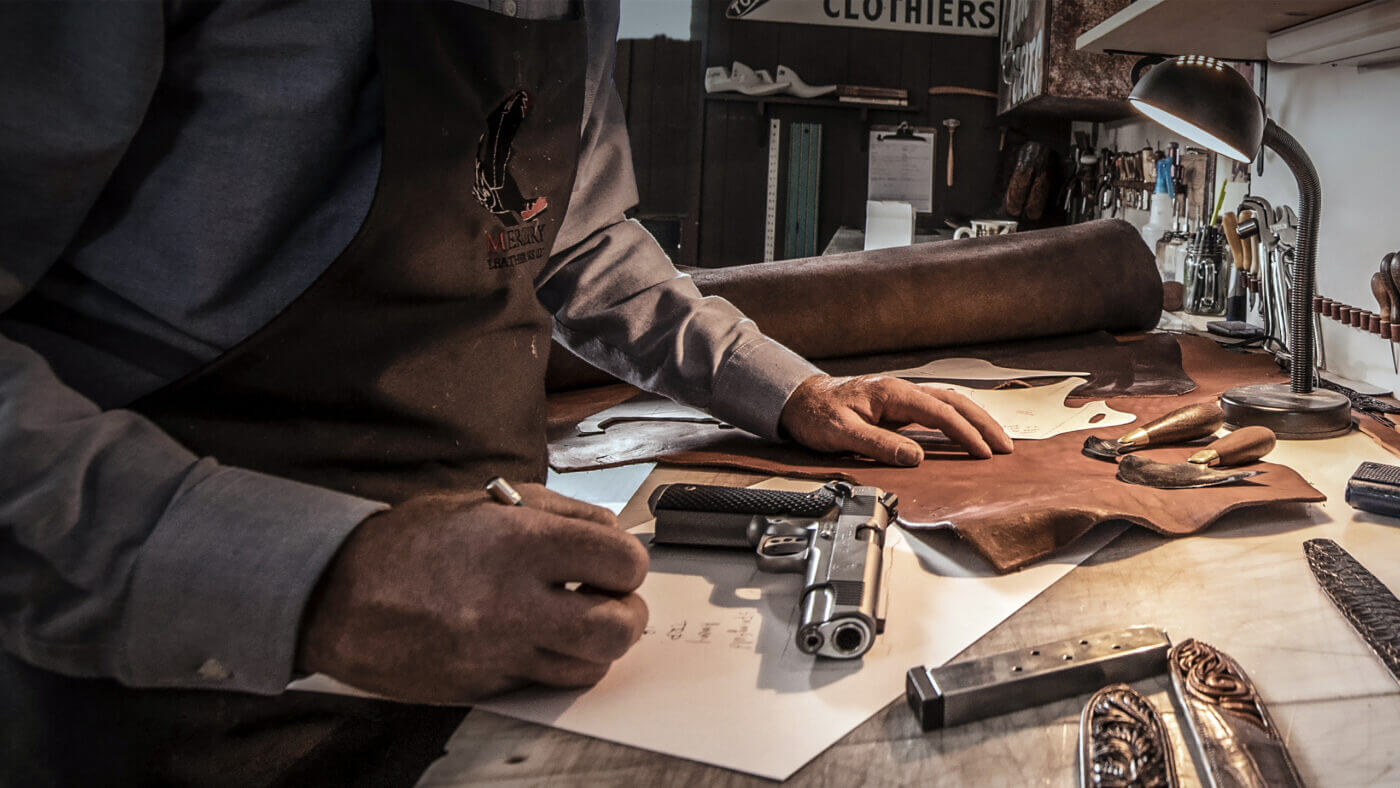 Solid Foundation
The TRP was inspired by the Custom Professional FBI Model pistol developed by Springfield Armory for the FBI back in the 1990's. FBI regional SWAT teams wanted a 1911 that was accurate, rugged and reliable, and it was also used by the FBI's Hostage Rescue Team (HRT).
Back in the day, the competition among 1911 builders for the FBI contract was fierce. Numerous 1911 producers competed for the honor. Springfield Armory came away the winner with guns that surpassed all the contract requirements.
The FBI's request for proposal (RFP) specified a .45-caliber, semi-automatic, single-action pistol, preferably made of steel, with a grip safety and an ambidextrous frame-mounted manual thumb safety. Additionally, the weapon could only accept a single-column magazine.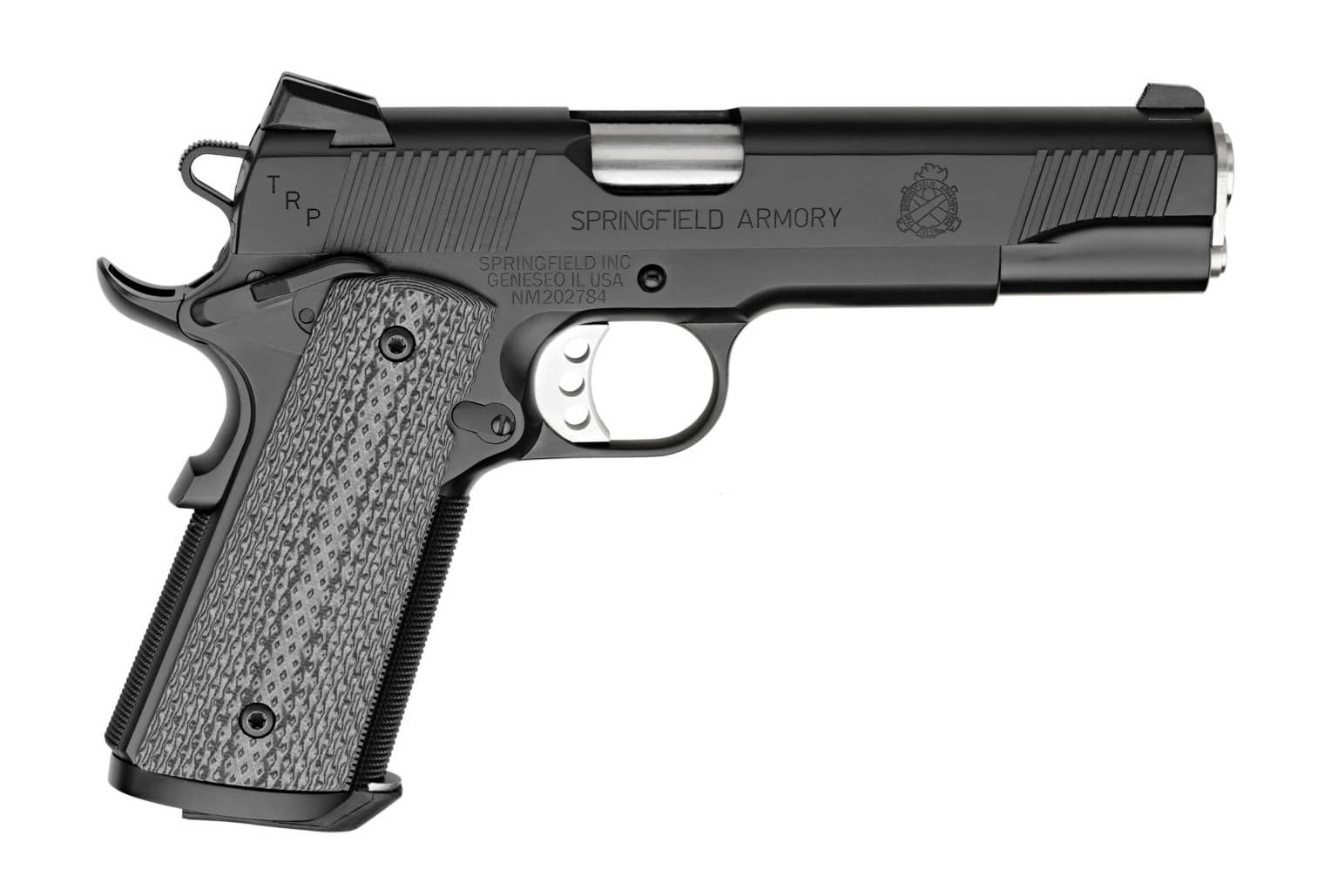 The test consisted of several parts. First came an inspection for compliance to the specifications, followed by a safety check, abuse test, firing test, field suitability test, accuracy test, endurance test and, finally, a second accuracy test. The pistols had to feed hollowpoint ammunition like the Remington Golden Sabers reliably, which was the ammo chosen by the FBI.
Acceptable accuracy was a 1.5″ average at 25 yards for three consecutive 10-shot groups fired from a Ransom Rest. The Springfield Armory handgun finished an endurance test that pounded the pistol, yet there was not a single malfunction. Without doubt the Springfield Armory Professional is beyond question one of the most proven of all modern 1911 handguns.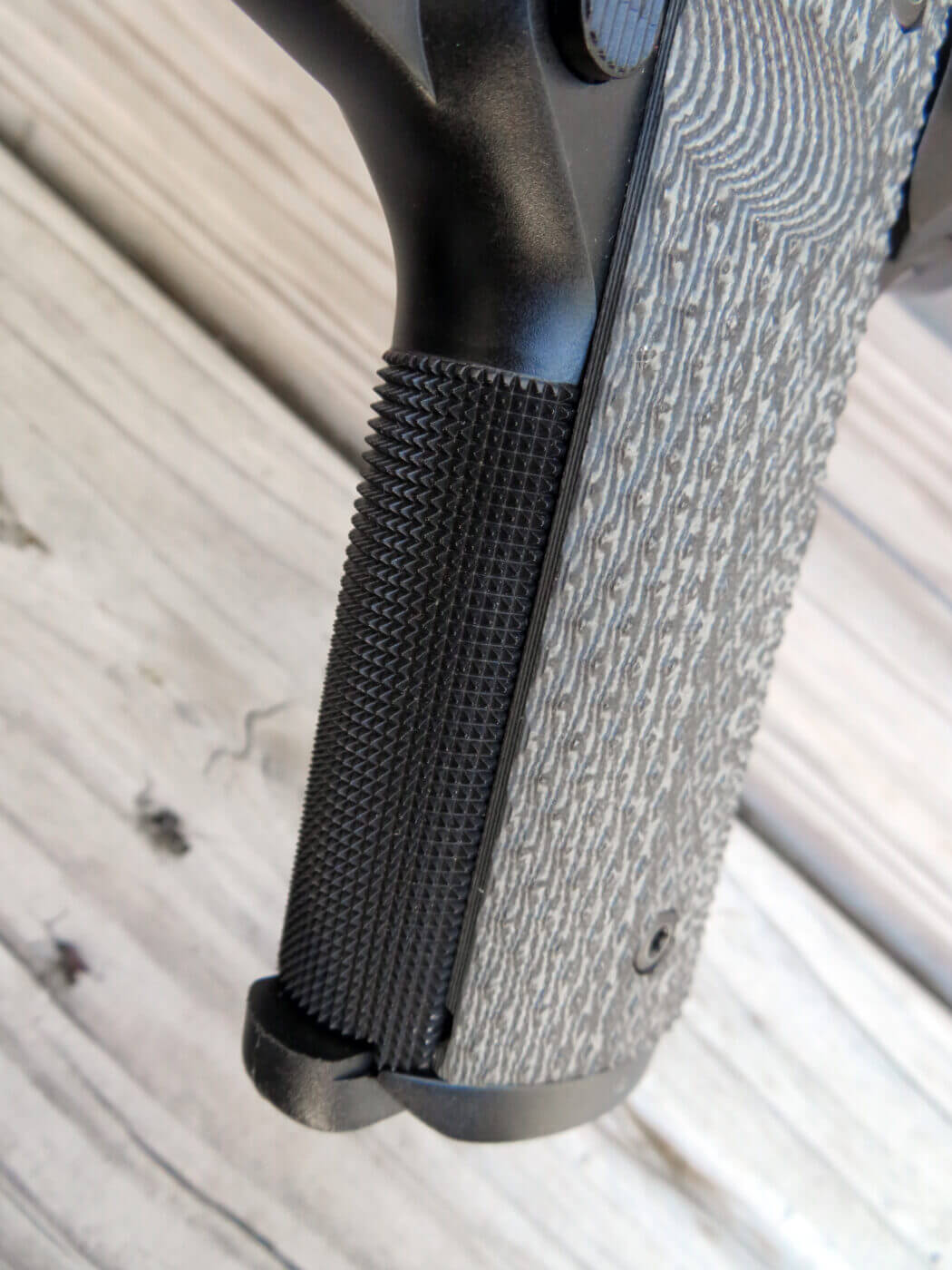 Convincing Sibling
I've been told the TRP pistols are not a Springfield Custom gun, but you could have fooled me. They feature a forged National Match frame and forged slide. I've found that the TRP features a slide-to-frame fit that has zero vertical or horizontal play.
When I first tried to rack the slide, fresh out of the factory plastic wrap, the slide was slick with lubricant yet took effort to rack. I don't know the exact number of rounds I have through my TRP — at least a few thousand — but it is still very tight. However, the slide does now rack with less effort.
A tightly fitted match-grade barrel is also included. Just below that barrel is a two-piece, full-length guide rod system. My only gripe is that it requires tools to disassemble the gun as a result. Other than that, disassembly is standard G.I.-style.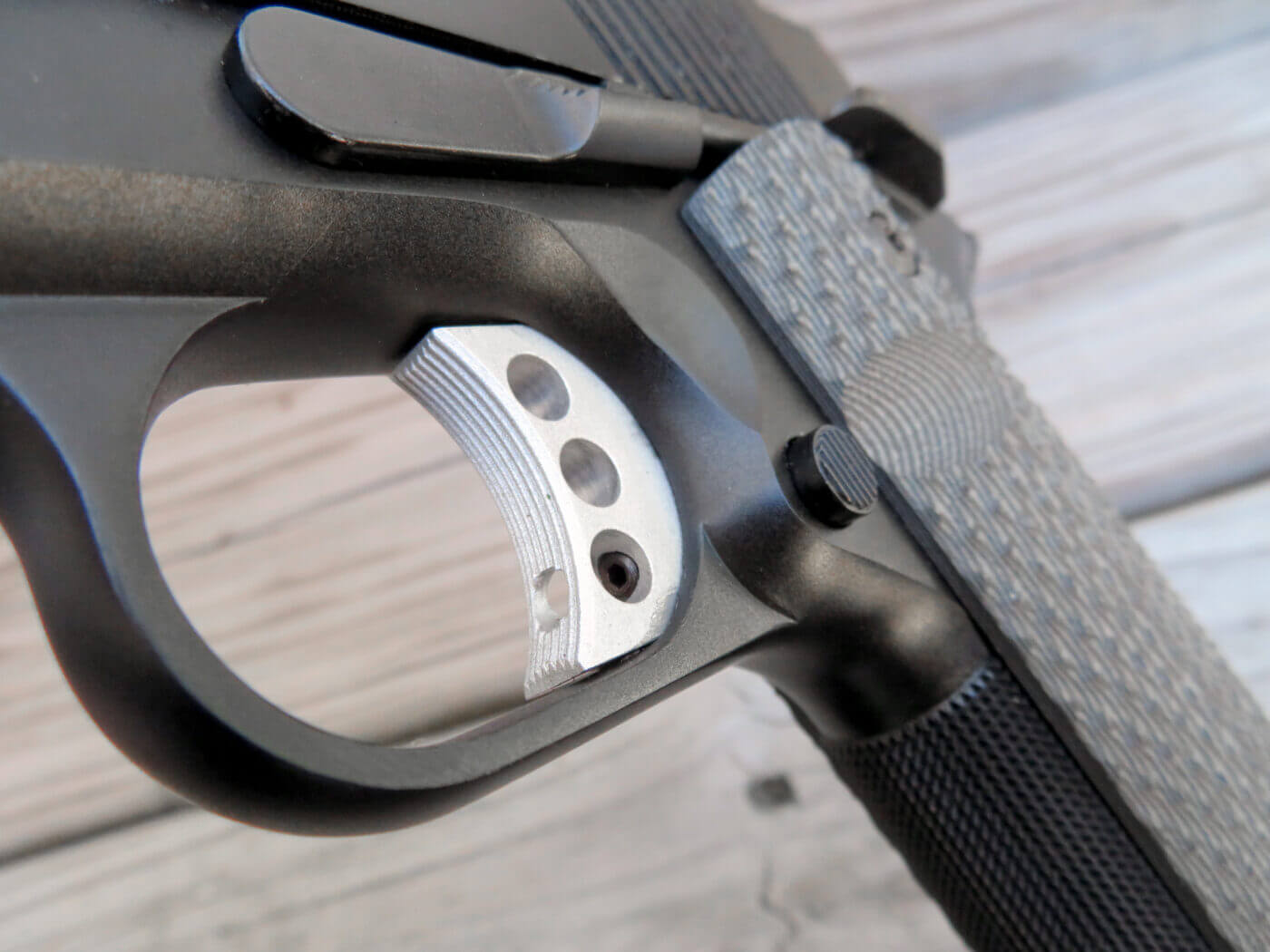 The trigger is the most important interface between the gun and the shooter, and with the TRP attention to detail continues. An aluminum skeletonized trigger is tuned for overtravel with a stop. My gun has a factory pull weight of 4 lbs. with a clean, smooth break and no overtravel. It also has a very short reset. This translates into fast double-taps. The other controls include an ambidextrous extended safety that confidently flicks on and off with a swipe of the thumb.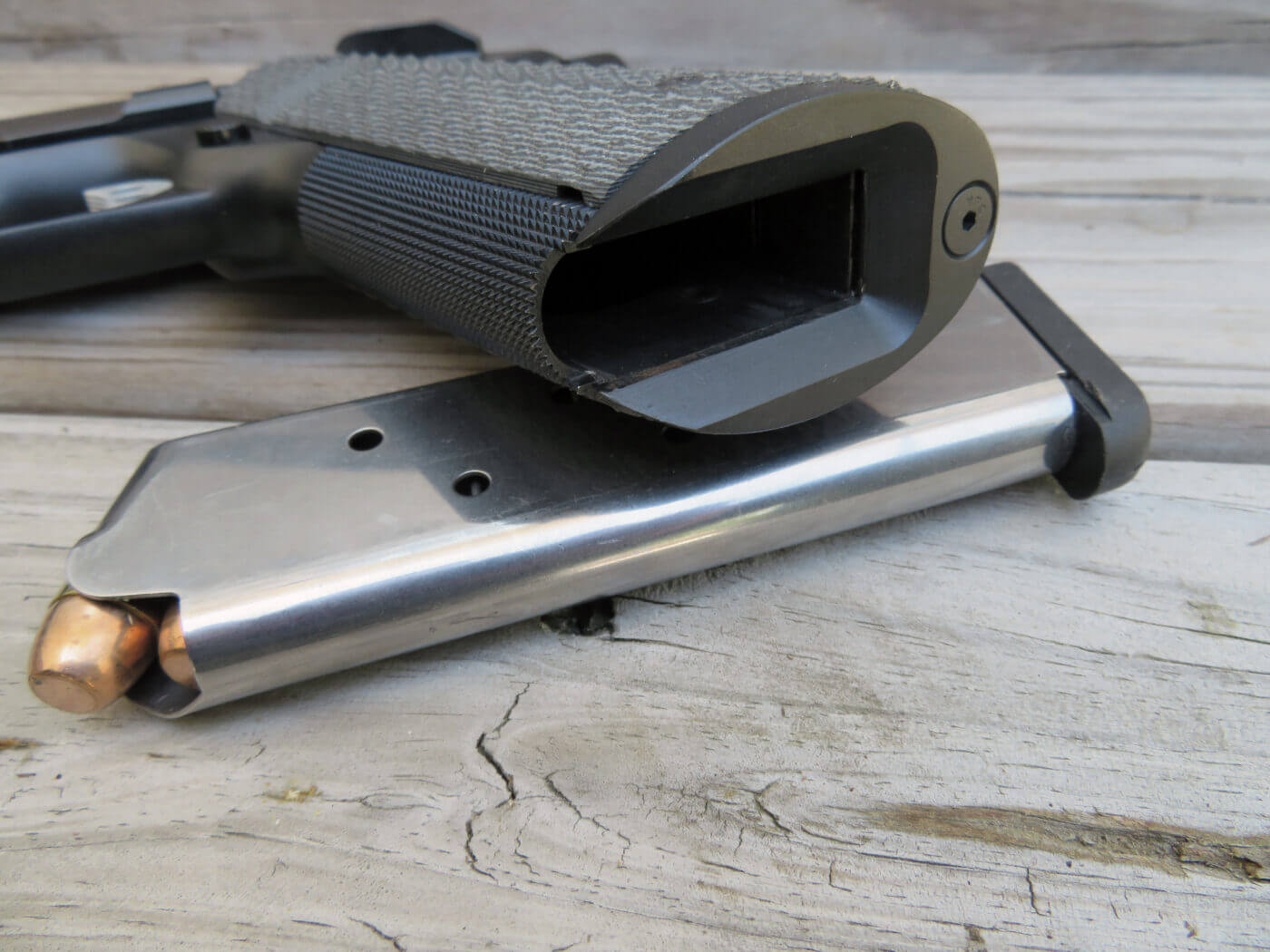 Since a standard 1911 by design uses a single-stack magazine, it takes a bit of finesse and training to rapidly reload compared to a double-stack magazine design, which is wedge-shaped and therefore easier to insert and reload faster into the larger magwell opening. To aid rapid reloading, the TRP features a magazine well extension, which opens up the magwell so it is easier to guide those single stacks home faster. The magwell is nicely blended to the frame and grip.
Detailed Attention
Some of the finer details I've come to expect on a 1911 are standard with the TRP. I like a textured frontstrap, and the TRP has 20 line-per-inch checkering on the frontstrap that matches up nicely with checkering on the mainspring housing. The checkering is toothy enough to aid in recoil management, but not so raspy you lose flesh with every round fired. The extended beavertail grip safety is high and nicely blended with no sharp edges. I appreciate the forward slide serrations when doing a press check. The slide serrations are no-nonsense, angled and offer plenty of leverage.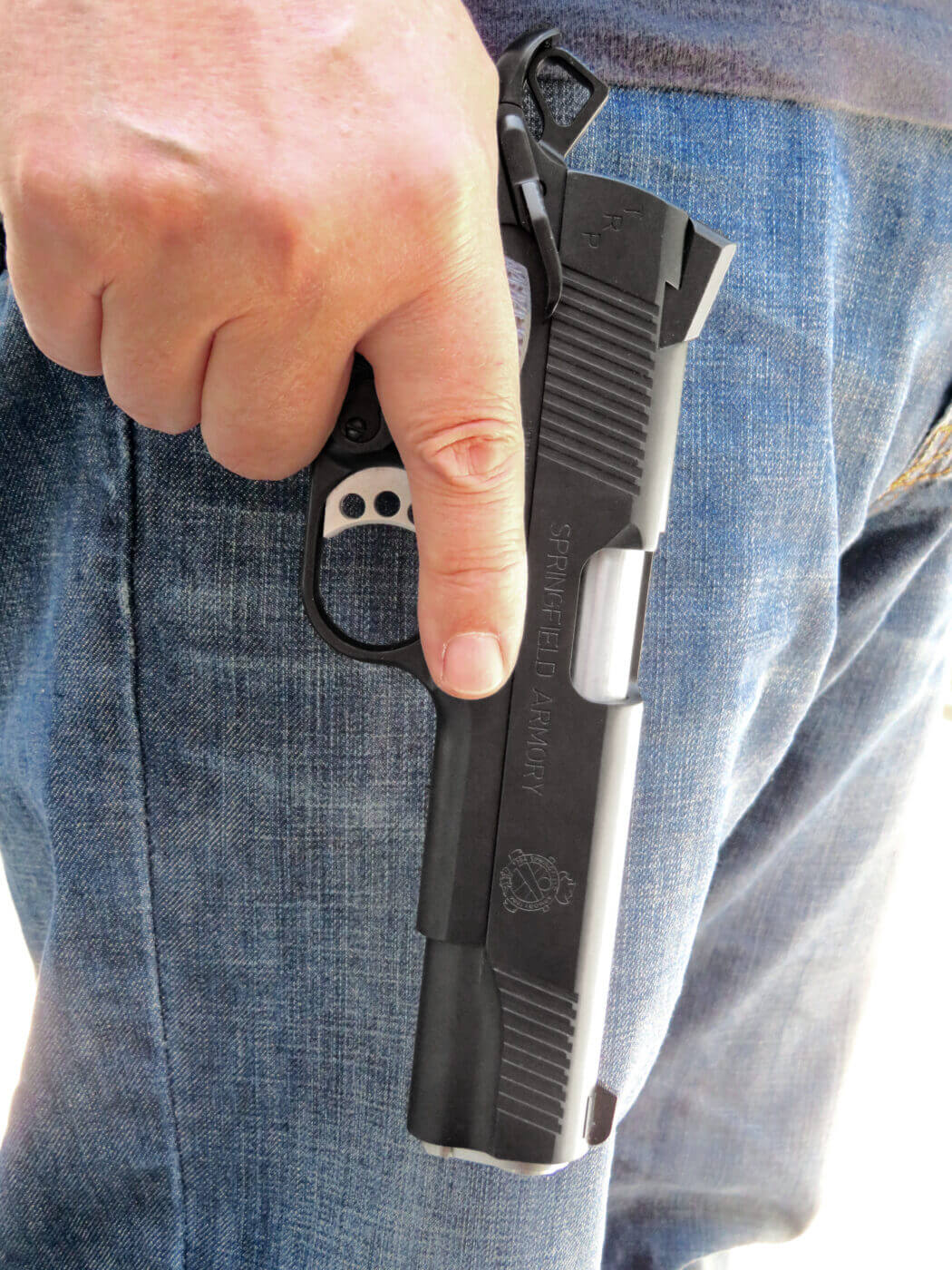 The G10 composite grips the TRP wears have a nice texture conducive to extended ranged time. The TRP grip features a relief cut on the left panel to improve access to the magazine release. My average-sized hands appreciate the easy access.
While my TRP is sans an accessory rail, the TRP Operator model does have one. Mine also wears low-profile, three-dot tritium sights. Other models have fully adjustable sights. I prefer the combat three-dot set up since they are smooth and snag-free. The rear sight is also flush with the rear face of the slide for maximum sight radius.
In action, the TRP runs smoothly and I can easily handle the .45 ACP recoil. I have run a variety of cheap ammo as well as premium ammo in this pistol, and it has eaten it all. I've fired 230-gr. FMJ with complete reliability, and it also eats up hollowpoint ammo no matter how funky the bullet ogive is or how big the hole of the hollowpoint.
Specifications
| | |
| --- | --- |
| Chambering | .45 ACP |
| Barrel | 5″ |
| Weight | 42-45 oz. |
| Overall Length | 8.6″ |
| Sights | Tritium, three-dot |
| Grips | G10 |
| Action | Semi-auto |
| Finish | Black |
| Capacity | 7+1 (two) |
| MSRP | $1,648-$1,730 |
Conclusion
The TRP is a professional-grade 1911 built like a custom gun, but priced for the masses, and starting at an MSRP of $1,648. It handles and performs like it's hand-crafted, and it truly impresses. I know TRP stands for "Tactical Response Pistol", but in my world, it stands for Totally Reliable Pistol.
Editor's note: Yamil Sued offers his insight into this pistol in his Springfield TRP Operator review.
Also, please be sure to check out The Armory Life Forum, where you can comment about our daily articles, as well as just talk guns and gear. Click the "Go To Forum Thread" link below to jump in!
Join the Discussion
Featured in this article
Continue Reading
Did you enjoy this article?
213