Review: Mitch Rosen 5JR Express Holster for the Emissary 1911
October 23rd, 2021
5 minute read
I must start by admitting something. I am addicted to well-made 1911 pistols. I have a hard time looking away from them. If it's well made, I love them.
One thing that sets apart most 1911 shooters is that we are usually also addicted to good leather holsters. In my opinion, the only way a good 1911 should be carried is in a well-made and well-crafted holster of this material.
Speaking of well-made 1911 pistols, when Springfield Armory released the Emissary, I knew I had to have one. My next question was what holster to get for it. I already had a few requirements; it had to be leather and it had to be an outside the waistband (OWB) belt slide holster, and one designed with the Emissary's eye-catching, squared-off triggerguard in mind.
Royal Options
As soon as I ordered my Emissary I set off on a quest for that proper holster, and one name kept popping up in my search — Mitch Rosen. I have been hearing the name Mitch Rosen associated with high-end leather holsters for about 30 years. It seems like every serious 1911 shooter I knew either had a Mitch Rosen holster or they wanted one.
Mitch Rosen's product line ranges from standard cowhide to high-end exotic materials like genuine shell cordovan, crocodile, ostrich, sharkskin and elephant. Mitch Rosen also manufactures belts, magazine pouches, belt slide holsters, inside the waistband holsters, slimline holsters, between the waistband and belt holsters, ankle holsters, pocket holsters, and shoulder holsters.
As my search continued, I found out that Mitch Rosen not only offers their main line of holsters, but also has an "Express" line of leather products. These have the quality and performance you'd expect from a Mitch Rosen holster but have streamlined production and fewer options to keep costs and wait times down to a minimum.
A Fitting Choice
My research revealed that there was an Emissary holster in the Express line that fit my needs perfectly —the 5JR Full Length Belt Slide Express. The holster is offered in left- and right-hand versions in either black or Cuban Brown for a 1½" belt. I also discovered that the holster was available in black direct from the Springfield Armory Store, and the price was a mere $75. Problem solved.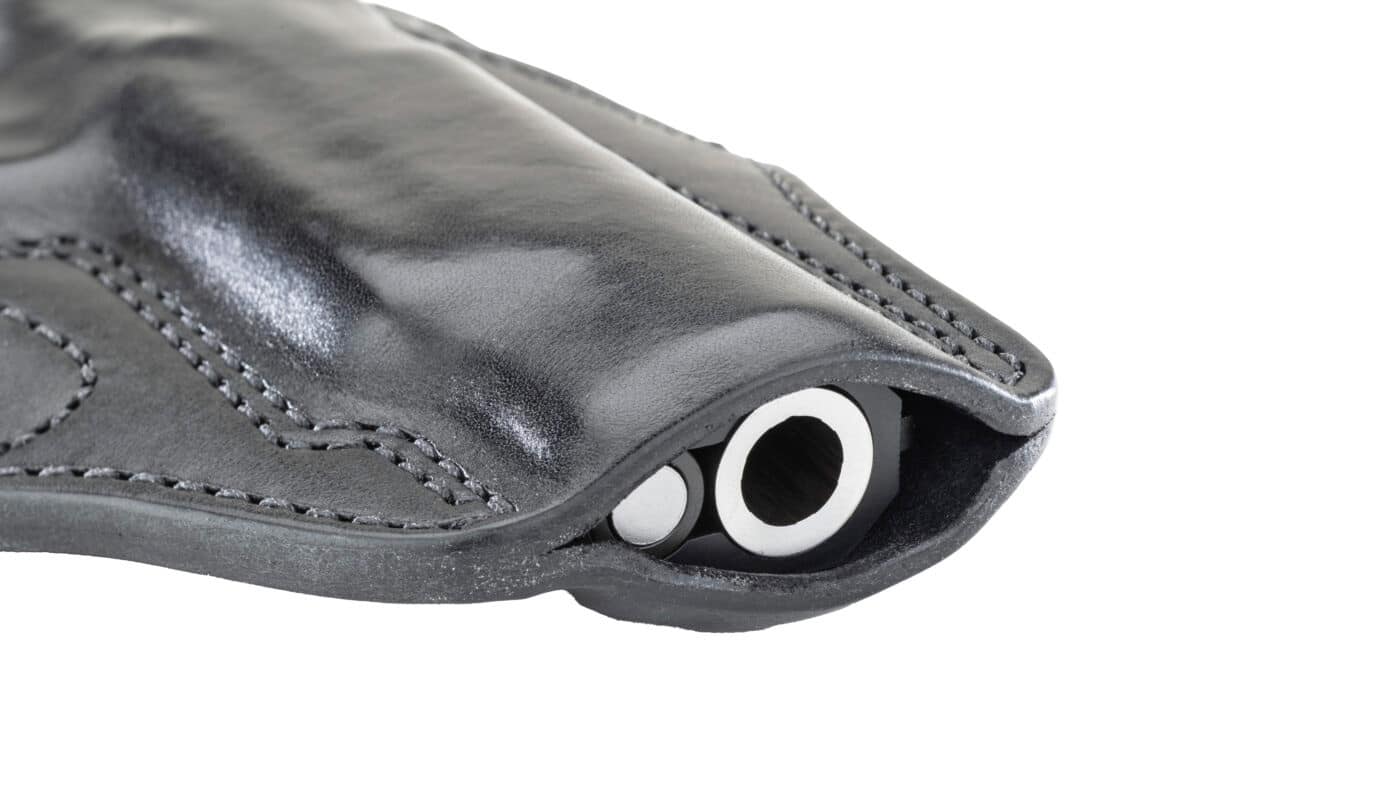 As this was my first Mitch Rosen holster, I didn't quite know what to expect when starting this review. When I first opened the packaging, my first thought was that if this is their more reasonably priced option, I can't imagine what their standard line is like. The holster has near-perfect stitching, a beautiful black finish, and thick cowhide material. The holster fit the Emissary perfectly. Frankly, I think this holster has the manufacturing quality of a holster twice the price. Oh, and the smell… Nothing beats the smell of a high-end leather holster.
Hands-On
I had both my Emissary 1911 .45 ACP and my Mitch Rosen 5JR Express holster in hand, so now it was time to use them. Before using this holster, Mitch Rosen recommends a brief and simple break in process.
First, they recommend you place your unloaded pistol in the holster — always verify the condition of your pistol before you do this process. Second, slide just the rear belt slot onto your belt and place your pistol in the desired place on your belt that you wish to wear the holster. Third, thread your belt on the forward belt slot. Finally, tighten your belt until your belt slots curve forward. By following this process, your holster will be fit to your body.
After following these simple instructions, my holster was fit within minutes. I wanted my pistol to have moderate retention so it won't fly out if I'm running with it, but not so tight that I end up injuring myself when doing a pistol presentation.
After properly breaking in my holster, I did several dry runs of draws and dry-firing with an empty gun here in my house. I find that dry-firing is about one of the best tools to get ready for a successful day at the range. Like always, make sure that when dry firing at home, you divest yourself of all live ammunition and follow all safety rules.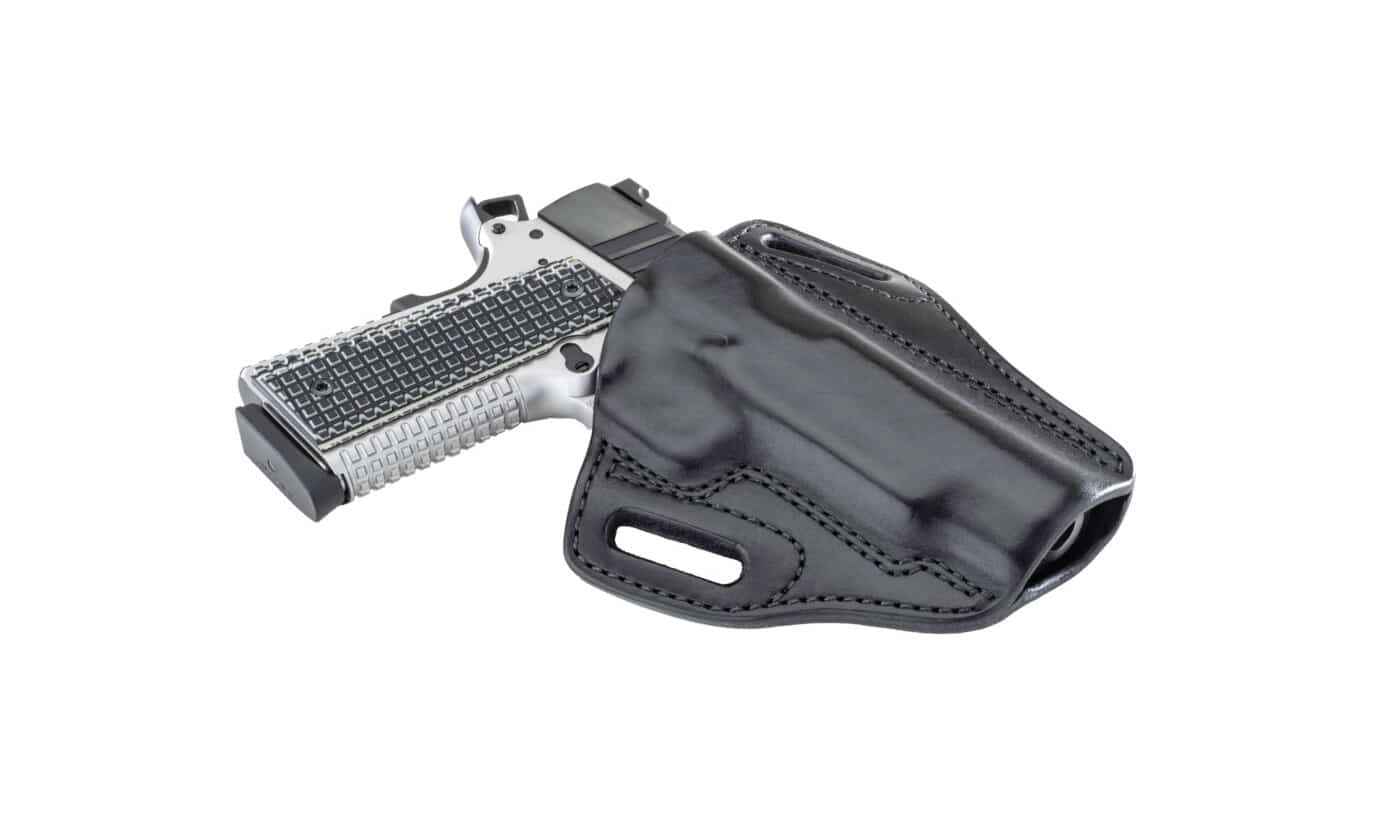 After some practice and time at the range, I loaded the Emissary and I did what EDC stands for — I carried the Emissary every day for a week. I must say that this holster is made for everyday life. The holster is flexible and comfortable enough for daily wear, but strong enough to provide sufficient retention and safety.
After a week of carrying during the review period, I found this holster to be very comfortable. I was able to wear it all day long without discomfort. Even though the holster was well broken in by the time I did the carry test, I never worried that I had lost retention; the Emissary was safe and secured throughout my test.
Conclusion
I have tested and used many holsters in the past two decades, and the Mitch Rosen 5JR Express is now at the top of my list for workmanship, reliability and cost. If you're looking for a well-made holster for your EDC needs that won't break the bank, the Mitch Rosen 5JR Express should be at the top of your list, too.
Editor's Note: Please be sure to check out The Armory Life Forum, where you can comment about our daily articles, as well as just talk guns and gear. Click the "Go To Forum Thread" link below to jump in and discuss this article and much more!
Join the Discussion
Featured in this article
Continue Reading
Did you enjoy this article?
62