Springfield Armory
XD-M

10mm
May 17th, 2020
5 minute read
Obsoleted in police work by the .40 S&W a quarter century or so ago, the 10mm Auto round has achieved new popularity as an outdoorsman's pistol. Springfield Armory's enhanced XD pistol, the XD-M, has proven itself accurate, reliable, and ergonomic. The two are a natural fit in the new XD-M 10mm.
With its 5.3-inch barreled, long-slide configuration, the XD-M 10mm affords a 7.5" sight radius, and the pistol comes with an adjustable rear sight and fiber optic front. The longer barrel enhances the velocity and power that are the 10mm cartridge's real raison d'etre, and the adjustable sight allows the shooter to dial in point of aim/point of impact for the very broad power range which today's array of available 10mm loads affords. A 15-round magazine and one in the chamber gives you 16 chances instead of a revolver's six if you have to defend against a wild animal attack.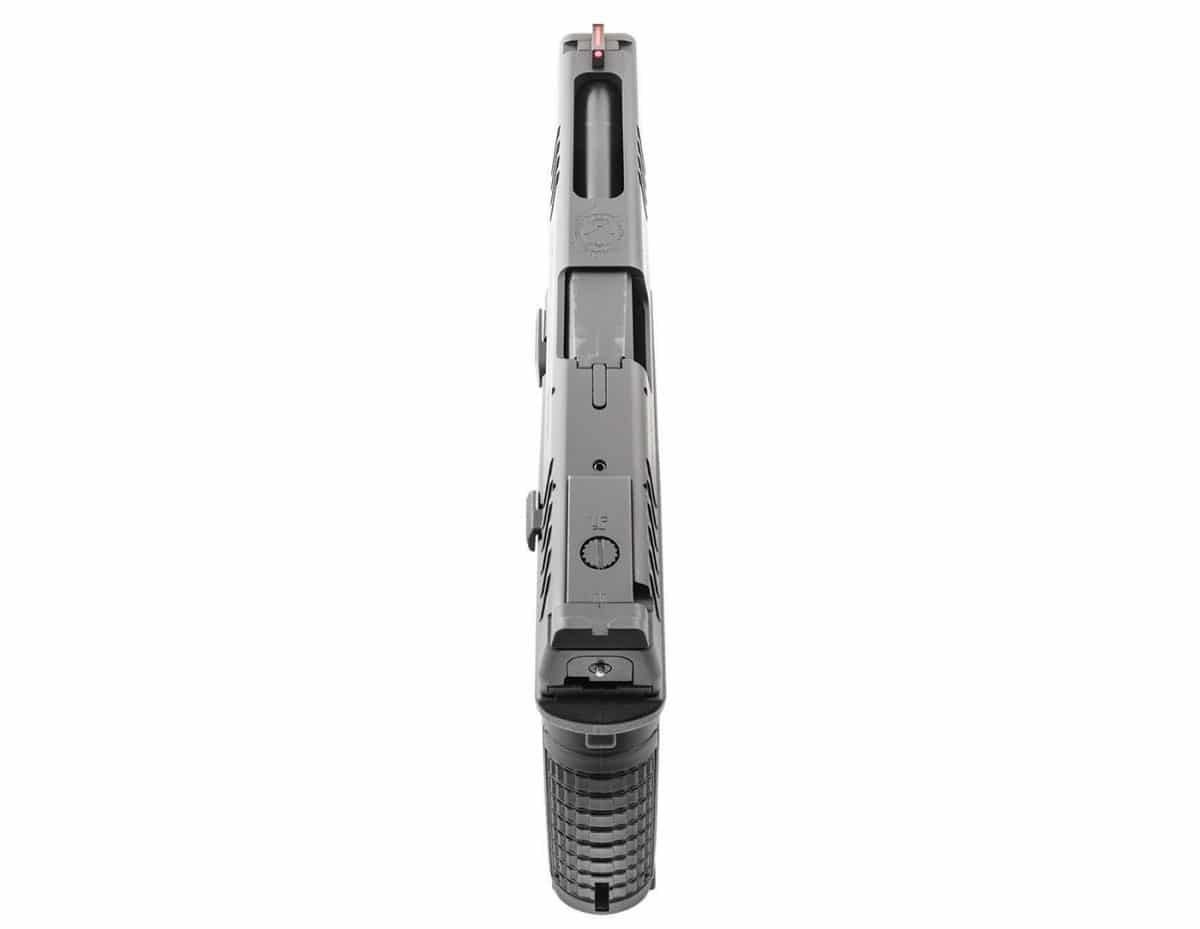 The XD-M comes standard with one of the better "street triggers" in the field of striker-fired polymer frame semiautomatic pistols. The Glock-ish safety lever on the trigger face does not punish or pinch the trigger finger. A very short, light initial take-up is followed by a short space of lighter resistance and then a long, rolling "wall" before the break. In use, it is somewhat like a light, multi-stage, double-action pull over a short distance when fired slowly, followed by a fairly long re-set. With a bit of practice, it is easier to manage than it sounds. Re-set is fairly long, minimizing the chance of an unnecessary second shot being fired unintentionally under stress.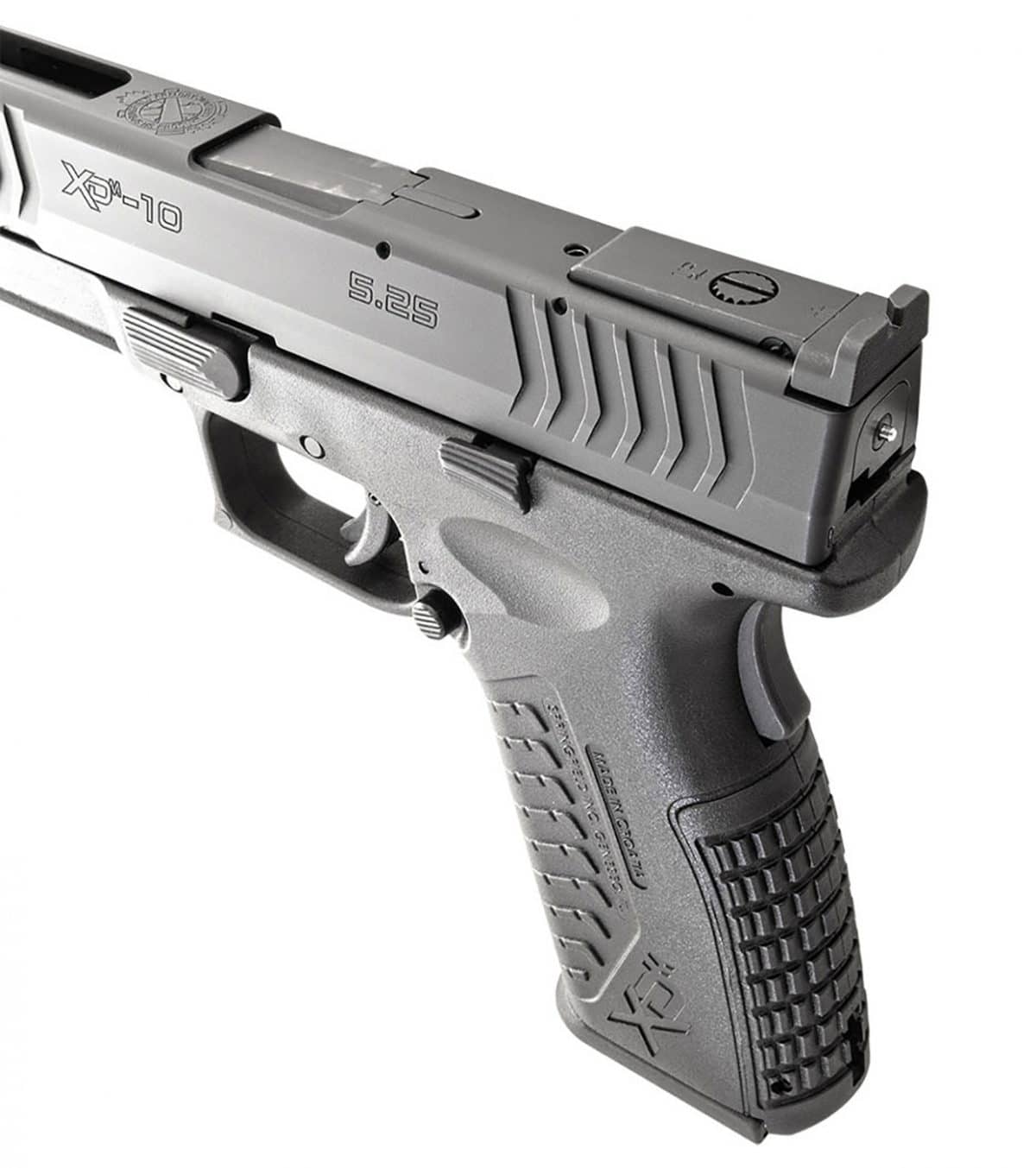 On our Lyman digital scale, pull weight was very consistent. Measured from the toe (bottom tip) of the trigger as seems to be industry standard, average pull weight was 5.69 pounds. Measured from the center of the pivoting trigger, where the finger is likely to actually make contact during shooting, pull weight was exactly one pound greater due to reduced leverage: 6.69 pounds.
On the Firing Line
Testing was done from a Caldwell Matrix Rest on a concrete bench at 25 yards. Five shot groups were measured for an idea of what a stable position would offer for accuracy in calm conditions, and the best three measured again to factor out enough human error to roughly duplicate what a machine rest is likely to deliver for all five. Appreciating the 10mm's power range, we tested with four loads.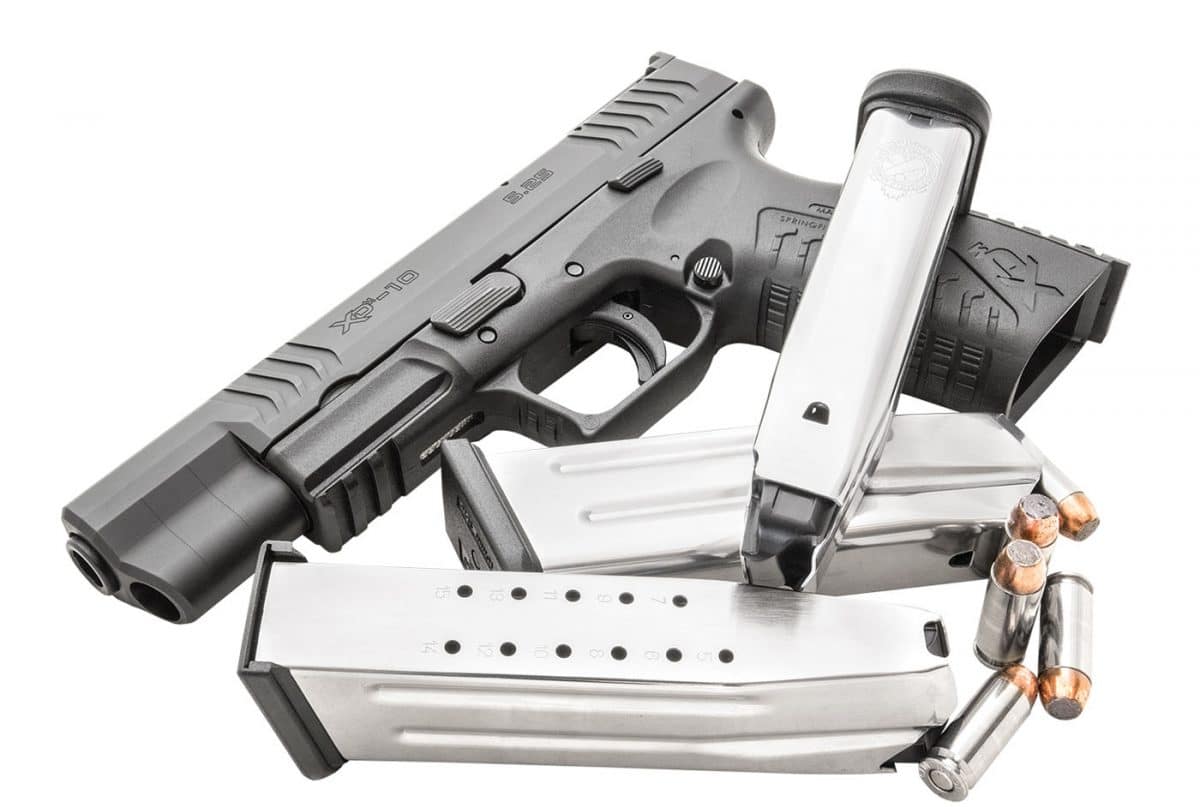 Self Defense: Speer Gold Dot. This new offering delivers a 200-grain bullet of modern, proven design at nominal 1,100 feet per second. It's hotter than .40 S&W, but delivers relatively mild recoil from this big pistol. Five shots went into 3.10", while the best three clustered in a much more promising 1.25", center to center.
Self Defense: Hornady Critical Duty. The FlexLock bullet, designed for great feeding and to meet FBI protocols, weighs 175 grains in this full-power 10mm load, rated at 1,150 foot seconds, and proved quite controllable. It gave me 3.65" for all five and 1.70" for best three.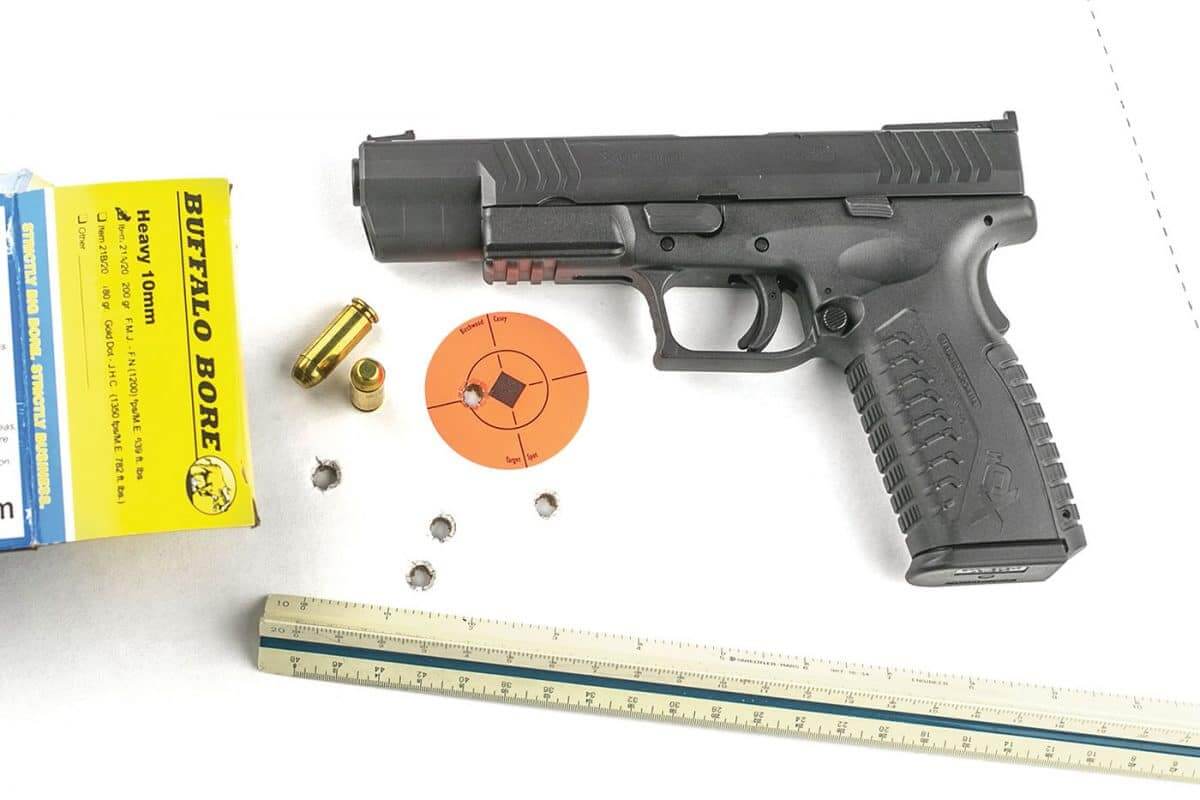 General Hunting: Federal 180-grain Jacketed Soft Point. Rated at 1,275 foot-seconds and marked "Medium Game" on the box, this load is geared toward deer and hogs, the 10mm having become increasingly popular for the latter quarry. It delivered 3.25" for all five and the tightest best-three group of the test, 85/100ths of an inch.
Bear Protection: Buffalo Bore "Heavy" 200-grain Full Metal Jacket. There are heavier bullets of hard cast lead with wide noses available for 10mm, but there have been reports of some of them failing to feed in polymer 10mms, so erring on the side of caution I went with this reliably-feeding FMJ load for those who might need to ruin a bruin. The 5-shot group was a best of test 2.65", and the best three formed the second best 1.70" group of the day: ample for the brain area of a charging brown bear, with fifteen make-up shots on tap (if you have time).
Overall Impressions Though the XD-M 10mm is available in a shorter barrel, fixed-sight version, I would definitely go with the adjustable sight 5.25-inch barreled variation like ours: maximum velocity advantage and sight adjustment for the wide variety of loads available. I really liked the ergonomics, and didn't find the recoil objectionable. Neither did slender ballerina Courtney Gunter, nor her left-handed husband, Josiah, who found the XD-M 10mm southpaw-friendly. Josiah did feel a bit of pinch in his palm at the bottom of the grip safety when firing. Springfield Armory says it ran 10,000 rounds of Federal Hydra-Shok 10mm without a bobble. That's a light, .40 S&W-level round, but still shows good feed reliability. At a suggested retail of $779, this light (32.8 oz. unloaded), high-capacity 10mm auto is easy for all-day carry, very controllable and ergonomic, and definitely a very good value, hence its justified claim to a 2018 On Target Editors' Choice Award.
Editor's Note: This article was written by Massad Ayoob and shared with us by On Target Magazine. It can be seen here. Also, please be sure to check out The Armory Life Forum, where you can comment about our daily articles, as well as just talk guns and gear. Click the "Go To Forum Thread" link below to jump in!
Join the Discussion
Featured in this article
Continue Reading
Did you enjoy this article?
93