Springfield Armory TRP 10mm RMR
January 18th, 2020
7 minute read
Factory-equipped with a Trijicon RMR sight, this long slide 1911 launches hot 10mm hunting loads with exceptional precision.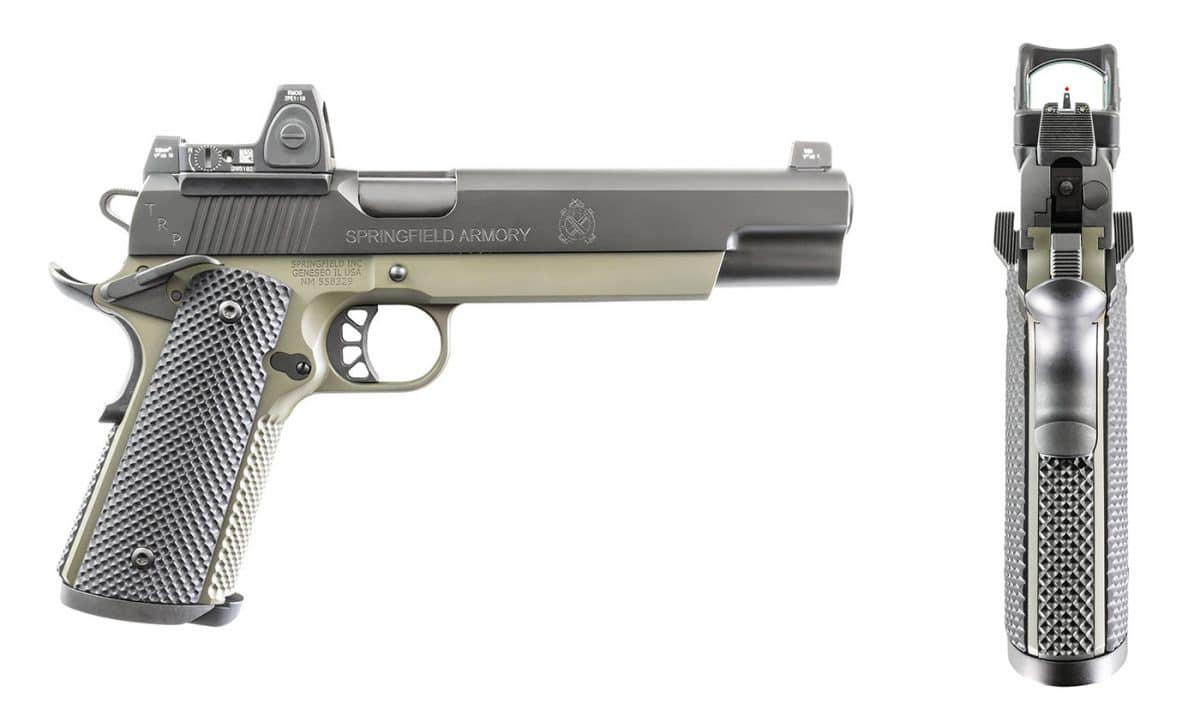 Springfield Armory has just introduced 5 and 6 inch barreled versions of a new 10mm 1911, dubbed the TRP 10mm RMR. They are quite similar in features, with the principal difference being that the 5 inch version ($2,238) employs a barrel bushing, while the 6 inch version does not. Other differences include a Black-T frame and slide finish on the 5 inch model, while the frame on the 6 inch version ($2,289) is finished in OD Green Black-T with a Black-T finished slide. Otherwise, except for the barrel length, they are identical. Both feature Posi-Lock checkered black G-10 grip panels, front strap, and main spring housing. The left side grip panel is inletted for the thumb of a right-handed shooter.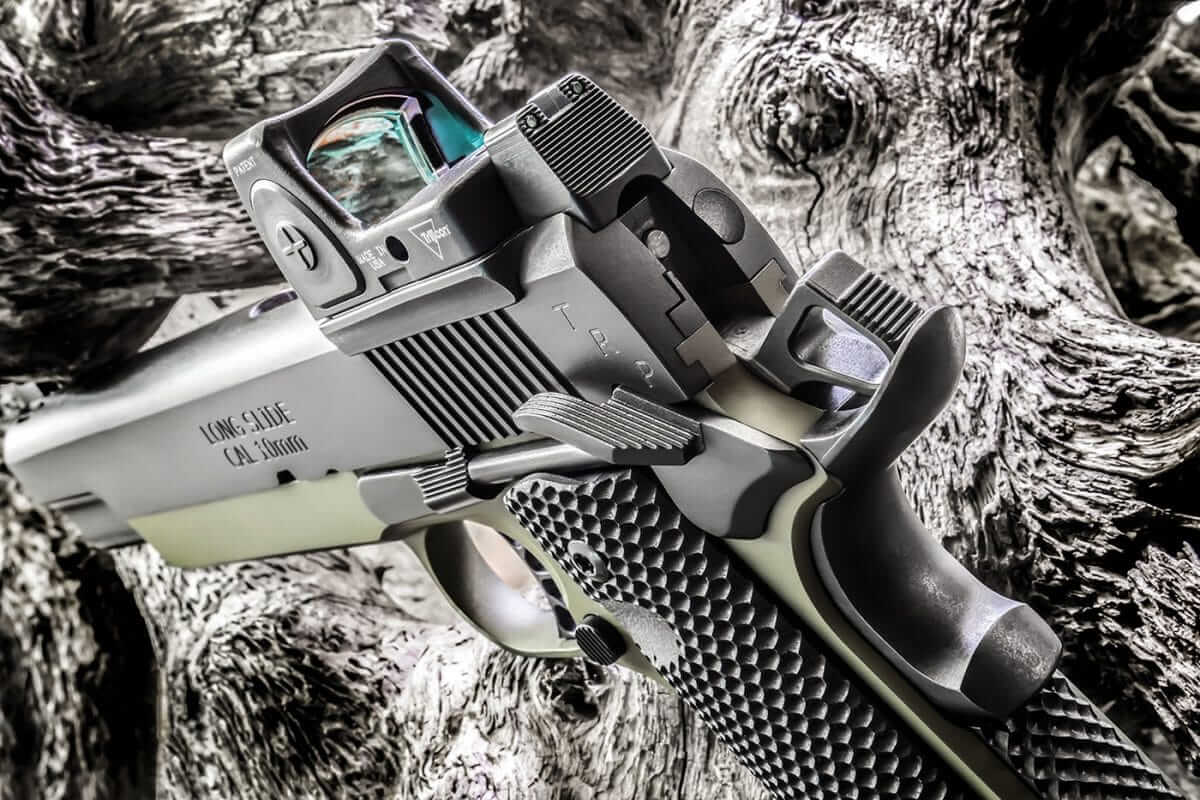 Our evaluation pistol was the 6 inch barreled model. I was delighted to draw the assignment for this pistol, as I'm an ardent fan of the 10mm cartridge, as well as long-slide 1911s chambered in 10mm. The 10mm cartridge was adopted by the FBI in the Smith & Wesson Model 1076 pistol as their standard duty handgun after eight undergunned FBI agents (armed only with 9mm pistols) were involved in a shootout with two bank robbers and murderers in Miami in 1986. Despite out numbering the bad guys 4-to-1, the agents found themselves pinned down by suppressive rifle fire. Two agents were killed and five were wounded, but they eventually killed both suspects. Now discontinued, the DA/SA 1076 was offered only in 10mm. It was a big, heavy pistol with prodigious perceived recoil and significant muzzle rise, and proved to be "too much gun" for the average FBI agent, so the agency partnered with Smith & Wesson to develop the .40 S&W cartridge — literally a shortened version of the 10mm with less kick and rise — that made it more controllable for most agents while maintaining a substantial advantage over the 9mm. It has become derisively known as the ".40 Short & Weak" among 10mm aficionados, but despite that criticism, the .40 S&W has become the go-to cartridge for many law enforcement agencies across the country.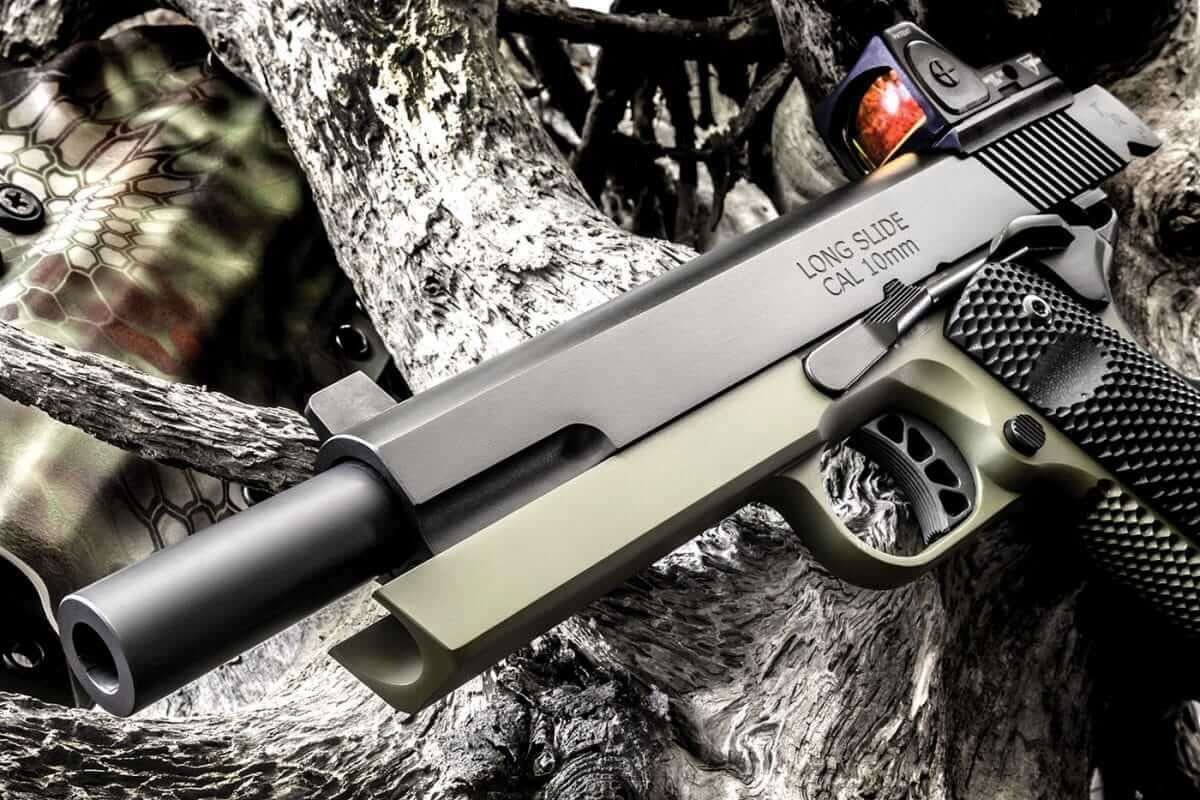 The 10mm cartridge is capable of generating 750 ft. lbs. of muzzle energy in a Glock 20 with a 4.61 inch barrel — call it 800 ft. lbs. out of a 6 inch barreled pistol — roughly twice the muzzle energy of a 5 inch barreled .45 ACP. My standard carry pistols are the 10mm Glock 20SF and 10mm Glock 29SF, both with night sights, loaded with DoubleTap 200-grain hard cast lead loads. There's no question that the 10mm is a highly effective personal defense round, and when fired from a 6 inch barreled pistol, is a credible round for hunting deer, hogs, and black bear at short to moderate ranges.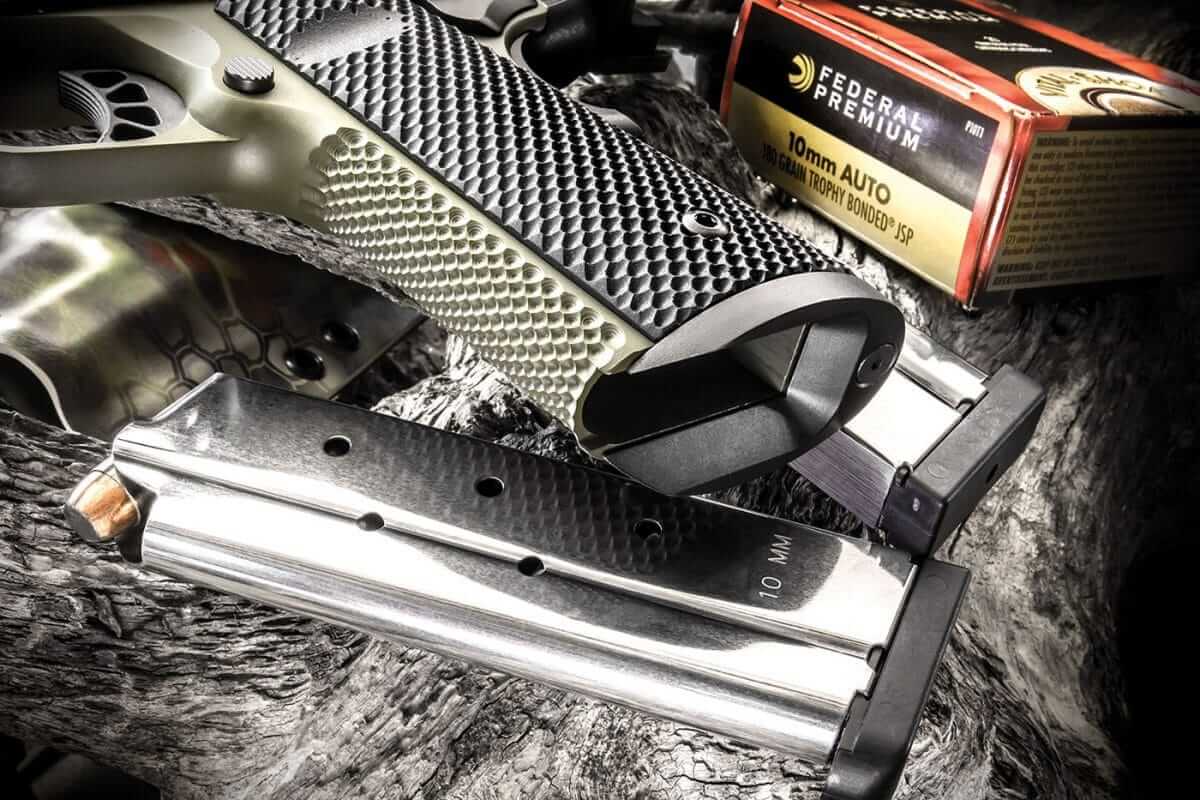 And that's what the Springfield TRP 10mm RMR was designed to accomplish — both hunting and defensive roles with equal authority. The "RMR" designation denotes that it comes standard from the factory with a Trijicon RMR Reflex sight with 3.25 MOA red dot co-witnessed with a set of raised, fixed Trijicon night sights. A better sighting combination for a hunting or defensive pistol there is not.
Other features of the TRP 10mm RMR include an extended beavertail grip safety with raised palm pad, 1911-style internal extractor/ejector, stainless steel, nitride-finished, match-grade bull barrel with fully supported feed ramp, ambidextrous, extended manual safety levers with serrated surfaces that snap positively on- and off-safe with just the right amount of effort to make it easily accomplished without the risk of inadvertently swiping them into the off-safe position, ventilated trigger with grooved face, extended and beveled magazine well, and single, left-side mounted slide release lever and non-reversible magazine release button. Trigger pull weight averaged 4.5 lbs. on our Lyman digital trigger pull gauge, with a barely perceptible bit of creep before the break. Neither model has a Picatinny rail section machined into the dust cover.
Field stripping is the standard 1911 process, although the heavy recoil spring and absence of front slide serrations makes removing the slide stop a bit of a chore. An extra set of hands is really needed to tap out the slide stop while the slide is held back by a couple more. Gun writers aren't happy unless they can find at least one thing to bitch about, so that's my bitch.
We have to give Springfield Armory a big "atta boy" for choosing the Trijicon RMR ("Ruggedized Miniature Reflex") sight as standard equipment on their TRP 10mm. We've used them all, and the RMR in its various iterations is our hands-down favorite for slide-ride use. That being said, we may change horses to the new Trijicon SRO after we've had a chance to try to kill it, but for now the RMR is our reflex sight of choice. Back out the price of the RMR (about $500), and the cost of the TRP 10mm becomes a true bargain.
Our first impression of the 6 inch TRP 10mm RMR was, "Man, this a big gun." And it is. With an empty weight of 50 oz., it measures 9.6 inches long, by 6.4 inches high, by 1.3 inches wide. The 5 inch version shaves 6 oz. off the weight and 1 inch off the length, but maintains the same 6.4 inch height. Both models come with two 8-round stainless steel magazines with polymer slam pads that fit perfectly flush with the bottom of the extended magazine well. They also come with a padded Cordura, multi-compartment case with storage for eight magazines, tools, ammo, and more.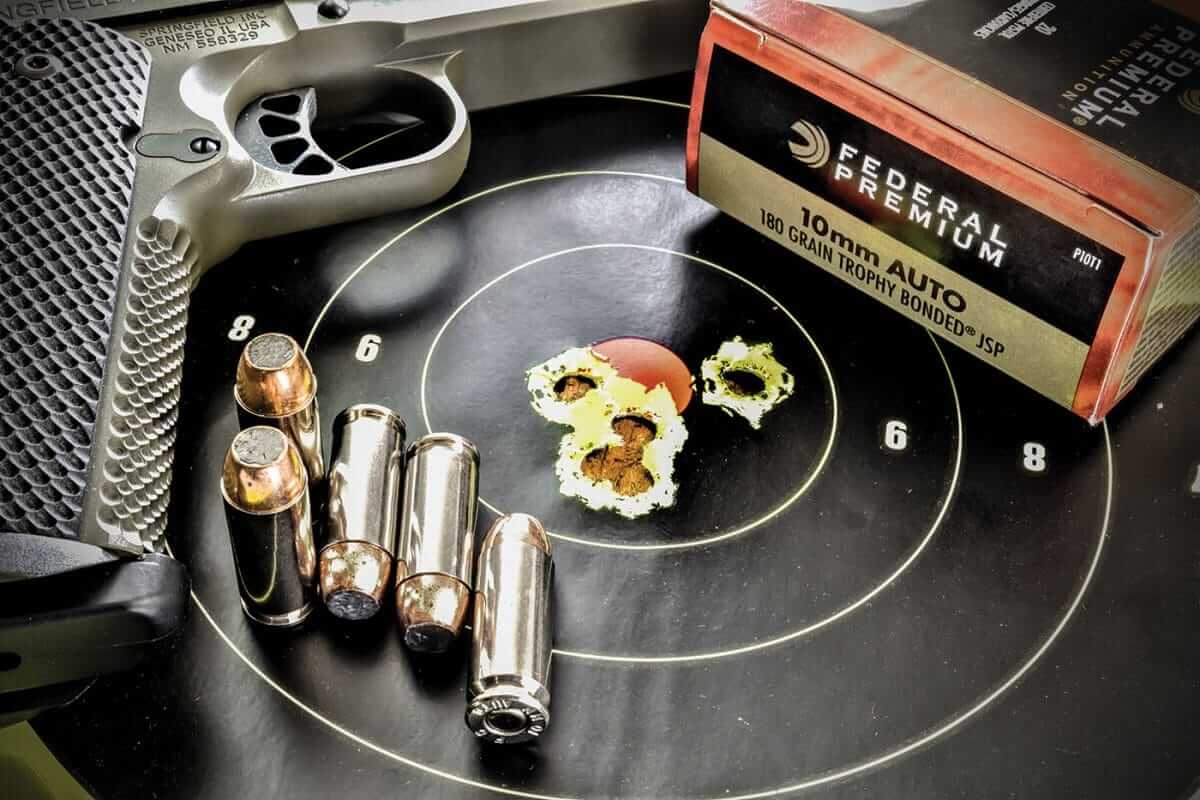 Our second impression was, "Wow, this is one serious looking piece." And it is. The front end of the frame is square and blocky looking, and the slab-sided, round-top slide makes the combined side profile look like a four-story building — or a TRP Operator 1911 on steroids. All of the aforementioned attributes combine to make the TRP 10mm RMR one hell of a good looker.
The pistol fit my average-size paws like it grew there. Trigger reach was perfect, with the distal phalanx of my trigger finger falling directly over the center of the trigger, the and grip circumference and Posi-Lock texturing were both comfortable and extremely effective in controlling perceived recoil and muzzle rise.
For function and reliability testing we used a variety of loads in different grain weights from Federal, Hornady, and Doubletap, running the gamut from practice to defense and hunting. Each load had a distinctly-different recoil characteristic, and not only did the big TRP digest everything we fed it without complaint, muzzle rise and felt recoil of the 10mm was tame — even with the hi-po hunting loads. This is where weight becomes an advantage.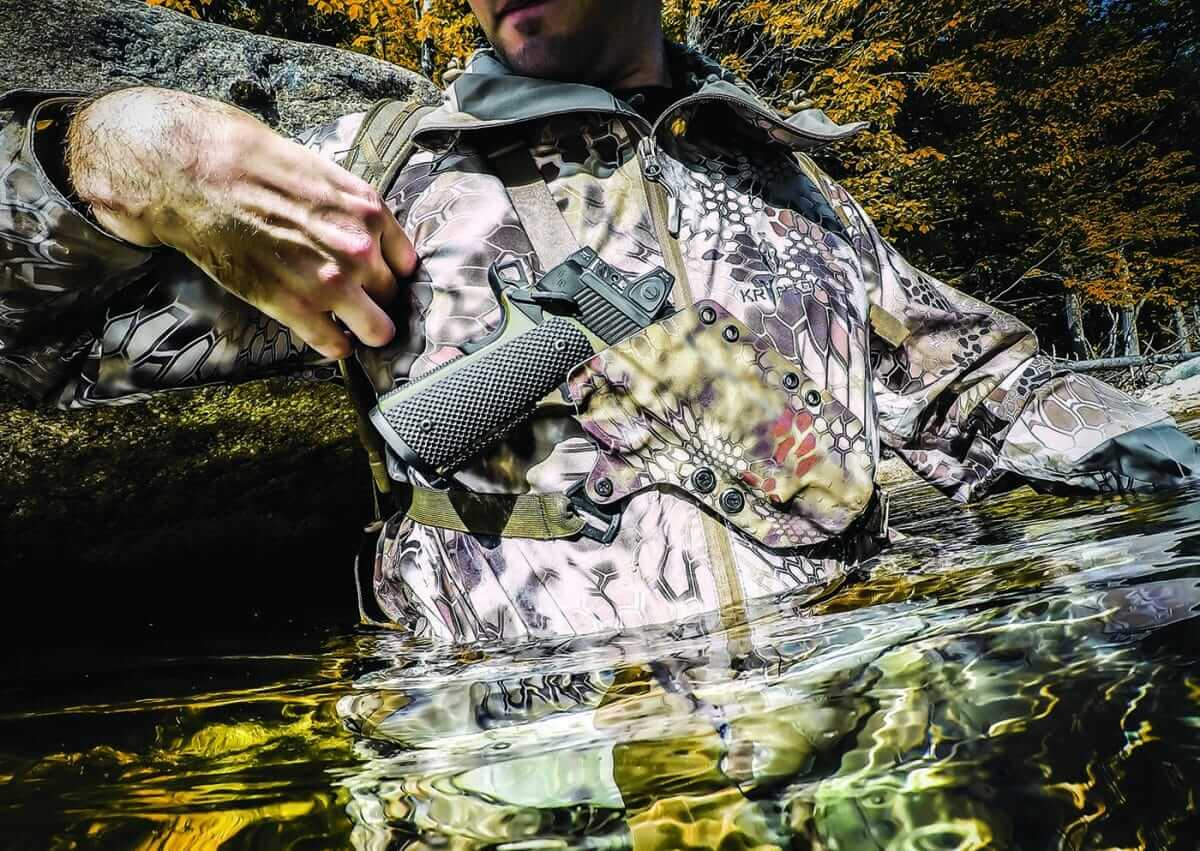 From the 25 yard line we narrowed our downrange-precision testing down to three hunting loads; Federal's 180-gr. Trophy Bonded JSP Vital-Shok, Doubletap's DT Hunter 200-gr, Controlled Expansion JHP, and Hornady's Custom 180-gr. XTP. We've found our level of precision measurably better with RDS-equipped pistols (especially with aging eyes) and the TRP further further solidified this theory. All three loads proved capable of sub 2 inch 5 shot groups, with the Federal and Hornady loads breaking the 1.5 inch mark. The best group of testing was printed using the hot Federal Premium load (a staff favorite), measuring 1.16 inches. Outstanding performance overall. We have no reservations about this pistol's ability to place accurate shots at 50 yards and beyond.
Taking into account its out-of-the-box performance and features, we believe the TRP 10mm RMR pistols to be the best value in long-slide 10mm 1911s that you'll currently find on the market.
Accuracy Testing
| | | |
| --- | --- | --- |
| Ammunition | Velocity | Group |
| Hornady Custom 180-gr. | 1275 | 1.36 inches |
| Double Tap DT Hunter 200-gr. | 1250 | 1.72 inches |
| Federal Vital-Shok 180-gr. | 1275 | 1.16 inches |
Specifications
| | |
| --- | --- |
| Action | Single |
| Caliber | 10mm Auto |
| Barrel Length | 6 inches |
| Overall Length | 9.6 inches |
| Height | 6.4 inches |
| Weight | 50 ounces (empty magazine) |
| Capacity | 8+1 |
| MSRP | $2,289.00 |
Editor's Note: This article was written by Bill Battles and shared with us by On Target Magazine.
Editor's Note: Please be sure to check out the new The Armory Life forum, where you can comment about our daily articles, as well as just talk guns and gear. Click the "Go To Forum Thread" link below to jump in!
Join the Discussion
Featured in this article
Continue Reading
Did you enjoy this article?
77