If you are an adventurer like me, especially one with a truck, you know space is always a commodity you wish you had more of. This is even more true if you have a preparedness mindset. I recently came across Pelican Vehicle Cargo Cases, and I felt as if I had finally found what I always wished existed — modular, rugged storage that looks as great as it performs.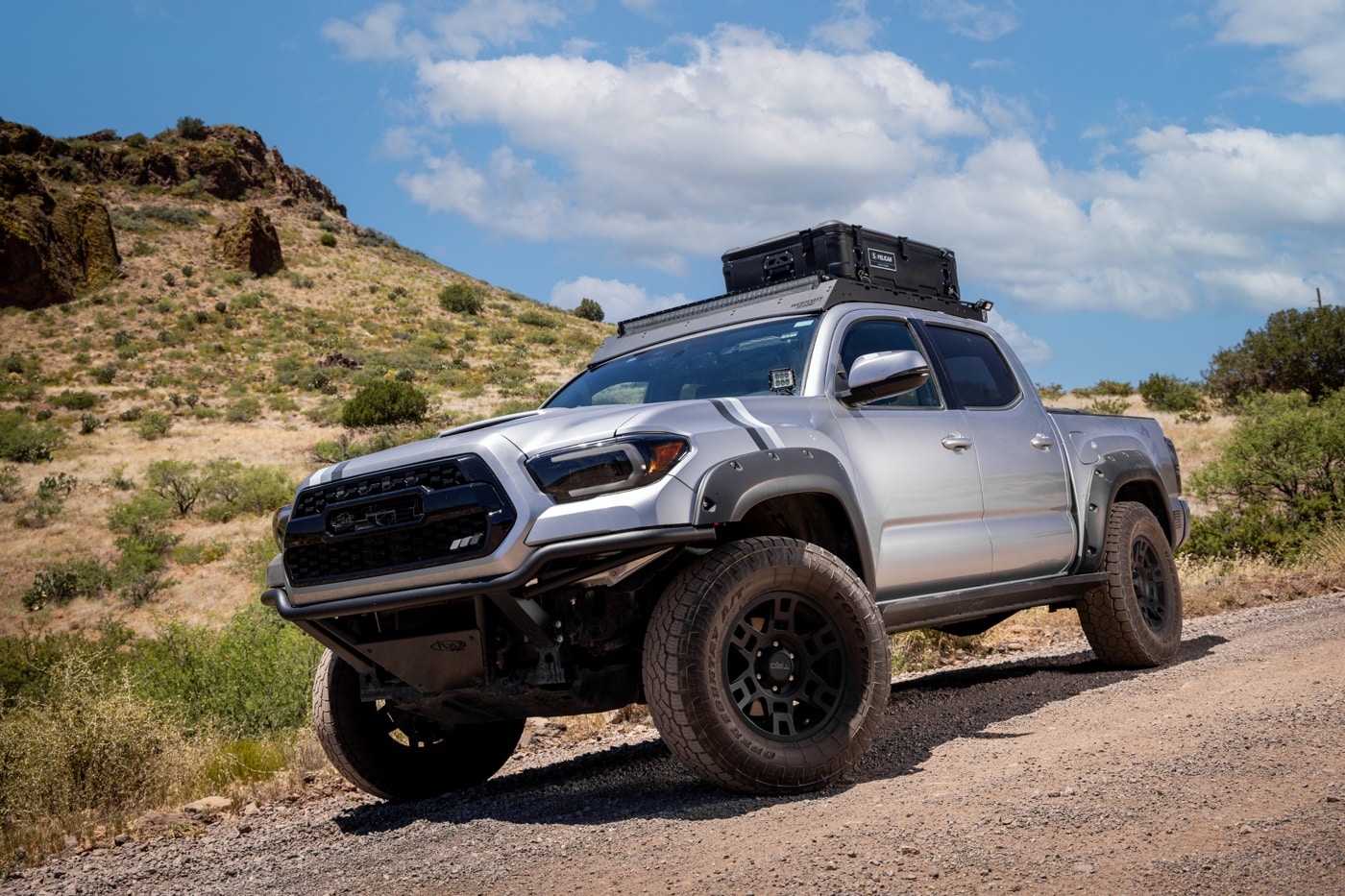 Let's face it, if you outfit your vehicle, you are darn proud of the way it looks. When choosing gear that stays on your vehicle, it's got to look good. And boy does the Pelican Cargo Storage do the trick on my Tacoma.
Fitting It Out
I've always had some sort of storage on my roof rack, and I've got a half bed Truck Vault in the bed of the truck. These items have become a staple in my life for safely storing gear for the range, adventures, photo shoots, family life and general preparedness. When I saw the Pelican Cargo Cases, I immediately knew which ones I wanted and where to put them.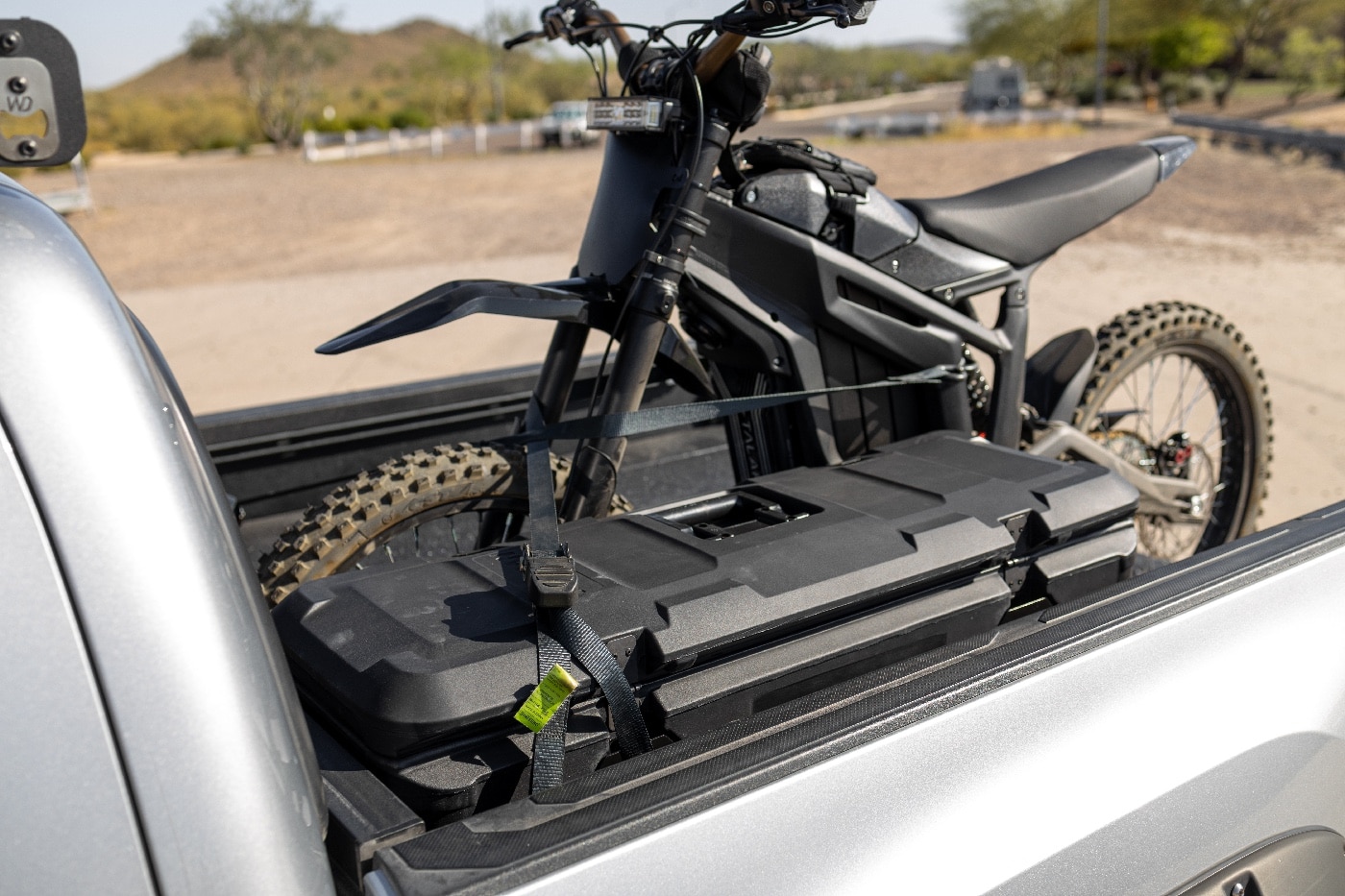 For the new roof-rack mounted case, I went with the BX140R. It sports exterior dimensions of 46"×24"×11.5″ and interior dimensions of 41.8"×19"×8.8″. Pelican makes a simple, effective way to mount the Cargo Case to a roof rack with the RFMT2 roof-rack mount kit. The kit simply attaches to the roof rack struts and then clamps onto the Cargo Case.
The kit retains the Cargo Case with a pin system that can be easily removed to load and unload the Cargo Cases on or off the vehicle. There is also a convenient hole for locking the Cargo Case to the roof-rack mount, providing you with security and ease of access.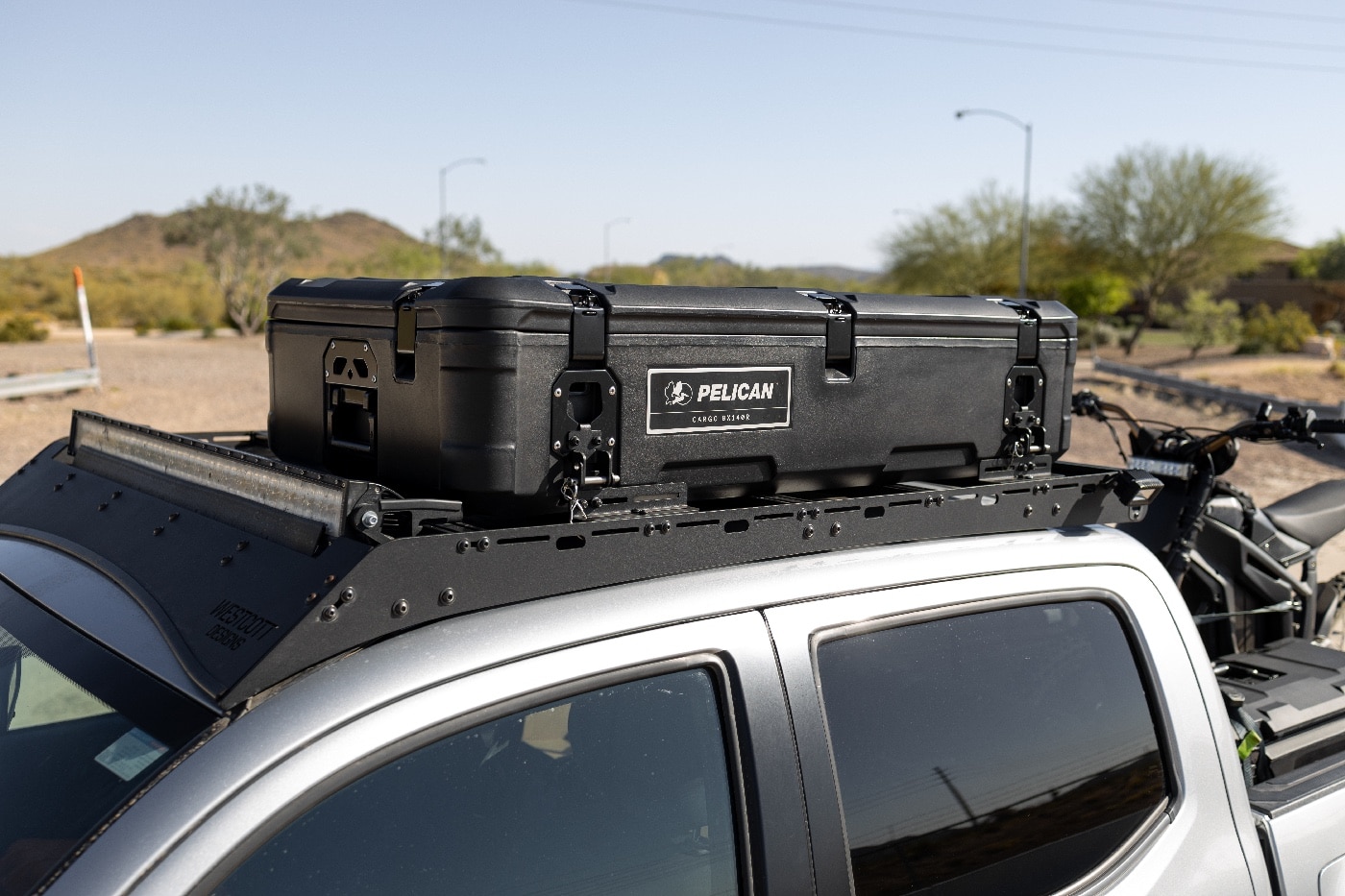 I park my truck in my garage, so space is always my top concern. And with a 2" lift and 33" tires, I am quite limited in height. Thankfully, the truck with the BX140R can clear the garage with .5" to spare. Great job, Pelican! Perfect dimensions. Also, the interior design of the cargo case allows me complete freedom to organize my gear as I see fit.
Moving Back
New to me were cargo mounting options for the bed of the truck. I've always valued having half of my truck bed available for storage, dirt bikes, range targets, etc. I never really thought about adding more storage to the bed until I saw what Pelican had to offer. They've created an ingenious way of mounting a cargo case to the bed while also being able to remove it and fold up the mounting solution to retain capacity in the bed when needed.
For the bed-mounted Cargo Case, I went with the BX55S. It has exterior dimensions of 36.6"×13"×11.5″ and interior dimensions of 32.4"×8"×8.5". To mount this Cargo Case to the bed of my Tacoma, I used their SDDLMT2B bed mount kit specifically designed for the Tacoma.
The mount kit has arms that cradle the Cargo Case, locking it in place with a retaining pin that is easily removable to dismount the kit from the truck. When the Cargo Case is removed, the arms of the cradle are easily folded up and out of the way. The bed-mounted Cargo Case is also lockable to the cradle, creating the ultimate protective storage solution.
Hands-On
The cases shipped quickly to my door packaged well, with everything I needed to install on my truck. The directions were easy to follow, and the equipment was intuitive to set up. Within an hour, I had everything on the truck and was ready for an adventure. I think Pelican really nailed it with the aesthetic of these cases as well. They make the truck stand out and really add to the visual design and theme I've got going on with the black and silver look.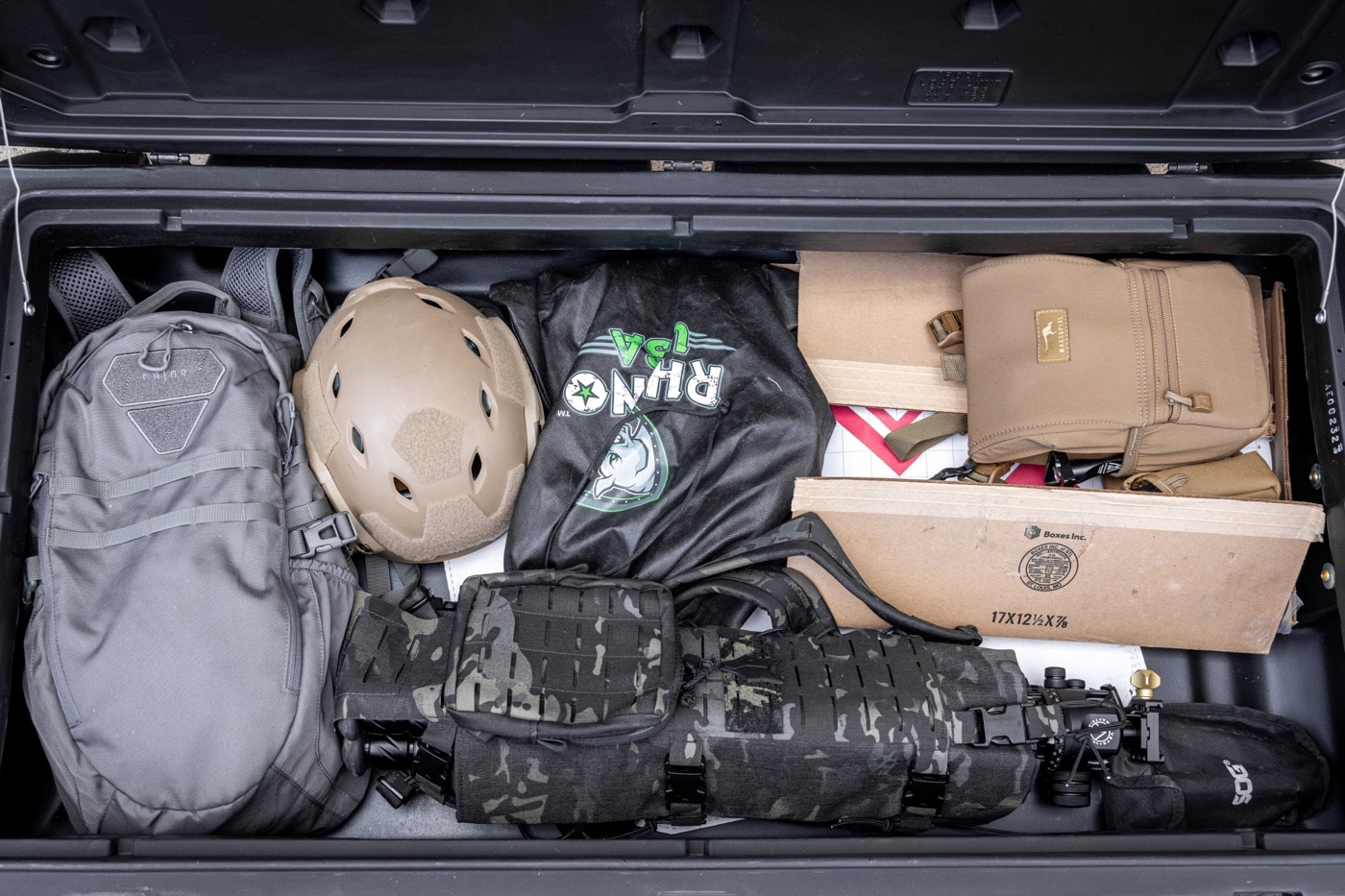 In practice, the Cargo Cases lived up to the Pelican name as well.  I immediately I took my truck on a small road trip to one of my favorite riding and shooting spots in northern Arizona. The cases held up on the freeway at 80mph as well as driving on unpaved bumpy roads. With the interior packed well and protected, all my items arrived just as I had packed them. The mounting systems were still perfectly tight to the roof rack and bed, and the Cargo Cases were solidly affixed to the mounts as well.
The ease of use and rugged nature made these a new staple in my vehicle workflow. The BX140R is easily accessible when standing on my rock sliders, and it's also the perfect size to host my tools, targets, shooting mat, blankets — and all with room to spare. For the bed-mounted BX55S, I store a tripod, bino harness, ammo can, extra hoodie, get-home bag, first aid kit, etc. I have fallen in love with the bed-mounted storage the most. The ease of hopping into the bed of the truck and quickly being able to access a large and secure storage area really enhanced my adventures.
Being that these cases are locked to the mounts, as well as the lids, I have complete confidence in them being secure storage for the places that I travel. I also appreciate the ability to take them off the vehicle for loading or unloading a lot of gear, or if I am leaving my vehicle outside overnight. There are times I travel to the airport for work trips, and I like to make sure there is nothing accessible or overt on my truck. The ability to quickly detach these Cargo Cases during these trips is invaluable.
I also often take my dirt bike out on adventures near and far, and I was hoping I could retain the bed-mounted cargo case while my dirt bike was in the bed of my truck. Sure enough, like a glove, it was a perfect fit in between the truck vault and the BX55S. The storage of the bike is even better now that the bike can slightly rest on the Pelican Cargo Case, creating a solid connection point to keep the bike securely in place.
The Answer
Pelican clearly thought out the dimensions and options of these products very well in advance, knowing their customer base all too well. Speaking of options, there are a total of eight Pelican Vehicle Cargo Cases from square designs to rectangles, tall, short and everything in between. They also offer mounting solutions to multiple types of roof racks as well as bed mounting for most trucks.
I've been using the Pelican Cargo Cases for a little over a month now and I am pleased to say there are no whistling or wind noises coming from the cases or the mounts. When adding anything to the exterior of your vehicle, noise is always something that can occur as wind passes through, around or in between holes or angles. Pelican did a great job of designing these cargo cases with this in mind.
The Pelican Cargo Cases are weather resistant and dust proof like their trustworthy lineage of cases that built their steadfast reputation. They are a polyethylene roto-molded construction with e-coated steel latches, tie-down plates, and heavy-duty, lay-flat handles. These cases are built to last and can withstand the harshest conditions that you might encounter on your outdoor adventures. Whether you're driving through rough terrain or facing extreme weather conditions, you can rest assured your gear will be kept safe and secure inside these cases.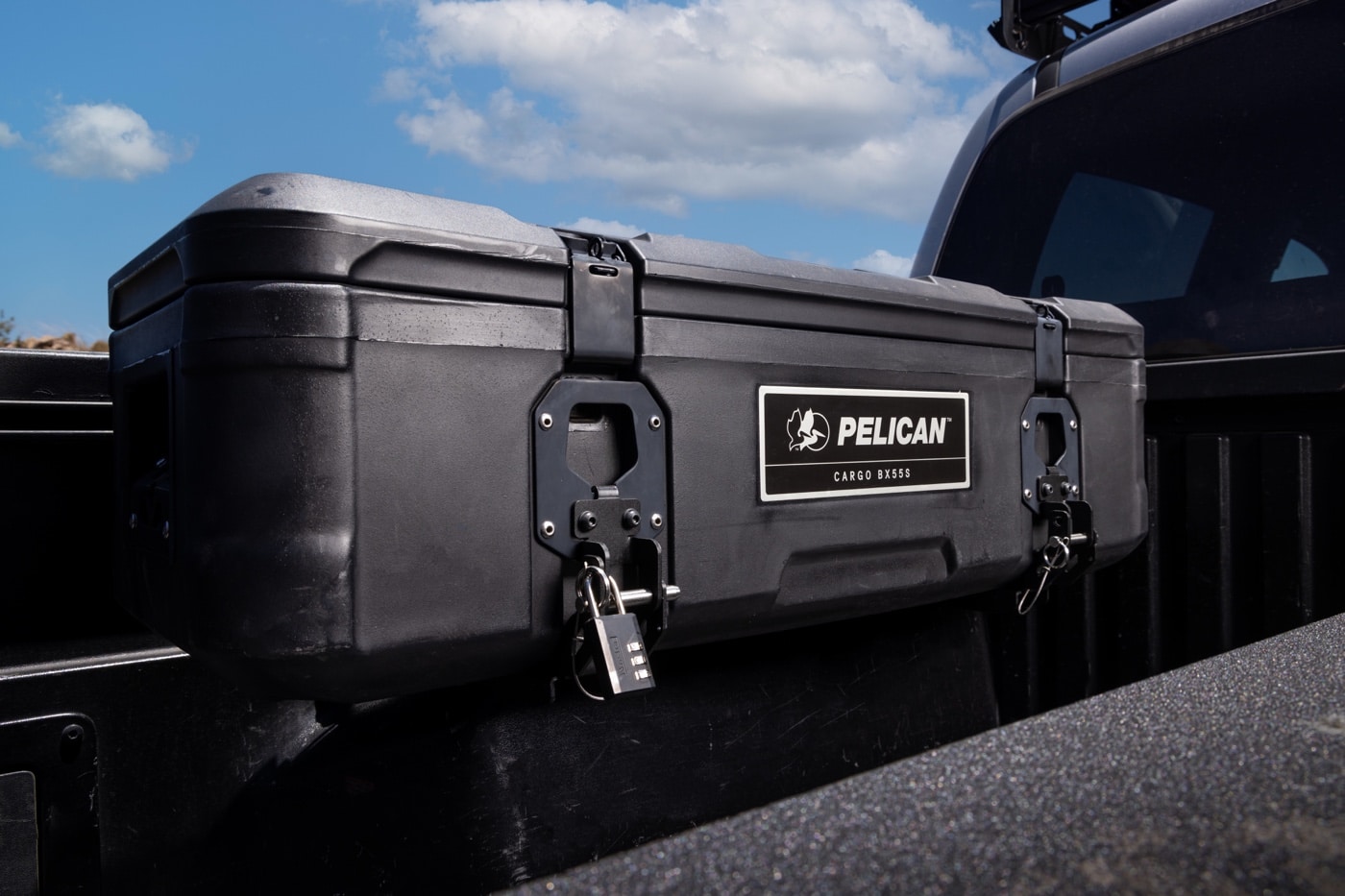 From hunting trips, camping adventures, or just transporting your gear safely and securely, these cases can accommodate a variety of different equipment inside. They're also great for use in a wide range of cars trucks, SUVs, etc., making them a great investment for anyone who spends time traveling and adventuring in their vehicles. They're also able to withstand extreme temperatures, making them a great option for anyone who spends time in hot or cold climates.
The BX140R comes in right around $480.00, and the BX55S retails about $320.00. If you are looking for the roof rack mount, it will set you back about $240.00 while the bed mounts are between $300.00 to $320.00 depending on your truck.
For the ultimate safe storage on your vehicles, look no further than the Pelican Cargo Cases for your next adventure.
Editor's Note: Please be sure to check out The Armory Life Forum, where you can comment about our daily articles, as well as just talk guns and gear. Click the "Go To Forum Thread" link below to jump in and discuss this article and much more!
Join the Discussion
Featured in this video
Continue Reading
Did you enjoy this video?
27