Powder River Precision Trigger Kit Review
December 19th, 2022
9 minute read
It was love at first sight. Well, actually, it might have been love at first touch. I'll be honest, when I first read the specs on the 9mm Hellcat Pro, I was a bit underwhelmed. I was a big fan of the original micro 9mm Hellcat, and I did not really see what this new configuration added to the platform to warrant a whole new gun. The barrel is a hair under ¾" longer. The grip frame is lengthened just a hair over ¾", admittedly getting you a good bump in capacity from 11 rounds to 15. But, these are still pretty minor dimensional differences, right?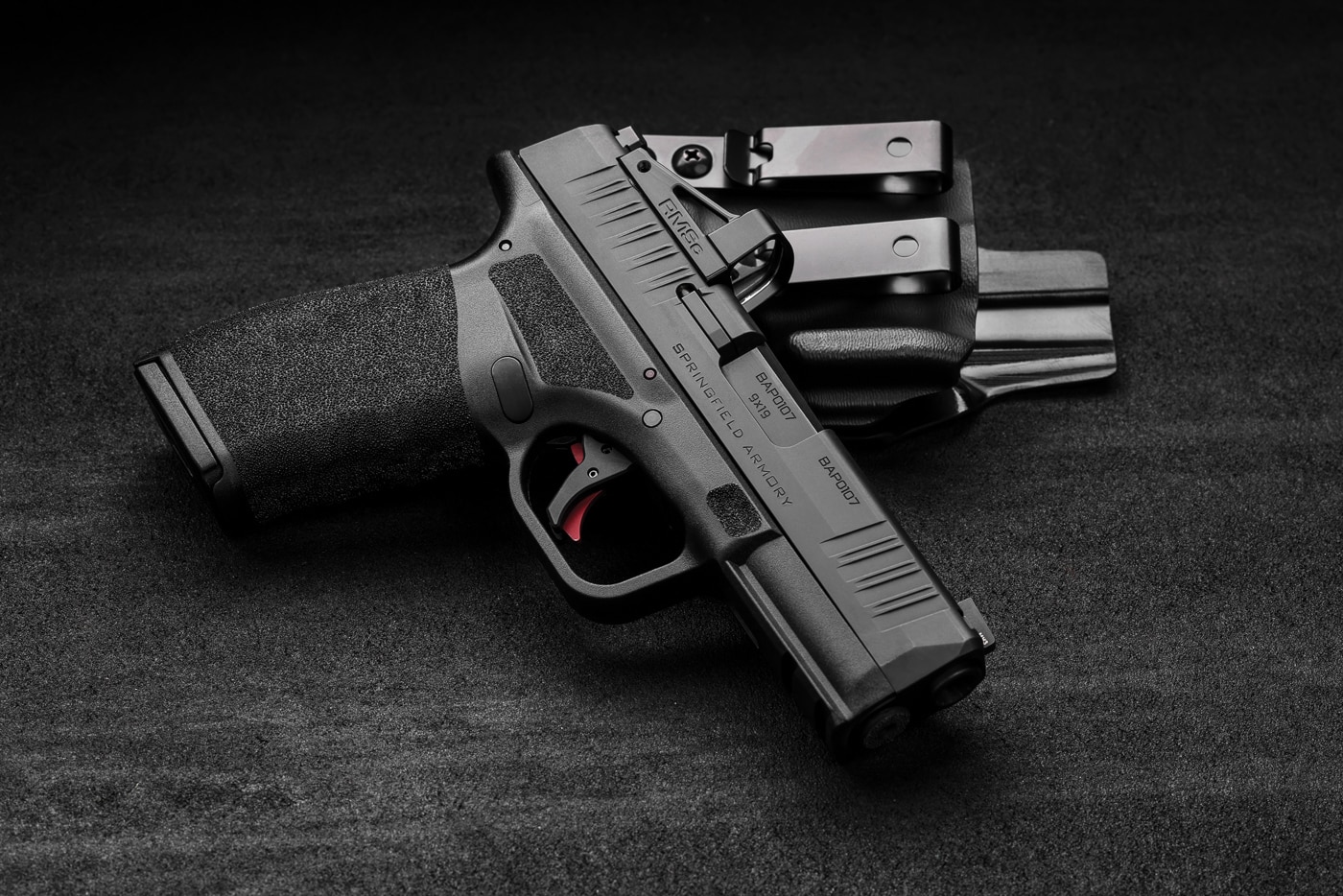 It was when I handled a Pro for the first time that I truly understood what makes this Hellcat variant so special. Yes, on paper the changes are minimal. But, in the hand, these subtle tweaks take the already great micro 9mm and give you something, well, different. While the Hellcat Pro is still quite compact and concealable, it packs the punch of a much larger duty-sized pistol. It is a nearly 4" barreled pistol with red dot capability and 15-round capacity — but in a gun that is a svelte 1" wide and practically disappears in an inside-the-waistband (IWB) holster.
Needless to say, I was hooked. I put in an order immediately and waited patiently for my personal gun. When it arrived a few weeks later, I topped it off with a Shield RMSc compact red dot and was immediately impressed by the set-up. But, while the Hellcat Pro was ideal for me in just about every way, I have a tinkerer's instinct. Even when something is perfect, I want it "more perfect." Or, sometimes I just like it a bit customized to make it even more "mine."
Enhancing the Hellcat Pro Trigger
When it comes down to it, I'm a modern traditionalist. Or, a traditional modernist. Or, just a guy who likes nice guns, no matter the type. Basically, I am the type of guy who can be just as happy with a classic 1911 as I am with a striker-fired, polymer-framed pistol. However, it must work. Form truly must follow function.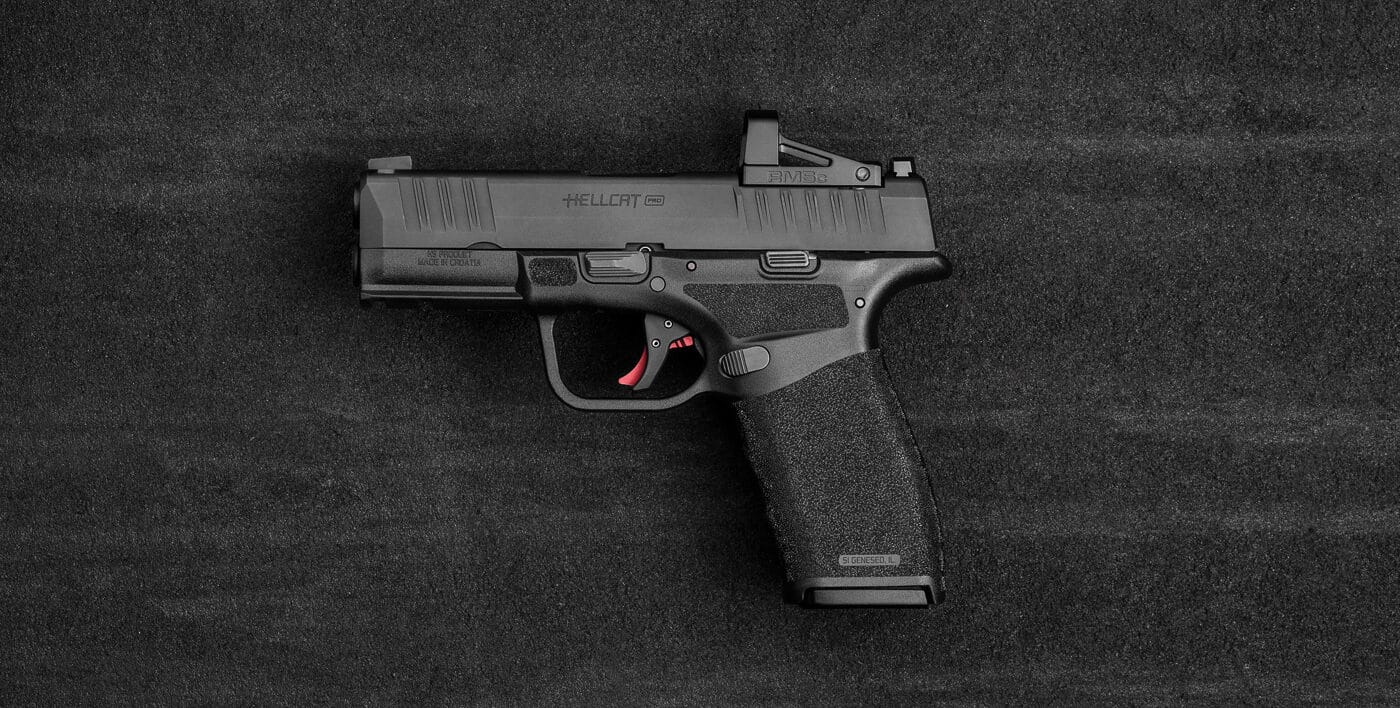 Well, the Hellcat family has certainly attained that latter goal, with the design more than proving its reliability and durability (to see Paul Carlson take a Hellcat to 20K rounds in a brutal torture test, click here; to see him run an equally tough mixed ammo reliability torture test on a Hellcat Pro, click here).
So, how would I "tinker" with the Hellcat Pro? While I am perfectly comfortable with a polymer-framed pistol, I will admit I like the feel and tactile qualities of a metal trigger. Is there anything wrong with the Hellcat Pro's stock trigger? Not a thing. But, remember that tinkerer's instinct I mentioned? It was this drive that led me to Powder River Precision (PRP), a company renowned for its custom gunsmithing as well as its aftermarket parts for Springfield Armory polymer-framed pistols. It was on their website that I discovered the PRP Trigger Kit for the Hellcat.
The Source: PRP Trigger Kit
During my research on the PRP Trigger Kit, I had the opportunity to speak with Daniel Batchelor, president of Powder River Precision as well as president of the esteemed American Pistolsmiths Guild. During my time speaking with him, I was able to not only learn more about the trigger kit, but also his company.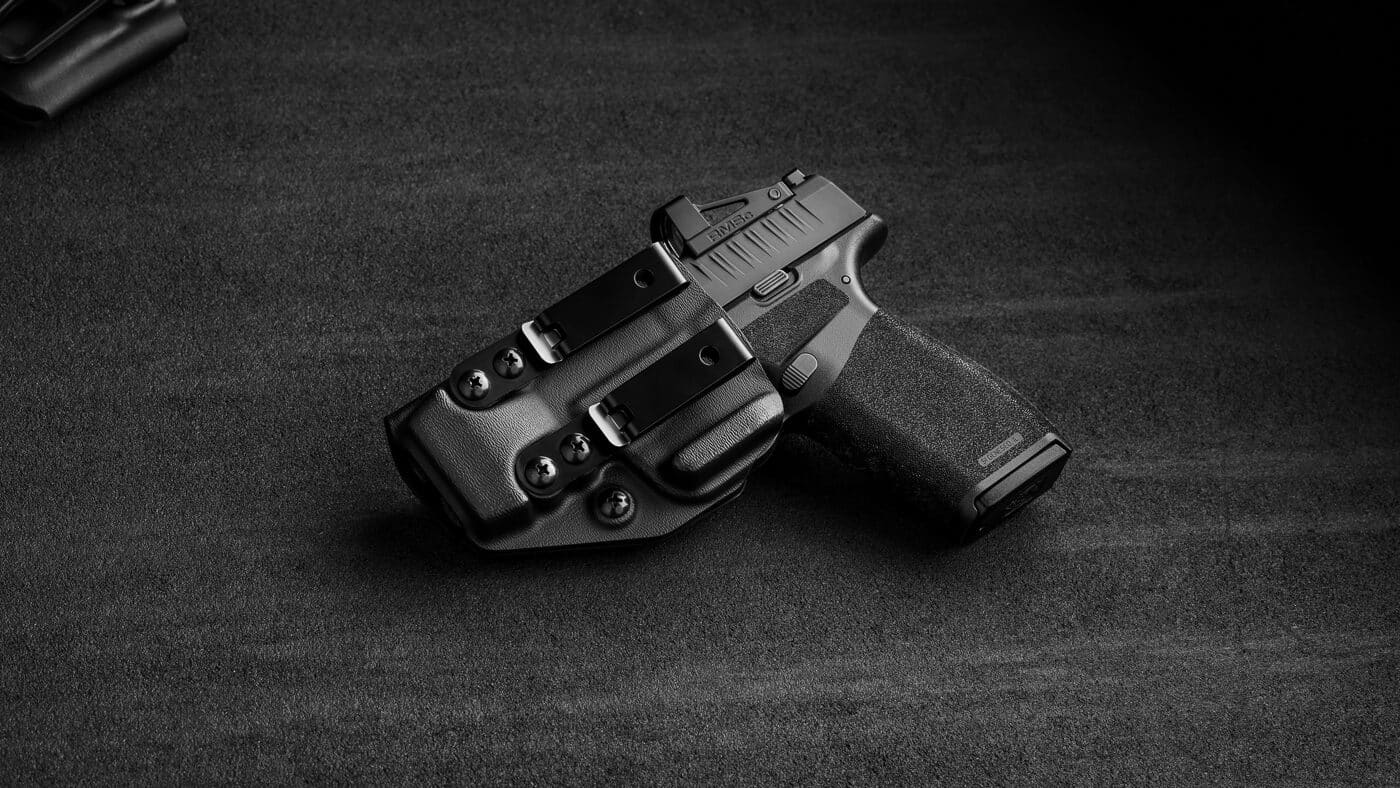 "How did I get into this business?", Daniel said in response to one of my first questions to him. "My technical background is in manufacturing technology with an emphasis in aviation. I'm a commercial fixed wing, helicopter and glider pilot. I got started working on firearms because of my fascination with the mechanicals involved in quality firearms.
"Early on in my pistolsmithing career, I was fortunate to meet some legendary pistolsmiths," he continued. "They were kind enough to share some of their knowledge with me, and they encouraged me to continue to pursue my passion. The result was my wife, Michelle, and I deciding to found Powder River Precision in 2007."
Daniel and his company have developed a sterling reputation for their innovative and appealing aftermarket parts and accessories for Springfield's polymer-framed pistols, not the least of which includes the Hellcat series. "It was an easy decision to make aftermarket products for the Hellcat due to its performance and popularity," Daniel said to me.
Diving In
It was at this point I mentioned to Daniel I had picked up a Hellcat Pro and was considering swapping out the original trigger for his PRP Trigger Kit. "That's a great choice," he told me, explaining that I should be sure to select the Hellcat Pro variant for mine when ordering it. "We offer it for both the Hellcat and the Hellcat Pro. The two models have some subtle differences, such as the surfaces that the trigger safety engages. So, we decided to make a distinct kit for the Pro versus the standard Hellcat," he explained to me.
As the conversation evolved, I explained to him that while I like the original trigger on the Pro just fine, I wanted a metal trigger for the pistol. And, I was curious what the PRP Trigger Kit could bring to the table. "Our goal with the kit was to get the pull weight of the trigger down to about 4.5 lbs., as well as smooth out the 'feel' of the pull a bit," he said. "We accomplished this with our sear, striker safety and disconnector."
These parts are designed to Batchelor's exacting standards, and complement the inherent quality of the Hellcat. Both the sear and disconnector are made of 440C stainless steel, heat treated to 53-56 RC for durability. The striker safety is machined from 416 stainless steel, and also properly heat treated.
"Let's talk about the trigger in the kit," Daniel said to me. He went on to explain that the trigger is called the HTS, which stands for "Hybrid Trigger Shoe". "Some people love flat triggers and some love curved, and it seems like the two sides will never agree," he said.
"The HTS was designed to offer the best of both worlds. The flat section in the center allows the finger to be placed comfortably near the tip, while the short curved section helps to reduce the chance of 'trigger bite' that some shooters can experience with smaller-framed pistols," he told me.
The trigger itself is machined from 6061 T6 aluminum for light weight as well as strength, and offers that cool "metal" feel that I so like with my pistols. The trigger is hard anodized black or silver, and Powder Rivers offers either with the option of a black, red or blue trigger safety lever. The kit itself comes with a trigger, sear, disconnector, striker safety, two different sear springs, a disconnector spring and a striker safety spring.
After I thanked Daniel for his time, I set about selecting the variation of the trigger for my pistol. Ultimately, I settled upon the Hellcat Pro version with the black trigger and the red safety lever.
Fitting Choices: Installing the Powder River Precision Trigger
Regarding the installation of the PRP Trigger Kit, I decided to enlist the help of an expert on my Hellcat Pro — Jeremy Sides, a Custom/Repair Tech with Springfield Armory, and also a member of the American Pistolsmiths Guild.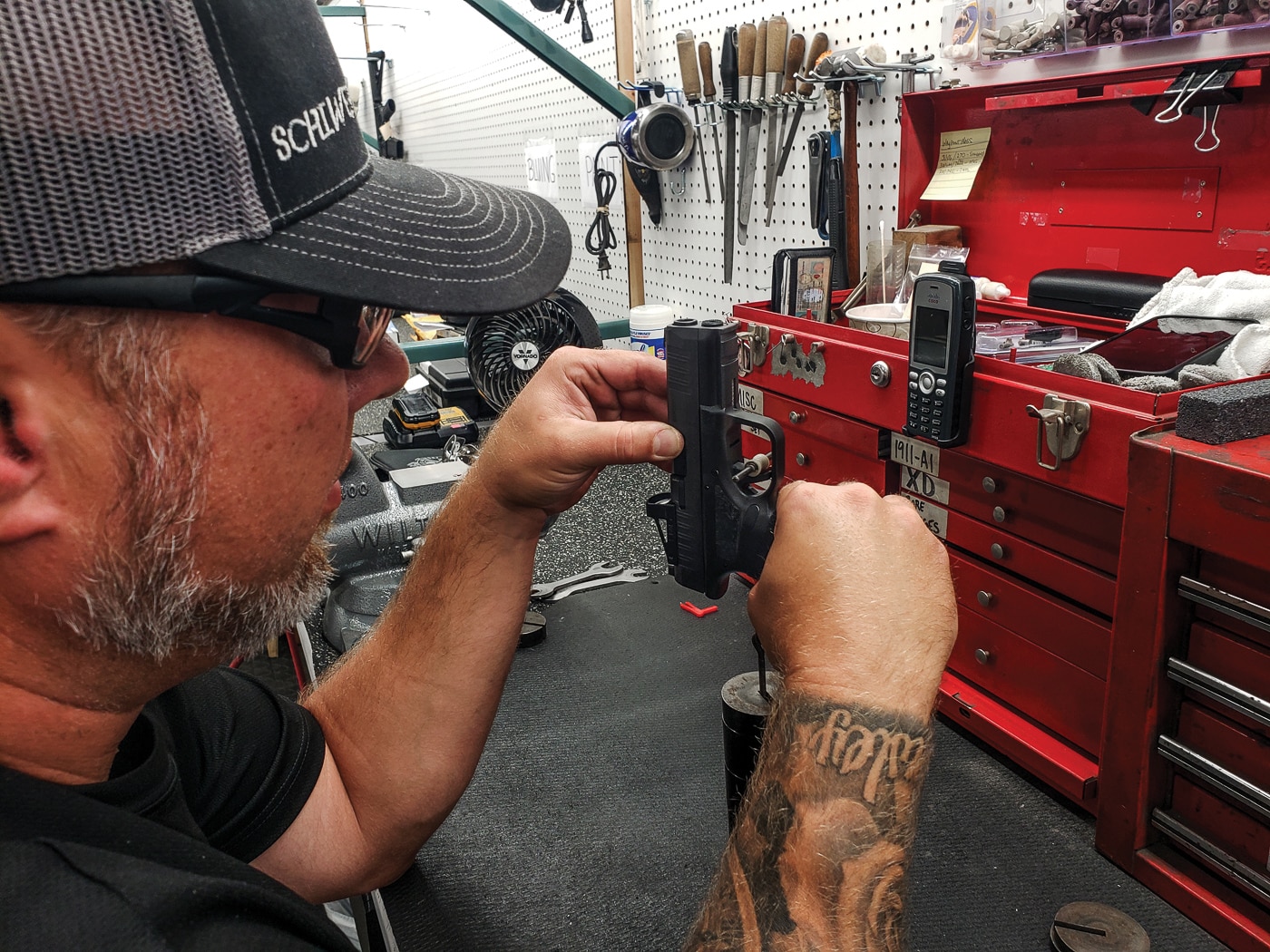 "This is a great choice," Sides told me when I asked him about lending a hand on this project. "I've been doing trigger jobs on our polymer-framed pistols since 2004, and what I've found with the PRP kits is that they use very similar techniques to the ones I have used over the past nearly 20 years to get the best trigger pull possible."
Once I got the pistol and the trigger kit over to Sides, he dove in, explaining the process to me as he worked through it. "The PRP Trigger Kit overall is pretty easy to install," he said to me. "What is really nice about this kit is that all the parts are 'drop in' and do not need any fitting or adjustment. Daniel knows what he's doing, and it shows in this kit."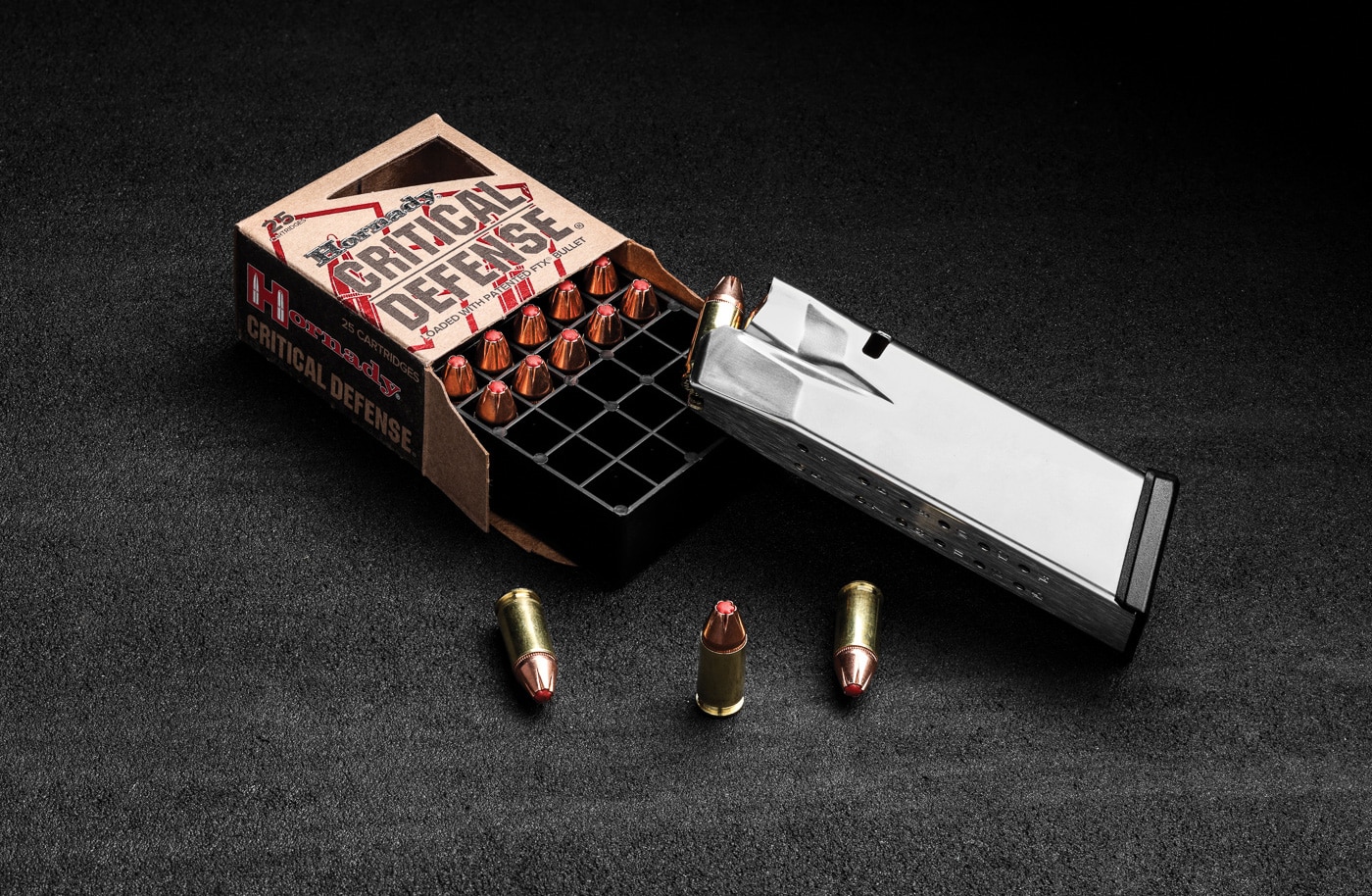 As Sides proceeded through the installation process, he said, almost to himself, "Well that's new to me … ." I asked to what he was referring, and he explained to me that the kit gives you the option of leaving the original disconnector in for a "crisp" break, or employing the new disconnector for a "rolling" break. "Which do you want?", he asked me.
While I do understand the appeal of the rolling break (and Sides installed it for me to try out), I ultimately decided upon the "crisp" break of the original disconnector. While the new disconnector's trigger break was excellent, I'm a sucker for a crisper 1911-style break and will always lean toward that if given the choice. We measured the pull on a trigger pull gauge, and it broke consistently around 4.5 lbs.
Hands-On Testing the PRP Trigger Upgrade
Once my pistol was done, Sides told me that, while the PRP Trigger Kit is extremely well made and installs easily, I should definitely get the pistol out to the range to ensure everything was running smoothly. He didn't have to tell me twice, as I was itching to try out the new trigger.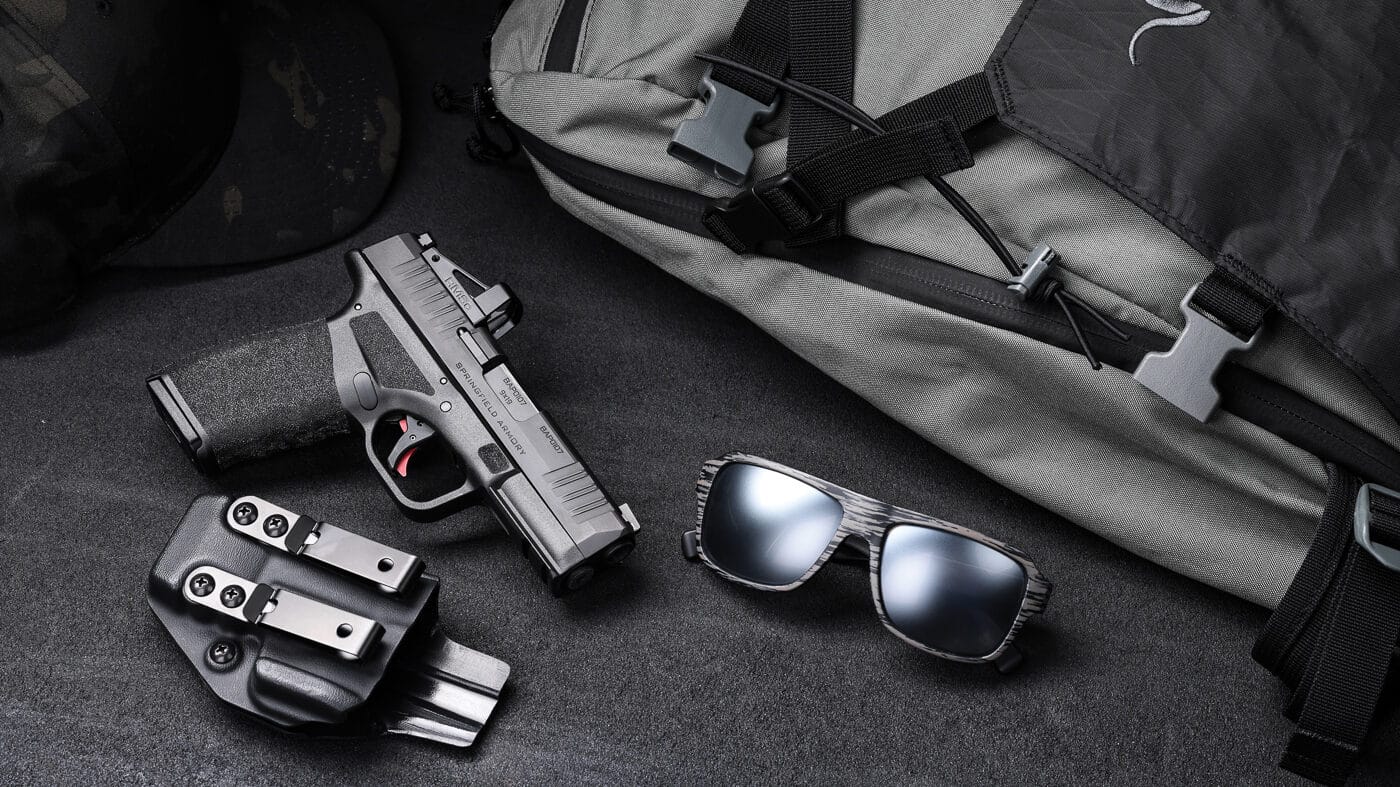 I packed up the pistol along with my BlackPoint Tactical DualPoint 2.0 IWB holster (in left-hand), some spare mags and some boxes of Hornady's excellent Critical Defense 115-gr. FTX 9mm ammunition. I carried two spare mags in my pocket, protected within Ammo Armor polymer cases. If you have not used these, they are a low-profile means for carrying back-up mags. Simply draw, place it in the crook of your primary arm (while keeping the pistol pointed safely downrange) and strip out the fresh mag.
After dry-firing the Hellcat Pro a bit to familiarize myself with the pull, I loaded up the pistol and began putting hits on a target 10 yards down range. The Pro is clearly a shooter. I was able to, offhand, shoot groups in the .75" to 1" range. Benched, I have no doubt this CCW pistol could produce 1.5" or better groups at 25 yards.
While the Pro is a natural shooter, I believe the PRP Trigger Kit helped me squeeze a little bit more accuracy out of the pistol. My groups were quite good, and the "feel" of the pull was excellent. The pulls were smooth, and the breaks crisp. I also noted that the new trigger seemed to re-position the reach of the trigger slightly to the rear over the original. That, combined with the hybrid flat/curved shape, made for a very appealing arrangement. I was sold.
Conclusion
While the stock Hellcat Pro is terrific in every way, I could not be happier with the PRP Trigger Kit from Powder River Precision. It adds both a great "feel" to the pistol's already impressive trigger pull and a stylish look with the red trigger safety blade in the black trigger. The results at the range also speak for themselves. This is now my primary carry system, and I could not be happier. And, with an MSRP of just $165.95 for the trigger kit, it won't break the bank, either. Sounds like a winner to me!
Editor's Note: Please be sure to check out The Armory Life Forum, where you can comment about our daily articles, as well as just talk guns and gear. Click the "Go To Forum Thread" link below to jump in and discuss this article and much more!
Join the Discussion
Featured in this article
Continue Reading
Did you enjoy this article?
64