Editor's Note: This is the first entry in a five-part series of pieces covering the care and maintenance of some of Springfield Armory's most popular firearms. Other entries in this series include:
The year 2020 has been one like no other for our nation. We have seen some unprecedented things occur, one of which is a record number of firearms being sold — and in many cases to first-time gun owners. To address this, we've created this "Springfield Armory Workbench Series" of videos that cover the disassembly, care and maintenance of some of Springfield's most popular firearms. Firearms covered will include the Hellcat (featured here), SAINT, 1911, M1A and XD-M Elite families of firearms.
I recently read in an article that there were more than five million new gun owners in 2020 alone. With record numbers of firearms sold, there has also been a huge demand on ammunition manufacturers. If in fact there has been that many new gun owners, and if each one of those "new" gun owners buy two boxes of ammo, that equates to hundreds of millions rounds of ammo just for them.
So, with all of this demand, it's reasonable to assume that many of these gun owners are likely new gun owners. And many of them might be a bit overwhelmed by all there is to learn about their new firearm, especially regarding care and maintenance. Heck, even we seasoned shooters can still learn a thing or two about this in a lot of cases! So, let's dive in and get started.
Handy Guide
Of all the new firearms being sold, it appears that compact carry guns are some of the most popular. And when it comes to that category, one must consider the Hellcat micro 9mm. With an 11+1 capacity (13+1 with the included extended mag), +P capability, an ability to accept red dot optics in the OSP version, and all-around great handling and performance, it's a great option for CCW.
In the video at the top of the page, I discuss in detail basic firearms care/maintenance of the Hellcat pistol. The first thing any gun owner should do after they purchase a new gun is to read the included owner's manual. While the manual is included with the Hellcat, you can also find a digital copy of it here.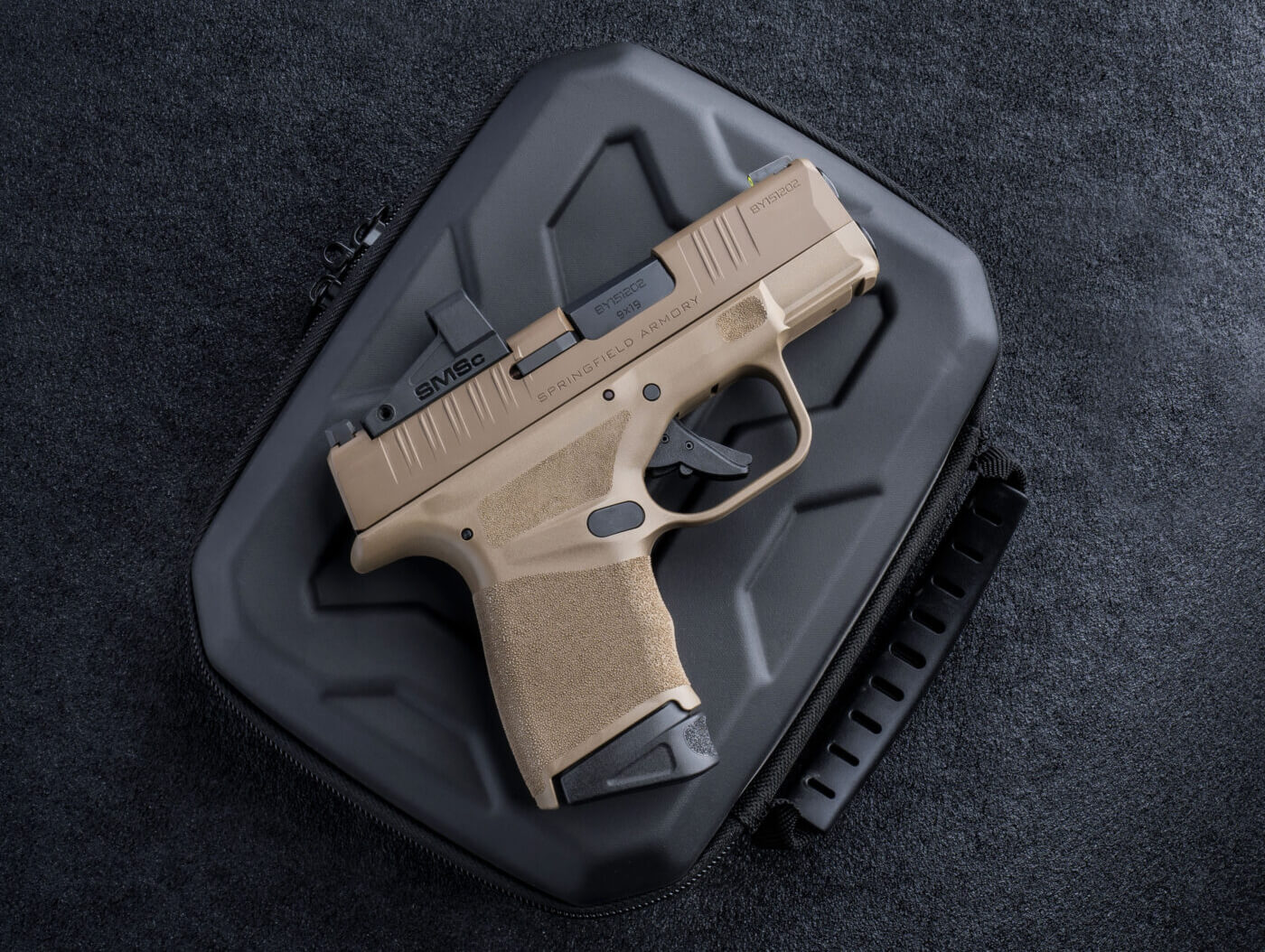 Whenever you are handling a gun, you must ALWAYS follow the four rules of gun safety, which are as follows:
Treat all guns as if they are loaded.
Do not point the muzzle at anything you are not willing to destroy.
Keep your finger off the trigger until you have made the decision to shoot.
Be sure you have identified your target as well as what surrounds it and is behind it.
Once you are familiar with the owner's manual of your specific gun, in this case the Hellcat, you can start the process. And the first step is to ALWAYS ensure that the firearm is unloaded and empty. Follow the instructions in the manual to clear the firearm.
Once the pistol is cleared and empty, you can disassemble the pistol for cleaning and lubrication. Whenever I get a new gun, whether it is new or used, I will unload and disassemble it, and wipe off any fouling or oily residue. As new guns are almost always test-fired by the manufacturer, many times even a new gun will have some residue in the internal workings. With used guns, it's anyone guess what the gun has been through with its previous owner, so a good cleaning is always a great idea.
Takedown
Let's get right into the Hellcat. First, as noted above, ensure the gun is unloaded and that there is no magazine in the magwell. Once you have cleared the magazine and the chamber, lock the slide open to the rear with the slide lock. From there, I will use my finger to physically check the chamber to ensure there is no round in there and to also check that there is no magazine in the gun.
Next, I rotate the disassembly lever from the 9 o'clock position up into the 12 o'clock position, and while holding the slide with my support hand, I pull it back slightly to release the slide stop, which will allow the slide to go forward. It will stop once it gets back fully into battery (closed).
Now, with an empty pistol, I pull the trigger with the pistol pointed in a safe direction (and while still holding the slide with my support hand). This allows me to pull the slide forward and off of the frame. With the slide removed from the frame, I then can remove the recoil spring assembly and barrel from the slide. Your Hellcat is now disassembled for cleaning.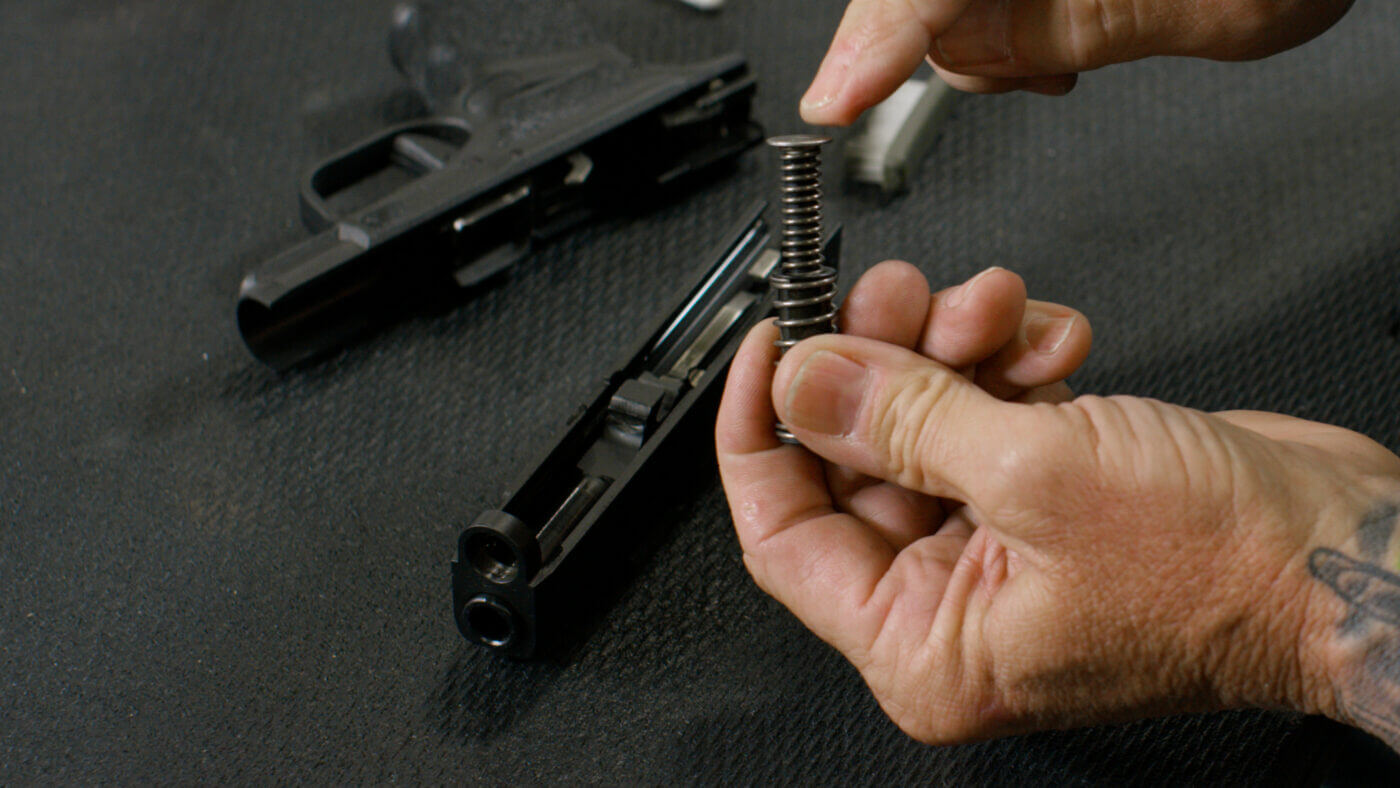 Cleaning
People often ask "What kind of gun cleaning/lubrication products do you recommend/use?". Honestly, I use many different brands. Most all brands of gun cleaning/lubrication products that are made for firearms these days work as advertised, so just buy what you like and follow the manufacturer's directions and you should be good to go.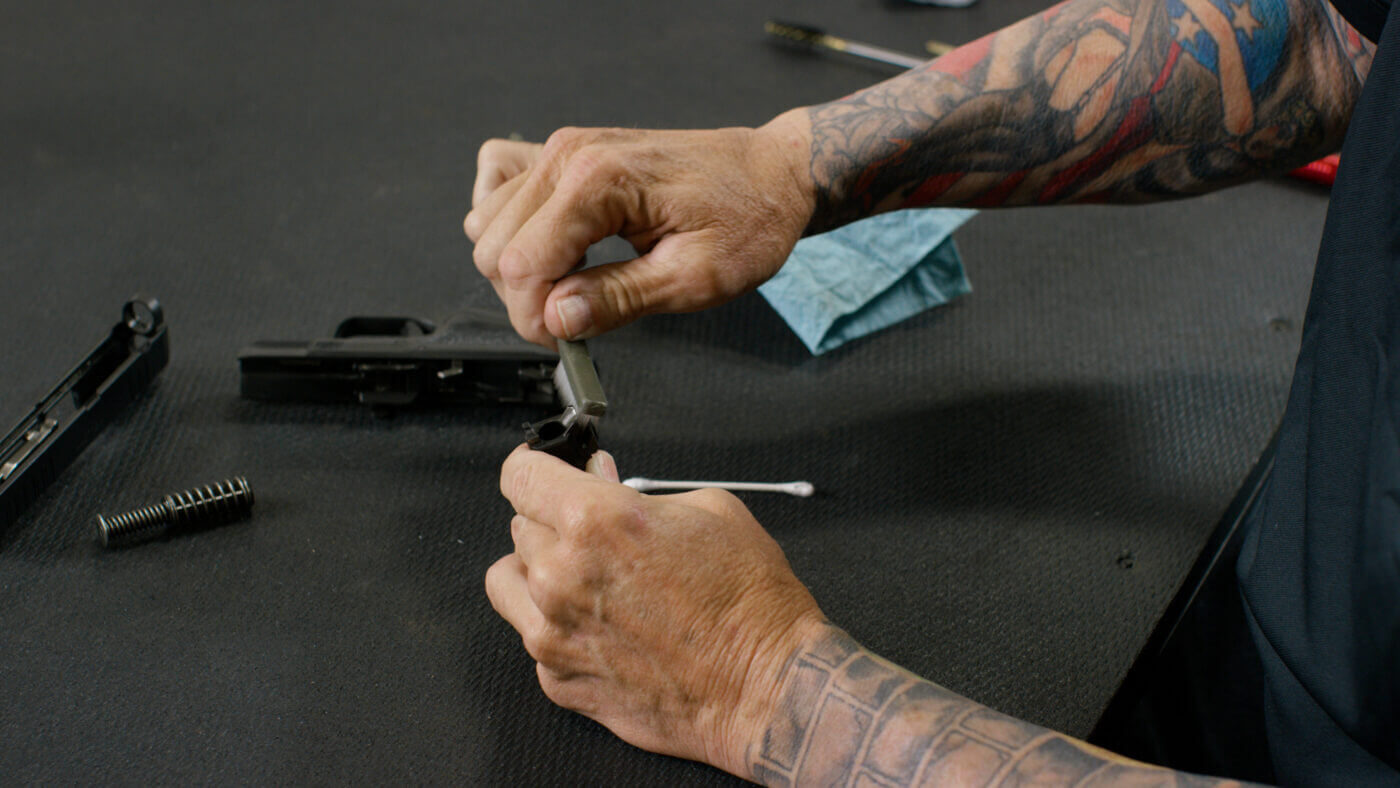 Regarding the equipment I use for cleaning my guns, I have a one-piece cleaning rod that I will use a patch jag on and a bore brush. One item of note about bore brushes — I only use bronze brushes, never stainless steel bore brushes. I have what we call an M16 brush that resembles a toothbrush, but with a small brush end for getting into small areas. I also use cleaning patches of a specific size for whatever size gun I may be cleaning, along with Q-tips. I buy the paper sticked Q-tips instead of the plastic stick ones, as they seem to be more rigid and don't bend as easy. I also use red shop rags that I buy at my local hardware store.
Cleaning your Hellcat is pretty straightforward. I use a red rag to get off most of the old oil residue along with any powder fouling. I use the M16 brush to remove any stubborn fouling and the Q-tips to get into the small areas. Once I finish cleaning the frame and slide, I move to the barrel. I will run a few patches with powder solvent into the barrel with the cleaning rod, always working from the chamber towards the muzzle. I will switch out the patch jag, to the bore brush, and run the brush back and forth about 10-15 times in the barrel. You should always push the bore brush all the way through the barrel before pulling it back through as to not damage the bristles of the brush.
Once all the fouling and residue is removed from your Hellcat's barrel, follow the directions in the owner's manual on lubrication. Remember, only a minimum amount of lube is required.
Conclusion
Keeping your Hellcat clean is easy, and for some people gun cleaning is a ritual. If you are using your Hellcat as your carry gun, you should be cleaning it at least once a month even if it's not being shot. You may be surprised how much lint, dust and grime get in it when you carry it daily. You should also clean it after every practice/shooting session.
So there you have it. The basics on the care and maintenance of your Hellcat pistol. Whether it's a range gun or your CCW companion, these steps will help you keep your Hellcat ready to serve. Keep shooting and keep that Hellcat clean!
Editor's Note: Please be sure to check out The Armory Life Forum, where you can comment about our daily articles, as well as just talk guns and gear. Click the "Go To Forum Thread" link below to jump in!
Join the Discussion
Featured in this video
Continue Reading
Did you enjoy this video?
191