Quick Look: Springfield 911 Alpha .380
December 31st, 2021
4 minute read
Concealed carry has truly evolved over the past decade. The everyday carrier used to have to adapt to the gun and holsters that were available. Holster manufacturers started popping up all over the place in order to solve the problems of uncomfortable carry, but that still didn't solve the problems of large guns that where just heavy and cumbersome to conceal.
Gun manufacturers began figuring out that they needed to make the guns smaller, lighter and easier to conceal to meet the needs of the consumers. Springfield Armory has been one of the top companies to lead the industry in filling these new needs and wants for concealed carry. The Springfield 911 Alpha .380 is one of the more recent examples of innovation and evolution within this ever-growing market of concealed carry. Make sure you check out Massad Ayoob's review of the original Springfield 911 .380 pistol.
Tiny Is As Tiny Does…
The 911 Alpha is an extremely small, lightweight pistol designed specifically for deep concealment in nearly every situation in which an everyday gun carrier may find themselves. The tiny pocket-style pistol is based off the iconic 1911 design.
It features a 7075 T6 anodized hard-coat aluminum frame with sleek yet aggressive Crossed Cannons polymer grip panels. The frontstrap and mainspring housing have nice vertical line texturing that works perfectly with the grip panels to provide a perfect grip on this tiny powerhouse pistol. The grip on these small guns is something that to me is extremely important. At times the small frame pistols can be a bit tough to hold onto.
The 911 Alpha is not. The frame also has a tiny but very functional extended thumb safety, similar to the typical safety you would find on a 1911. The safety is small but very easy to manipulate quickly with just a little practice.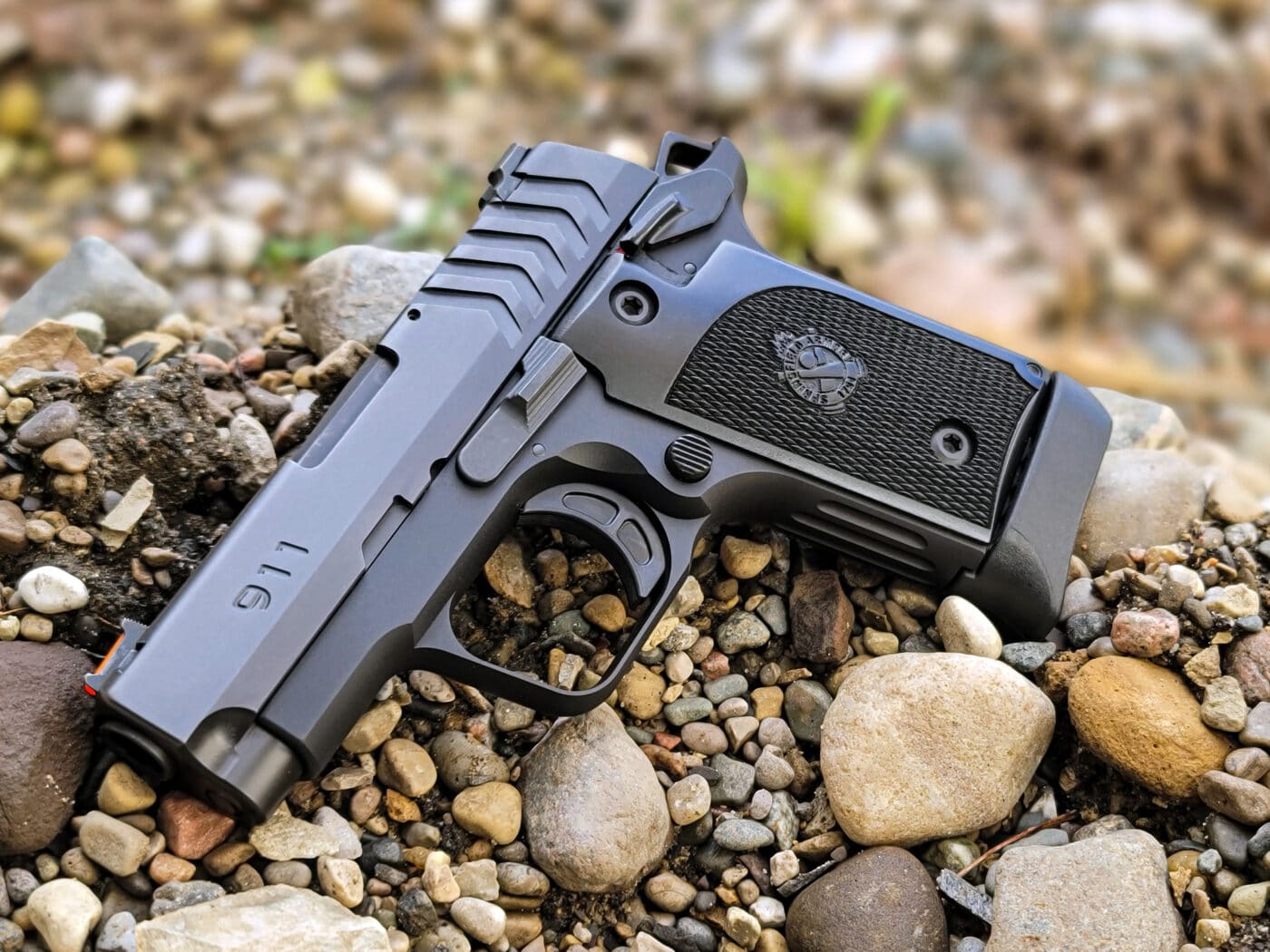 The 2.7″ stainless steel barrel is blacked out using a black nitride finish for less wear and is housed in a 416 stainless steel slide also sporting the same strong and durable black Nitride finish. A full-length guide rod with flat wire spring tops the package off by softening recoil while aiding in control over the small pistol.
You will find a small, loaded chamber indicator on top of the slide. While providing a nice visual to the shooter I personally don't care for these indicators, but they do provide a level of safety and certainty, especially on small pistols that may not have much real estate for positive press checks.
Also located on top of the slide is a set of nice sights. A bright red fiber optic front sight is easy to pick up in most light conditions, and the two white dots in the rear make for a nice sight picture that is fast to acquire and perfect for a small pistol.
Performance
If you have ever shot a pocket pistol, you know how snappy they can be in your hands. I have what I would consider normal size hands, not huge but not tiny either. Somehow Springfield was able to cut down the recoil, making a very easy-to-shoot pocket pistol.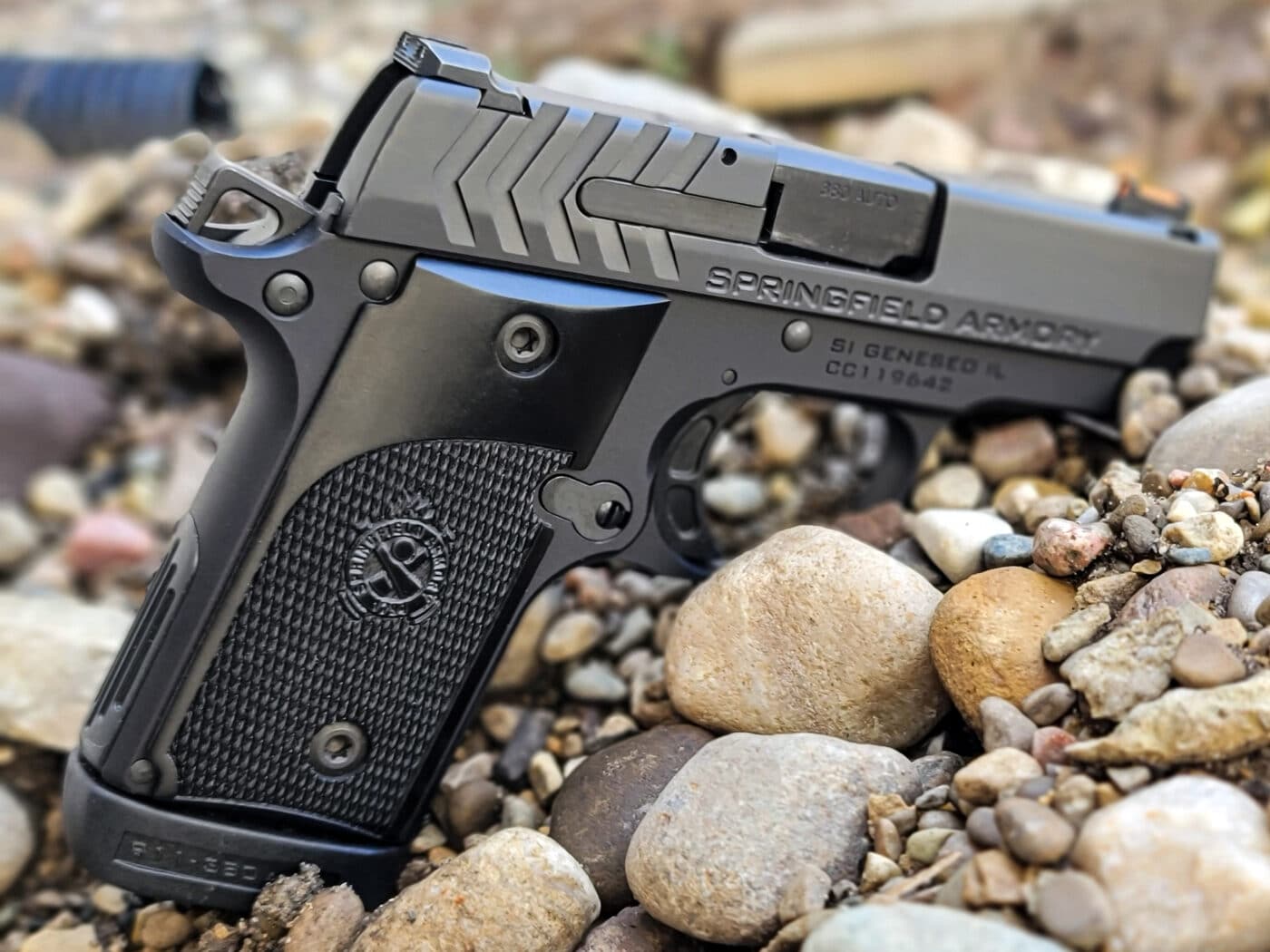 I found that a tighter grip than I normally hold with while at the range with larger guns helped to really reduce muzzle flip and create quicker, more accurate follow-up shots with the 911 Alpha. I put around 400 rounds downrange at the time of writing this using a variety of different ammo that I was able to scrounge together from reloads to factory target rounds and even some of the Hornady Critical Defense I carry in the gun regularly.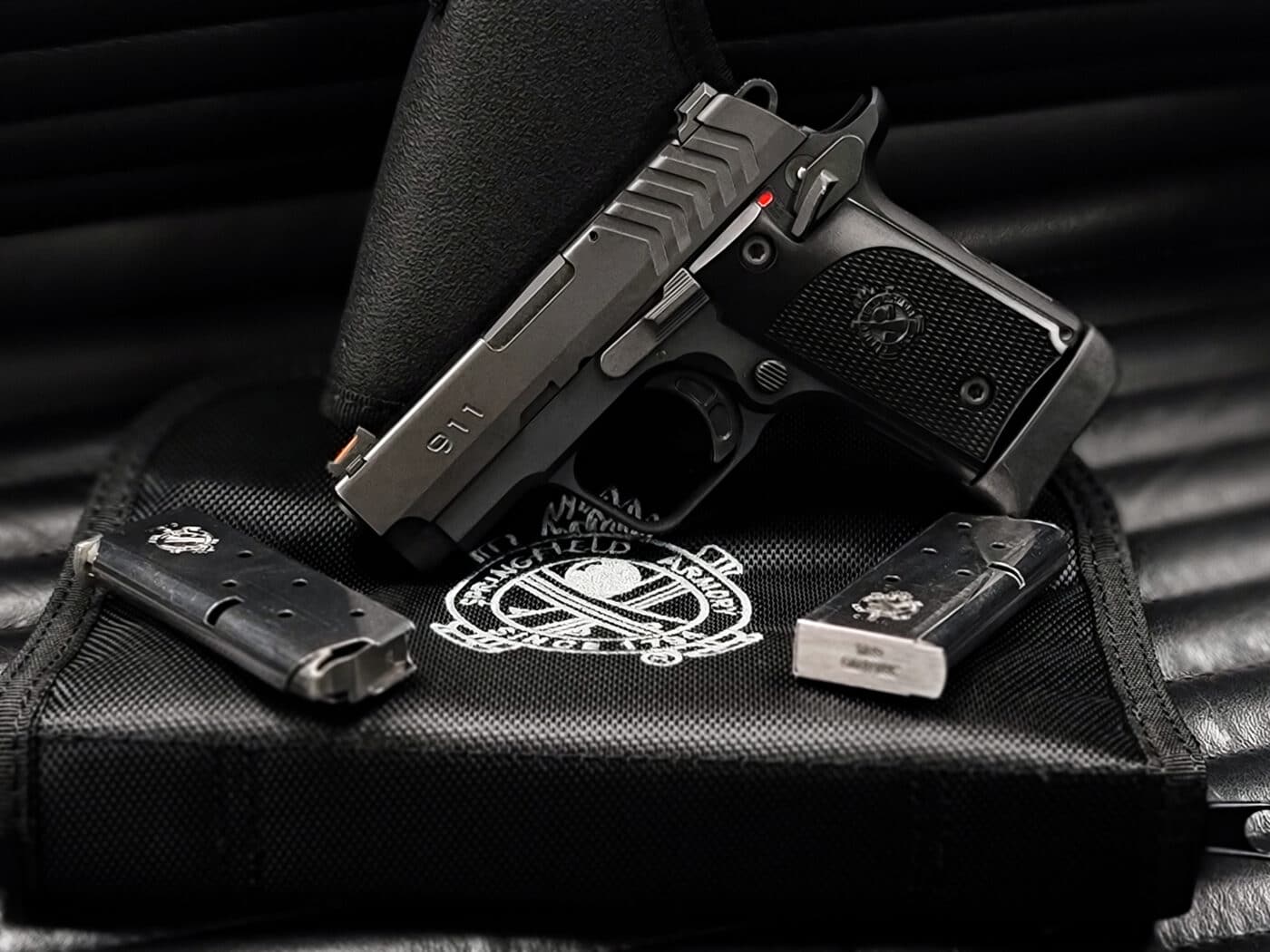 I experienced no malfunctions and got very tight groups with everything I fed it. While I did most of my shooting at sub-21 feet because that is really what this gun is made for, I did decide to reach out to 50 feet during one range session. I was able to put all rounds on target at a longer distance, with my groups opening up just a little bit, but keeping everything on a 12" target. Not bad at all for a tiny pocket pistol.
Specifications
Here are the specs on the Springfield 911 Alpha .380:
| | |
| --- | --- |
| Chambering | .380 ACP |
| Barrel | 2.7″ |
| Weight | 12.6 oz. |
| Overall Length | 5.5″ |
| Sights | Fiber optic front, white dot rear |
| Grips | Polymer |
| Action | Single-action |
| Finish | Black |
| Capacity | 6+1 (one) |
| MSRP | $429 |
Conclusion
If you need a pocket pistol that can be deeply concealed every day in any and all life situations, look no further than the 911 Alpha .380 from Springfield Armory. Lightweight, compact, sleek and attractive, all while being extremely shootable by nearly every shooter. The 911 Alpha would be great as a main carry gun or a backup pistol to a larger carry gun. With an MSRP of only $429, this is a pistol that I think should be in every EDC kit.
Editor's Note: Please be sure to check out The Armory Life Forum, where you can comment about our daily articles, as well as just talk guns and gear. Click the "Go To Forum Thread" link below to jump in and discuss this article and much more!
Join the Discussion
Continue Reading
Did you enjoy this article?
93