When talking about hunting gear, many people consider the weight of what they carry into the backcountry. What if you had a way to transport your gear — and an animal you harvest — without concern for how many pounds you're toting about? E-bikes might be worth considering. In today's article, Scott Conditt reviews the Apex Pro electric hunting bike. Is it something you would consider?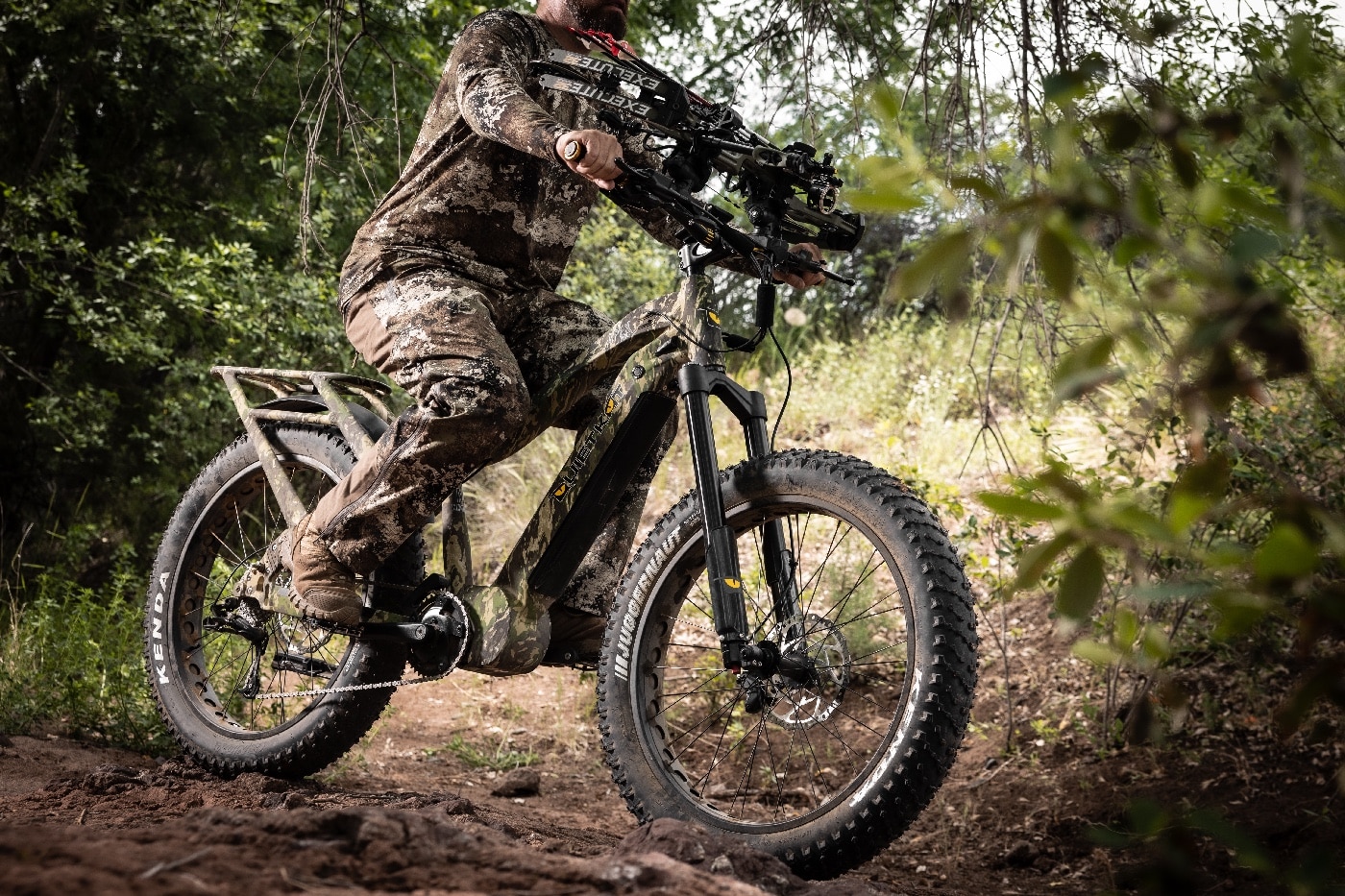 Something I have always found particularly compelling about the evolution of our species is how the development and command of new technologies have shaped our ability to explore and understand the world around us. From producing fires to rolling on tires, those who have adapted and embraced new tech have survived and thrived. And the benefits of this drive to learn and improve have carried through to today.
As part of this fact, and particularly important to those of us who love the outdoors, specialized gear developed for hunting and outdoor exploring has seen dramatic improvements in the last century. Material science and engineering advancements have made trekking and camping gear lighter and more durable. Clothing has become adaptable to suit all manner of environments better. Firearms, archery equipment, and angling products are now space-age precision implements compared to their ancestral origins.
I appreciate that the industries that continually develop and improve products for the hunting, hiking, camping, and overlanding communities are all evolving in ways that allow more people to enjoy the beauty and opportunity of the great outdoors in more comfortable and capable ways than ever before. And when it comes to one of the ways that you can cover ground better, there is the Apex Pro E-Bike by manufacturer QuietKat.
A New Way — Electric Bikes
Traversing rough terrain for miles has always been a challenge when scouting, packing gear for camp, hunting over multiple days and — if you're both prepared and lucky — packing out an animal. This will always be a part of the hunt, whether on foot, horseback riding into the mountains, or utilizing modern-day offroad vehicles.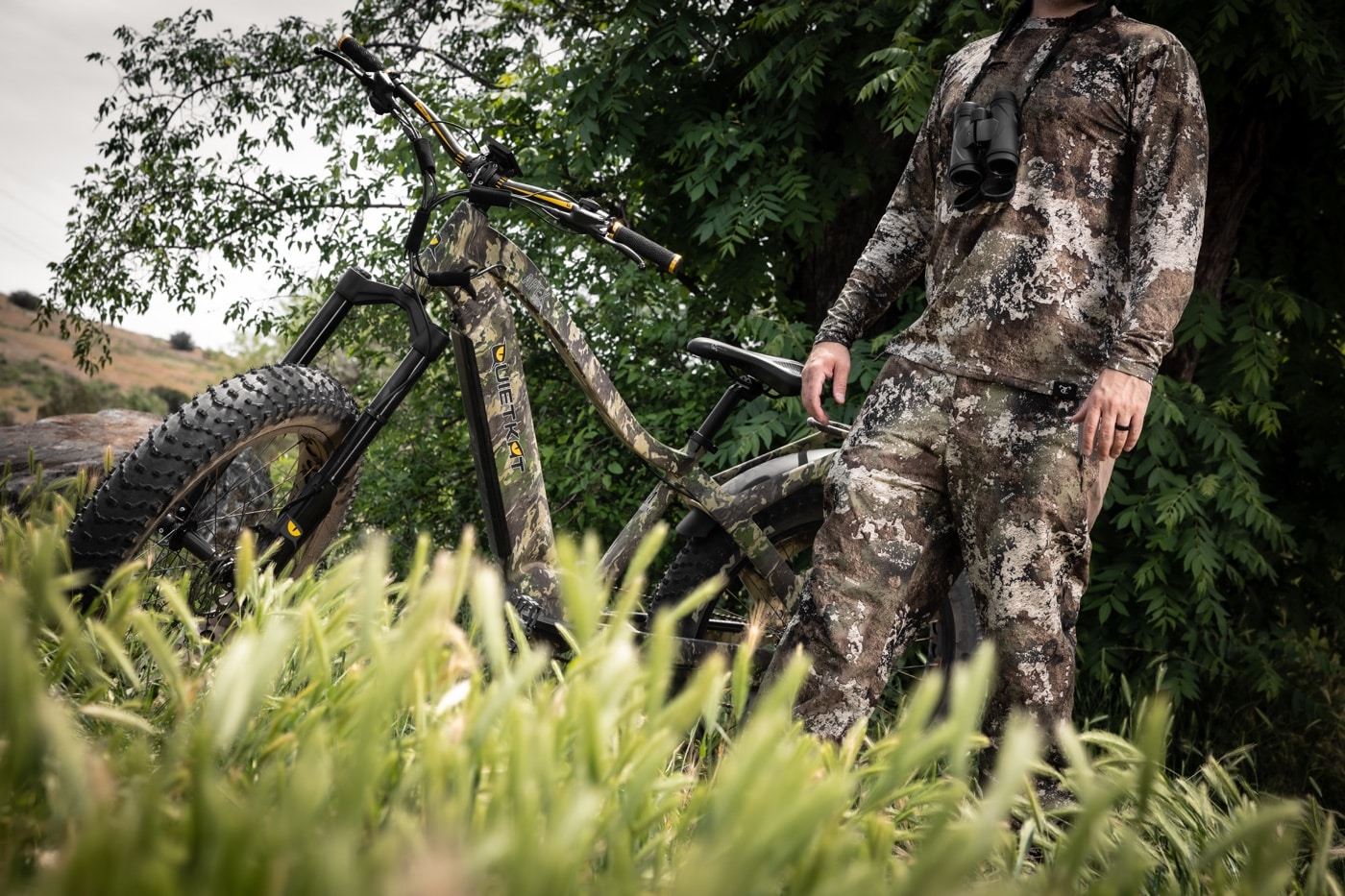 Spoiler alert: The Apex Pro is a game changer and, as its namesake implies, it's an e-bike that is top of its class. Beyond the harvesting of animals, the possibilities this bike opens up are equally impressive for those who simply harbor an adventurous heart when it comes to exploring the outdoors.
It isn't a bike that is solely relegated to the hunt for big game. If conquering new territory and discovering new trails is what you crave, the Apex Pro will allow you to see and do more than you could tread on foot during your time roaming.
Here's an overview of what exactly makes it perfect for taking on the great outdoors and ready to conquer the roughest of trails.
Nuts and Spokes of the QuietKat Apex Pro
The Apex Pro E-Bike was developed and designed by QuietKat with hunters, anglers, military personnel and law enforcement agencies in mind. A 17.25 amp-hour battery powers the e-bike, and it includes rugged VPO Technology integrated into the 1000w mid-drive motor.
What the integrated Variable Power Output (VPO) Technology essentially allows you to do is select between Class 1, Class 2 or Class 3 ratings to maintain compliance with trail ratings and BLM restrictions. It also includes "unlimited mode" that allows you to take full advantage of the 1000W motor.
Because you can choose the output and mode, the rider can conserve battery power when needed and adjust it to easily overcome steep inclines, muddy and slick trails, and power over and through some really tough terrain when it calls for it.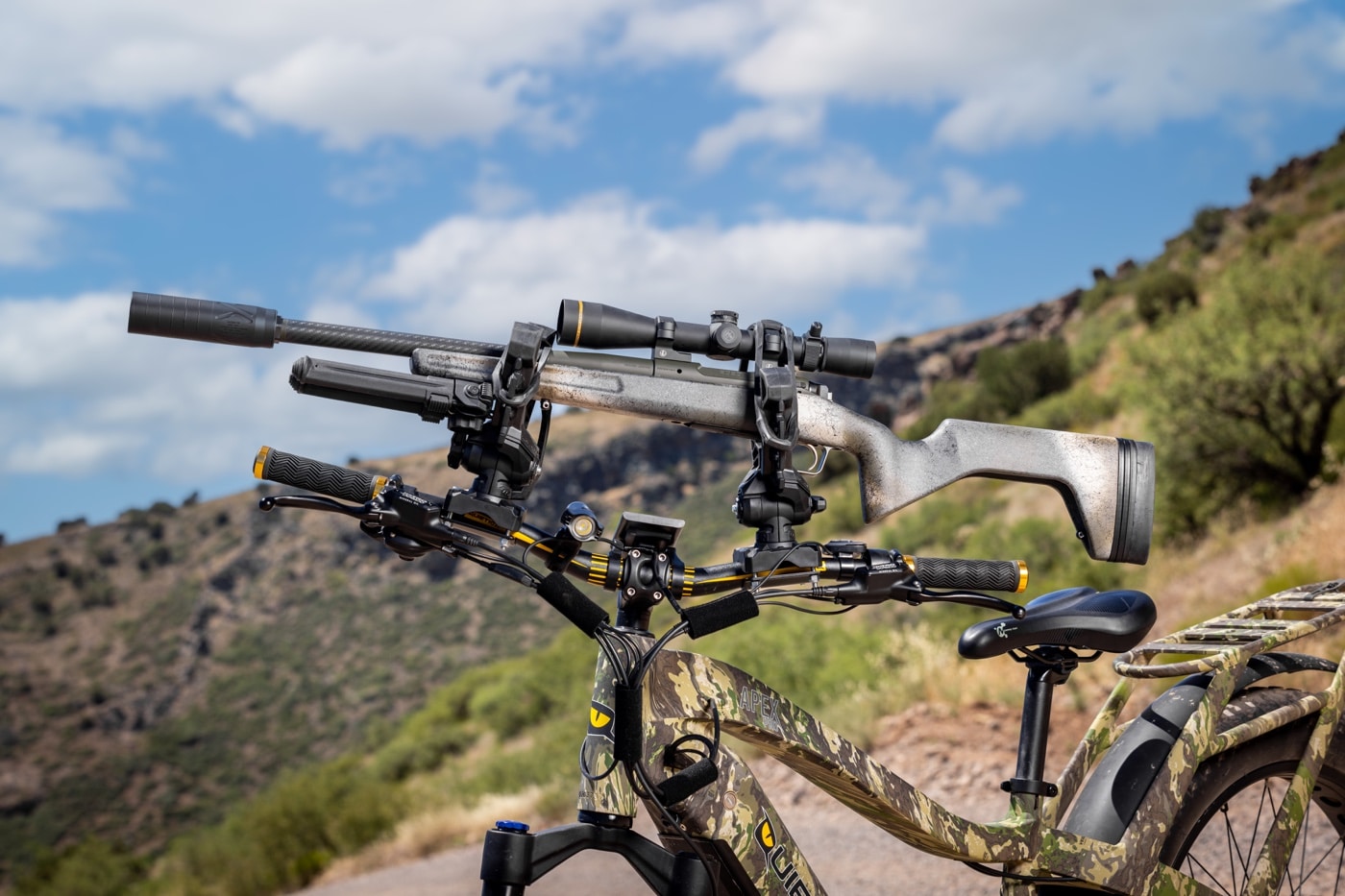 An aspect that truly makes this bike built for hunting is the heavy-duty, built-in rear cargo rack that affords an ample 100-lb. carrying capacity for hauling and transporting gear or game. The premium suspension included in the bike is built around the 140mm KKE inverted moto-inspired air fork, which provides excellent stability and control and exceptionally smooth comfort when going over bumpy terrain.
Speaking of maintaining control, particularly on narrow paths and switchbacks, the heavy-duty Tektro 4-Piston Hydraulic Disc Brakes really engage in a way that inspires confidence when braking on steep descents with heavy loads. Also aiding in the control and capability department are the beefy Kenda all-terrain fat tires, which measure 26″ x 4.5″. You can adjust the inflation on these bad boys to tackle everything from soft sand and snow to hardened rocky trails.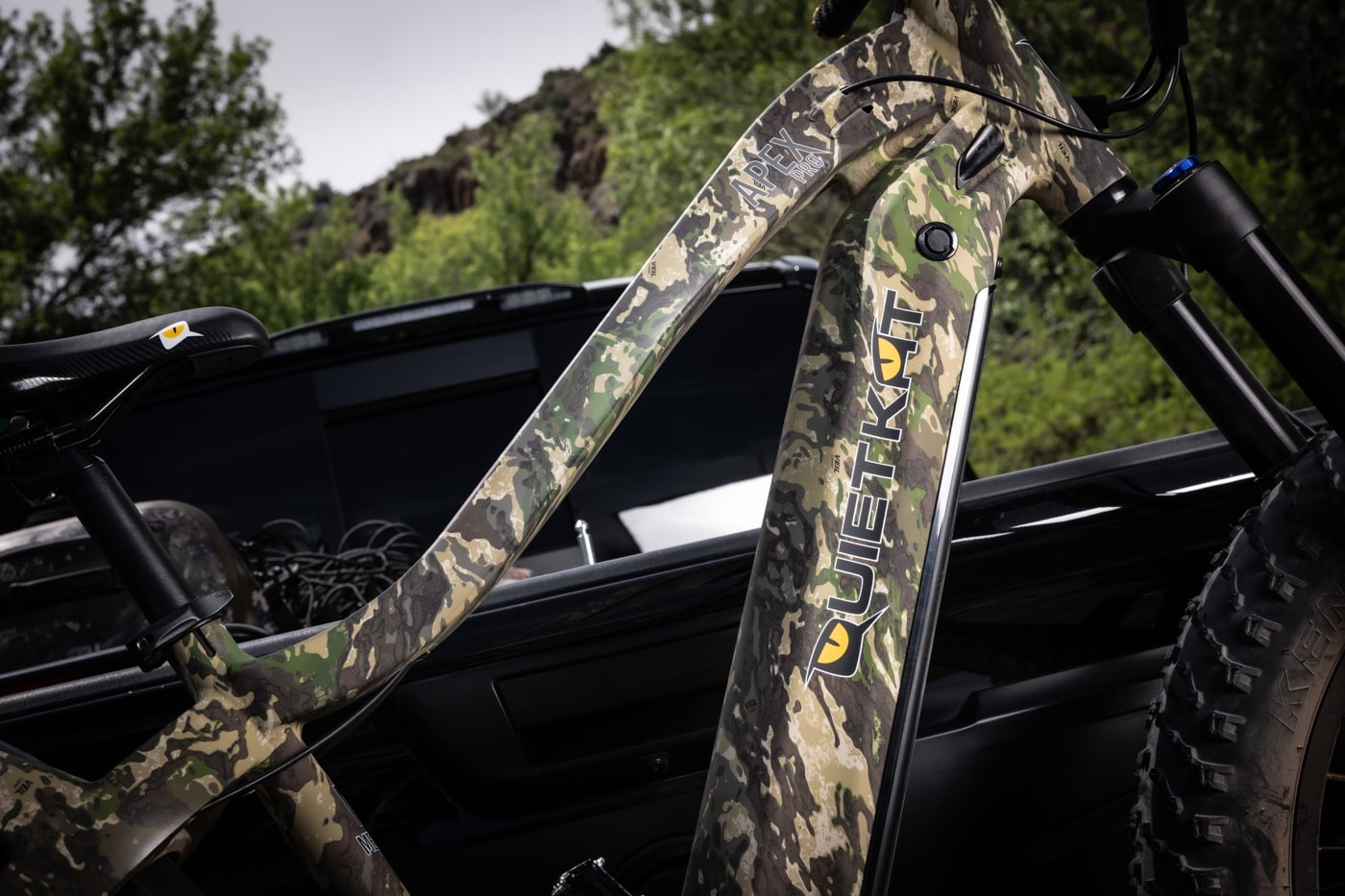 The bike comes in various frame sizes, and each includes a 9-Speed SRAM drivetrain. The high-strength premium drivetrain gives you very crisp and precise gear adjustments for high torque steep ascents and descents in conjunction with the Apex Pro's 1000w motor.
The customizable LED display is a vibrant full-color display with features that include showing your mode selections, speed in mph or kph, distance traveled, and other features and aspects of the bike's usage.
Personal Experience with the E-Bike
Designed for hunters, the Apex Pro was delivered in a very secure box and packaging via freight. The bike is available in two colorways, Angle Earth Camo (what I chose) and Gunmetal. The camo pattern is excellent for the Southwestern desert and terrain I will mostly be utilizing it in.
The instructions for the assembly were designed beautifully and included a QR code to access online step-by-step video instructions with your cell phone. The bike was easy to assemble, and I put mine together in just under 45 minutes. The included charging cable connected directly to the battery and charged up very quickly.
Because this was my very first experience with an e-bike, I wasn't sure what to expect. The best way I can describe the experience of the first test ride was that when you pedal and the motor engages and supplies power to the bike (what we refer to as pedal assist), you feel like freakin' Superman…literally. The speed is surprising, and you quickly get used to how to switch between pedal assist and using the handlebar-mounted thumb throttle to accelerate.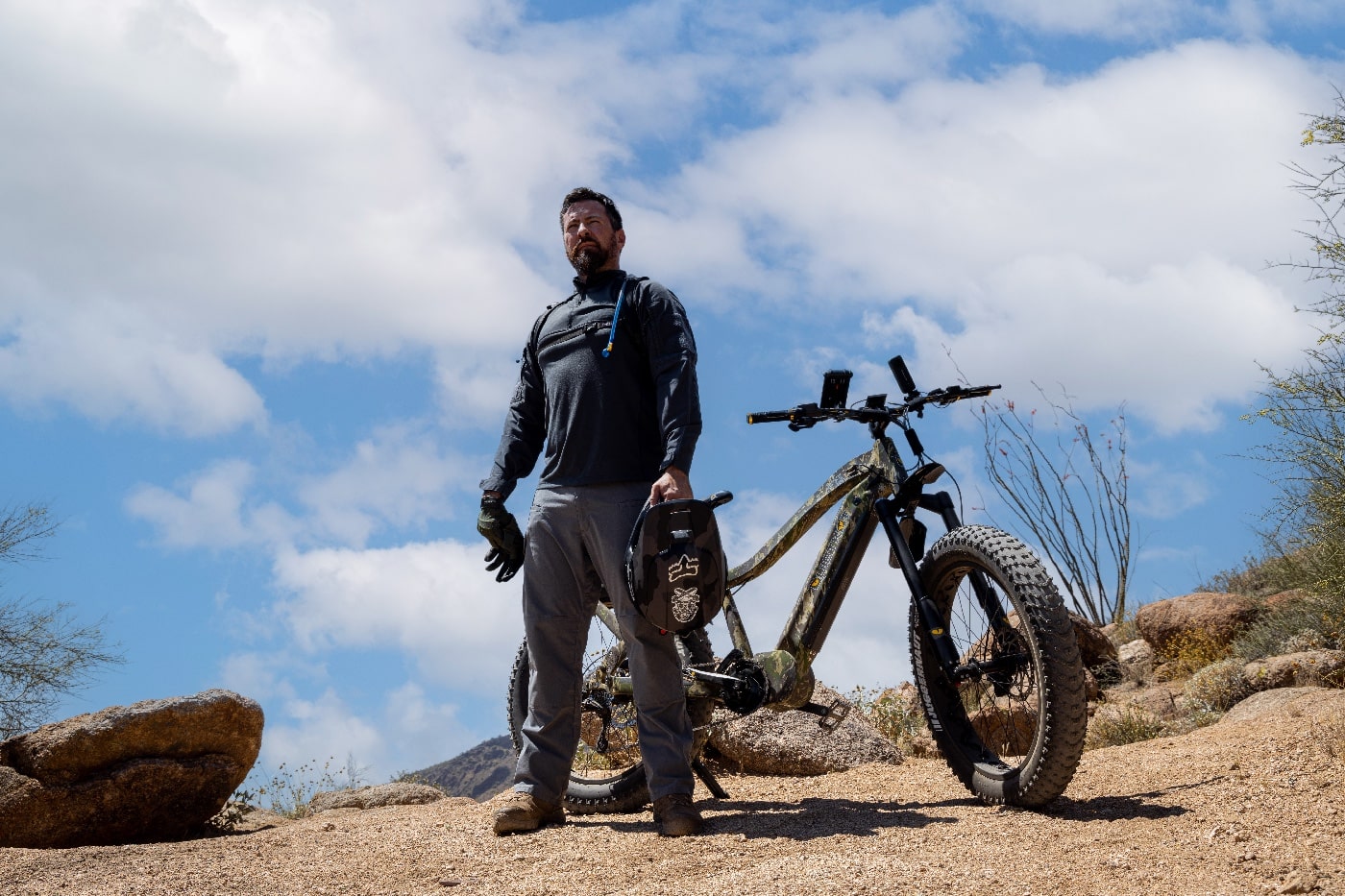 Because of the way this bike is designed, you also have to become accustomed to cycling through the gears to aid in the handling, just like a standard mountain bike. I know most people know how to ride a bike and, while you don't need to re-learn how to ride, I will say it was beneficial to have a volume of comprehensive training videos available on the Quietkat YouTube channel and website. These teach you the nuance of how to most efficiently and expertly ride an e-bike on varied terrain.
The difference and learning curve between a manual bike and an e-bike isn't prohibitive and shouldn't be daunting, but there is a difference. Mastering the basics of how to get the most out of your e-bike before you hit the hard trails will make a huge difference when it comes to how your bike performs and how to maximize your experience.
Out and About on 1,000 Watts of Power
The Apex Pro has two modes: Eco and Sport. Basically, Eco mode provides less power and gives you a longer battery life. Sport mode applies greater power to the motor, but it will eat up your battery quite a bit quicker.
The range of the bike is completely dependent upon a number of factors, including the mode selected, terrain, load being hauled, tire inflation, and overall how much energy you are requiring of it. In general, you can expect to get 25 to 50 miles out of a fully charged battery.
Testing the bike out on the streets around the neighborhood during my first ride, I knew right away that going back to my manual mountain bike was never going to be as appealing, or nearly as much fun, ever again. On smooth asphalt, the bike runs silently when pedaling and accelerating with the throttle. Word to the wise, wear your safety gear and brain bucket if you're going to be hauling on this thing because it's easy to get caught up in how fun and fast this bike can move.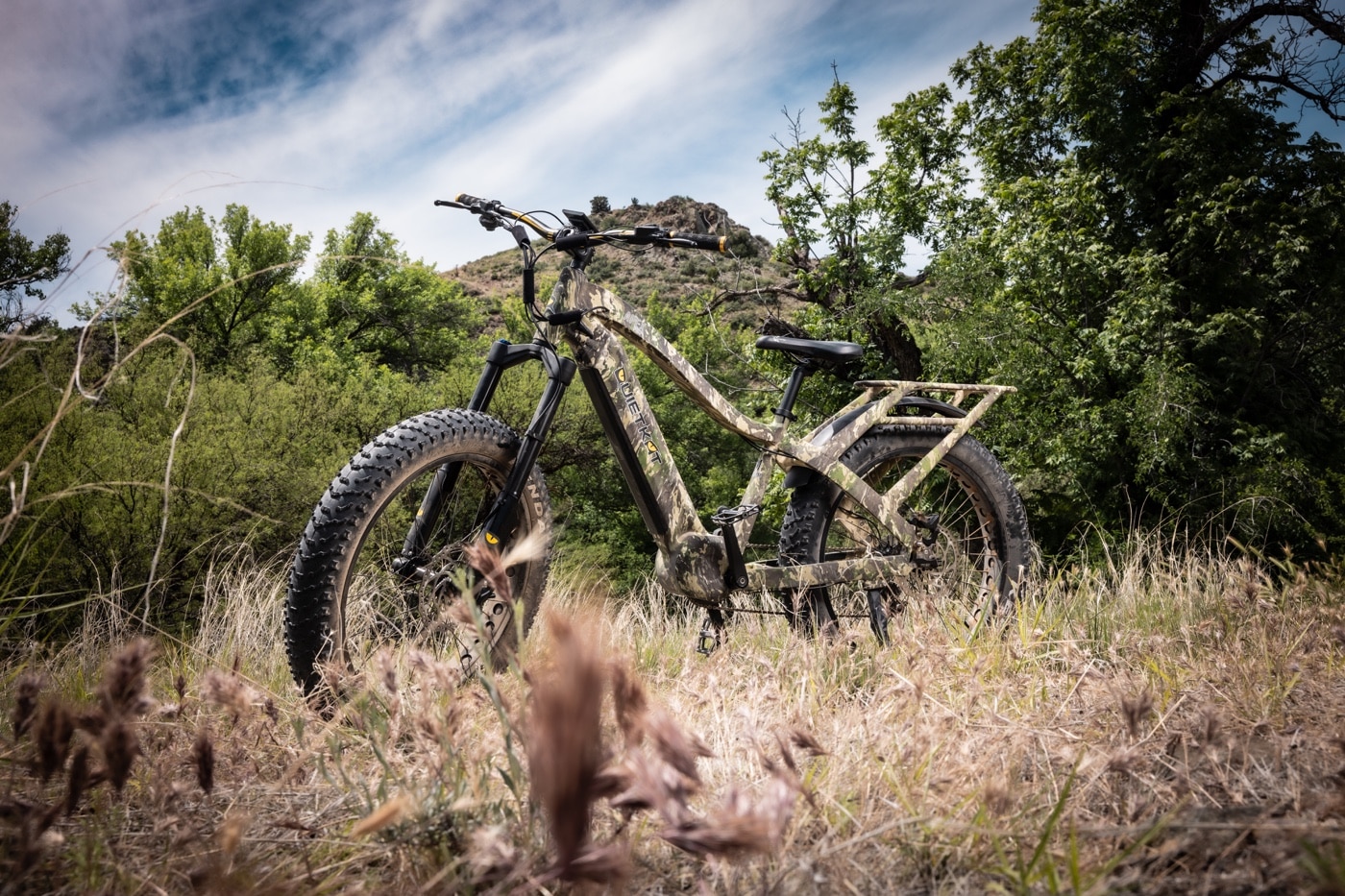 After getting comfortable and familiar with the bikes on surface roads and light trails around the neighborhood for a few weeks, I geared up and hit the desert with my buddy Jeremy. I wanted to test the bike's full capability in challenging terrain. In the Arizona desert, the trails vary from compact hardened desert floor with thorny scrub brush to boulder-filled mountains and steep, narrow trails.
We hit the desert backroad trails and topped out on flat ground at between 18 and 24 mph. It may not sound like much, but it feels like you're flying on these trails, especially if you're used to normal pedal-powered mountain bikes. Sure, you can rip it much faster on gasoline-powered offroad vehicles, but you can't navigate in virtual silence like you can with the Apex Pro.
We even found a dirt bike track with some 15-foot-tall steep hills and tight turns, so I figured, what the heck, let's give this bike a run for its money. It handled every climb, turn, and washboard section of the trail like a champ, and I was surprised with how comfortable it was due to the incredible suspension, fat tires and cushioned seat. Over the next many months, I took the Apex Pro location scouting for film and photo shoots over all manner of terrain, from rocky creek beds, rolling hills, open valleys and steep mountain trails.
I also outfitted the bike with some of the awesome accessories that are available from QuietKat, like a pair of Rhino Grip XLR expandable grips with heavy-duty retaining straps that will securely allow me to carry gear on my handlebars, like my compound bow and Springfield Armory Redline rifle. They work really well, and I like how secure the straps are and that they keep your primary weapon front and center during travel.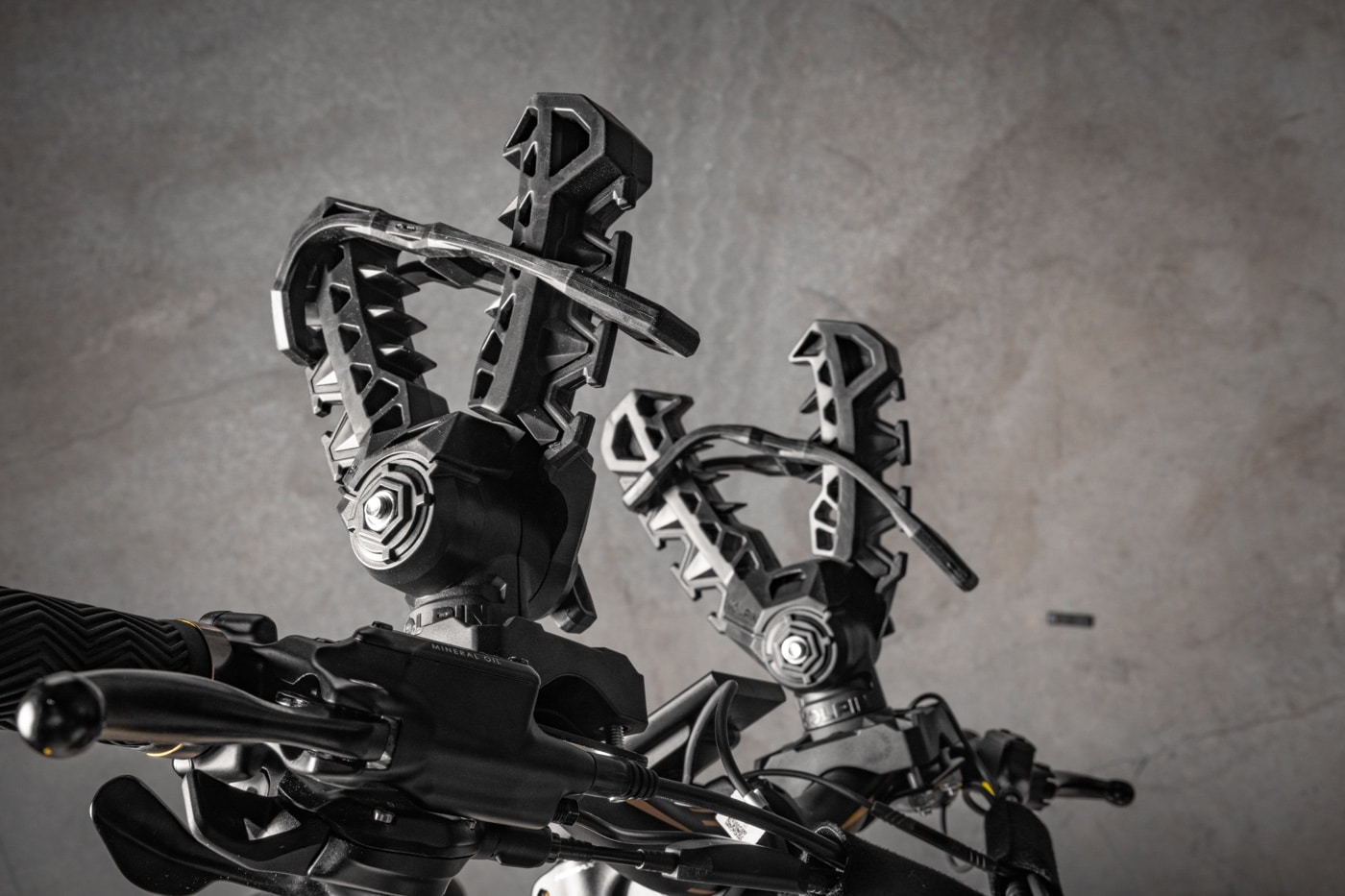 I also got one of the two-wheel All-Terrain Game Trailers from QuietKat in hopeful anticipation of utilizing it to haul some big game back during future hunts. But alas, no immediate hunts were on the books, and I needed to take it out to test it and see what it could do and how the bike would handle when it was loaded down and being hauled behind me.
The QuietKat two-wheel trailer is designed to keep the trailer stable across a mix of surface types, and it's super simple to load and secure to the e-bike. The trailer provides a 47" by 18" cargo area and a load capacity rating of 100 lbs., but as evidenced in the awesome tutorial videos QuietKat produced showing the trailer in action, it can safely handle more as long as you load it properly, are strategic and safe in your route selection, and understand how it will affect your bike's handling.
I strapped 125 lbs. to the trailer just for good measure and took it around the block a few times and hit as many speed bumps and curbs as I could with it. It maneuvered beautifully and I hardly noticed it was behind me. One thing to keep in mind is that the trailer will affect maneuverability and drain your battery faster when hauling a load, but the capability it affords in exchange is impressive. Just plan the usage accordingly.
You can also position the trailer to haul gear (or your kill) laid flat or at an angle with the adjustable rack capability. It was great when testing it out hauling some camera gear, and I could definitely see using it on future camping trips to move camp gear, haul collected firewood with the kids, and more. I like how easy it was to attach as well. All I had to do was attach the trailer to the rear axle of the bike, which only took a few seconds.
When I initially was looking at the Apex Pro, I was intrigued by it as an adventure cycle for overlanding, exploring the wilderness, scouting areas for hunting trips, and also for my day-to-day job as a filmmaker and photographer to help cover ground more efficiently and make the most of the daylight.
With the Apex Pro, I am now able to quickly navigate tough terrain, cover greater distances in shorter periods, and haul heavy gear and supplies out into the bush with ease. Not only does the Apex Pro enhance location scouting trips and maximize the amount of time I have to work in the field, but it also reduces my fatigue immensely.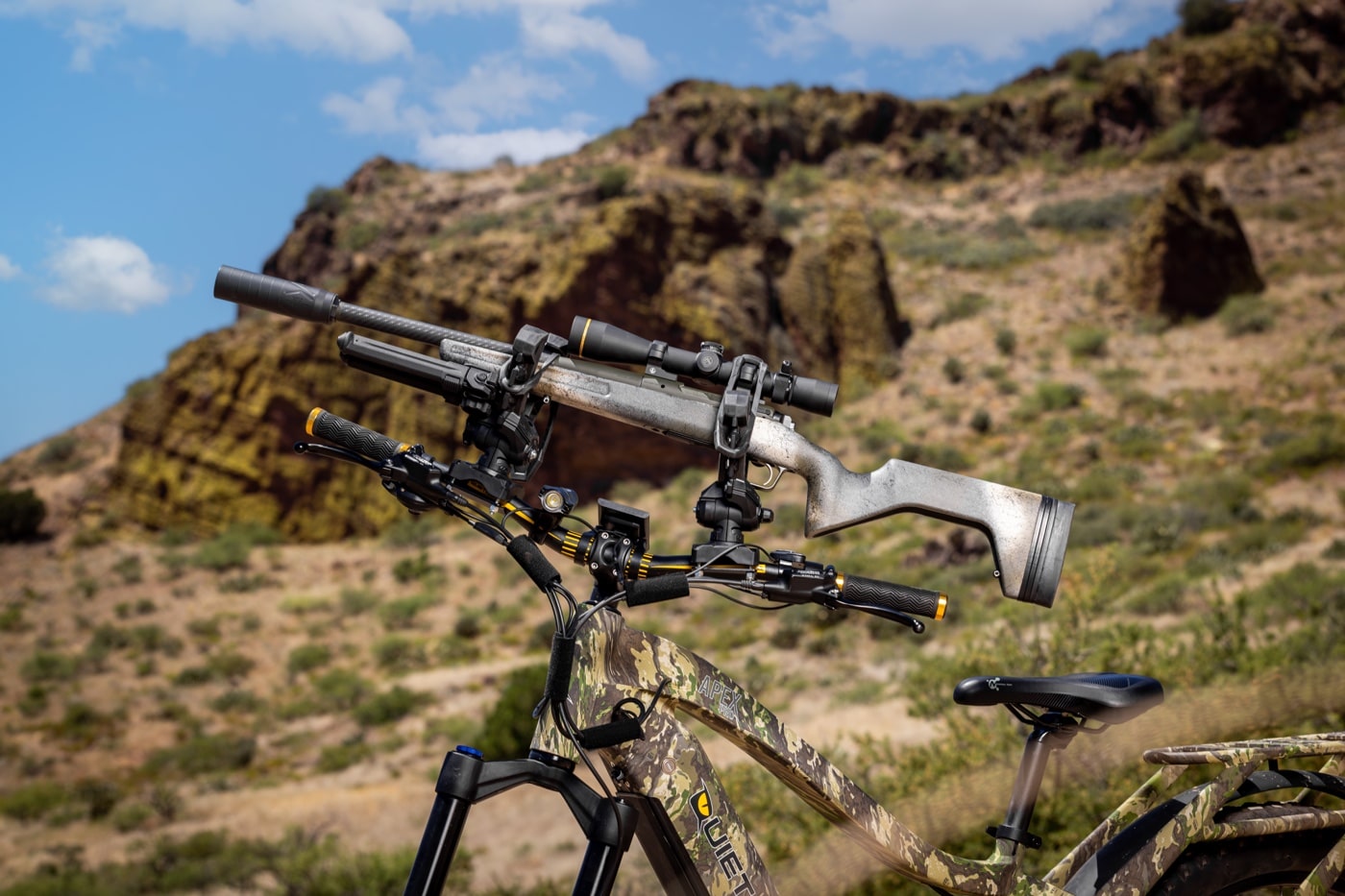 At the time I am writing this article, I am nearly 42 years old — and although I keep my fitness up, train regularly, and can go the distance and keep up fairly well with younger bucks, the creeping clock, and not-so-subtle creaking beginning in my knees, reminds me that I won't always be as capable. Having a tool like the QuietKat Apex Pro for hunting, enjoying the wilderness, and being able to save my meat chassis for the moments out in the wild when I need to perform on my own steam is a considerable benefit.
Conclusion
I think this bike is going to offer a massive advantage for hunters, outdoor enthusiasts, overlanders, emergency personnel, and wildland workers. The light footprint, silent operation, and robust nature of the Apex Pro make it a formidable force out there, both on, and off the trail.
If you have the opportunity, I highly recommend you check out the Apex Pro and full line of QuietKat bikes and accessories and take a test drive for yourself. If you're like me, it will only take that initial ride to set the hook — and you'll never look at a standard cycle the same way again. The Apex Pro costs between $4,999.00 — $5,099.00 and is available at many major sporting retailers nationwide.
Editor's Note: Please be sure to check out The Armory Life Forum, where you can comment about our daily articles, as well as just talk guns and gear. Click the "Go To Forum Thread" link below to jump in and discuss this article and much more!
Join the Discussion
Featured in this video
Continue Reading
Did you enjoy this video?
32