A Retired LEO's Special
Mil-Spec 1911
January 12th, 2023
6 minute read
Shame. That's what I have felt. In 43 years of shooting firearms, including three-and-a-half decades as a law enforcement officer and 21 years on SWAT, I have never fired the "Model of 1911 U.S. Army" pistol. You'd have thought someone would have brought one out to the range and I'd have a chance to cinch up on a trigger. But no.
At my retirement ceremony, the Chief, Deputy Chief, and fellow Major (all having worked for me when I was the SWAT team leader) gifted me a handgun. It was a new Springfield Armory Mil-Spec 1911. Its Parkerized finish was neatly engraved with our department badge, my name and rank, and our SWAT team logo.
While not agency-issued-for-carry, the Mil-Spec 1911 was a nice companion to my duty pistol, which I also received that day. Bookends as it were. Military and law enforcement handguns from different centuries. The history was not lost on me. However, guys, you didn't give me any ammo, and I do not have .45 ACP in the vault! Seriously?
Still On Duty
That was two years ago. The Springfield Armory 1911 co-existed in the safe with a stainless steel revolver and four semi-automatics. All but the Mil-Spec were duty weapons I had carried on the street. The 1911 was not lonely, just…neglected. My embarrassment caused me to order a holster, spare magazines, and 230-gr. FMJ and JHP standard-pressure ammunition. I was going to shoot my way to redemption.
The Springfield Armory model I was given is the "Defend Your Legacy Series 1911 Mil-Spec .45 ACP Handgun." The maker describes this 1911 as "an entry-level defensive handgun that combines G.I.-proven features with Springfield Armory quality and materials science along with a true working man's price. This top-quality G.I.-inspired pistol includes a short military-style trigger, an arched mainspring housing, a spurred hammer, and a single 7-round box magazine. Three-dot steel sights and a lowered and flared ejection port ensure modern reliability and performance without breaking the bank."
The purpose of my article is to write the impressions of a newcomer to the 1911 platform as realized by Springfield Armory. For an in-depth review of this handgun, I would respectfully refer you to Massad Ayoob's very well-written article in The Armory Life.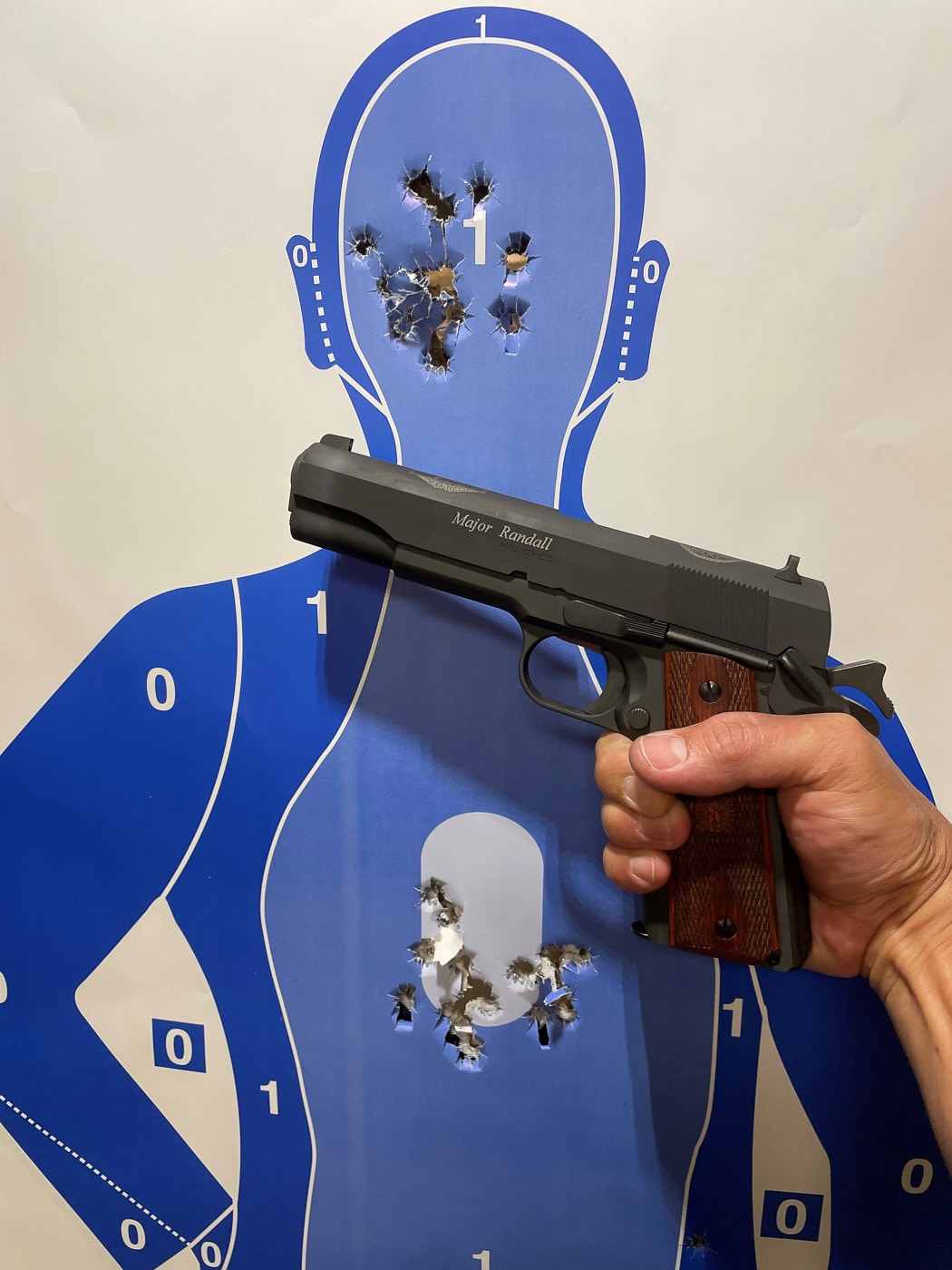 After retiring from my last agency, I was hired by my second department as a commander. Because the last twelve years of my LE career have been mainly administrative, I am not the precision shooter I was in my prime. And my six-decades-worn eyes don't help. Still, I think I rate solidly on the positive side of a bell curve of our shooters.
Range Time
When the anticipated day arrived, I met our rangemaster. In addition to the pistol, holster, ammunition, and mag carrier, I brought some Springfield Armory 8" Peel & Stick Splatter Shot Targets. The rangemaster examined the Mil-Spec and was very pleased with the trigger, which his finger estimated at between four to five pounds. He worked the slide and nodded. "Wow, nice and smooth." He smiled, "It'll get better."
With all the ammunition back on the table, we stepped to the empty range line, and I dry-fired the unloaded Mil-Spec a few times. The trigger was very crisp. I then holstered the gun and slowly drew and practiced with the Mil-Spec's thumb safety. After about five minutes of unholster, safety off, dryfire, safety on, and reholster, I started acclimating.
The process was very reminiscent of our AR-15 drills using the safety lever and trigger. Always starting with the rifle on safe and returning there after addressing the target downrange. While years of working the AR platform in this way made it natural to me, only five minutes with the Mil-Spec caused me to go carefully and think it through.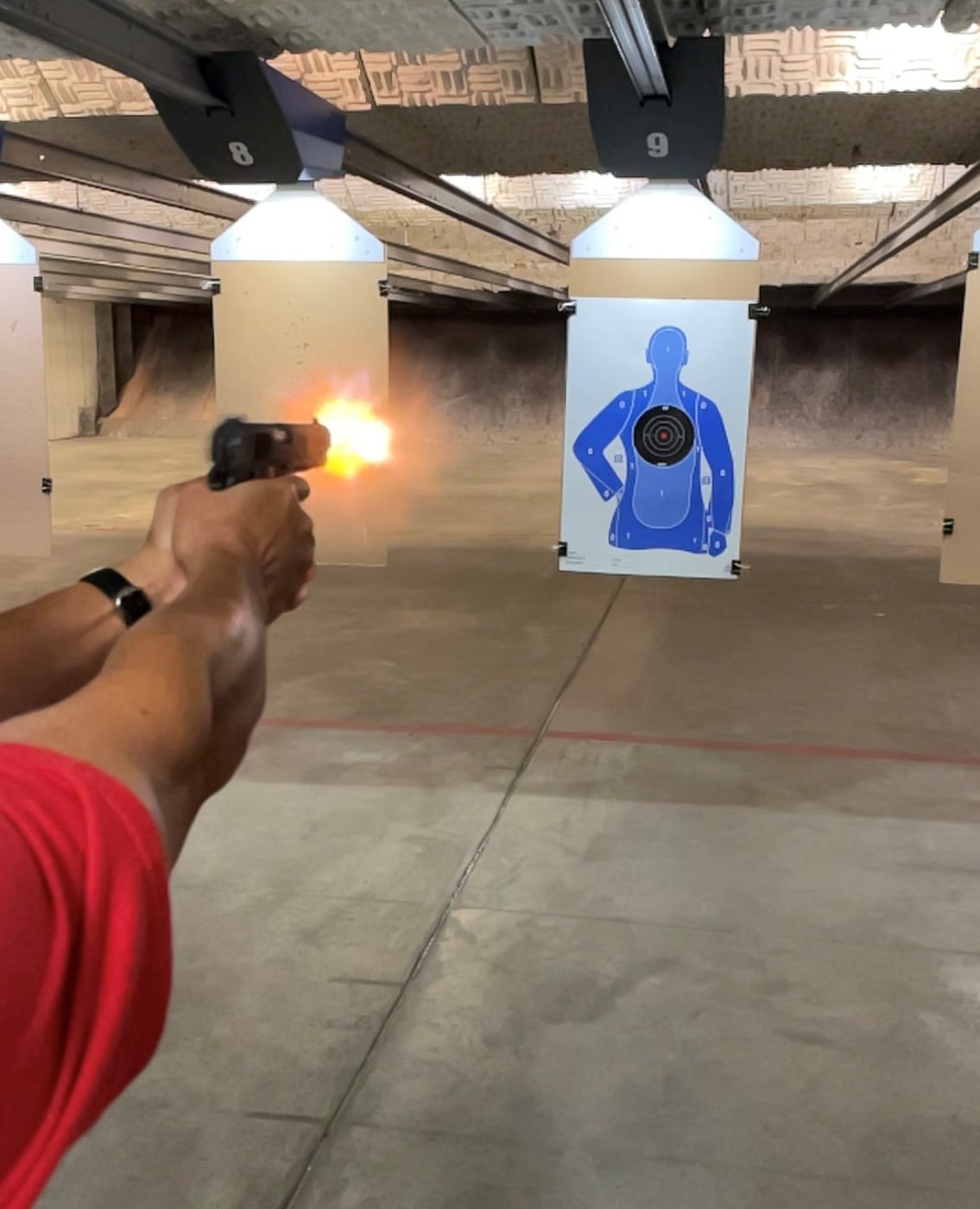 Not a dig on the holster's retention device, but I found that drawing the 1911 with pressure from the index finger hitting the release device and then thumbing down the safety on the way to the target were counterintuitive. Kind of a push-me, pull-you for the right hand. A thumb break holster would line up these actions more in sync.
It was time. I fixed a B21 target to the frame and slapped a Peel & Stick to its belly. We ran the yet-intact targets out to 12 yards. Make it hot! I lined up the prominent three dots on the center of the black bullseye and let the first round out. Bam, dead center. The Peel & Stick splatter made that pretty obvious. After three magazines had hit the floor, I holstered a safe weapon, turned to the rangemaster and grinned. The trigger feel was much nicer than any of the double/single types or plastic-gun sear connectors I had used for duty. This felt much more…mechanical, in a good, old-school way. Yeah, duh.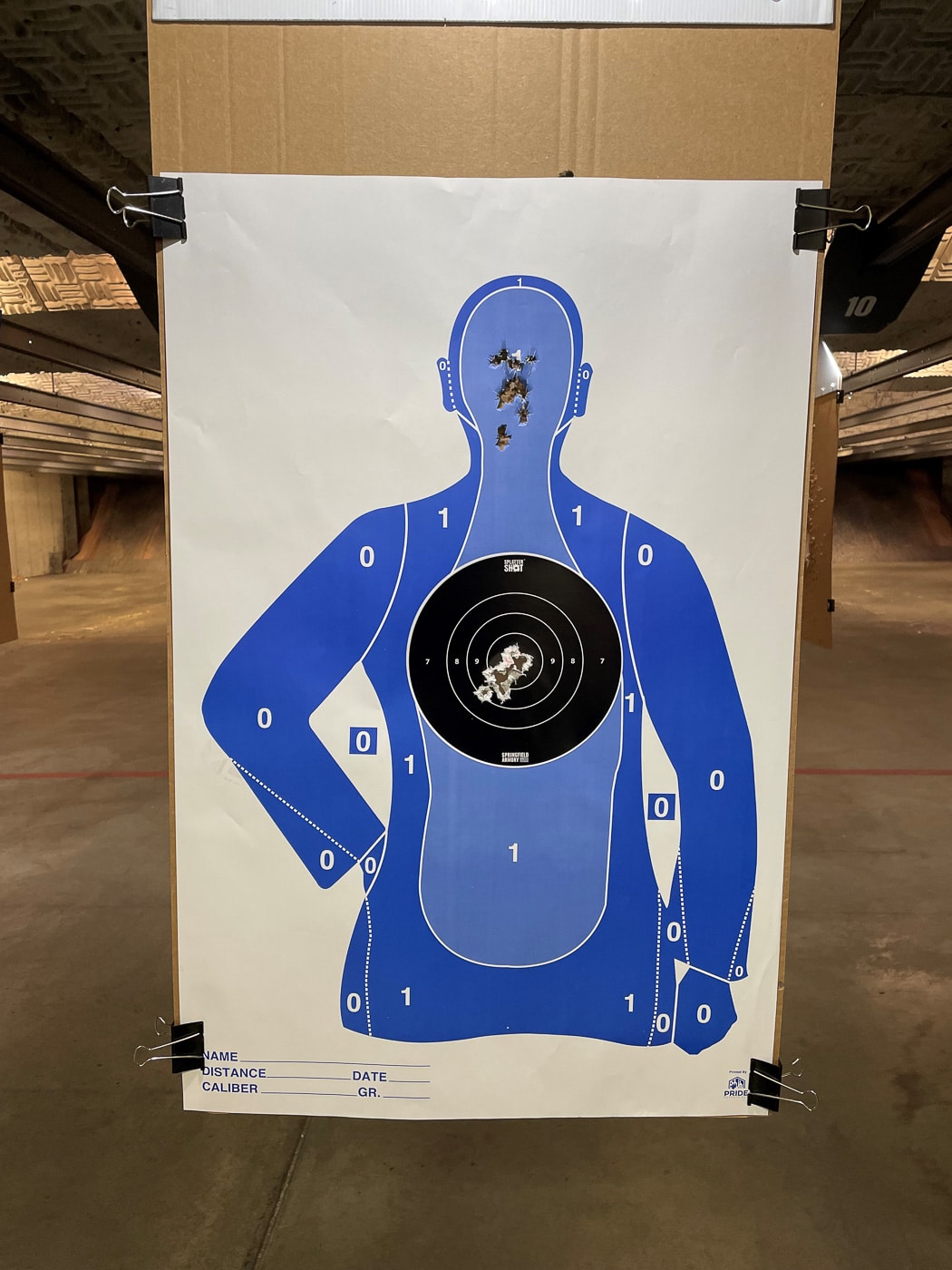 The heft of the Mil-Spec negated the recoil of the .45 ACP. The first ammunition we ran through the Mil-Spec was Winchester white box, which we later alternated with Remington UMC and finally some Remington HTP jacketed hollow points. In about two hundred rounds, we had two failures to feed. The rangemaster said it appeared the front rim of the cartridge cases had slightly hung up at the top of the chamber. A few more boxes of ammo would smooth that out.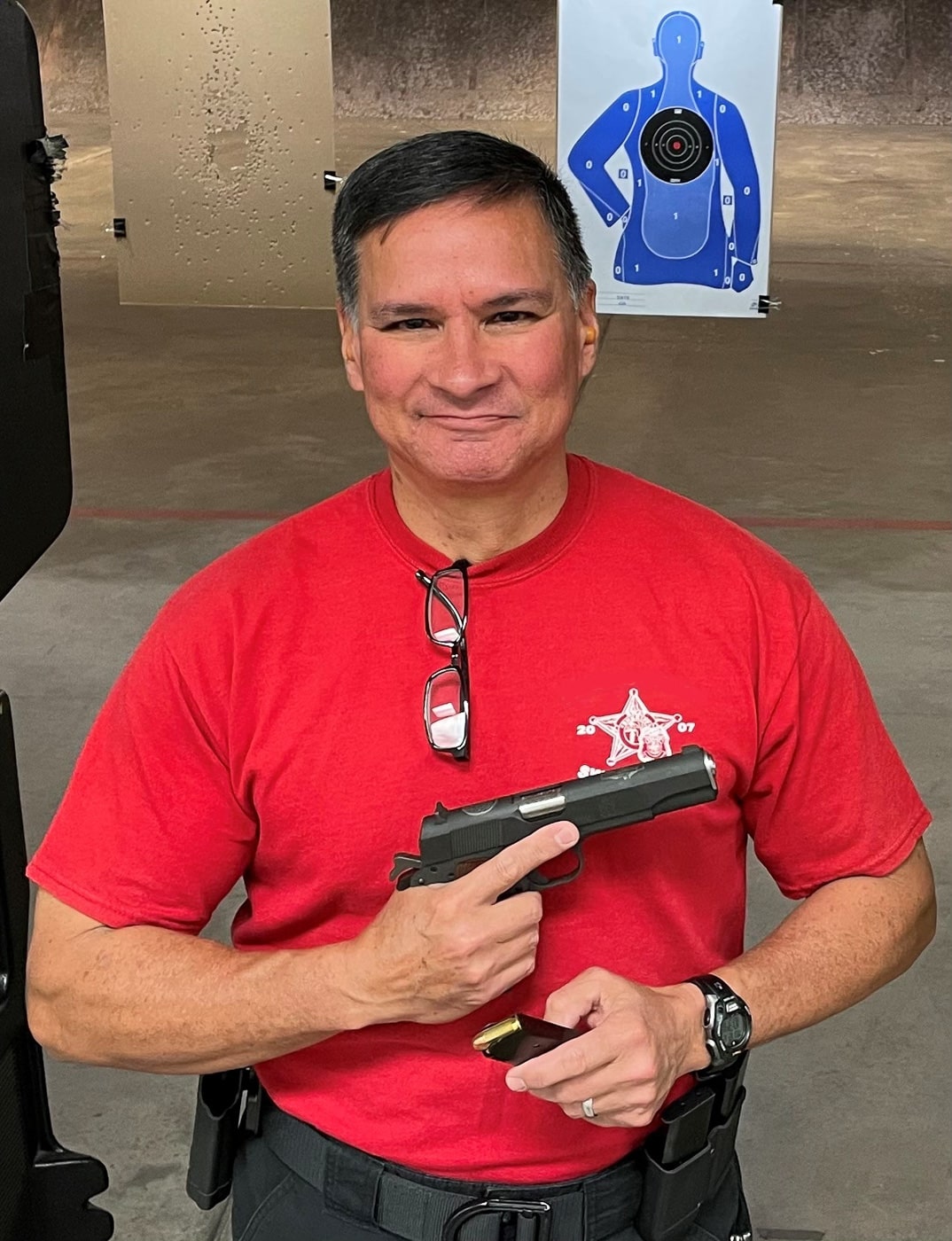 The RM and I did a couple of fast mag dumps at five yards. The Mil-Spec's weighty two-and-a-half pounds kept the muzzle in check. Not only was it satisfying as the gun roared away, but we were also able to keep all hits well inside center-of-mass. Fun and lethal! The same was true at 25 yards offhand.
Onward and Upward
So, my previous state of discomfiture was now eased. A simple trip to the range with the Springfield Armory Mil-Spec 1911 had restored my honor. The sum and substance here is that I respect the design and function of Mr. Browning's M1911 pistol. And while the manual safety system and single-stack magazine capacity might not be my cup of tea, that's why Springfield offers a multitude of other options, including the XD-M Elite and Prodigy lines which address those relative issues.
Editor's Note: Please be sure to check out The Armory Life Forum, where you can comment about our daily articles, as well as just talk guns and gear. Click the "Go To Forum Thread" link below to jump in and discuss this article and much more!
Join the Discussion
Featured in this article
Continue Reading
Did you enjoy this article?
142