Review: A Springfield Armory M1 Carbine?
March 12th, 2021
7 minute read
I'm a sucker for classic military-style firearms. Guns like the M1 Garand always tickle my fancy. But guns like these can be expensive, and some possess such collector value you should not shoot them much, if any.
So, what options does that leave you? How about a gun that looks practically exact like the original, does not cost a lot and is extremely cheap to shoot. Oh, and you can probably fire it in your backyard. Sign me up to review it!
Airy Options
That leads us to the offerings of Air Venturi, specifically in this case their .177-cal. Springfield Armory M1 Carbine BB gun. My first impression of it was that it was a near ringer in looks, weight and function for the G.I. classic made famous in World War II.
Air Venturi developed the gun with an eye for authenticity right down to its functional semi-automatic action. Powered by CO2, the gun is initially cocked and loaded by pulling back the operating slide and bolt and allowing them to fly back into battery under recoil spring force. Thereafter, the slide and bolt visibly recoil with each shot. CO2 guns that mimic the mechanical action of real guns when fired are generally referred to as being "blowback action."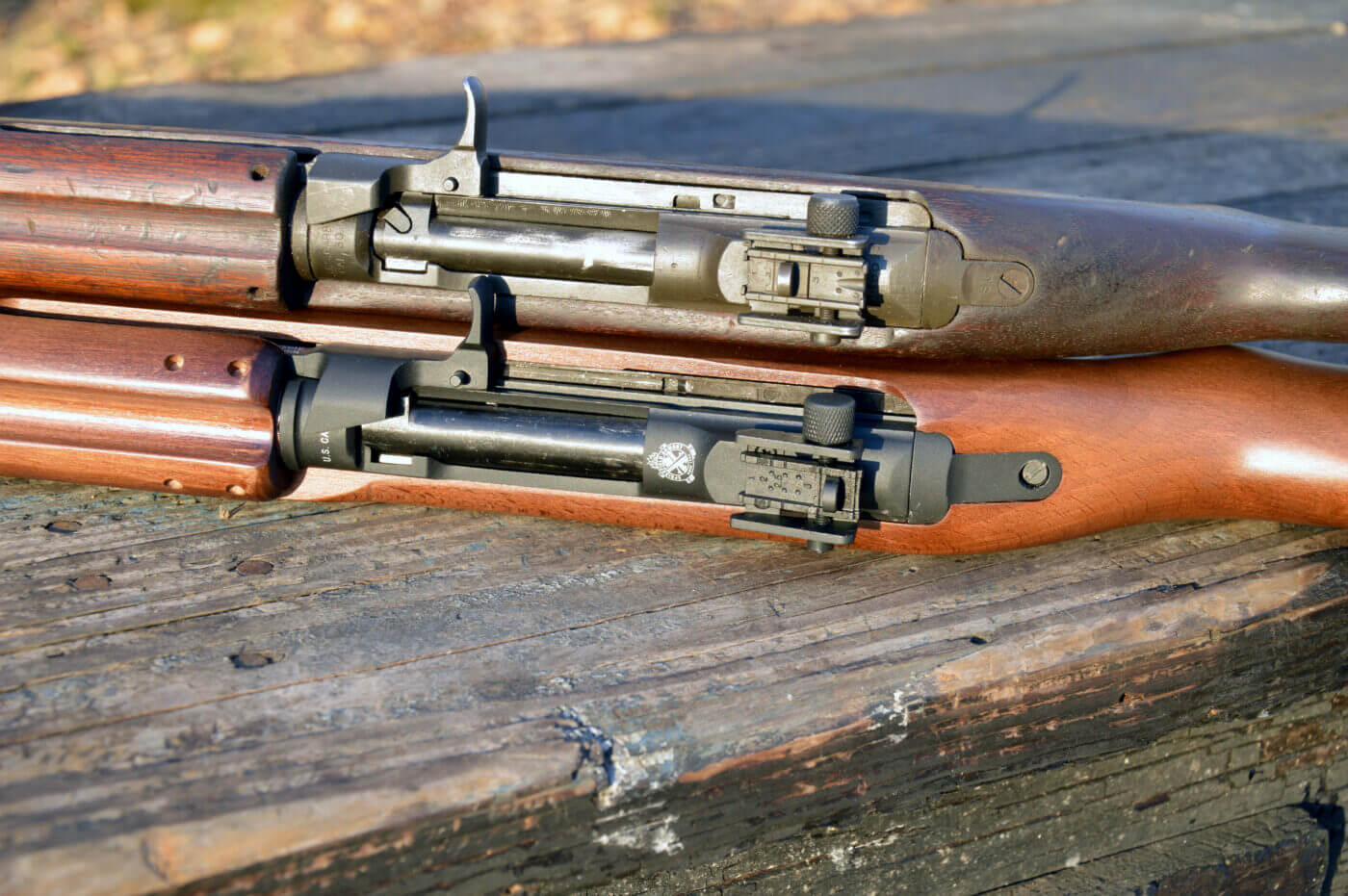 Additional realistic features of the CO2 gun include a 15-shot BB magazine that inserts and ejects like the real thing; an operational, late-war style rotating safety (horizontal for fire and vertical for safe); a late war style adjustable rear sight; and finally, a bayonet lug front band which can actually mount the original bayonet.
Convincing Sibling
The exterior metal parts of the gun are made of a durable die-cast zinc alloy and the stock can be had in a rather convincing wood grained plastic, or for $100 more, a genuine wood stock and handguard. I happen to have an excellent original M1 Carbine handy, so I photographed the Air Venturi alongside it to show just how grand a job they did.
Dimensionally they are very close, with the only readily apparent difference being the larger size of the CO2 gun's magazine. It's slightly longer (.85") and wider (.925" vs .75") where it protrudes from the stock. When I took it out, I noticed it was considerably heavier, too. That's because this is the heart of the gun, containing BBs, a 12 gram CO2 cylinder to propel them, and the valves to vent the gas where it needs to go to both fire the BB down the barrel and reciprocate the operating slide.
Because of their complexity, magazines like this tend to be a little pricey. I was pleased to find I could buy extra magazines for this carbine at about $40 each. Take note, since they are larger than the originals, they won't fit in vintage G.I. M1 carbine pouches.
By the way, if you're willing to wreck an original G.I. 15-round magazine for the sake of greater historical cosmetic perfection, you could easily alter it to fit the CO2 gun's magazine well with a Dremel tool cutter.
Hands-On
Unlike a lot of real M1 Carbines, the Air Venturi BB gun has a great 4.5-lb. trigger pull. To get the most out of the gun, I shot from the bench with the same Caldwell Shooting Supplies "BR The Rock" competition front rest I use in a conventional rifle T&E. Velocity was recorded with a Competition Electronics Pro Chrono digital chronograph set up about five feet from the muzzle.
Accuracy was done at 32 feet, which I consider maximum plastic-toy-soldier sniping range. This was based on the limitations of my eyesight, rather than specific insight into how well the gun would shoot.

I used standard .177 caliber, zinc-plated steel BBs from Air Venturi. While you might say all zinc plated steel BBs are pretty much alike, the same can't be said for the containers they are packaged in; most of which seem to be designed to spill the maximum number of BBs onto the ground. Air Venturi gets a tip-of-hat from me for putting a practical, screw capped, proboscis on the jar that is just the right combination of controllability and flow.
They also shot impressively well. Five-shot groups averaged 0.95″, and my smallest group was 0.73″. Remember this gun is smooth bore. My point of aim was a six o'clock hold on a 1″ black target paster. Windage was right on, but elevation was an inch low. The rear sight, like the rest of the gun, is realistic in appearance, and allows for windage correction by turning the windage screw knob, just like the real thing. However, the elevation slide is molded into the sight and can't be adjusted. Any changes in elevation need to be done by filing the front sight down or, more sensibly in light of the range involved, altering your hold.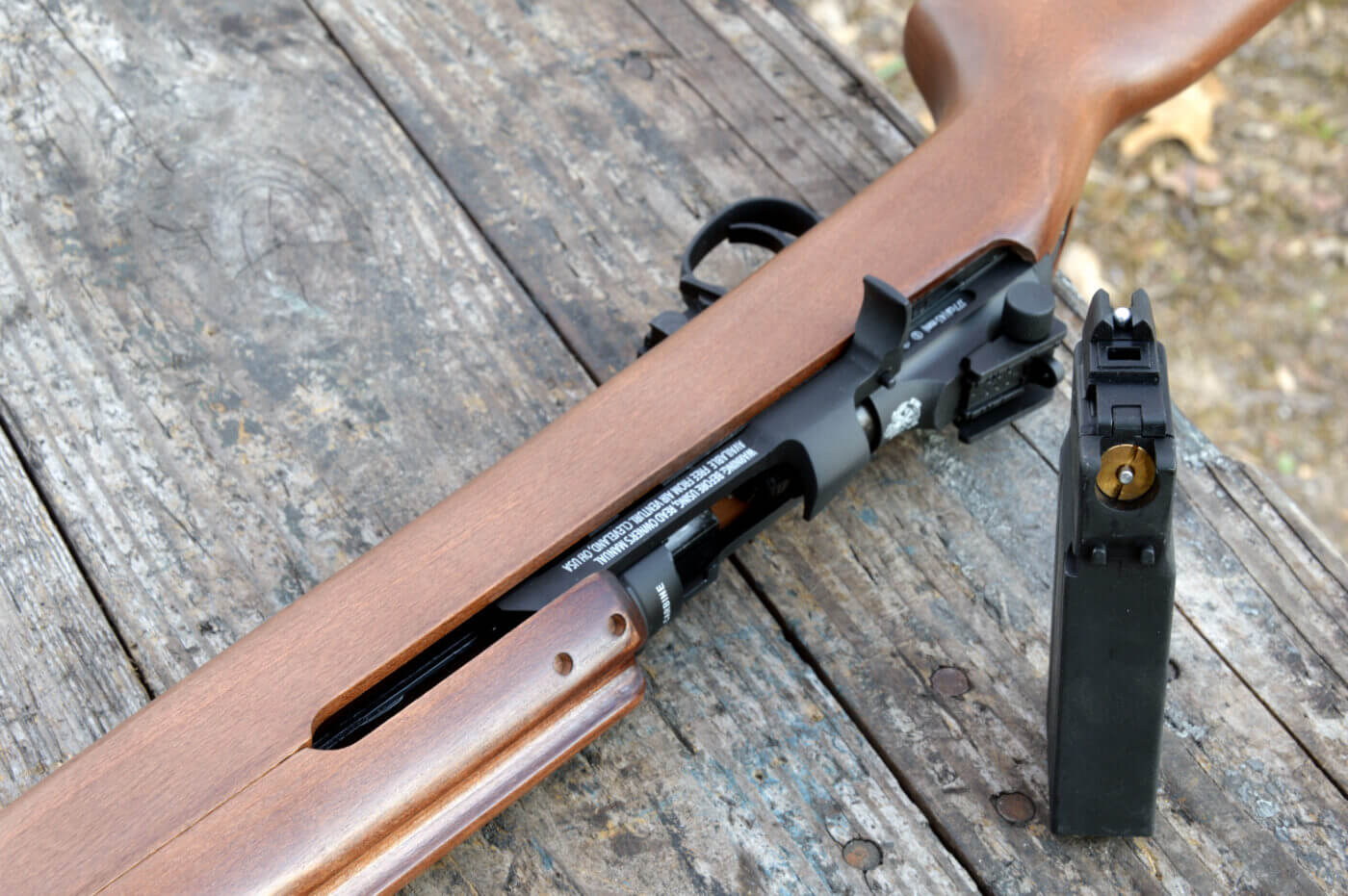 Temperature affects the performance of CO2-powered guns significantly. On the day I shot, the thermometer was topping out in the high 50s. I kept my Daisy 12 gram CO2 cylinders in a pant's pocket to warm them up a bit more. The highest velocity I recorded was 446 feet-per-second (fps). Average velocity was very close to the advertised 425 fps before the gas depleted to the point where velocities, and then accuracy, started a steady decline. In general, the Daisy 12 gram cylinders seemed to be good for 22 to 25 shots before velocity dropped below 400 fps. In other words, I was getting top performance for the first magazine, and perhaps half of a second.
According to Air Venturi, at an optimum 78 degrees, they expect about forty, full-velocity shots per gas cylinder. The blowback action clearly eats up a lot of CO2. Fortunately, 12 gram CO2 cylinders only cost about a buck, and if you buy them in bulk quantities of 40 you can get the price down around half that. A quick look at PyramydAir.com showed numerous brands with bulk discounts.
Conclusion
Pyramyd Air is the worldwide retail division of American-based Air Venturi. Most consumers will be familiar with Pyramyd Air's 70- page print catalogs that are the wish-books of airgun enthusiasts. Airguns aren't a sideline for Air Venturi. Hopefully, I've shown in this review that the company is fully dedicated to the hobby. You can probably get a Master's level education from their web-based Air Gun Academy which has over 125 free educational videos and product evaluations covering all aspects of the air gun universe.
While Pyramyd Air serves the retail customer, its sister company, Air Venturi, is engaged primarily in wholesale distribution to dealers across the full spectrum of air gun sports worldwide. Air Venturi develops and imports their own products in the hunting, competition, target shooting and recreational plinking markets, but also sell those of their competitors to wholesalers and retailers.
This M1 Carbine is uniquely their own. Catalog retail for this Springfield Armory M1 Carbine, Blowback CO2 .177caliber BB rifle with the plastic stock is $199, and $299 for the wood-stocked version. Seeing as real MI Carbines have climbed into the $1,000 range recently, this BB recreation is a great option for backyard plinking fun at a miniscule comparative cost.
Editor's Note: Please be sure to check out The Armory Life Forum, where you can comment about our daily articles, as well as just talk guns and gear. Click the "Go To Forum Thread" link below to jump in!
Join the Discussion
Featured in this article
Continue Reading
Did you enjoy this article?
90