The 1911 pistol is a storied gun that might just be the most iconic handgun ever created, of all time, in the history of the universe. It also looks like it's going to hold that title pretty much forever. 1911's are beautiful guns there is no doubt about it. Tons of people swear by them.
However, the 1911 does have some stiff competition from the tactical capability of most of the striker-fired guns that are on the market today. Striker-fired guns generally, based on size, hold more rounds, weigh less, and can accept attachments like flashlights.
That being said, there are certain 1911's that stand out above others when it comes to tactical considerations. One example is the Loaded Operator line from Springfield Armory.
Ready for Duty
Springfield Armory did their darndest to make a very tactical 1911 with the Loaded Marine Corps Operator. Recently, we here at GunSpot were sent a demo of the Loaded Marine Corps Operator to review it. If you asked us, we would tell you that this pistol is the nicest 1911 in the Loaded Operator lineup.
There are several pistols in this series including a 9mm target 1911, and some of their more traditional-looking 1911's have the blued look, stainless steel finished look and an all-black one. Then there is the Marine Corps version which has an OD green lower and a black slide combined for a sleek look.
The Marine Corps version is one of the Loaded Operators that has a Picatinny accessory rail so that it can accept weapon-mounted lights or lasers. This one thing alone automatically propels this gun forward in its tactile usage. On top of that, it has OD and black colors, which are sure to blend in within wooded environments.
The Marine Corps Loaded Operator can be found in two versions. The only difference I have found is one version has rubber grips and the other has some beautiful G10 grips. I have not seen the rubber grips in person, but I have seen the G10 grips in person and I can say with confidence that you should get the G10 grip version if it were my money. The G10 grips on this pistol look amazing, they stay with the OD and black color scheme, and they have a great texture for gripping the gun.
The grip on this gun also has another great feature. There is grip checkering on the front strap of the grip that Springfield Armory calls Octo-Grip checkering. This will completely change shooting a 1911 for you if you have never shot one with it. Sometimes 1911's have smooth front straps, and you can tell the difference between no texture and texture when fighting the recoil of the pistol. Once you shoot one with a textured front strap, you won't want to shoot one that's smooth anymore. Here are some more specs on this 1911:
Specifications
Here are the "by the numbers" specs on the Loaded Marine Corps Operator:
| | |
| --- | --- |
| Chambering | .45 ACP |
| Barrel | 5″ |
| Weight | 43 oz. |
| Overall Length | 8.6″ |
| Sights | Low profile combat 3-dot tritium |
| Grips | G10 |
| Action | Single action |
| Finish | Black and OD green on forged carbon steel |
| Capacity | 7+1 |
| MSRP | $1,308 |
Range Time
Once getting a feel for the 1911, Grant and I were ready to take it out on the range and shoot a few rounds through it. Our experience with this gun is that it is reliable. Here in our warehouse, we have some.45 ACP that is old as dirt, hand-me-down type ammo. The brass isn't clean, it's all mixed, and we have no idea what grain weight it is or who the manufacturer is.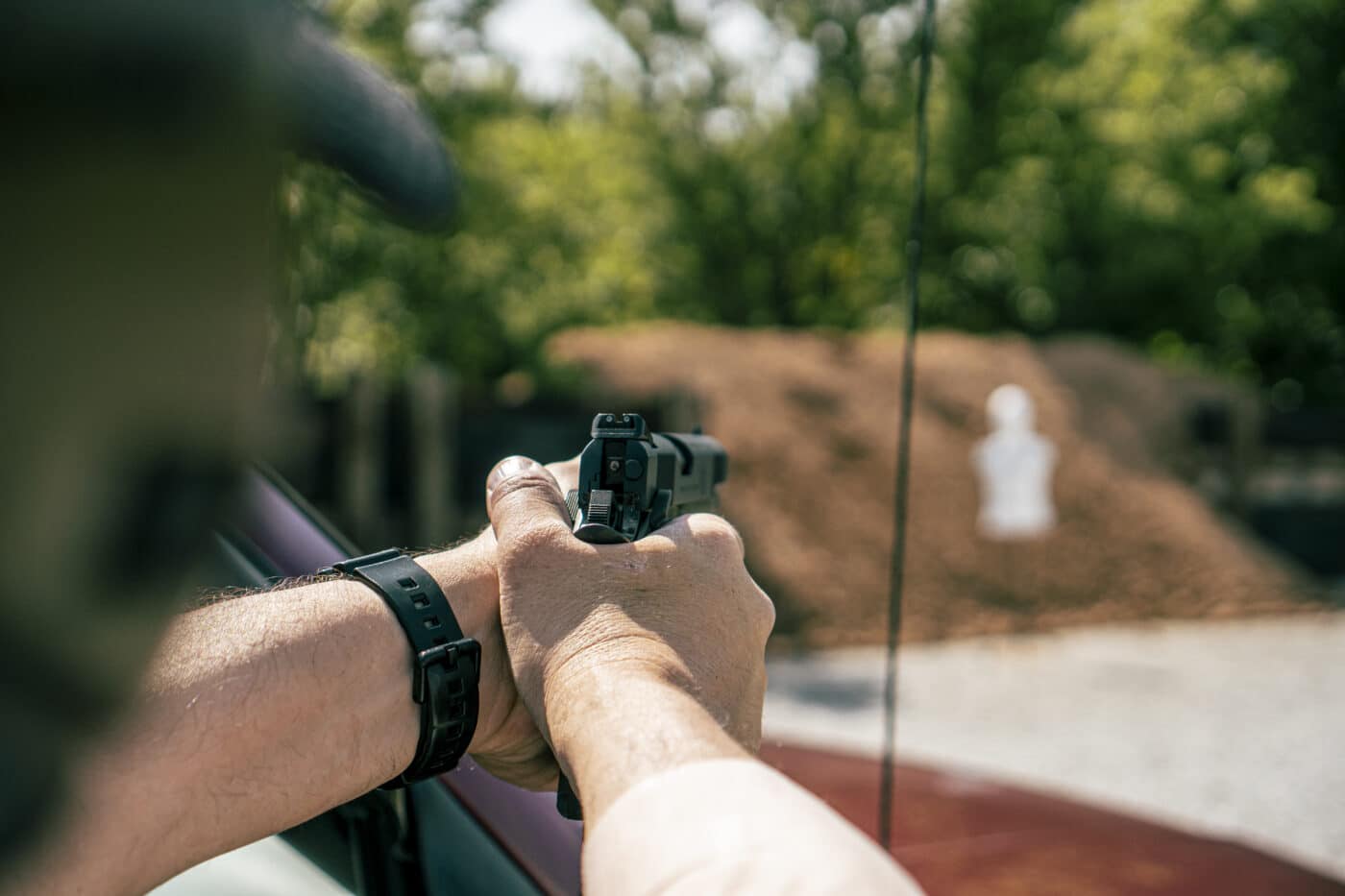 That being said, this Loaded Operator chewed it all up and spit bullets downrange without a single jam. It shoots like a 1911. It is very accurate thanks to its match-grade barrel. The weight of the gun helps fight off the recoil of .45 ACP. The no-snag, low-profile, three-dot tritium sights are great outdoors and of course, the tritium will glow in the dark for low-light shooting.
If we could change anything about it there would be only two things. Firstly, the gun comes with two magazines and they were reliable, good magazines, except we didn't care for the follower. The follower of the magazine is a traditional straight steel follower and, as we would press the first round down into the magazine, the follower would catch on the lip of the magazine itself.
This is obviously only an issue with the first round; after that there is no issue. We think it'd be great if this gun shipped with magazines with polymer followers or at least curved followers so you could avoid the difficulty of loading the first round.
The second thing isn't really an issue, it's just wishful thinking from us. What I'm about to say might make you barf if you are a 1911 purest, so now you are forewarned. I'd love to see a Loaded Operator that is optics ready. 1911's have to mount optics with a plate system because of the width of the slide. This is great anyways with the quality of some aftermarket plates out there like those at C&H Precision. A 1911 with an optics cut all the way at the back and rear BUIS in front of the optic window would be one awesome-looking, and more effective 1911 — and it's highly doable. Our thoughts were if it's a "Loaded" Operator then it'd be great to have a version that has an optics-ready slide.
Like I said, if you are a 1911 purest you probably rolled your eyes. All I'm saying is that the 1911 is a beautiful gun, and with a great optic on it it'd be even better. Not to mention it'd also be even more accurate than it already is. I love to see 1911's with optic cuts so I will just keep dreaming.
Conclusion
Those are all of our thoughts, and I can't stress enough how slick this gun looks in person. This is obviously a great shooter as I mentioned, but I could just stare at this gun all day long, and with the Surefire X300 equipped it looked even better. Definitely go check out this Loaded Marine Corps Operator if you are looking for a badass 1911 from the factory.
Editor's Note: Please be sure to check out The Armory Life Forum, where you can comment about our daily articles, as well as just talk guns and gear. Click the "Go To Forum Thread" link below to jump in and discuss this article and much more!
Join the Discussion
Featured in this video
Continue Reading
Did you enjoy this video?
88