Review: Streamlight
TLR-7 Sub

and the Hellcat
April 11th, 2022
6 minute read
Streamlight is a name well-known in the tactical light world. Whether it's weapon-mounted lights or EDC flashlights, there is a Streamlight for just about every need. Over the past several years, we have seen a huge onset of micro-compact pistols like the Hellcat. Small and easy-to-carry, yet powerful, these pistols make for excellent CCW options. But what if you want a light to mount on it?
Making a light small enough to fit on the compact rail sections of a pistol like the Hellcat, yet powerful enough to provide the volume of light needed in this role, takes some technical know-how. To answer this need, Streamlight has given us the TLR-7 Sub.
What It Means
Before we dive into a detailed review of the TLR-7 Sub, we need to understand the difference between light styles, lumens, candela, kelvin, spill and throw. Now, don't go thinking this is high school science class all over again because this is usable information you need when picking out a light for its intended purpose.
So, what are these lumens and candela we hear so much about, and what is the difference? To break this down in the most simple terms, lumens is like the raw horsepower of the actual LED diode in the light. On the other hand, candela is the reading of how intense the beam is at its brightest and most focused point, usually referred to as the "hot spot." It's possible to have lights of similar lumen levels have vastly different candela ratings, even to differences of tens of thousands.
Now that we have addressed candela and lumens, let's talk about spill and throw. Spill is a commonly used term referring to how the light projects to the side; basically the width of the beam. Throw is the distance the hot spot reaches out and is still usable. Higher candela ratings are often byproducts of the housing and reflector design giving a tight beam pattern.
Kelvin is quite simply the color of the light on a numerical scale, corresponding to colors ranging from soft yellow to ultra-white. The higher the Kelvin the more clear and white the light will appear. These are often referred to as cool and warm color spectrums, with warm being more yellow and cool being more blue.
Compact Partner
As mentioned, the 9mm Hellcat is a powerful and compact pistol. So, a light for it should also share those same characteristics. The tiny TLR-7 Sub operates on a single CR123 battery, with the unit shrunken down in size about as far as you can go while still delivering 500 lumens of power.
The unit provides enough light to power through building or property searches, or even temporarily blind a bad guy should the circumstance present itself. Going back to the candela versus lumens topic, this light will provide a maximum of 5,000 candela. This is an extremely impressive number for a light of this size, and will give enough of a tight beam to see for a distance of up to 141 meters, which is well beyond most practical needs on a pistol. And this will run on that single CR123 battery for approximately 1.5 hours.
The light is 2.51″ long, weighs a hair under 2.4 oz. ounces and its width is just over 1". The anodized aluminum body is smooth and has very clean lines, so no need to worry about holster drag on this light. Also, it is IPX7 rated for submersion down to one meter for 30 minutes. The front lens housing has a great option to manually disconnect the battery, leading to no accidental activations when in travel or storage. This is accomplished by turning the front housing ¼ turn, counter-clockwise.
We also get the option of tap programming, which allows you to set the light to an optional strobe mode. This is a simple process of tapping the activation tail cap 10 times total, and then holding down on the 10th until the light blinks off.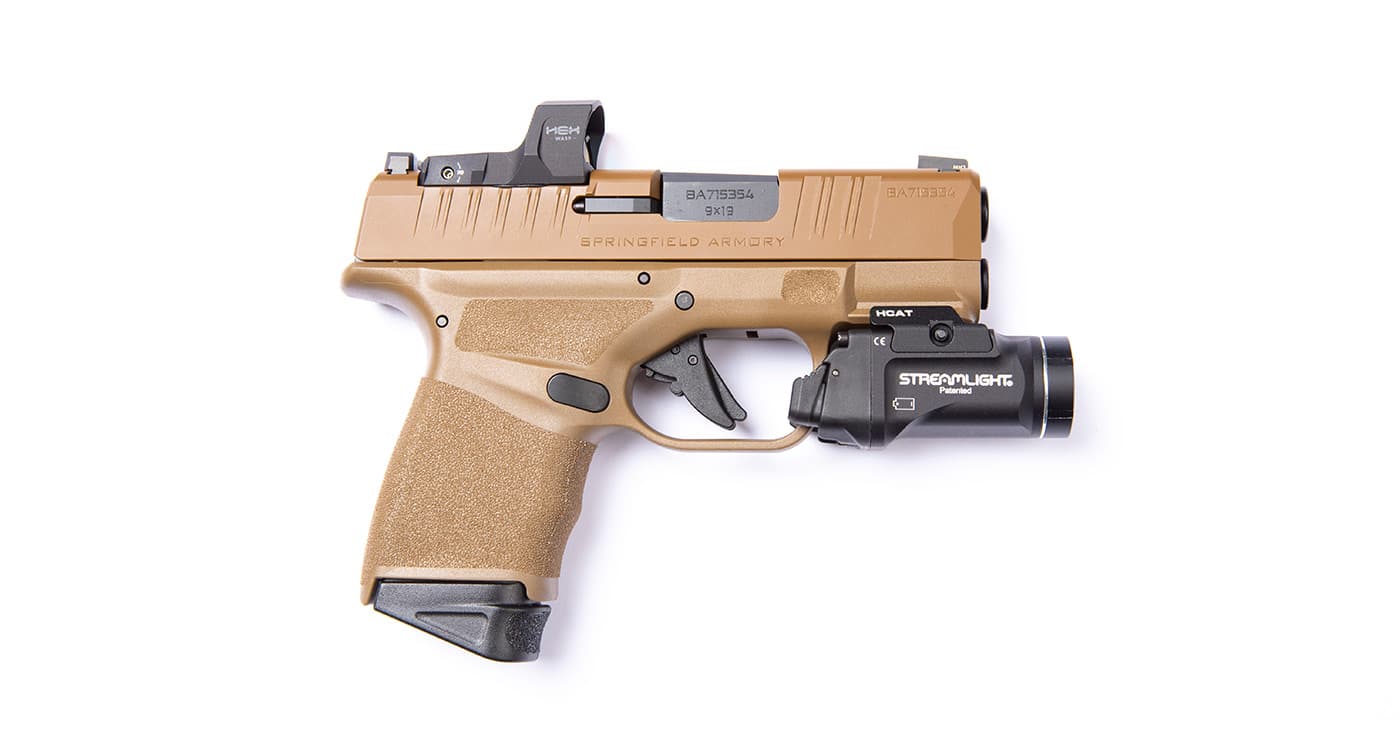 When it comes to activation, there are ambidextrous switches that follow the contour around the triggerguard of the Hellcat and making activation easy for left- or right-handed shooters. The switches have a positive feel, great texture and a tactile engagement, so you know when you are activating the light. In total, you have three modes, depending on your chosen programming. The modes are momentary, constant and strobe. Momentary is activated with a press and hold of the activation switch. Constant on is a quick tap of the activation switch, and strobe is a double tap.
Testing the Power
This light was not only tested indoors, but outdoors as well. I was lucky enough to get it into a 2,000 square foot garage, giving me plenty of area to see just how well the light performed. It was also tested on a property that is approximately two acres, to see the performance of the throw.
Indoors, this light provides a tight beam pattern for the hotspot and a very generous amount of spill to ensure you can see what is off to your sides as you work through a room or even a warehouse-sized location. Even in the large garage, the walls bounced enough light to illuminate a very large area, making identification of objects — or even people — very easy.
Outdoors, the throw of the light was impressive for its size, allowing me to clearly see a wall that was approximately 200 feet from my position. In small rooms, the light will easily illuminate the entire room with enough light to make out pretty much anything.
Depending on the model of Hellcat you have, the light will be either flush or just slightly past the muzzle of the pistol. As you can see it on the Hellcat RDP in the pictures, the light is almost perfectly flush with the factory Self Indexing Compensator. On the standard Hellcat, the light will protrude past the muzzle slightly, but will not impair function. The Streamlight clamps onto the rail of the Hellcat very firmly and locks into place on the single slot in the Hellcat's accessory rail.
Review Conclusion
The benefits of a light on a firearm are numerous. In addition to identifying your target, it also gives you the ability to see the backstop and beyond. A light, especially a weapon-mounted light, is a level-up for your defensive firearm.
Having been in the military and law enforcement almost my entire adult life, if I have a pistol, it's going to have a light on it. And from my work to my personal life, I have carried Streamlight-branded lights from handhelds to weapon-mounted units for many years, and they have never let me down. They've got my trust, and now my Hellcat has a new partner.
Editor's Note: Be sure to check out The Armory Life Forum, where you can comment about our daily articles, as well as just talk guns and gear. Click the "Go To Forum Thread" link below to jump in!
Join the Discussion
Featured in this article
Continue Reading
Did you enjoy this article?
49