Red dots are known for their extreme speed of use when acquiring a sight picture. Magnified optics allow you to reach farther, but can be limiting up close. Luckily, we don't have to choose between one or the other, and no sacrifices have to be made.
On my SAINT Victor rifle, I have a nice 1-10×24 Swampfox Arrowhead LPVO (low power variable optic) with 1.92 height scope rings. I like the taller rings since I am a taller guy (and have a bit of a long neck). This can cause issues when looking for offset mounts that maintain a constant cheekweld. Luckily, Valhalla Tactical has an option for those like me in their Titanium Rukh mount.
Position for Acquisition
As we all know, a proper cheekweld is ideal for maximum accuracy and target acquisition speed. With many offset optic mounts, you are forced to break your cheekweld and move your head from its natural position on the rifle when transitioning from your LPVO to a red dot. As you can see on the scope rings I have, there is a native mounting position for a red dot. However, it is high and off the natural cheekweld position, which is not optimal.
The B5 Systems stock that came on my SAINT Victor rifle has a great cheekweld angle and is very natural to maintain. In my search for an offset mount, my number one requirement was to find one that was at the perfect angle for minimal movement.
As you can see in the video at the top of the page, I can keep my head in the same position and, with a quick flick of my wrists, the offset red dot is in my natural point of aim. When you have your LPVO and your red dot of choice in matching angles, you will be able to transition quicker and get shots off faster.
Endless Angles
The Rukh is designed as a multi-angle mount. Did I mention it's made of titanium, which is pretty snazzy stuff? That titanium construction means strength, weight savings, extreme durability to the elements, and a bit of a wallet impact.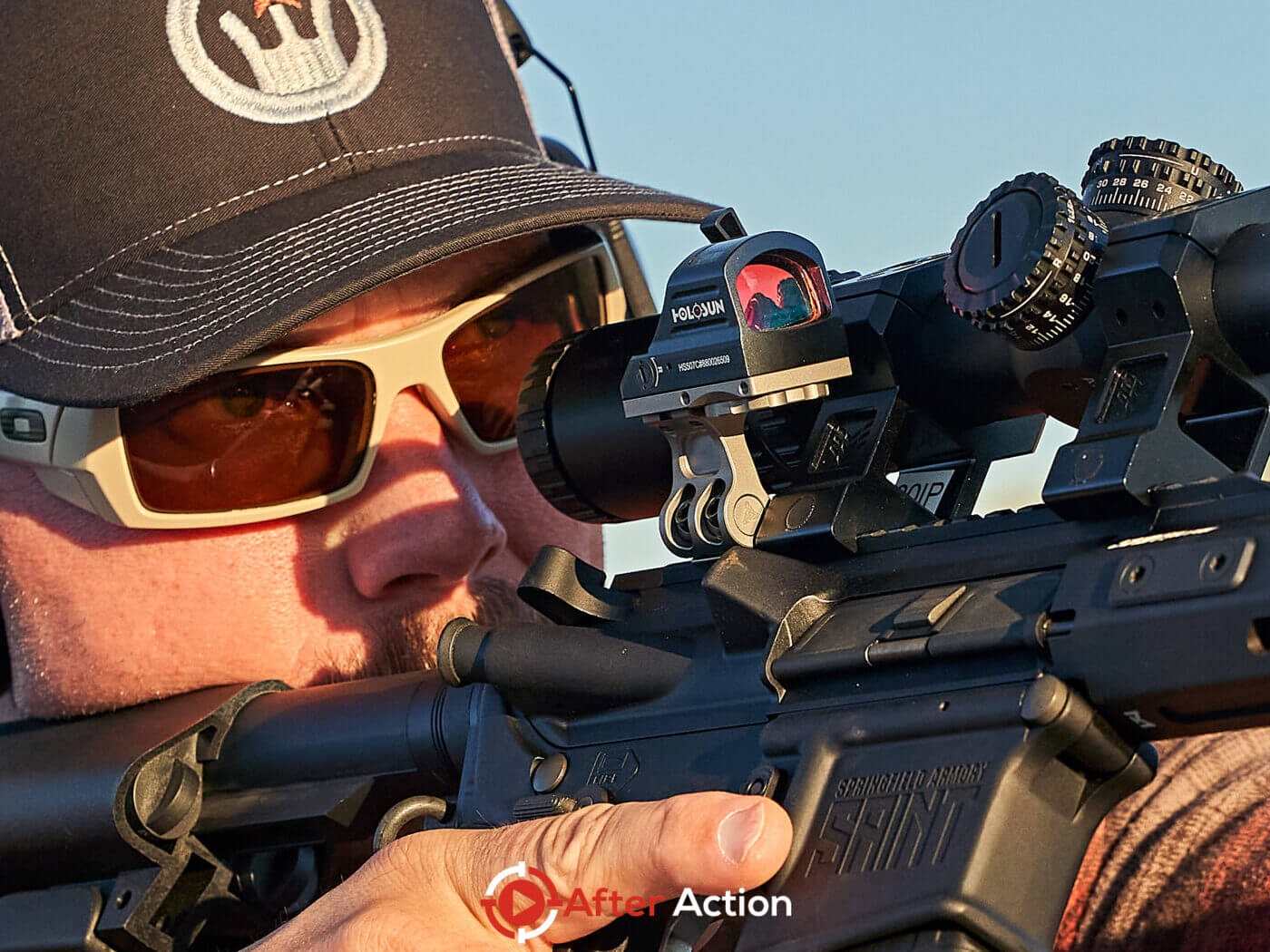 The main joint in the Rukh pivots allowing the end user to position it exactly where they want. There is something else sneaky in the Rukh's design. Under the mounting surface for the red dot there is a battery compartment. This means you never lose zero when changing under-mounted batteries on say a Trijicon RMR.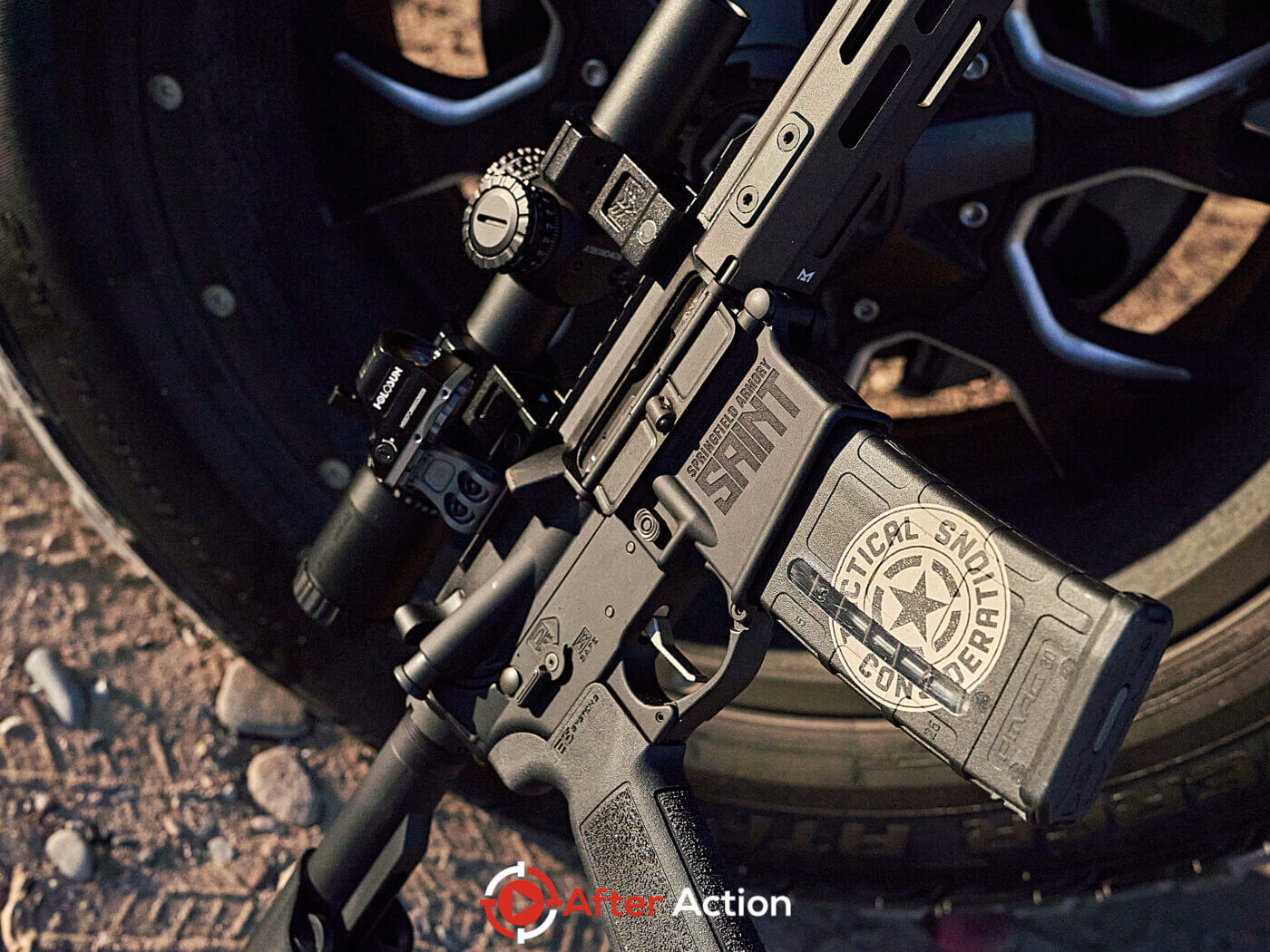 There are two torque specs for the pivot joint. One is 25 inch-pounds and allows the mount to fold if impacted. This saves your optic by acting like a car fender that crumples to save the driver. The second is 60 inch-pounds, which makes it solid as can be. There are several optic plates available for your chosen red dot and it has a very minimal footprint.
This is not your budget mounting solution, coming in at $250, but if you're looking for the ultimate in flexibility, this is definitely one to look into.
Editor's Note: Photos provided by Mike Bordon of After Action Photography. Also, please be sure to check out The Armory Life Forum, where you can comment about our daily articles, as well as just talk guns and gear. Click the "Go To Forum Thread" link below to jump in!
Join the Discussion
Featured in this video
Continue Reading
Did you enjoy this video?
27