Skirmishing with Airsoft?
October 16th, 2020
5 minute read
When the recommended use in the catalog says "skirmishing," you know you're headed for a good time.
Airsoft aficionados have been with us for a long time — it's nothing new. What is new is how mainstream Airsoft is becoming. New guns are hitting the market that are spitting images of their centerfire inspirations.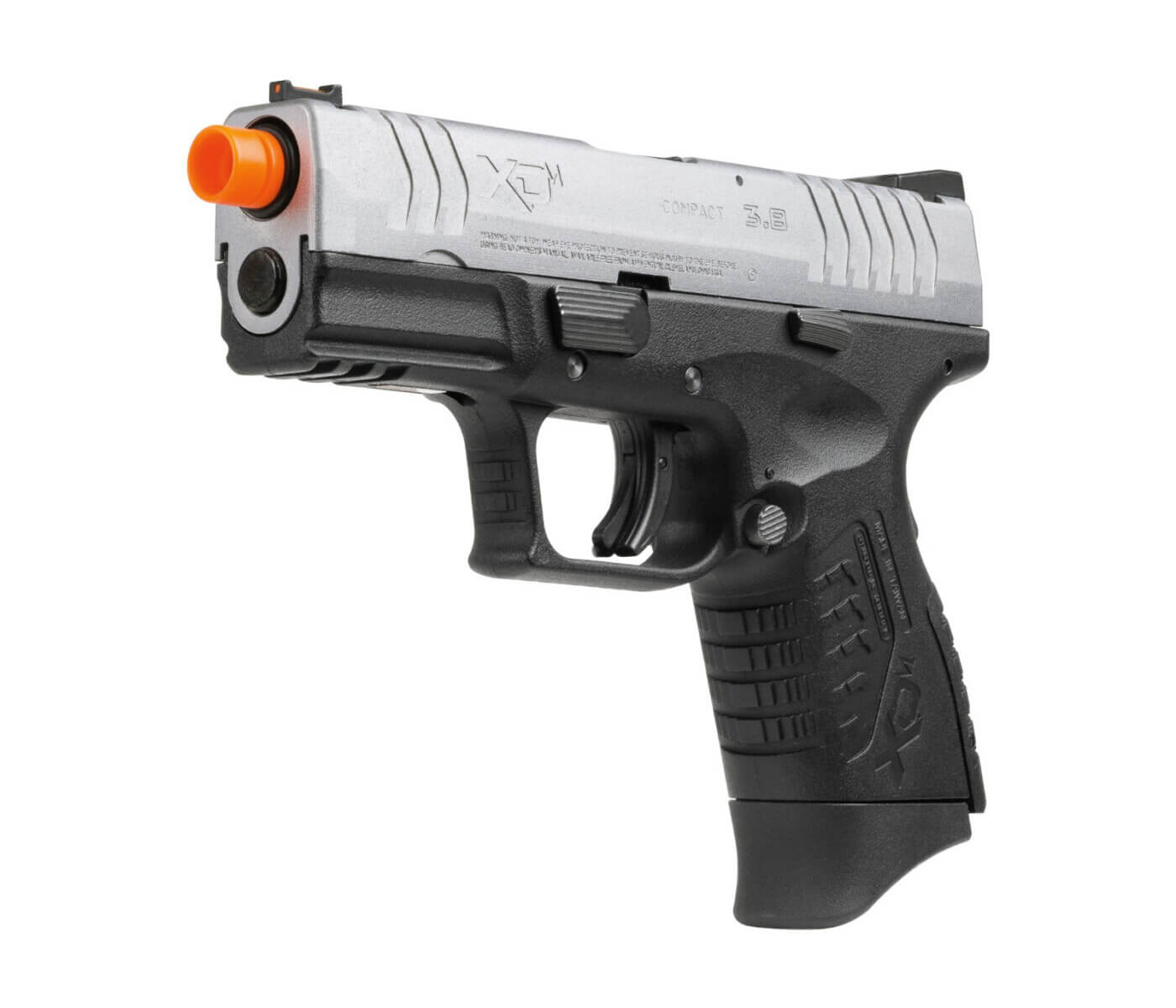 Sure, you can buy one of those because they're cool or for backyard (or even indoor) plinking, but people who know have figured out that they make outstanding training tools. Imagine a handgun that looks the same as your carry gun. It feels the same. It operates in the same way. It fits your existing "real gun" holsters and accessories.
Now imagine that you and your friends can use them for force on force training. That's the beauty of modern Airsoft.
Playing It Safe
Let's address the elephant in the room first: shooting an airsoft gun at a person in a training environment. Don't be dumb. Keep these away from your real guns; do not get them mixed up. Also, use safety precautions like heavy clothing and especially protective eyewear. After all, an Airsoft projectile can put your eye out. I suppose they could even be lethal in certain situations.
For example, if you got shot with one while standing in front of a speeding train, I'm thinking it could be lethal. But seriously, let's look at why this whole idea is not as irresponsible as it may sound on the surface.
Ammo Options
Most Airsoft guns use 6mm plastic "BBs." The most common BB weight for Airsoft handgun use is in the .20-gram weight range, although if you're an Airsoft "sniper" you might move to something heavier, maybe in the .28-gram range. Anyway, they are light. To put that in firearm-world perspective, .20 grams equates to 3.08 grains. Remember that a .22 LR bullet weights 38 or 40, and even a .177-caliber airgun pellet weighs somewhere in the 5- to 7-gr. range.
So, they're light. If you convert that to energy like we do with centerfire bullets, that works out to 0.8 foot-pounds. Yes, less than a single foot-pound of kinetic energy. That's why these are ideal for force-on-force training or just plain fun. Once again, in the interest of safety, use the proper gear all the time, and never, ever, ever keep Airsoft and centerfire guns in the same room.
Airsoft Power
So how do these Airsoft guns run? There are a few different options. Some are battery powered, some use simple spring power and others use compressed gas.
In the compressed "air" realm, you'll find two types of power sources. Some Airsoft guns, like the Springfield Armory M1 Carbine shown in this piece, use a standard 12-gram CO2 cylinder as a power source. These are the same CO2 cylinders that power many common BB or pellet pistols, so they're easy to find at sporting goods stores.
The advantage of CO2 is raw power. The CO2 operates at higher pressure and therefore will yield higher velocity, all else being equal. Of course, that can be harder on both your battlefield opponents and your gun. The faster and more violent reciprocating action can wear out parts faster. You also might find that CO2 ends up costing a bit more per shot. Who said all-out war was cheap?
Green Gas is more of a "bulk fill" solution. It's a mixture of propane and silicone lubricant that helps things run smoothly. Green gas is available in pressurized cans with built-in fill nozzles much like those on butane canisters used to fill lighters. If you're hard core, you can also buy propane tank adapters that have a secondary feed for silicone oil, so you can use the jumbo tanks as your supply as long as you're willing to handle the propane and silicone mixing.
Green Gas operates as lower pressure, so you'll get less velocity. For force-on-force training that may be a benefit, at least for your targets. The Springfield Armory XD-M pistols shown here are powered by Green Gas.
Examples
The folks at Pyramyd Air have been working with the folks at Springfield Armory and have released some classic Airsoft models. One that's too much fun to be legal is the M1 Carbine.
This Airsoft replica looks and feels like the real deal. It's got a metal action and you can order one with a genuine wood stock or a synthetic stock that looks like wood. This one even feels real, weighing about 5½ lbs. It's a true semi-automatic with a removable 15-round magazine, just like the first M1 Carbines.
Not only does it auto-load, the action reciprocates, so you get that realistic feel, albeit with less recoil than the original. The magazine holds 15 rounds of 6mm Airsoft BBs and uses a single 12-gram CO2 cartridge as its power source. That cylinder will get you about 60 shots before you have to change it out. That means you can unload four magazine's worth of BBs in your backyard Sands of Iwo Jima reenactment before having to top off with a new gas supply. Oh, and you'll get about 470 feet per second of plastic BB happiness.
For a more modern twist, you might check out the XD-M family of Airsoft pistols. You can order either a 4.5″ barrel full-size model or the 3.8″ barrel compact version. Both are available in black or bi-tone finish. Like the centerfire versions, you'll be right at home with the controls. The pistols are semi-automatic and feature operating grip and trigger safeties. The magazine release works as expected and is ambidextrous. There are even interchangeable backstraps to adjust grip circumference. The pistols are powered by Green Gas and will deliver between 270 and 330 feet per second when you use .20-gram 6mm BBs.
Conclusion
Here's the bottom line. Airsoft isn't just a kid's game anymore. The guns and gear are getting serious. Whether you want to explore it for fun or realistic training, it's worth checking out.
Editor's Note: Please be sure to check out The Armory Life Forum, where you can comment about our daily articles, as well as just talk guns and gear. Click the "Go To Forum Thread" link below to jump in and discuss this article and much more!
Join the Discussion
Featured in this article
Continue Reading
Did you enjoy this article?
32