Special Edition Burnt Bronze Hellcat Pro
February 13th, 2023
5 minute read
The Burnt Bronze Springfield Armory Hellcat Pro combines flawless reliability, surgical accuracy, and staggering good looks all in a package you can easily and comfortably conceal underneath a pair of shorts and a t-shirt.
Cramming everything that is righteous and wholesome about the Hellcat Pro into an exceptionally alluring, color-coordinated chassis, this is the gun that keeps you safe and looks cool doing it. If you're the sort who wants to stay frosty while projecting an air of refinement, daring, and elan, this is your iron.
The Gun
The defensive handgun market is cluttered these days. Fully half the states in our Great Republic offer some form of permitless carry. Additionally, a glance at the news any given day shows that folks aren't getting any nicer to each other the deeper we get into the Information Age. As a result, capitalism offers an unprecedented selection of optimized concealed carry handguns. Ensconced firmly atop that rarefied heap is the Springfield Armory Hellcat Pro.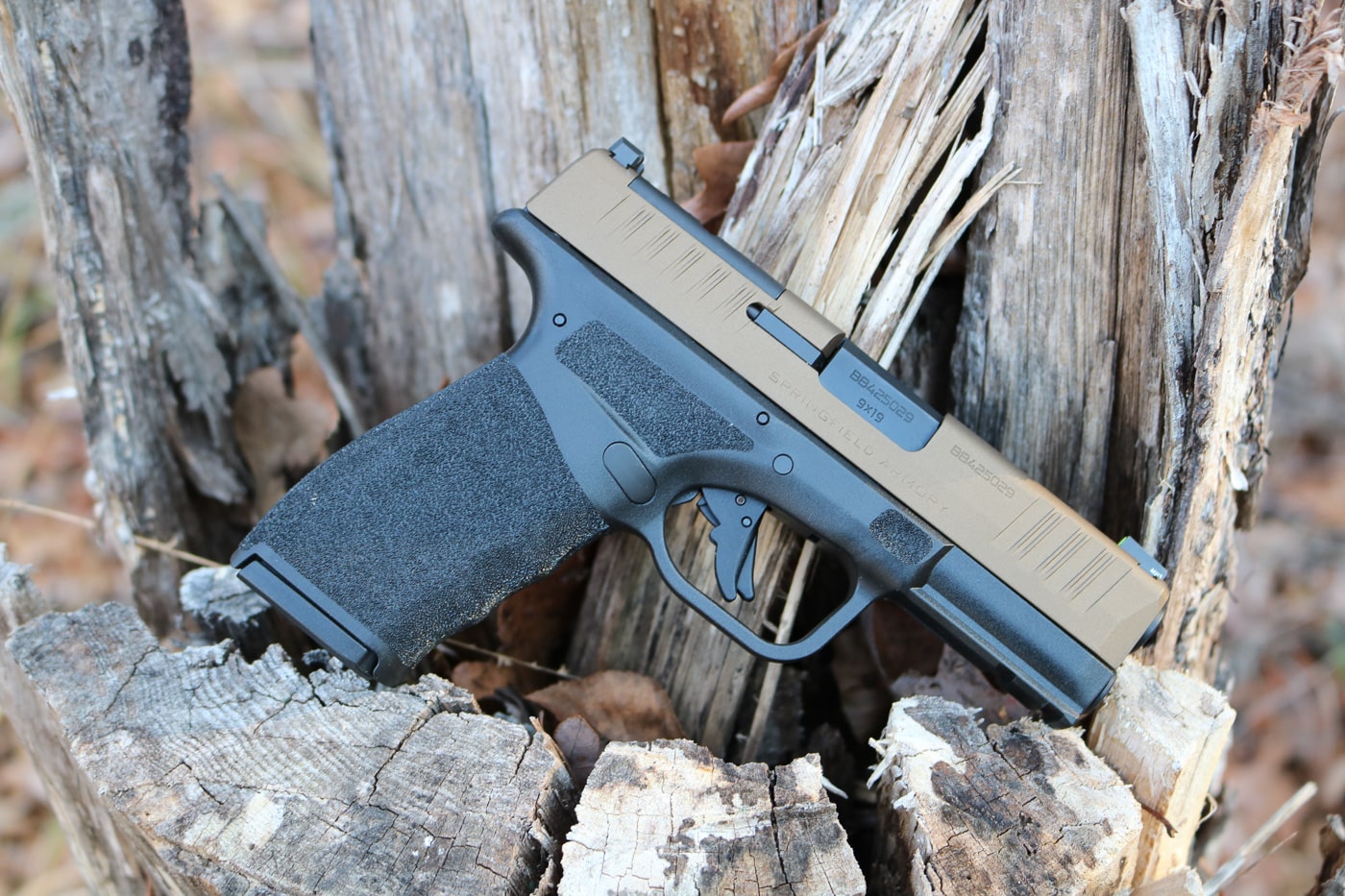 I'll spare you the technical details. They're on the website. Suffice to say, the Hellcat Pro is almost unnaturally compact while remaining surprisingly accurate and monotonously reliable. So long as the sun comes up in the east, Springfield Armory defensive pistols will continue to shoot every single time you squeeze the trigger. The Hellcat Pro offers you 15+1 onboard and a superlative striker-fired trigger all in a package that can conceivably ride in the front pocket of a pair of 5.11's. Shooters of yesteryear could not have imagined such rarefied capabilities in such a compact package. (Editor's Note: Be sure to read Massad Ayoob's Hellcat Pro review.)
Keeping Up Appearances
Launched in September of 2019, that original Springfield Armory Hellcat raised the bar on high-capacity micro carry guns. While those first Hellcats offered performance and capabilities unimagined just a few years earlier, they came in basic black or nothing at all. Nowadays — right, wrong, or otherwise — we all like to color coordinate our weaponry.
This is a curiously modern phenomenon. My gut feeling is that it all started with the Global War on Terror. We saw the way real operators heading downrange were spray-painting their rifles and began gazing lustfully at the Krylon every time we strolled past the hardware section at our local Walmart. Nowadays with the extensive array of durable finishes available to both manufacturers and hobbyists alike, the capacity for customization is legitimately unprecedented.
The new Burnt Bronze Hellcat Pro is the perfect example. Offered exclusively through the distributor Lipsey's, this is the standard black frame from a Hellcat Pro mated to a slide finished out in burnt bronze Cerakote. Cerakote is used throughout the firearms industry these days. It has been proven to be a rugged, durable, and effective all-weather gun finish.
Trigger Time
The Hellcat Pro includes the expected superlative striker-fired trigger with a safety tab in the trigger face along with a standard Picatinny rail up front for accessories. The billet-cut slide comes from the factory ready for your favorite micro red dot sight. The front sight sports a tritium insert, while the rear is a white semi-circle. Nothing is faster.
At typical across-the room defensive ranges the Hellcat Pro is a precision instrument. Unlike most micro compact pistols, the Hellcat Pro is also fun to shoot. Recoil is not unpleasant, and the controls are perfect. So long as you do your part, you can shoot the buttons off a shirt with this thing at across-the-room ranges.
Empty magazines leap out of the frame when the mag catch is hit. Give the slide a little manual tug or hit the slide release to drop it over a fresh box as the spirit leads. The adaptive grip texture represents the perfect interface between frame and hand. There are also nifty little parking pads on the sides to give your trigger finger a place to hang out when you're not actively throwing lead downrange.
If you need to reach out to football field or more, this is not your iron (Editor's Note: To see GunSpot prove the good Dr. Dabbs wrong, click here). Springfield Armory has other products that will perform that mission swimmingly. However, if you need a gun you can comfortably pack that will reliably secure your person and your family in the face of life's many manifest ills, then look no further. The addition of the burnt bronze slide lets you stay safe while looking sharp.
Measure of Performance
| Ammunition | Group Size | Velocity |
| --- | --- | --- |
| Black Hills 100-gr +P HoneyBadger | 0.25″ | 1,190 fps |
| Remington Golden Saber 124-gr Bonded JHP | 0.20″ | 1,123 fps |
| Winchester Defender 147-gr JHP | 0.10″ | 936 fps |
Group size is measured center-to-center in inches and is the best three-shot group fired from a simple rest at 7 yards. Velocity is measured in feet per second and is the average of five rounds fired across a Caldwell Ballistic chronograph oriented ten feet from the muzzle.
Denouement
I say we should just own it. I want my defensive handgun to be effective, comfortable, accurate and dead nuts reliable. However, I also wouldn't mind if it looked cool to boot. The new Springfield Armory Burnt Bronze Hellcat Pro from Lipsey's checks all those blocks and then some. While I may not be much to look at myself, my new defensive pistol is absolutely gorgeous.
Editor's Note: Please be sure to check out The Armory Life Forum, where you can comment about our daily articles, as well as just talk guns and gear. Click the "Go To Forum Thread" link below to jump in!
Join the Discussion
Featured in this article
Continue Reading
Did you enjoy this article?
288