Choosing to carry a firearm every day for the defense of yourself and your loved ones is a major responsibility. From understanding your pistol, to knowing local laws and learning de-escalation techniques, you must be on top of your game at all times.
To my mind, the most important factor in choosing a CCW pistol for this purpose is that it be both utterly reliable and produced by a reputable manufacturer. Furthermore, if you are like me, it is important that you enjoy the look and feel of your daily carry pistol. Yes, firearms are meant for that worst-case scenario, but if you are carrying one every day it is beneficial to have some feeling of attachment to it. There is no shame in being partial to a certain pistol because you prefer how it looks — as long as it runs and runs well.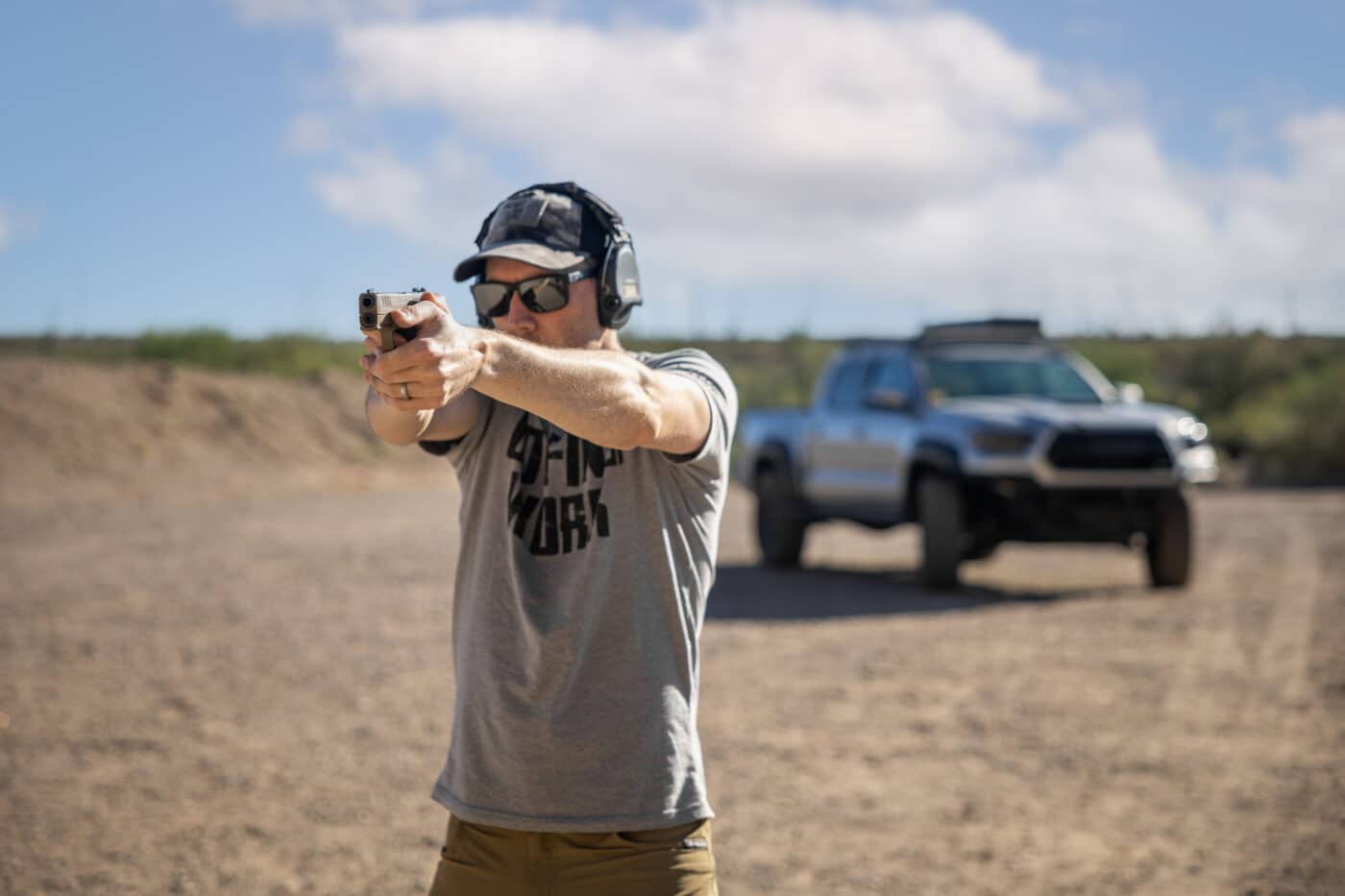 If you've carried a firearm for any length of time, you know it's a process to figure out what works best for you. Each pistol designed for concealed carry has numerous different features, some of which may be suited to your needs while others might not. From the texturing, the position and size of the controls, slide length, and even the size and design of the grip itself, all of these qualities must be weighed against your needs.
Beyond the core features, it is also wise to select a pistol that has been widely adopted by holster manufacturers to ensure you can find the just right fit for you. The more options, the more competition and the more innovation — all of which benefit the consumer.
Making My Choice
Personally, I've been carrying a Hellcat for about two years now. My first Hellcat was one in Desert FDE, and to be honest that was one of the things that drew me visually to that specific pistol. I am a sucker for all things in this color. When the Hellcat Pro was released, I really loved shooting it, but I felt like it was a bit too large for me to carry at the 3:30 position like I did my Hellcat. Keep in mind I have a 32" waist, so I don't have a lot of real estate to conceal.
However, after a bit of research, I picked up a Tulster Oath IWB holster and was, quite frankly, surprised at how comfortable and concealable the Hellcat Pro was with this winged holster. It was actually more comfortable than my original Hellcat in a holster without a wing. If you are not familiar with a "wing" or "claw" on a holster like this, it's a small tab that sticks out towards the rear of the holster so that your belt pulls the butt of the pistol inward towards your body.
So, for the last four months, I've been carrying the original Hellcat Pro and I've been loving it. I feel even more confident carrying a slightly larger and more controllable pistol with a full 15+1 capacity of 9mm. My only question:
Does the Hellcat Pro come in FDE?
Yes. The Hellcat Pro now comes in FDE.
Well, I'm pleased to report Springfield didn't leave us FDE fanatics hanging. We've now got an FDE color variant of the Hellcat Pro! The Hellcat Pro in FDE has all the same features you've come to love in the original Pro.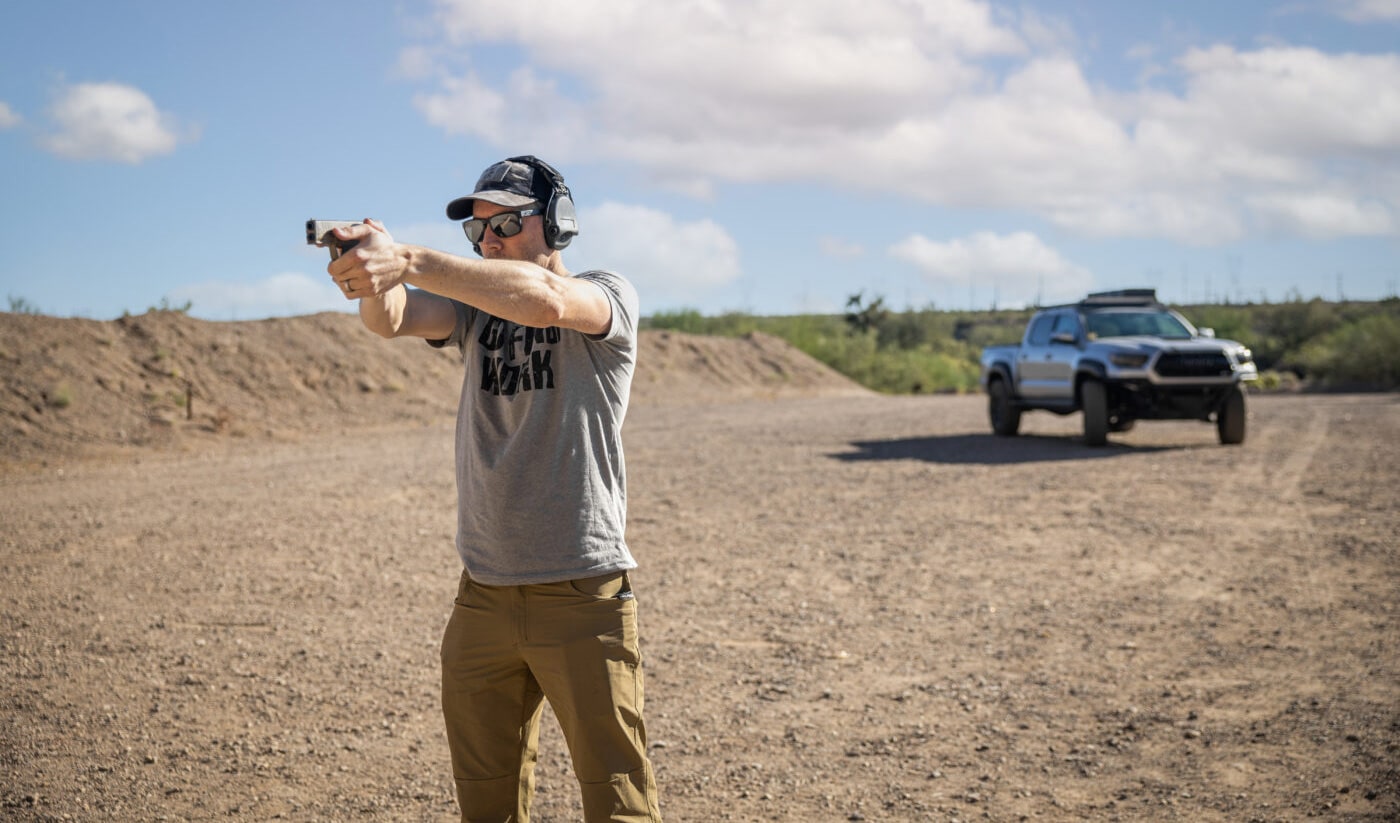 Sporting a 3.7" hammer forged barrel, front and rear slide serrations, Melonite finish, an OSP optics-ready configuration with co-witnessing tritium/luminescent U-dot sights, the popular Adaptive Grip Texture treatment and a Picatinny accessory rail. All these features in a compact 15+1 round pistol make for an excellent choice for CCW.
The Details
Let's dive into what makes the Hellcat Pro FDE a fantastic choice for your personal concealed carry pistol.
Starting with the heart of the gun, the hammer forged barrel is designed for a lot of shooting. The hammer forging process ensures the barrel has unmatched strength and durability over the lifetime of the pistol. You won't be able to shoot enough rounds through this barrel to degrade it.
On the rear of the barrel is a very handy feature for quickly determining if your pistol has a round in the chamber. Springfield added a loaded chamber indicator made up of a small opening at the rear of the barrel hood that reveals if the chamber is loaded or not.
Ergonomics
Adding to the functionality of the pistol are the front, top and rear slide serrations on the slide. These ensure a positive purchase in any condition regardless of where you grip the slide. If you've carried and trained with a pistol for long enough, you know the wear and tear the finish can take over time. Springfield uses a Melonite finish on the barrel and a tough Cerakote finish on the slide to ensure the Hellcat can withstand the harshest conditions.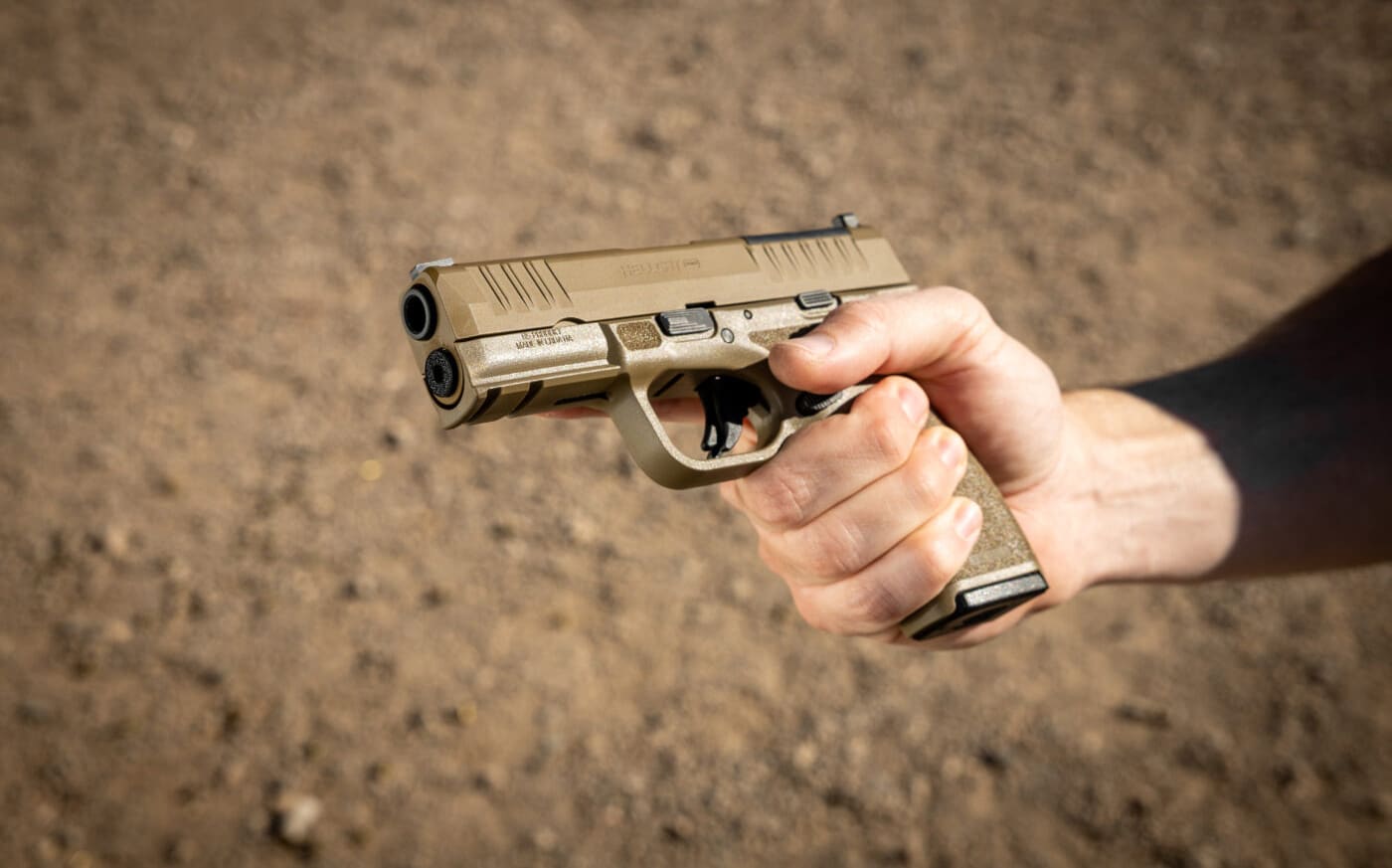 How about how the pistol interfaces with your hand? To this end, the Hellcat Pro with FDE finish employs the proven Adaptive Grip Texture on the grip area of the frame, ensuring you retain positive control of your pistol. The Adaptive Grip Texture gives you maximum control over the pistol without being too aggressive as to rough up your skin during daily carry. The texture is quite ingenious, really. The pattern is made from staggered pyramid shapes, with the taller pyramids having a flattened top to ensure comfort against your skin while holstered. The shorter pyramids come to a point and lock into your hand when the pistol is firmly engaged in your grasp.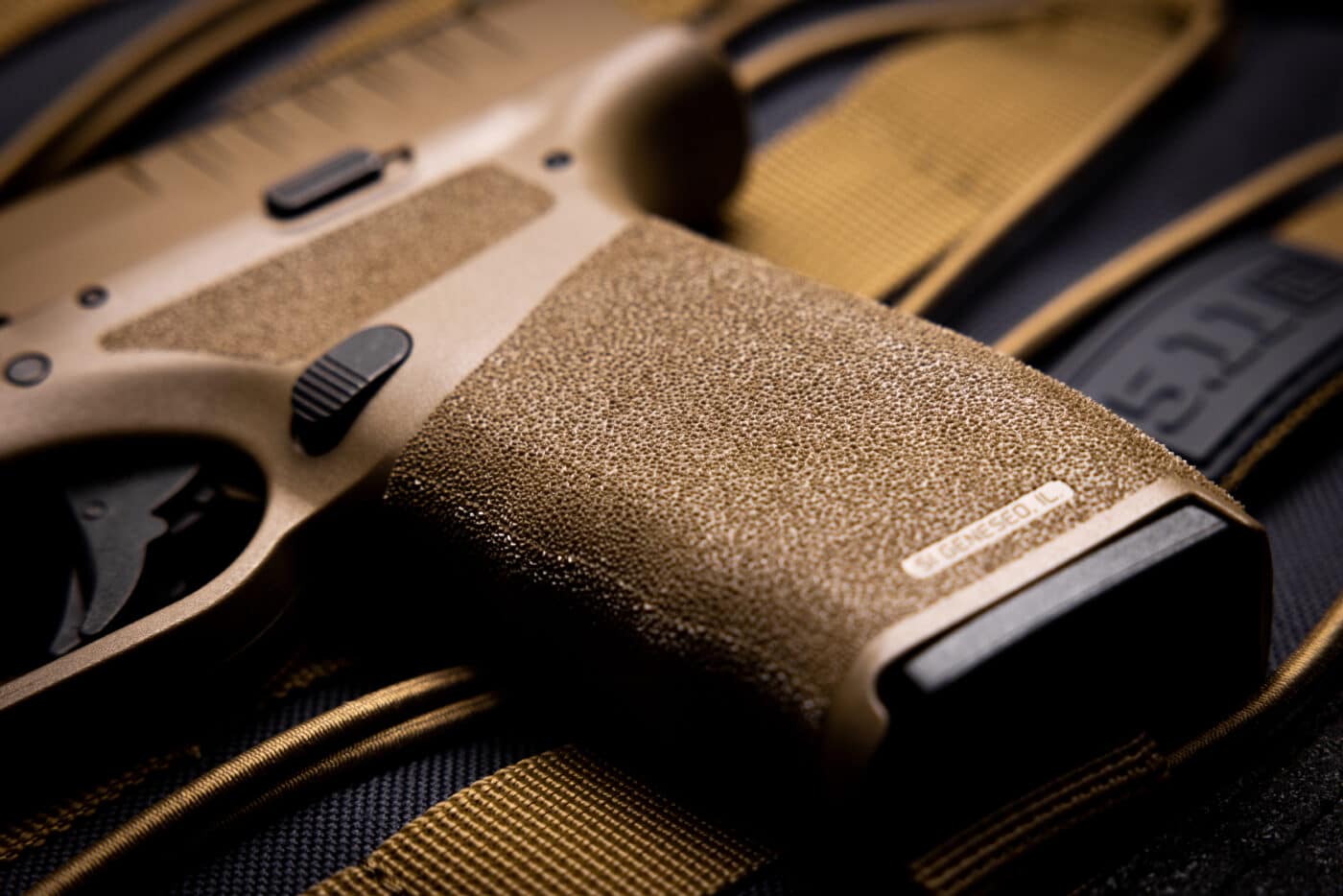 Ergonomics on the Hellcat Pro FDE are quite well thought out. The slide lock has a ledge around it to prevent larger hands from unintentionally disengaging the slide lock after the last round, which is all too easy to do on many micro compact pistols.
The magazine release is just large enough for ease of actuation while not being too big as to cause accidental engagement. The rear part of the mag release is smooth, while the front half has nice serrations for positively engaging when dropping the magazine on reloads. While the Hellcat is not fully ambidextrous, Springfield added the ability to reverse the magazine release so that lefties have an option as well.
Sights and Optics
For the sighting system on the pistol, Springfield uses the Hellcat's tritium/luminescent U-Dot sights, which are very intuitive to use. Instead of lining up three dots, you simply settle the front dot into the cradle. It allows for quick sight acquisition in all types of environments thanks to the bright green front sight.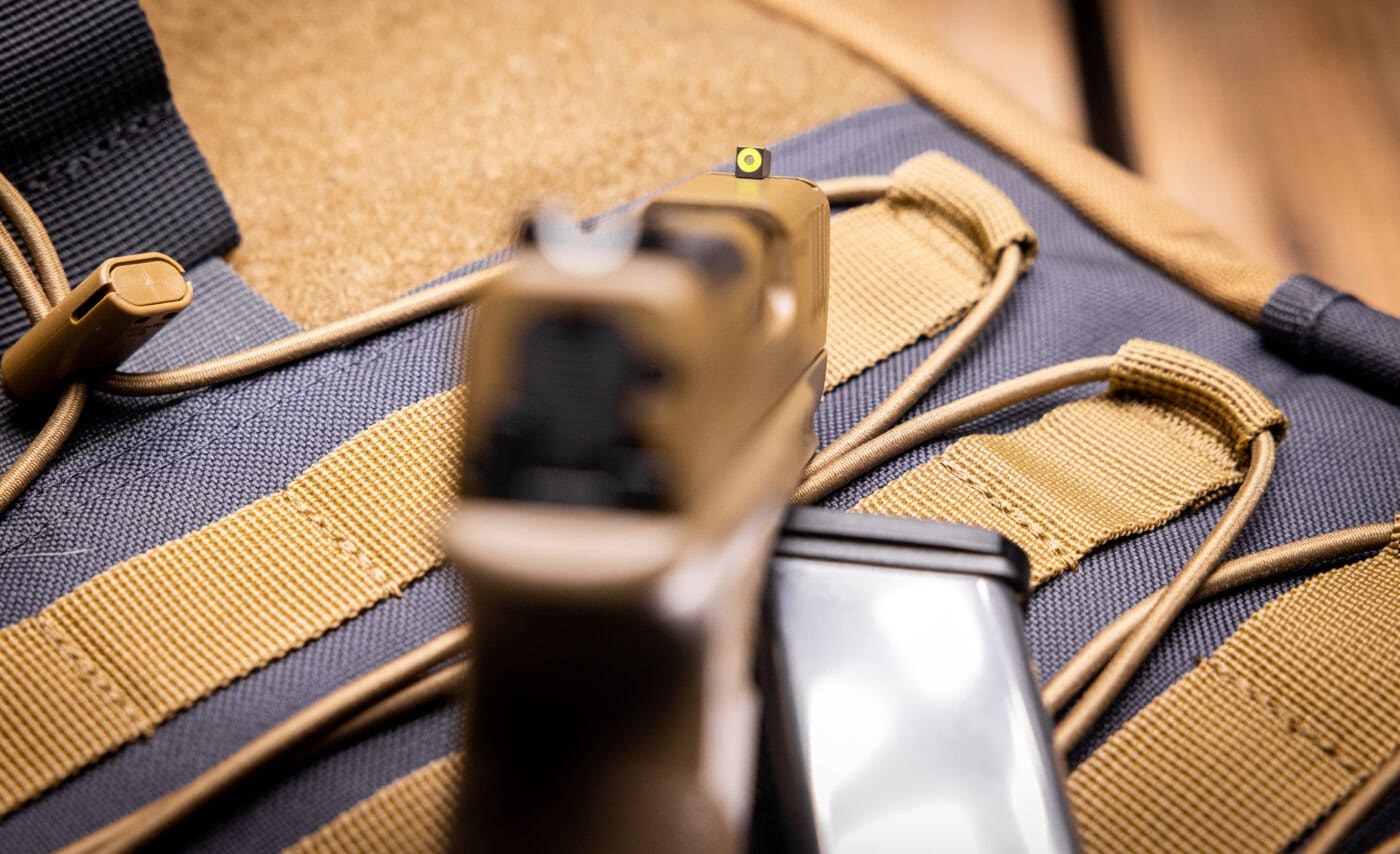 The FDE-finished Hellcat Pro is equipped with Springfield's OSP (Optical Sight Pistol) configuration. This allows you to easily attach a micro red dot such as the Shield SMSc to your Hellcat Pro. Since no adapter plates are required, the optic direct mounts and is low enough with micro-sized optics that the iron sights co-witness perfectly with the dot.
This is a must-have option in my opinion for a pistol that is your daily carry. For sighting systems, one is none and two is one in my book. And, If you want to leave the iron sights on the pistol, the Hellcat Pro in FDE comes with a cover plate in black that matches the barrel and the controls of the pistol.
Additional Hellcat Pro FDE Features
Another impressive feature of the Hellcat series of pistols, and one also present on the Hellcat Pro, is the built-in stand-off device on the front face of the guide rod. This stand-off device is designed to prevent the muzzle of the slide coming into contact with a surface and pushing the gun out of battery, rendering it incapable of firing. If you were to press the muzzle of the FDE Hellcat Pro against a surface, it would contact the stand-off device and prevent the slide from being pushed back. This is a simple but effective feature that I really appreciate having on my CCW pistol.
Despite its compact size, the Hellcat Pro FDE also has a generously sized accessory rail for the mounting of a pistol light. Keep in mind attaching a pistol light will affect which holster you will need to purchase, but it's a great added feature for the Hellcat Pro.
Hands-On with the FDE Hellcat Pro
Features and specs are great and all, but how does the pistol perform and what kind of results should you expect from the Hellcat Pro? If you've shot micro compacts before you know how snappy they can be. Shorter barrels and grips are great for concealability, but they are certainly more difficult to control while firing. While I was always impressed with the shootability of the micro compact Hellcat 9mm, physics always intrude. Combining a small, light pistol with a powerful chambering will have an effect on its controllability.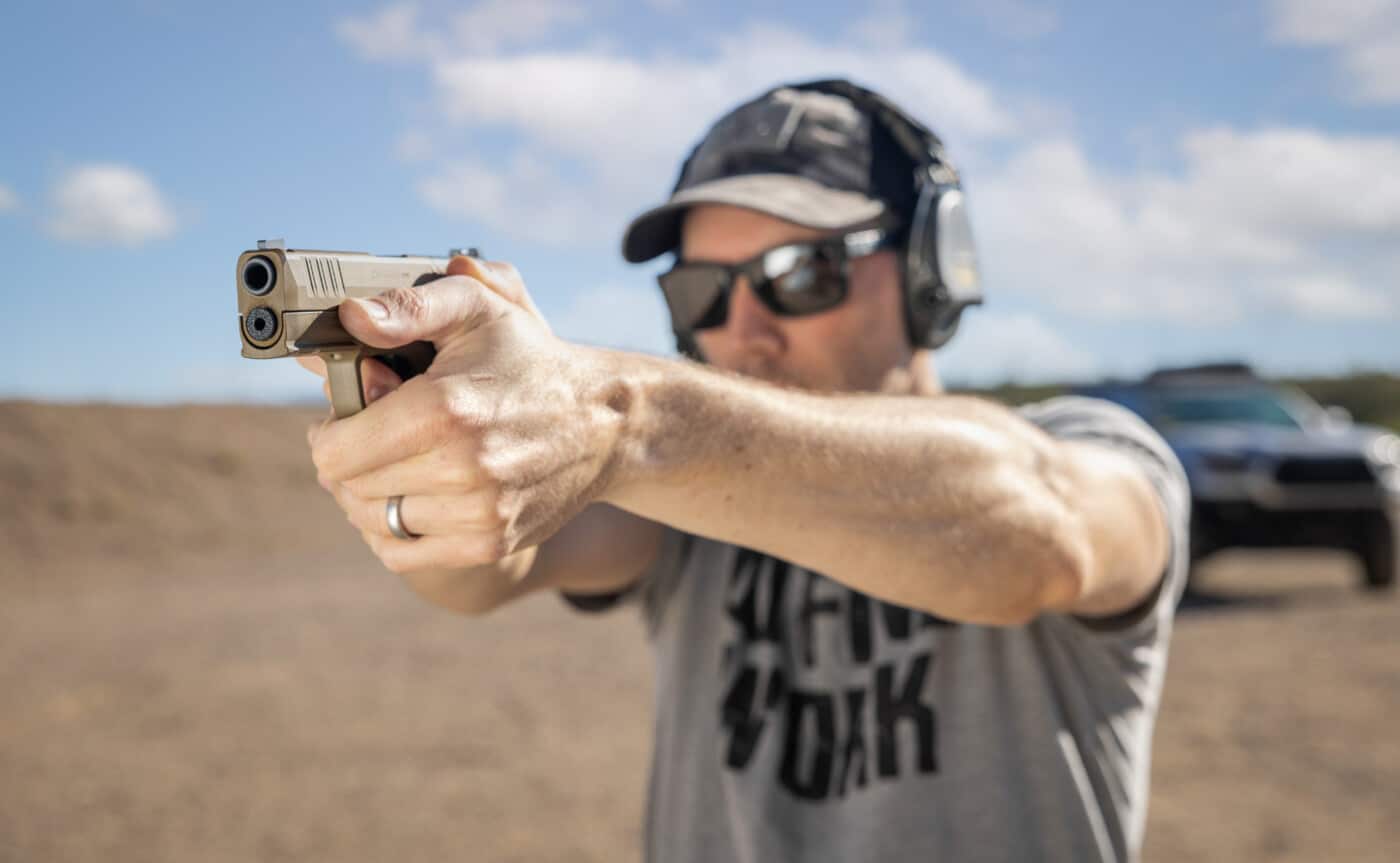 That's one of the things I like the most about the Hellcat Pro. While still surprisingly compact and concealable, the Pro FDE packs in a full 15+1 capacity with a grip long enough to get a proper full, firm grip on the pistol. The extra slide and barrel length also help cut down on muzzle flip. This keeps you on target for quick follow-up shots. Yet this is all in a slim (1" wide, just like the Hellcat) and remarkably concealable pistol.
Regarding the trigger on the Hellcat Pro in Desert FDE, it is great. I'll spare you the "crisp break, positive reset" spiel and just say I think it is ideal for a carry pistol of this type. With a pull in the 6-7 lb. range, this is just where I want it for a pistol I carry. It's not so heavy that you end up pulling your shots in anticipation like a double-action trigger, yet not so light a pull that you would feel uncomfortable carrying it on your hip all day. The take-up is smooth, the wall is easily discernable and the break requires minimal travel. Resetting the trigger is quick.
Conclusion
With the Hellcat Pro in Desert FDE, you have the magazine capacity of a much larger firearm in a very concealable and, dare I say, stylish package. The Desert FDE Hellcat Pro ships with two stainless steel, flush-fit, 15-round magazines. I would suggest picking up a few more and stowing some in your vehicle, EDC bag, purse, bedside, etc. It's always nice to have a spare mag within reach.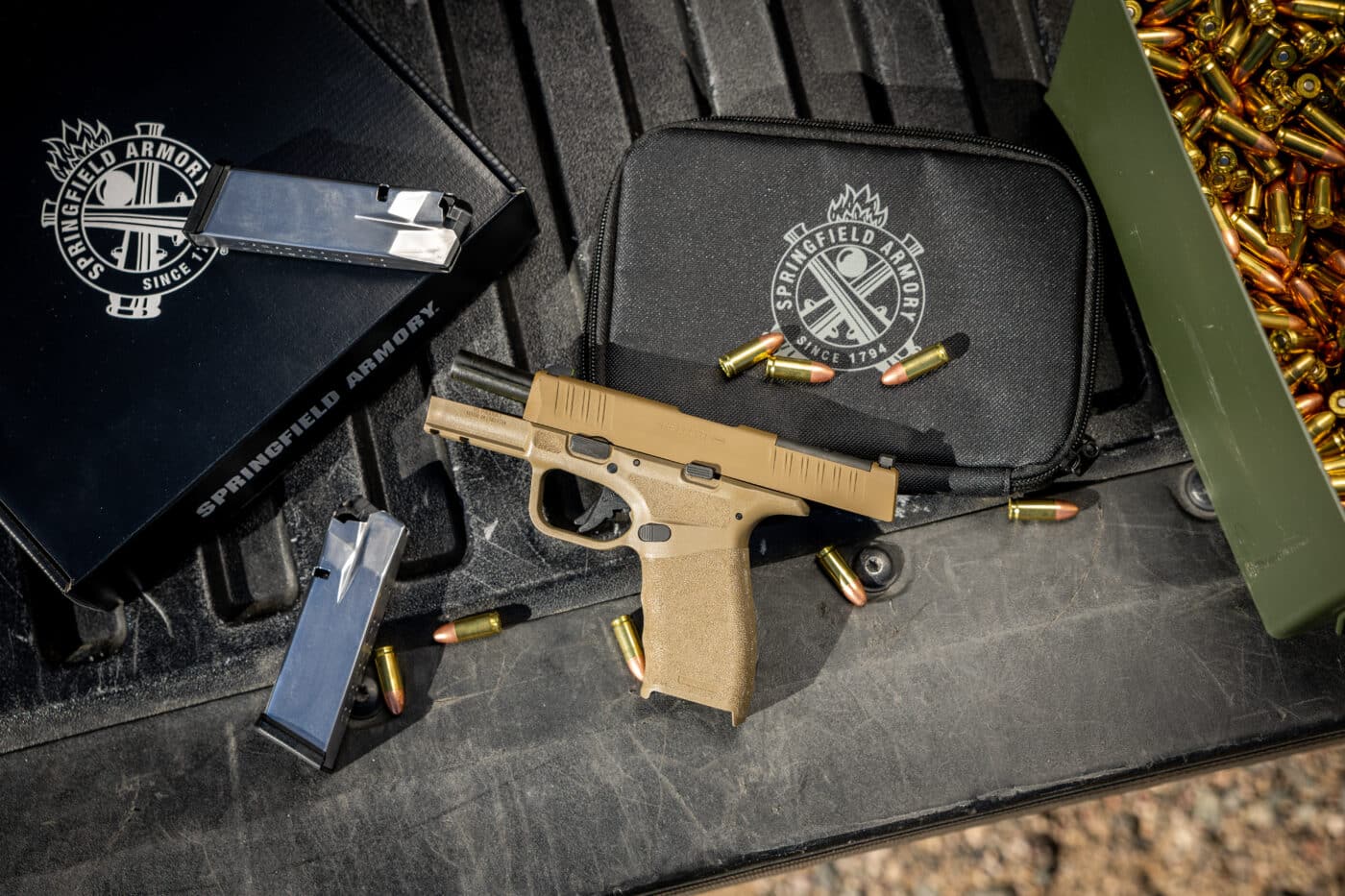 I feel like most of the time with a concealed carry gun you must make sacrifices for comfort or concealability. With the Hellcat Pro FDE and a good holster, you can have your cake and eat it too. Now with the FDE option, you can carry in style as well! You know I'll be.
Editor's Note: Please be sure to check out The Armory Life Forum, where you can comment about our daily articles, as well as just talk guns and gear. Click the "Go To Forum Thread" link below to jump in and discuss this article and much more!
Join the Discussion
Featured in this video
Continue Reading
Did you enjoy this video?
188