First Look: Desert FDE Hellcat 9mm
June 10th, 2020
5 minute read
From desert fatigues to khaki cargo shorts, Springfield Armory has a new Hellcat variant that might just be right up your alley. That pistol is the Desert FDE (flat dark earth) Hellcat, offered in both standard and OSP (optical sight pistol) versions.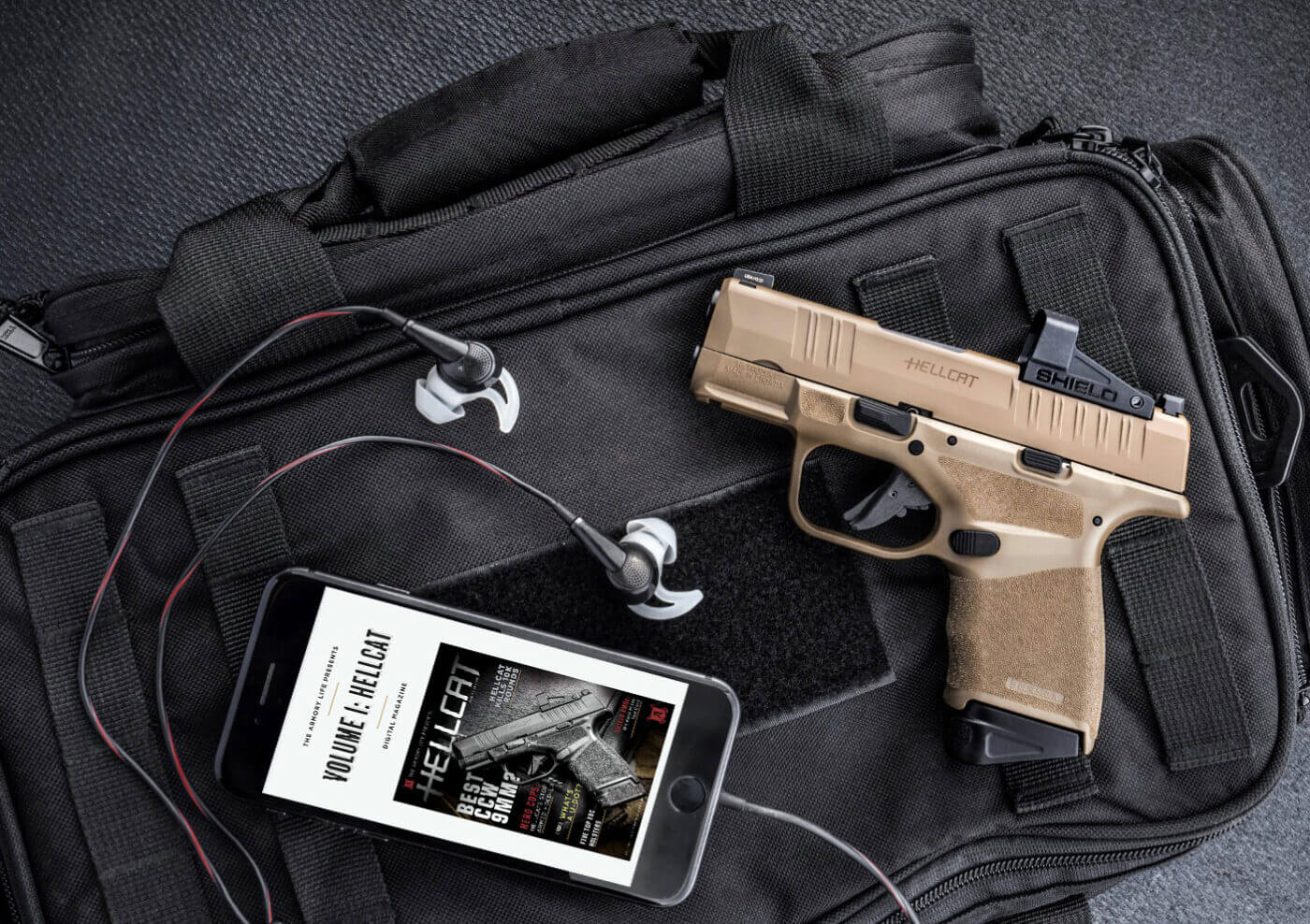 The heat of summer is upon us, and if you're active firearm enthusiasts like us you will not let that slow you down. Whether you are of the adventurous type who is yearning to be barreling down rivers kayaking or enjoy the peaceful solitude of a backyard barbeque, you still want to know you have protection at your side. For that reason, if you do not have a summer carry already chosen you may want to set your sights on the Springfield Armory Hellcat in Desert FDE.
Finishing Touches
For those who may not be familiar with the pistol, the Springfield Armory Hellcat is a micro 9mm CCW handgun that offers the world's highest capacity of 11+1 (13+1 with the included extended magazine) in a pistol this size. From its exceptional Adaptive Grip Texture to its ability to accept direct-mounted optics in the OSP version to its all-around impressive performance, the +P-rated Hellcat has reshaped the CCW market.
Up to this point, the Hellcat has been offered strictly in black. However, the new Desert FDE Hellcat pistols have changed all that. When most of us are donning khaki cargo shorts or tan 5.11 Tactical pants while recreating, the Desert FDE finish will blend in like a chameleon so it is always hidden and you always maintain concealment of your weapon.
A nice complement to the all Flat Dark Earth finish is the multiple black accents of control features on the pistol: barrel, trigger, metal sights, slide lock, takedown lever, recoil spring, magazine release, slide cover plate (in the case of the OSP) and frame pins. It is not only a nice offset to the FDE color scheme, but it is also a good color signifier for all of the important controls that you need in order to manipulate the firearm. Our muscle memory might take over much of the handling of our sidearm at any given moment, but that different color is a good visual marker as well.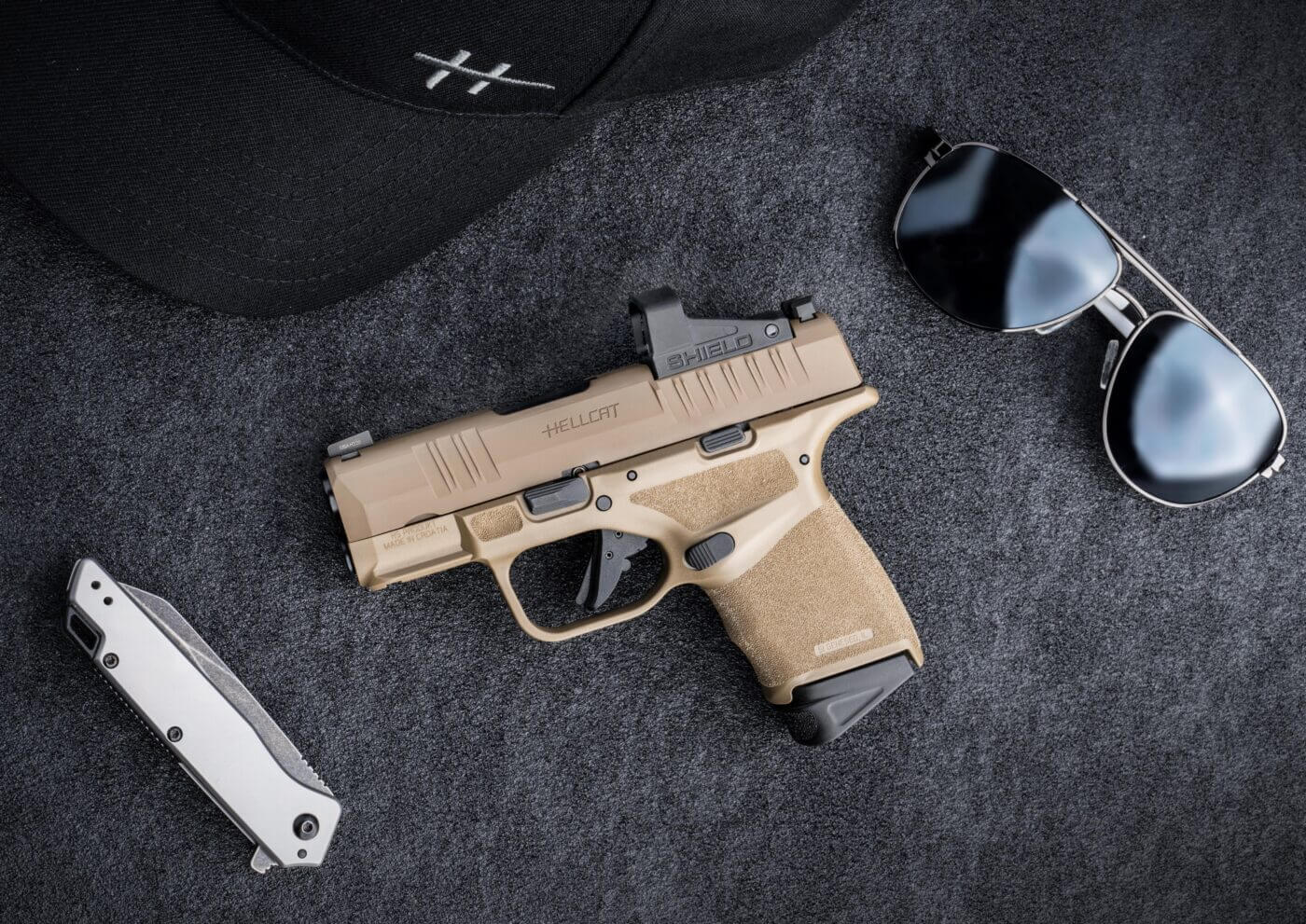 Hands On
The Springfield Armory Hellcat has been out for almost a year now and it has swiftly conquered this new blossoming category of micro-compact pistols. All of us gun owners are greedy in that we want accuracy, high capacity and a small package rolled up into one — something which the Hellcat delivers. I have been handling, shooting, carrying and loving the Springfield Armory Hellcat since its announcement last September 25th.
In terms of accuracy, the anemic weather of Minnesota has "blessed" me with the opportunity to shoot this pistol in wind chills of -25°F this winter and heat indexes of 90°F this summer already. On both ends of the spectrum I can produce one ragged hole from roughly 15 to 20 yards, which is superb for a CCW sidearm. I have a few full-size pistols in my arsenal that unfortunately cannot achieve that.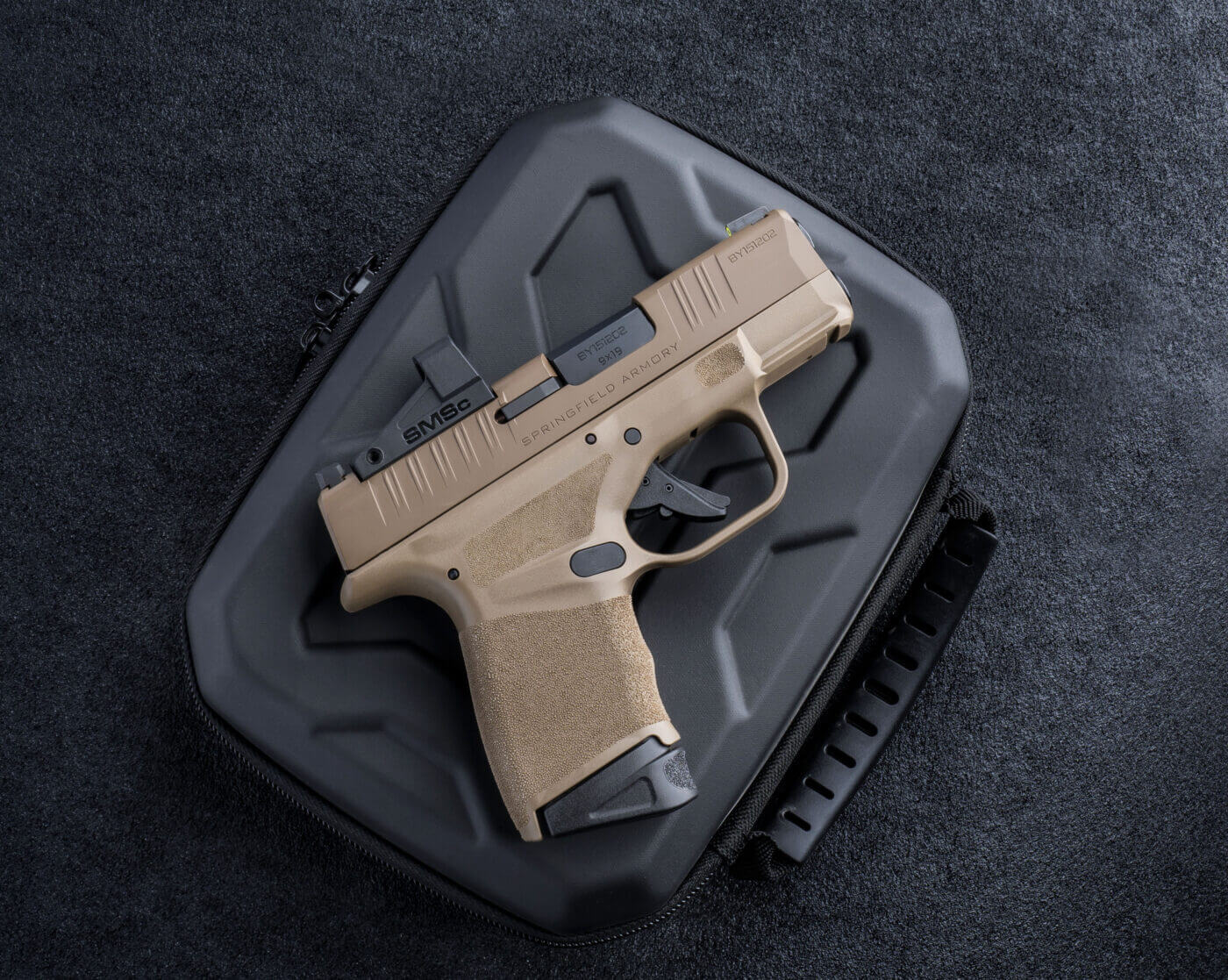 While impressive capacity, repeatable accuracy and attractive looks might be enough to win over most shooters, the Hellcat still has more to offer. For one, you get multiple magazines to suit your specific needs for the day: one 11+1 magazine that is more discreet for carry and a 13+1 magazine for more volume at the range.
In addition to coming with the two magazines, the pistol is also packed with two floorplates for the flush mag — one flush fit flat floorplate for maximum concealability, and a finger extension floorplate for a little more gripping surface.
If you want to increase capacity further, Hyve offers a Hellcat magazine extension that will increase capacity by one in the extended mags and by three in the flush-fitting ones.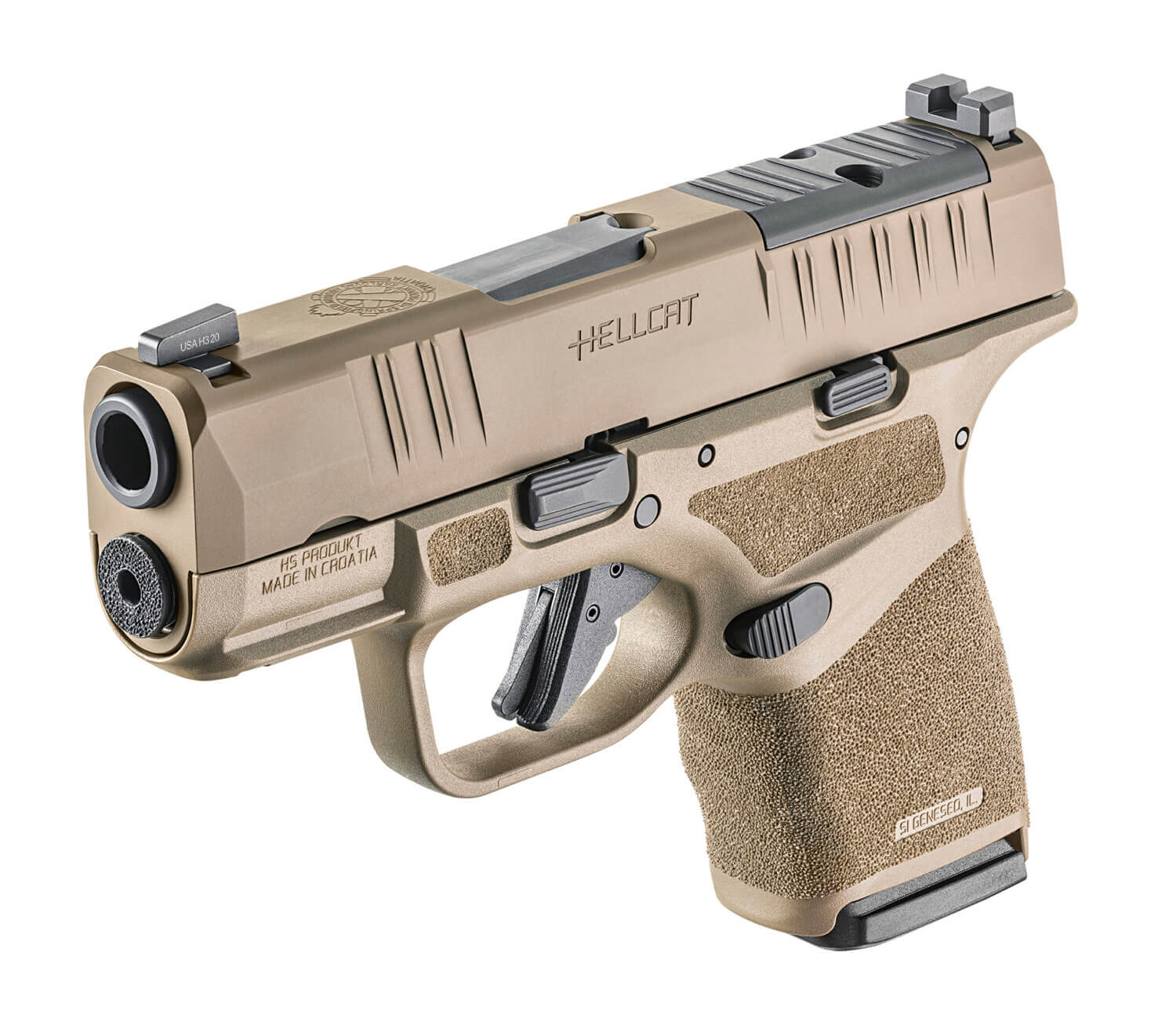 The texturing on the pistol is also crafted down to a near microscopic level. The Springfield Hellcat introduced the new Adaptive Grip Texture which ensures you have a sustainable and repeatable grip on your weapon whether it is a balmy 90°F out, or it is a blustery -25°F and you are beginning to lose fine motor skills as your fingers begin to feel numb. The Adaptive Grip Texture ensures your dexterity will never fail you, and it even blends over onto the 11+1 extended pinky and 13+1 fully extended magazines so there is no slick surface where your hands grip.
Considering the Hellcat is a prime CCW pistol, it has a short barrel of only 3″, and one that is hammer forged for durability and strength. Underneath the Hellcat's barrel is a recoil spring assembly that doubles as a standoff device. A standoff allows you to press the front of the gun into the target and fire without causing a malfunction. In extreme CQB, contact shots are a real possibility.
To ensure you hit with that barrel, the slide is topped with an excellent Tactical Rack U-Dot rear sight matched with a tritium and luminescent front sight, which makes for an easy to acquire sight picture in varying light conditions. These sights are also designed to be able to co-witness through a mounted reflex optic in the OSP version. A cool flat trigger with an integral trigger safety rounds out the package.
Conclusion
If you have been sitting on the fence about upgrading your everyday carry pistol and would like a desert flair to its looks, there is no time better than the present with the new FDE Hellcat. You have the most capacity ever squeezed out of a micro-compact, startling accuracy and curb appeal that invokes incurable envy into all of your range buddies (until they buy one, of course). MSRP for the standard model is $610, while the OSP version comes in a $643. As always, join us again soon on The Armory Life, be safe out there and happy shooting!
Editor's Note: Please be sure to check out The Armory Life Forum, where you can comment about our daily articles, as well as just talk guns and gear. Click the "Go To Forum Thread" link below to jump in!
Join the Discussion
Featured in this article
Continue Reading
Did you enjoy this article?
164