Mike Mills gives us a full Apogee belt review. This special edition EDC belt available on the Springfield Armory Store offers a lot of features for anyone living the CCW lifestyle.
There is nothing like bending over and feeling that "snap" when you are carrying a gun. All of the sudden, you have a lot less pressure around your waist. That sense of panic begins to well up inside of you. Yup, that was your belt, and it just gave way.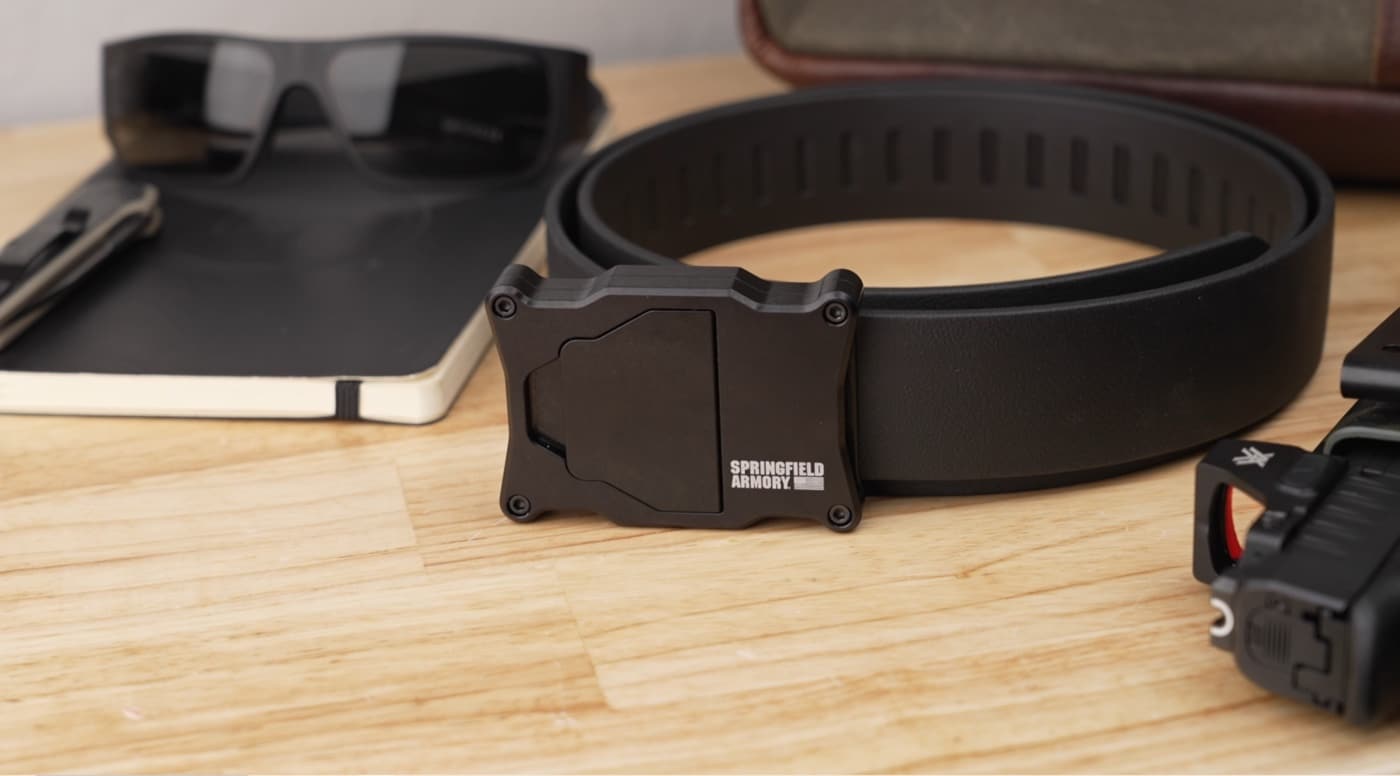 It could have just been an old belt, or it could have been that last three bites of chimichanga you had for lunch that finally made it give way. Whether you are just looking to upgrade, or you have had the dreaded blowout of a belt failure, Springfield Armory partnered with Boxer Outdoors to give you a new slick-looking micro adjustment belt called the Apogee, available on the Springfield Armory Store.
Exciting stuff, right? I mean, whose Christmas list didn't have a belt on it? But hear me out on this, because modern belts like the Apogee are not the ones you are used to. You know the ones I am talking about with five to six holes, and you never seem to get the right fit. Maybe the aforementioned chimichanga encounter happens often, so you need some micro adjustments to work with throughout the day. Of course, you want to be able to carry those items on you for protection, say, a knife or a good pistol.
What You Get and How It Works
Packaged inside the box, you get almost everything you are going to need, minus a good set of scissors. We'll get to the scissors in just a minute. In addition to the belt and buckle, you also get a small wrench for tightening the clamp, directions, a patch and sticker.
The belt has micro adjustments that allow for an ultra-precise fit. The belt's material is 1.5" wide polyester webbed material in your choice of black, coyote or grey. A beautifully machined bombproof-looking, aircraft-grade aluminum buckle is the centerpiece inside the box. It sports the Springfield Armory logo giving it a bit of understated elegance.
Fitting the belt is really simple, thanks to the easy-to-follow picture directions in the box. In a nutshell, you will wrap the belt around you — preferably when wearing pants. When fitting, ensure you have several inches of the tongue end to go through the buckle and allow for adjustment.
Once you are comfortable with your measurement, double and triple check before cutting the belt. Remember that you can always take away material, but you cannot add it. After that just loosen the two fasteners, push the squared-off end of the belt into the teeth of the buckle and reapply the fasteners. Reassembly Pro Tip: the side with the micro ratchets goes towards your body.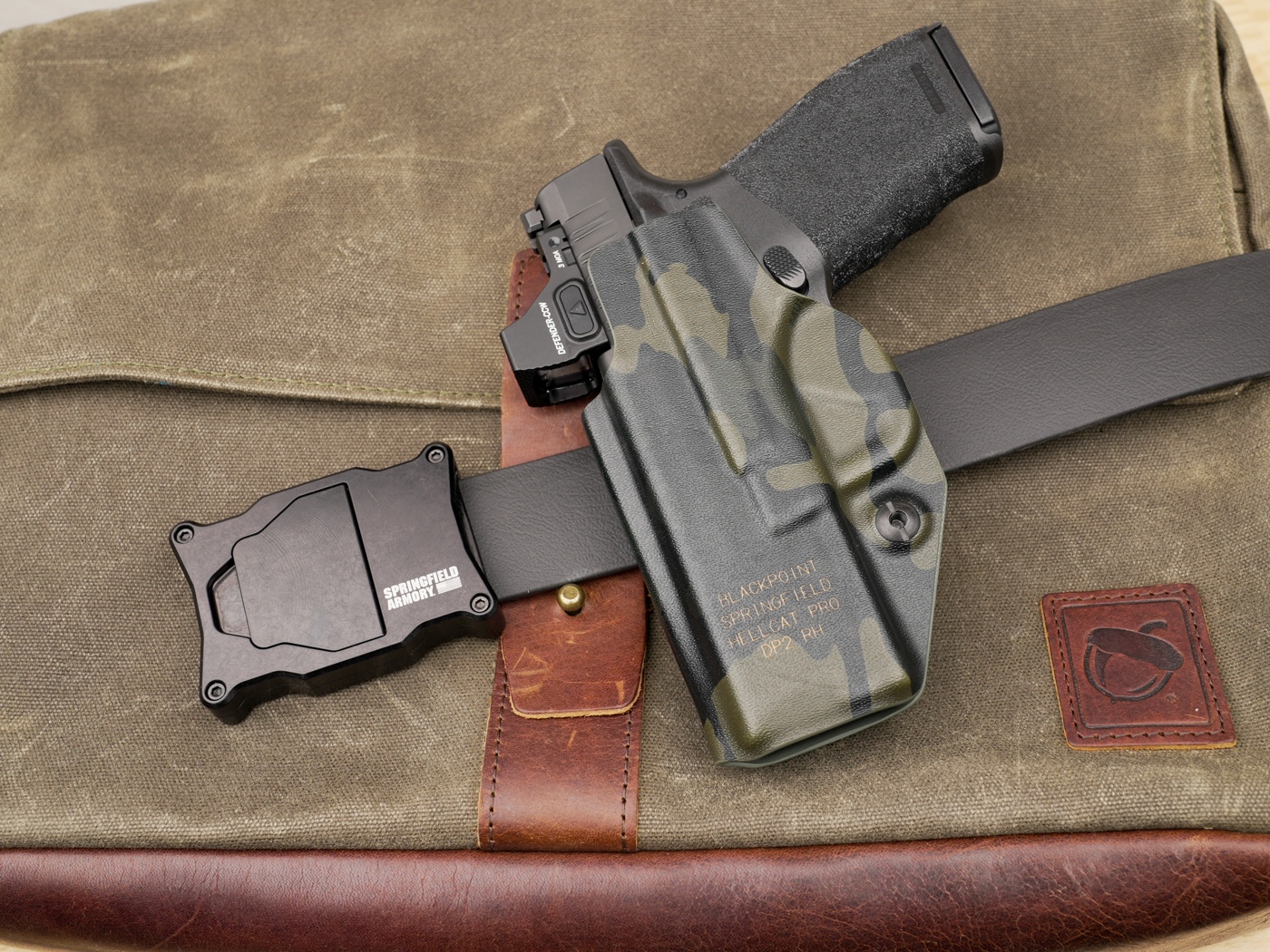 Now that you have it fitted and ready to go, what are the benefits you can expect? Well for one, none of that expanding hole or trying to punch additional holes in a belt to get the right fit. You will have a ratcheting style adjustment about every quarter inch. For me, that's great because not all pants are the same thickness, sometimes I tuck my shirt in, and sometimes I wear a gun or knife. For size, you get up to 46 inches out of it as it comes in the box.
The Proof Is in the Feeling
If you are used to wearing standard floppy and sagging leather belts from department stores, prepare to be happy. This belt is thin yet very strong and does not give way or deform like leather can.
It's sturdy enough to hold up your pants and everyday carry items. Over the past few months, I have worn it with a variety of clothing from jeans to tactical pants. I have also carried a variety of EDC items including flashlights to compact pistols.
The ability to make micro-adjustments and fit the belt to each set of pants or each item you are carrying vastly improves my comfort when carrying a defensive pistol. And one of the best features of the belt is that it is entirely made in the U.S.A.
If you happen to be in the market for a belt that can get all of life's tasks done and be comfortable at the same time. Check out the new Apogee belt available at the Springfield Armory Store.
Editor's Note: Please be sure to check out The Armory Life Forum, where you can comment about our daily articles, as well as just talk guns and gear. Click the "Go To Forum Thread" link below to jump in and discuss this article and much more!
Join the Discussion
Featured in this video
Continue Reading
Did you enjoy this video?
51