Range-ready right out of the case, my Springfield Armory SAINT Victor didn't need any upgrades. Nevertheless, I set out to enhance its ergonomics and functionality with sweet additions from Bravo Company Manufacturing (BCM.)
Since BCM accessories are already standard, I figured my Springfield SAINT Victor upgrades should come from the same top tier company as well. After all, BCM products deliver.
Let's dive in and take a look at what I did and my thinking behind each of the choices.
Hands-On Options
Beginning at the front, I picked up BCM's QD sling mount, M-Lok rail covers and M-Lok-compatible Kinesthetic Angled Grip (KAG.) As you may already know, Springfield uses M-Lok attachment points on the SAINT Victor rifle. These allow you to easily upgrade the gun without the need for a heavy Picatinny rail. Read the "What is M-Lok" article for more information.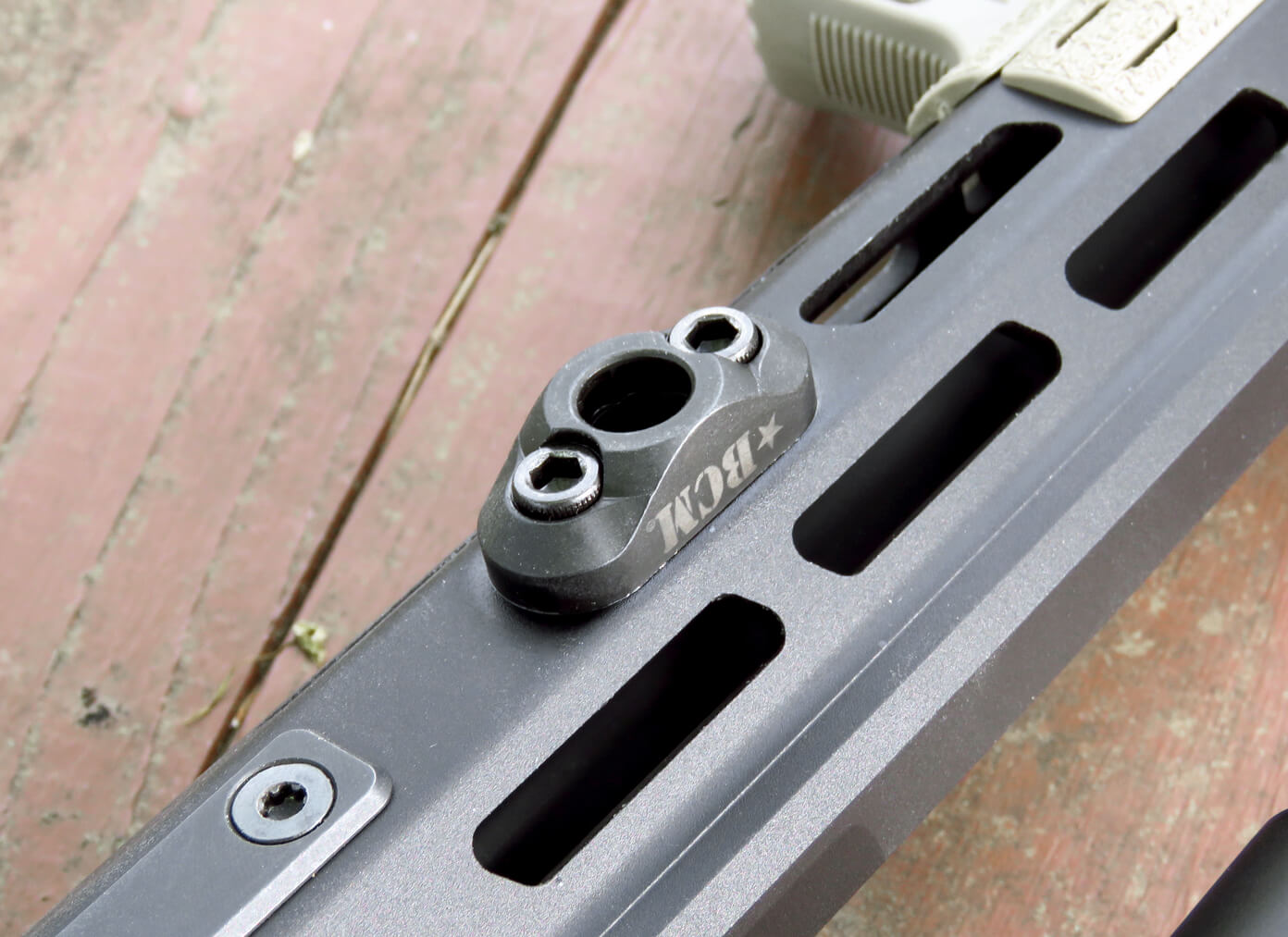 I'm a big fan of the BCM sling mounts because they're made from steel instead of aluminum for long-lasting durability, and anti-rotation slots keep the sling from getting twisted up. On general-purpose carbines, I like to position the front sling mount close to the barrel nut so that it keeps the sling out of the way of my support hand when shooting or operating a weapon light.
For an improved grip, I used the BCM rail covers, which I like because they're grippy and low profile, adding very little to the overall width of the handguard. The covers are also slightly radiused, so it helps make the slab-sided handguard feel more rounded and comfortable for me.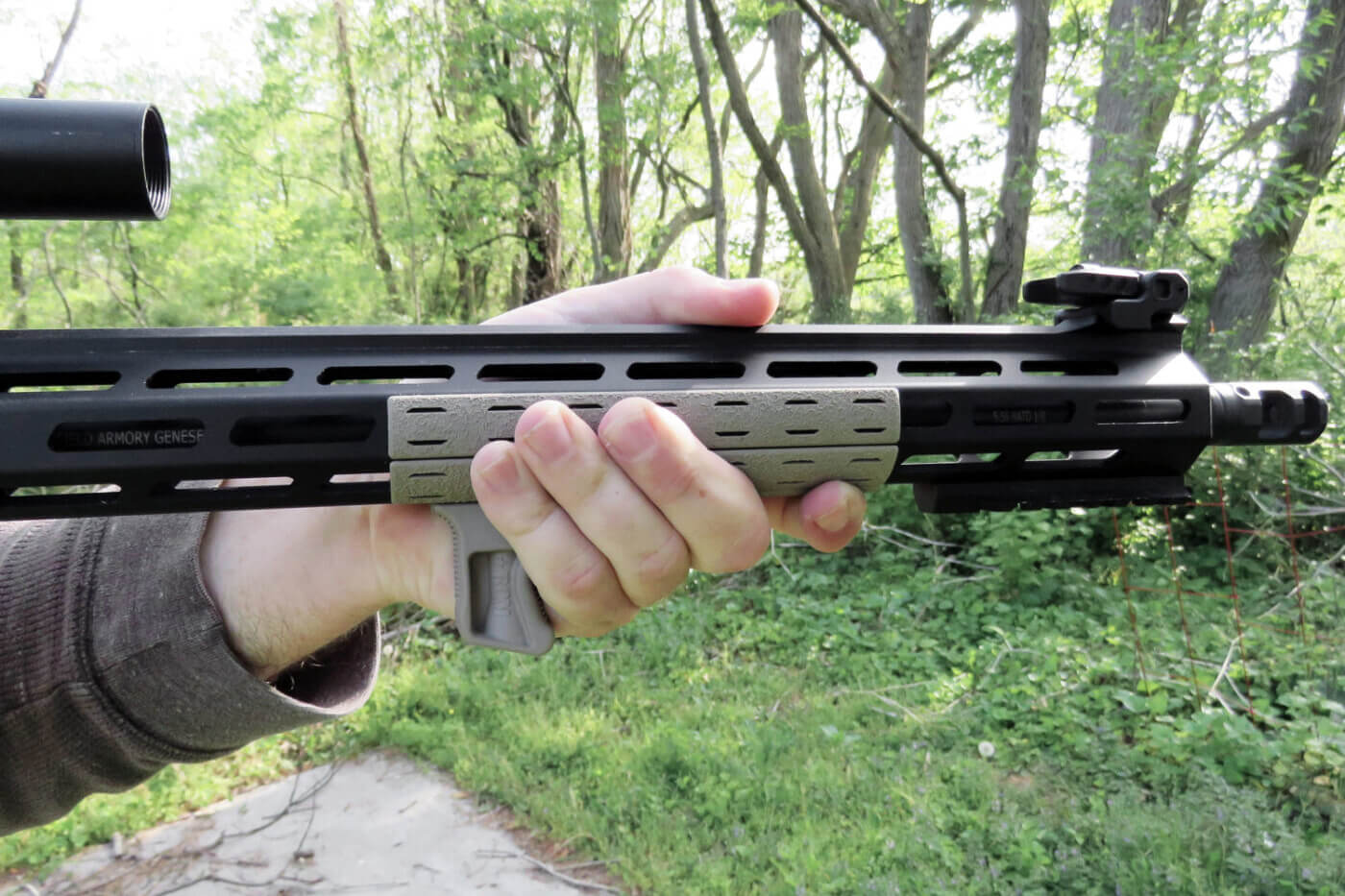 About halfway down the handguard I attached the KAG to give me more control to drive the rifle on target during transitions, while also maintaining a good sight picture. This positioning works perfect for shooting offhand while also giving me some space behind the KAG for those times I want to shoot kneeling or prone.
The Gunfighter Mod 1 SOPMOD Stock
As good as the standard BCM Mod 0 stock is, what I wanted was a stock that was more conducive to use with magnified optics and rear bags. It turns out that BCM had just what I was looking for in the form of their widebody Gunfighter Mod-1 SOPMOD stock.
Although this stock is about ½" wider, longer, and taller than the Mod 0, it's only about 4 oz. heavier. The sloped sides of the wide body design provide a comfortable cheek weld when nestled behind an optic, while the clubfoot interacts well with a shooter's rear bag.
Lock up is best described as very snug, all without the need for internal springs or secondary locking devices. Push on the captured pin near the rear of the stock to open a generous storage compartment that's accessed through the butt pad. Compared to some storage compartments, the Mod 1's is cavernous with enough room for spare batteries, parts or tools.
Wrapping Up
For me, anything that I add to a rifle needs to enhance its capabilities, not just look cool, and BCM does a great job at both without breaking the bank. I have less than $120 in these SAINT Victor upgrades. For the money, I have a rifle that I can get a better grip on, be more comfortable behind, and ultimately shoot better.
Editor's Note: Please be sure to check out The Armory Life Forum, where you can comment about our daily articles, as well as just talk guns and gear. Click the "Go To Forum Thread" link below to jump in and discuss this article and much more!
Join the Discussion
Featured in this video
Continue Reading
Did you enjoy this video?
40