Springfield XD 40 Conversion Kit: Swap to 9mm
August 22nd, 2022
7 minute read
For long-time XD fans, the ability to swap chamberings has not been the easiest thing to accomplish. Now, however, there is a Springfield slide conversion kit that will allow your XD 40 pistol to be chambered in the ever-popular 9mm cartridge. The bonus is that it's a factory kit, meaning you can have total confidence in the reliability of the converted pistol. Oh, and it gives you optics capability as well. Want to find out more?
The Problem: Waning Popularity of the .40
When the .40 caliber cartridge rolled out in the early 90s, it offered a reasonable solution to a real problem: the poor performance of 9mm handgun bullets. At that time, there were few quality defensive 9mm rounds on the market.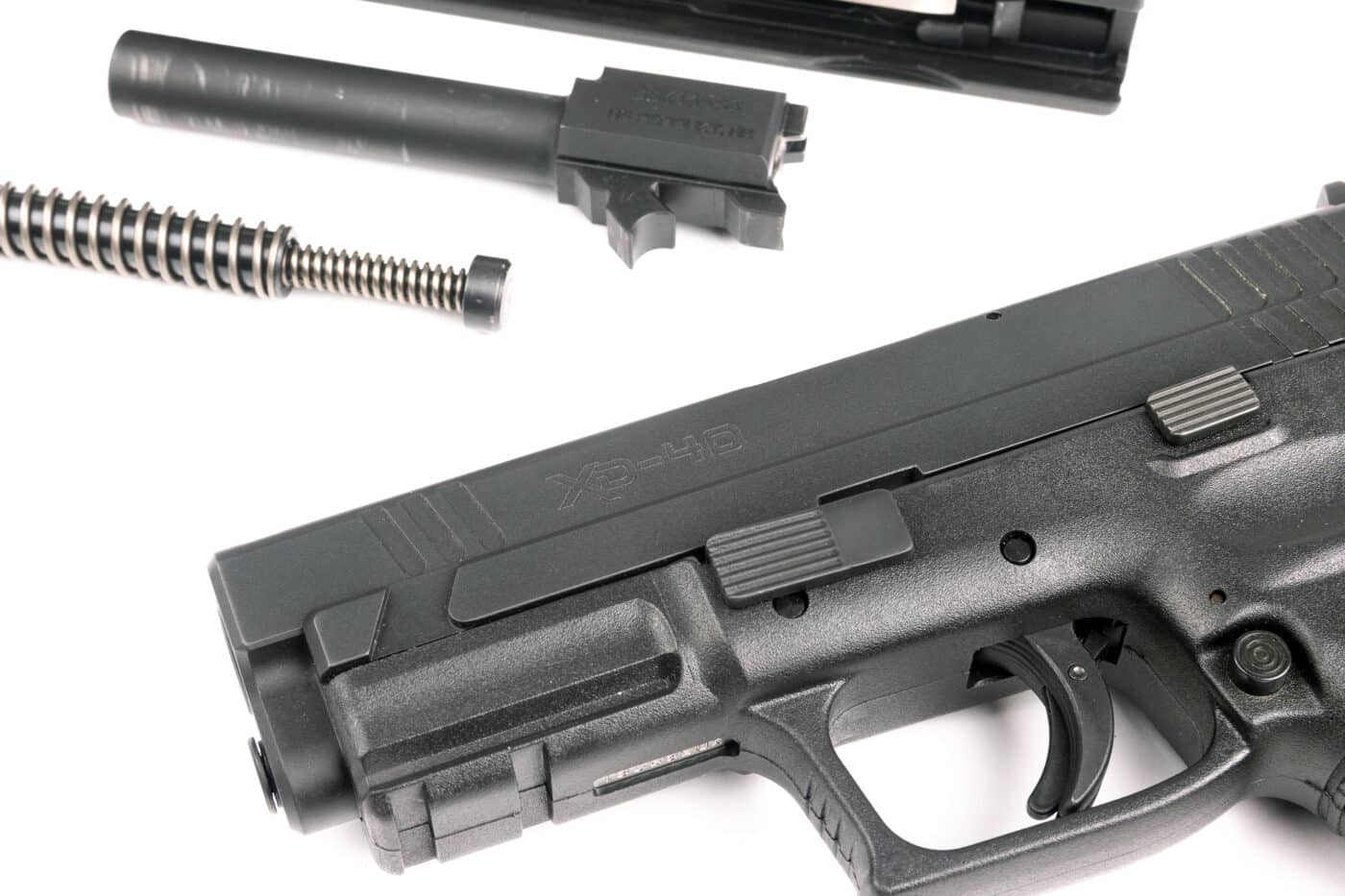 While today's 9mm rounds are quite capable, few of them in those days offered the same reliability in penetration, expansion and stopping power that we expect now. Consequently, police departments trading in their .38 Special and .357 Magnum revolvers for 9mm pistols were experiencing problems with stopping the bad guys.
While the .45 ACP was a viable choice, it didn't offer much of an increase in ammunition capacity from the wheelguns that were being left behind. Likewise, the 10mm offered near .41 Magnum performance, but it had the (I believe, incorrect) perception of being too powerful for small-framed officers to control.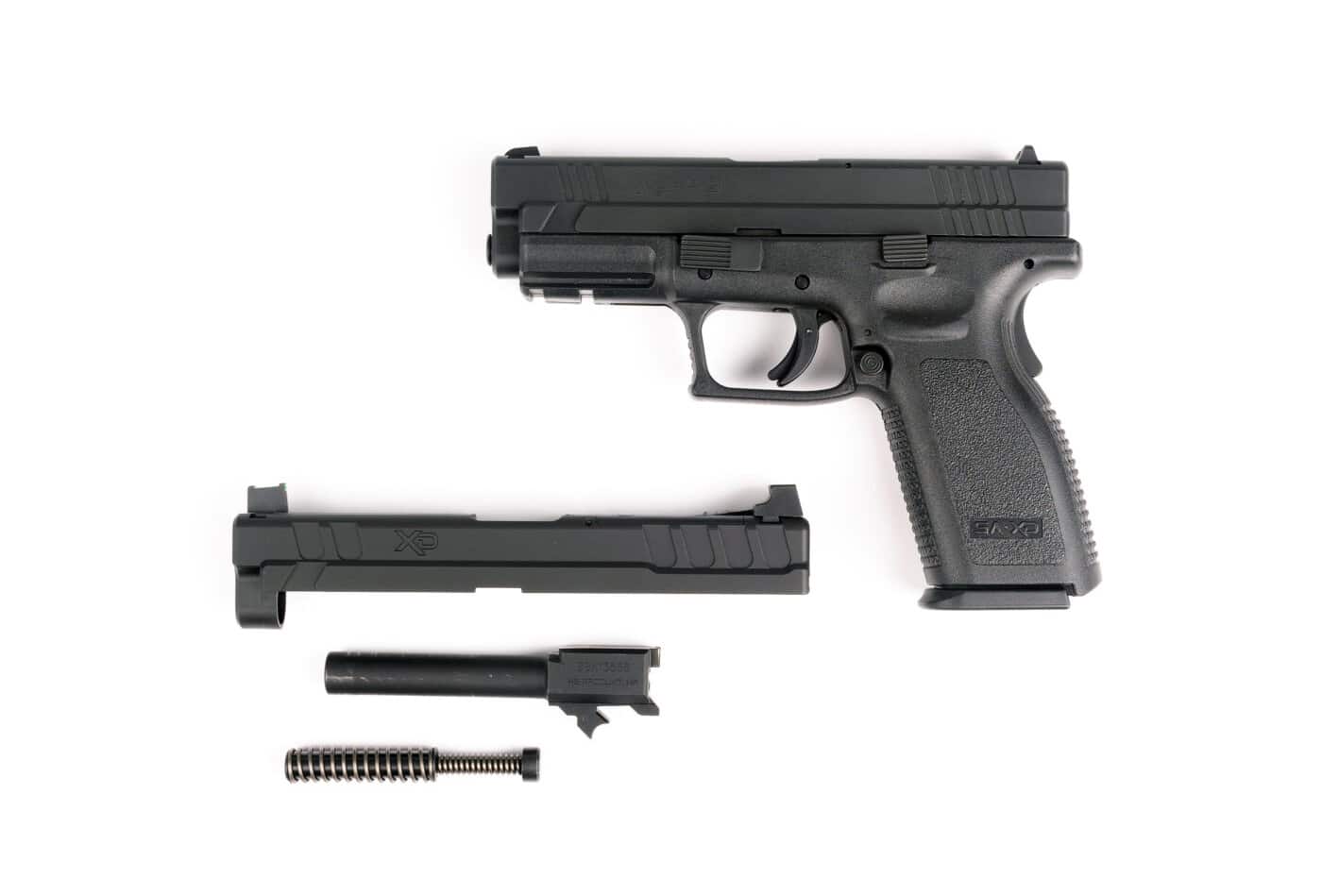 When the .40 hit the market, it seemed to be the ideal compromise. It offered better stopping power than the 9mm and more capacity than the .45. The next decade saw a huge move by police departments to adopt the .40. But something happened in the meantime.
Bullet technology got better. Not a little better, but a lot better.
Names like Golden Saber, SXT, Gold Dot and HST became synonymous with the best defensive ammunition in all handgun calibers. I've carried and shot all of them at various points, and while I have my preferences, I would not hesitate to carry any of them if needed.
In fact, bullet technology got so much better that the performance gap between 9mm and .40 shrank to become less important than it had been. There is still quite a bit of debate regarding which cartridge is better. I suspect the 9mm vs .40 debate will rage for decades to come. The reality, however, is 9mm is far better than it used to be.
As 9mm offers benefits in terms of cost, capacity and recoil, many law enforcement agencies are returning to the metric cartridge. Many shooters are also doing the same. While not dead, it is possible the .40 has its best days in the rearview mirror.
Converting the XD from .40 to 9mm
Swapping chamberings is always a fun project. I've got .22 conversion kits for many of my guns for inexpensive plinking and teaching new students. Swapping my XD 40 to 9mm has been a harder move. Springfield Armory, however, made the job simple with the new XD OSP Slide Kits released last month.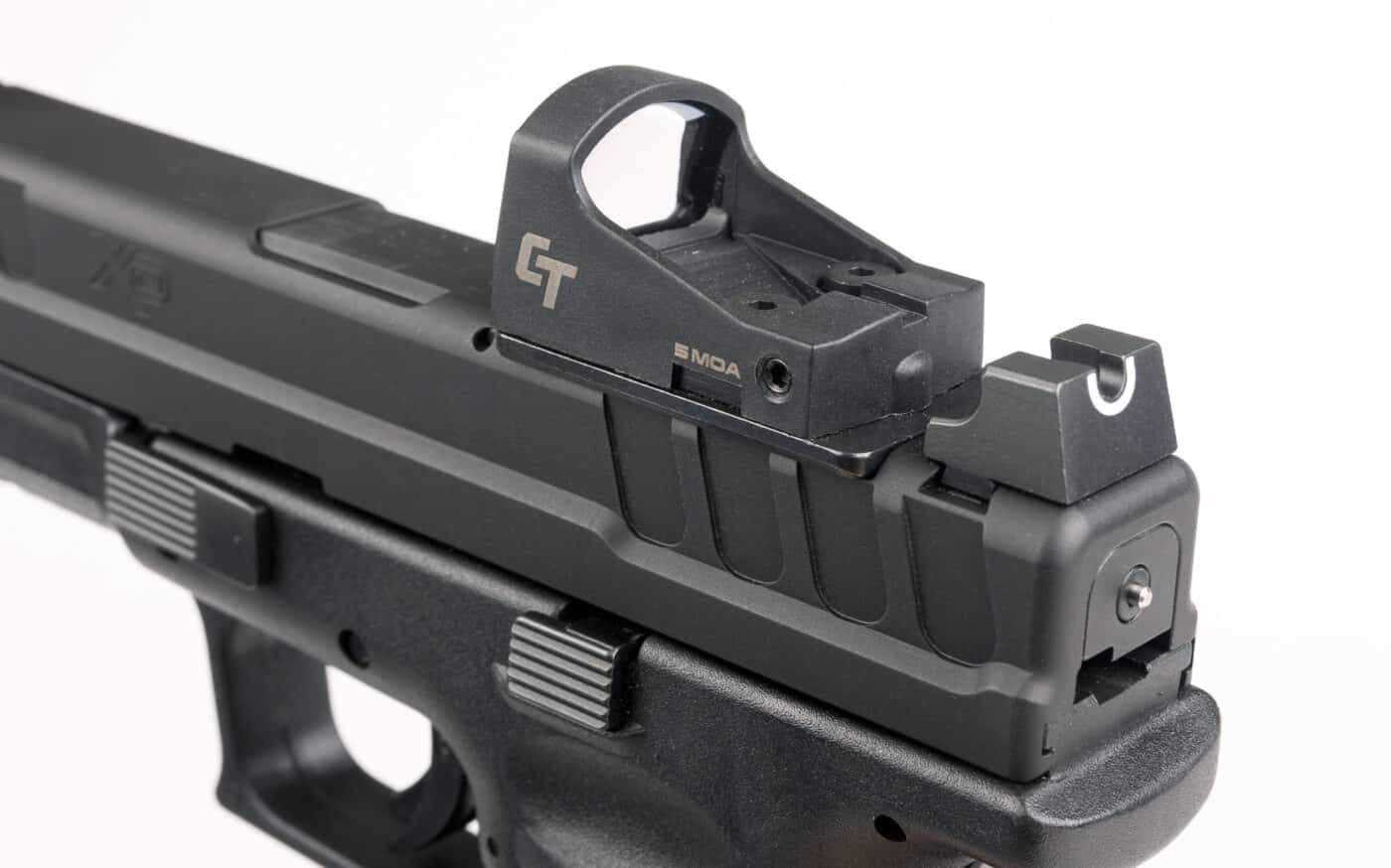 One of the kits provides a full upper that includes an optics cut slide, 4" 9mm barrel and recoil spring assembly. While you can mount that system on a 9mm XD, another unique value is as a caliber conversion kit.
The conversion kit works with both the 4" Service model and the 5" Tactical XD 40 models. Installation is dead simple: field strip your XD 40 and slip the new slide assembly in place. Add a 9mm magazine (not included), and you're ready to hit the range. The XD 40 to 9mm conversion barrel is perfectly matched with the slide for accuracy and reliability without the need for hand-fitting or special tuning. The caliber swap just plain works, and does so easily.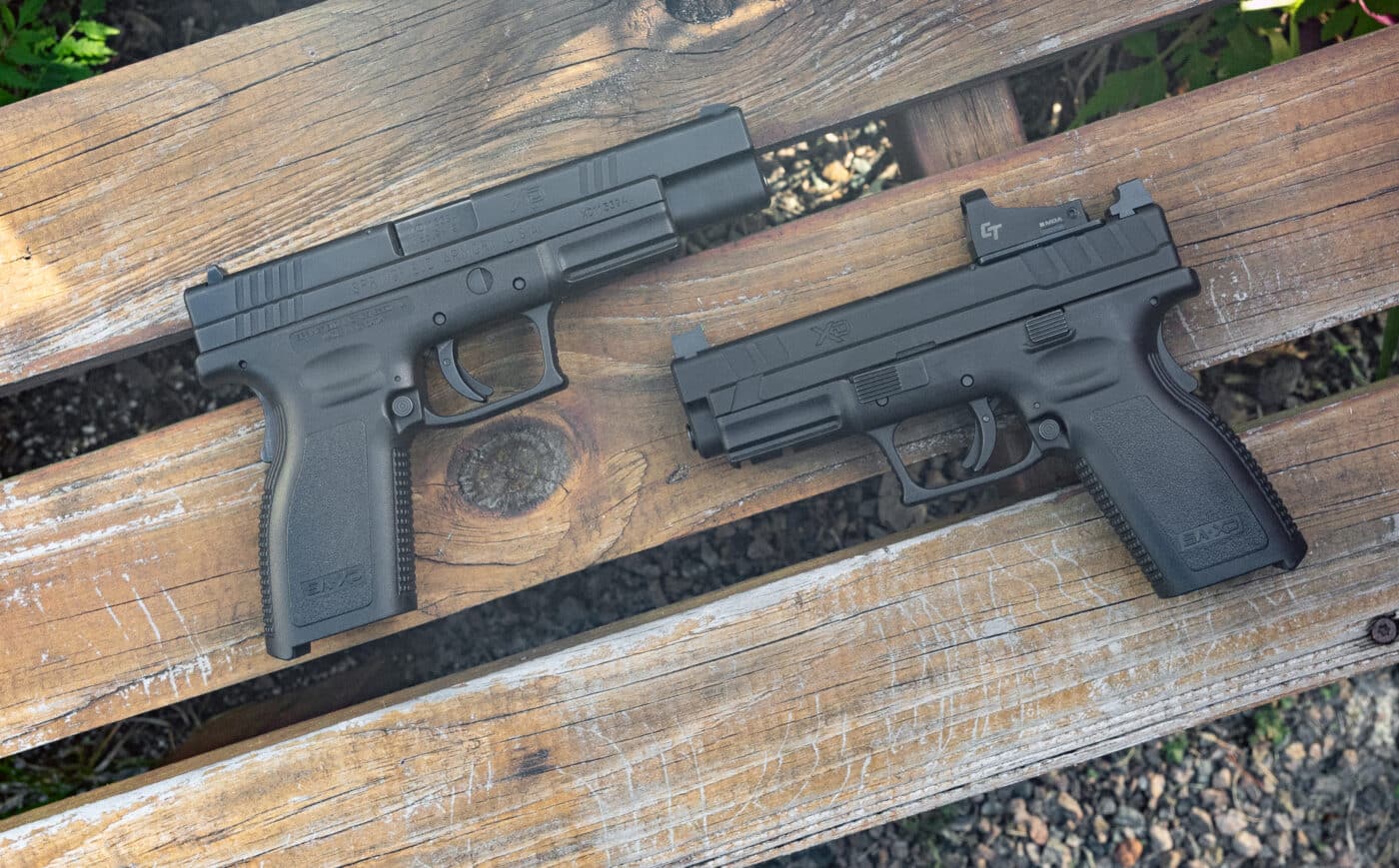 My installation time was less than one minute. However, I did spend a bit of time with the conversion kit, first. I cleaned and lubed the gun as I would with any of my pistols. I also mounted a red dot. These add a few minutes, but the whole process was less than 30 minutes total.
As I mentioned above, the slide is cut for an optic and comes with both a cover plate and a mounting plate. With the mounting plate, you can attach a range of optics including the HEX Wasp, Shield RMSc, Leupold DeltaPoint Pro and others. For this review, I attached a Crimson Trace 1500. If you don't already have a red dot preference, Springfield Armory offers an XD 40 to 9mm caliber conversion kit packaged with the CT1500. I'll have more on the optic in an upcoming review. So far, I am impressed.
Is the 9mm Conversion Kit Reliable?
In a word? Yes.
Without hesitation or caveat, I found the XD conversion kit to be utterly reliable. I ran the kit on both a Service model and Tactical model. Fundamentally, the two frames are the same, so I did not expect either to offer any trouble and neither did.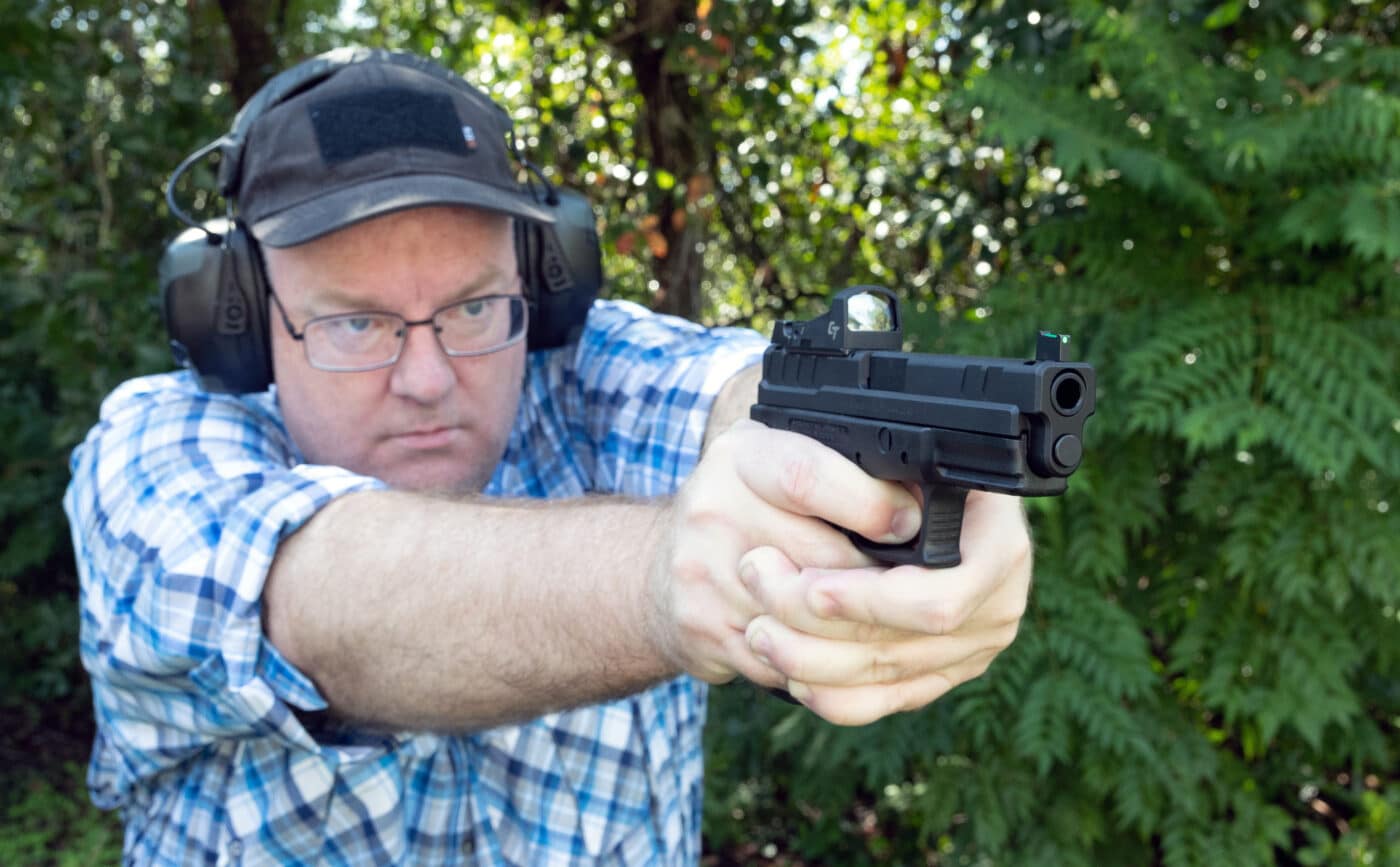 The converted gun fed and fired every 9mm round I gave it: ball and hollowpoint, heavy and lightweight. From ultra-fast 50-gr. hollowpoints to subsonic 150-gr. ball, the guns simply worked. The red dot optic made the gun even more enjoyable to shoot.
I do want to point out that the conversion slide is equipped with suppressor-height iron sights. This allowed me to co-witness them through the red dot optic. While red dot failures are uncommon, they can occur. Having the ability to still use the sights is a major advantage, and kudos to Springfield for providing them. Up front, the company uses a green fiber optic that jumps into your vision. The rear notch is a wide U-notch that allows you to get on that front sight quickly. It's a fast system I like.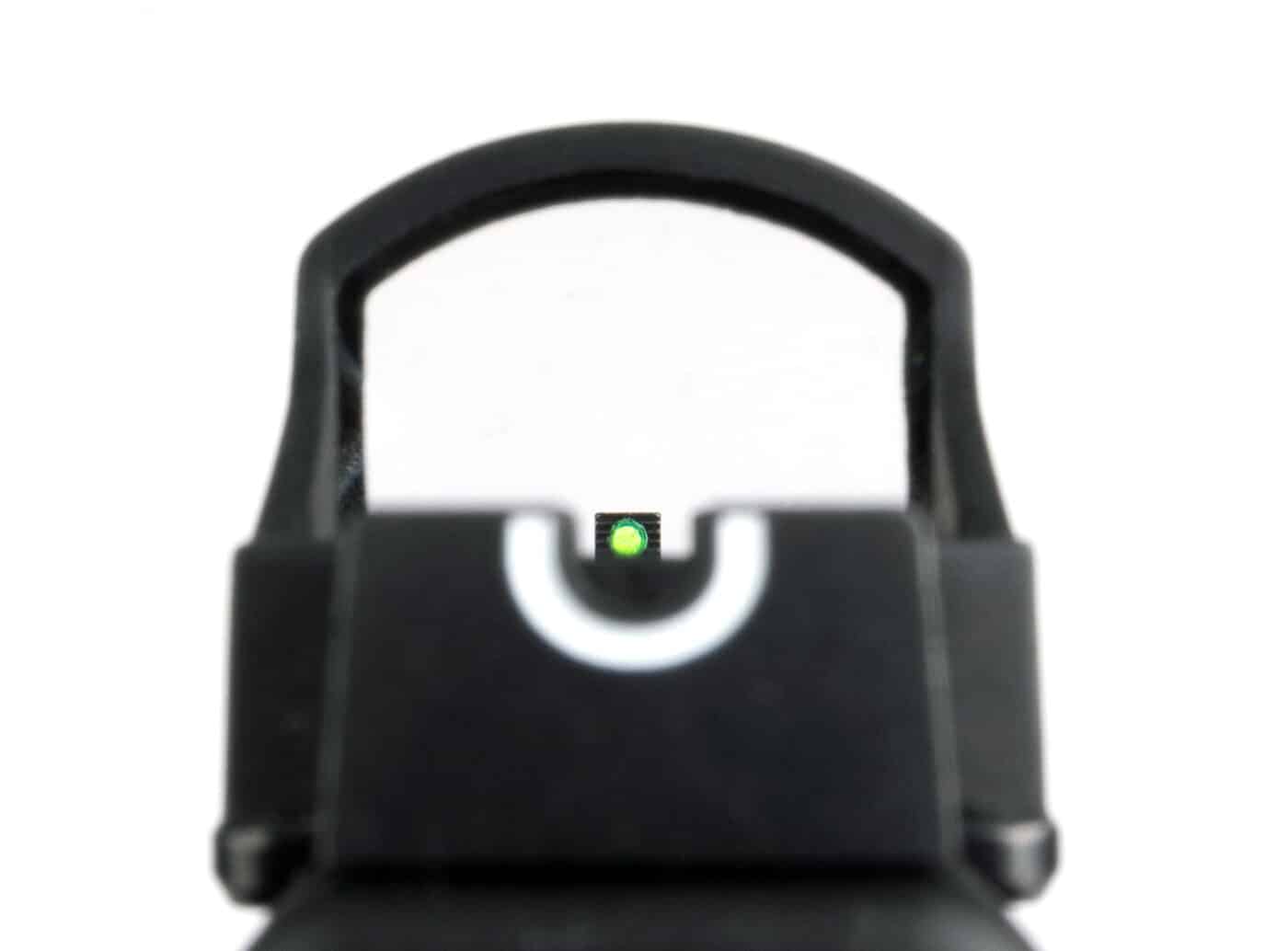 One thing I tested while on the range was the gun's reliability without an optic. I removed the CT1500 about halfway through my shooting. I wanted to see if the change in slide weight would impact function. As it turns out — no. The Springfield XD 40, er, 9mm, just kept chugging along as if it didn't care a bit.
Final Thoughts on the Caliber Conversion Kit
I know a lot of my .40 friends might like to kid me for changing a more powerful cartridge into something that is arguably weaker. I don't buy the argument, but I do understand it.
However, I see a number of advantages in the ability to convert the XD 40 to 9mm. First, 9mm ammo is cheaper and more available in my area. While the .40 isn't going away in my lifetime, the 9mm is the most popular centerfire handgun cartridge in the United States. That means all manufacturers will produce more of it than anything else. Likewise, the components are typically easier to find than other rounds when I load my own.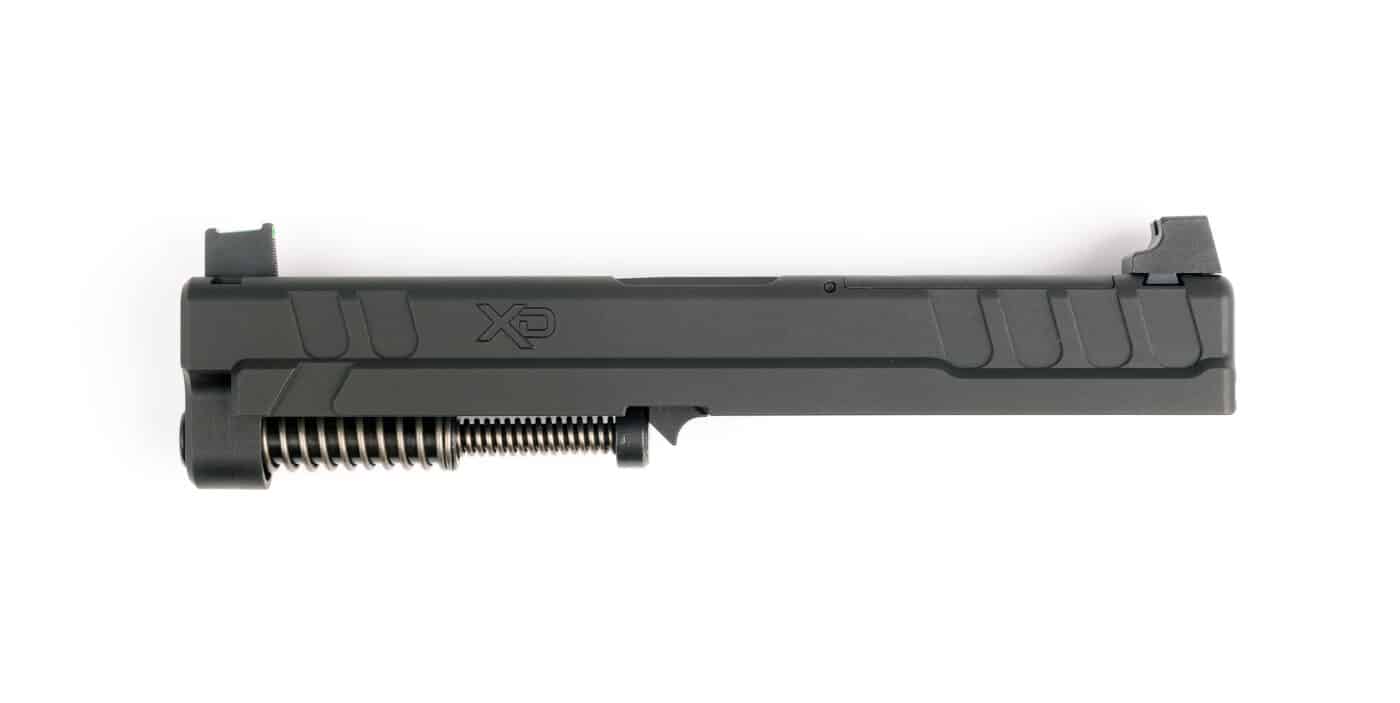 While I think the .40 is a perfectly manageable cartridge, I also acknowledge that most 9mm ammo will offer less felt recoil when fired from the same size gun. When introducing new shooters to centerfire pistols, the 9mm is an easier cartridge to master. Likewise, as my hands become more arthritic, I can see a future when I have to put down the bigger bores in favor of something that I can shoot more easily.
My last thought is that converting to 9mm isn't permanent. I can swap back to .40 at any time. Should 9mm disappear from the shelves, I can still buy .40 and keep the gun running. Frankly, it's a win-win, and I recommend the kit should you find yourself wanting to try it out for yourself.
Editor's Note: Be sure to check out The Armory Life Forum, where you can comment about our daily articles, as well as just talk guns and gear. Click the "Go To Forum Thread" link below to jump in!
Join the Discussion
Featured in this article
Continue Reading
Did you enjoy this article?
91