Streamlight
ProTac 2.0

Review: Incredibly Powerful Tactical Flashlight
February 20th, 2023
6 minute read
Without question, to me, the fastest-evolving category in tactical gear is illumination tools. The current crop of both weapon-mounted and hand-held flashlights currently available now boast features we could only dream about a few short years ago. And it appears this trend will continue for the foreseeable future.
Streamlight of Eagleville, Pennsylvania has been an industry leader in illumination technology for years and they continue to introduce a wide range of innovative products to the market. One of their newer products is the rechargeable ProTac 2.0 Tactical Flashlight, which takes performance to a whole new level. It is the subject of today's review.
Lighting the Way
When I first entered the law enforcement profession, light technology was fairly primitive compared to what is available today. As a new hire, I didn't rate high enough in the food chain to be issued the relatively new Streamlight SL-20 and instead had to use an old aluminum body light that was gifted to me by my brother-in-law. It was indeed big and heavy and had a healthy appetite for alkaline batteries.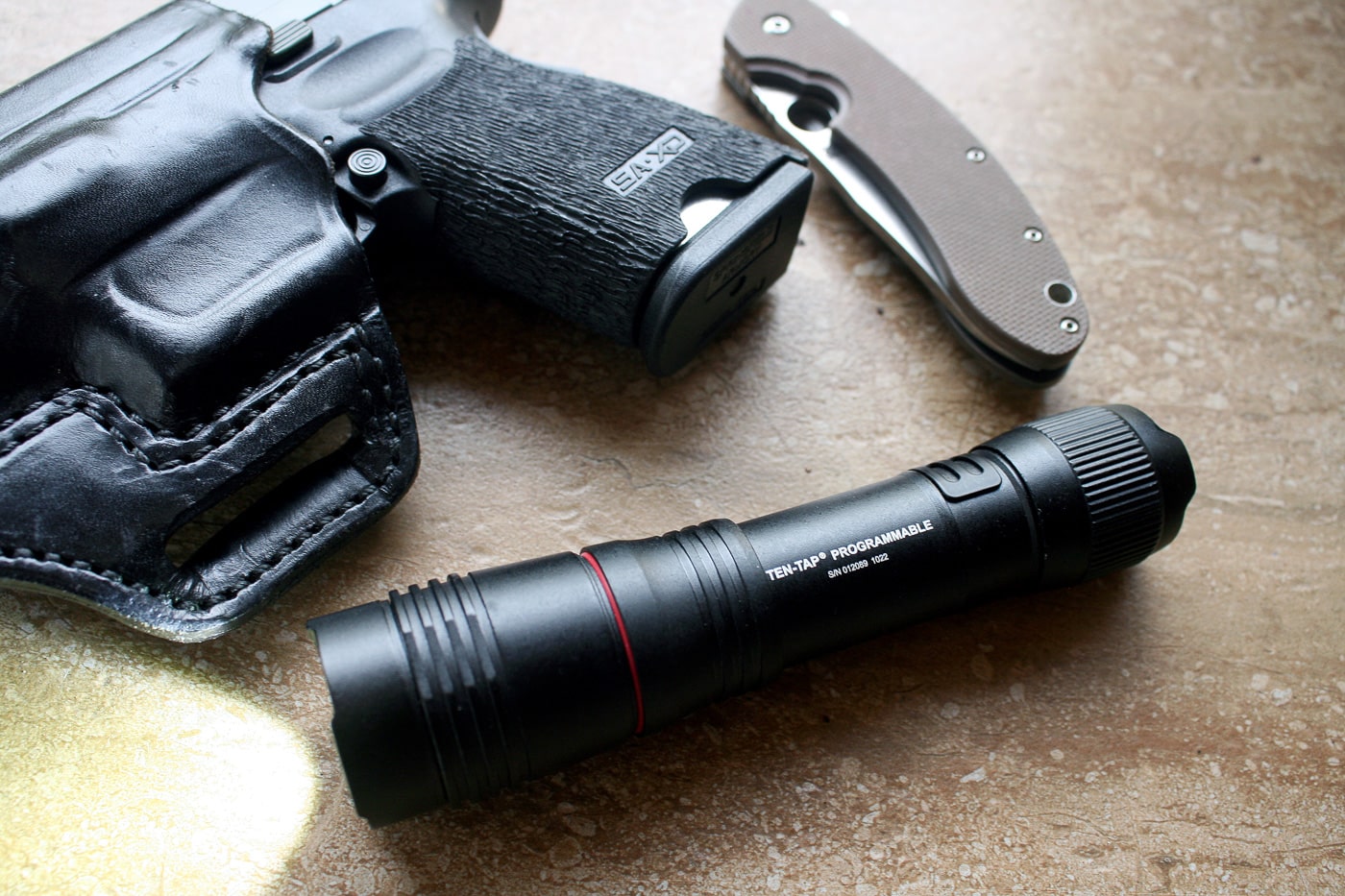 After I had proved my worth, I was eventually issued an SL-20 and the simple fact that I could recharge it was a big plus since I no longer had to buy batteries. The SL-20 served me well throughout my entire career although its role changed toward the end of my time on the job. Small tactical lights were then becoming commonplace, and big advantage is that you could have one on your person at all times. My SL-20 was pretty much dedicated to a utility role.
About 20 years ago, light-emitting diodes (LEDs) began pushing incandescent technology to the back burner and finally off the stove. The advantages of using LED include longer run times, the capability for a much brighter light, longer life and the fact that they are not subject to mechanical failure due to hard knocks.
Battery technology has also improved by leaps and bounds. Many of the contemporary tactical lights are powered by CR123A 3-volt lithium batteries, which allow manufacturers to turn out very powerful lights in a small package. Of late, lithium-ion rechargeable batteries have arrived on the scene and bring their own sets of advantages. Economy is high on that list as you no longer have to part with your hard-earned cash to get your light back up to speed with fresh batteries.
Game Changer
A couple of years back, Streamlight introduced their innovative ProTac line, and I was quick to pick up a ProTac 2L-X. This light quickly became a personal favorite, and it remains a preferred carry companion for me. The quality I found most appealing is the fact that I could recharge the light by removing the battery and hooking up the provided USB rechargeable system. An integrated safety circuit protects the 2L-X from overcharge or discharge.
To further sweeten the deal, the ProTac 2L-X is a "dual fuel" light and can also be powered by a pair of CR123A batteries. If you find yourself in a spot where you can't utilize the USB recharging feature, dropping in two CR123As will get you back up to speed. Rated at 500 lumens, this handy little package is indeed top shelf.
Recently, I think Streamlight hit the ball out of the park by introducing the new ProTac 2.0 Tactical Flashlight. The 2.0 variant has all the positive attributes of my 2L-X, but it offers an even higher level of performance. Crafted from machined aircraft aluminum and wearing a rugged anodized finish, the ProTac 2.0 measures 6.10" in length and weighs 8.25 oz. It is dust-tight proof and IP67-rated waterproof to one meter for 30 minutes. In addition, it is two meter impact-resistance tested. Clearly, it was built to stand up to the elements of the harsh, real world.
To power the ProTac 2.0, Streamlight utilizes their SL-B50 protected Li-ion USB rechargeable battery pack. The battery can be recharged by either removing it from the light or by sliding down the access ring and charging it while the battery is still contained in the light. Plug the USB-C connector into the port and the end of the cord into a power source to complete the process. Run time depends on whether the light is set on a low, medium or high setting, ranging from 2.5 hours on the highest setting all the way up to 25 hours on the lowest.
The ProTac 2.0 features Streamlight's proprietary TEN-TAP programming. These selectable programs include high/strobe/low, high/low and low/medium/high. The end user can switch back and forth between modes by rapidly manipulating and holding the switch down. Personally, I would leave the light at the highest setting as I wouldn't want cold fingers or extreme stress playing havoc with my ability to illuminate some sketchy individual and overwhelm their night-adapted vision. Other end-users may have a different view of this, but the ProTac 2.0 gives you the option to choose the appropriate light level for your needs.
Light tools have indeed gotten much brighter, and the ProTac 2.0 takes it to an even higher level. Many consumers solely use the lumens rating when considering a flashlight for purchase. The lumens output is indeed important but represents only part of the picture. Total light output is expressed in lumens but equally important is candela, which is a measurement of light projected in a specific direction. But you can take comfort in the fact that the ProTac 2.0 has it all covered. At the highest setting, the ProTac 2.0 is rated at an incredible 2,000 lumens and 17,300 candela capable of reaching out to 262 meters. Medium is 570 lumens, while the Low setting comes in at 100 lumens.
The ProTac 2.0 ships with the USB-C power cord, a removable pocket clip and a nylon holster that slides on to the belt. In short, the Streamlight ProTac 2.0 eclipses the performance of my old SL-20 in every way. Best of all, it does it all in a much lighter and smaller package.
Where Does It Fit?
For the tactical operator, uniformed law enforcement officer, outdoorsman or for home security, the Streamlight ProTac 2.0 is a solid choice. Ramped up to the highest setting, you can spot problems out in the distance. At the lower settings, it offers great utility value and an extended run time. In my informal test, the ProTac 2.0 proved far superior to old-school technology when illuminating objects and people 60 feet away. It may not turn night into day, but it comes close.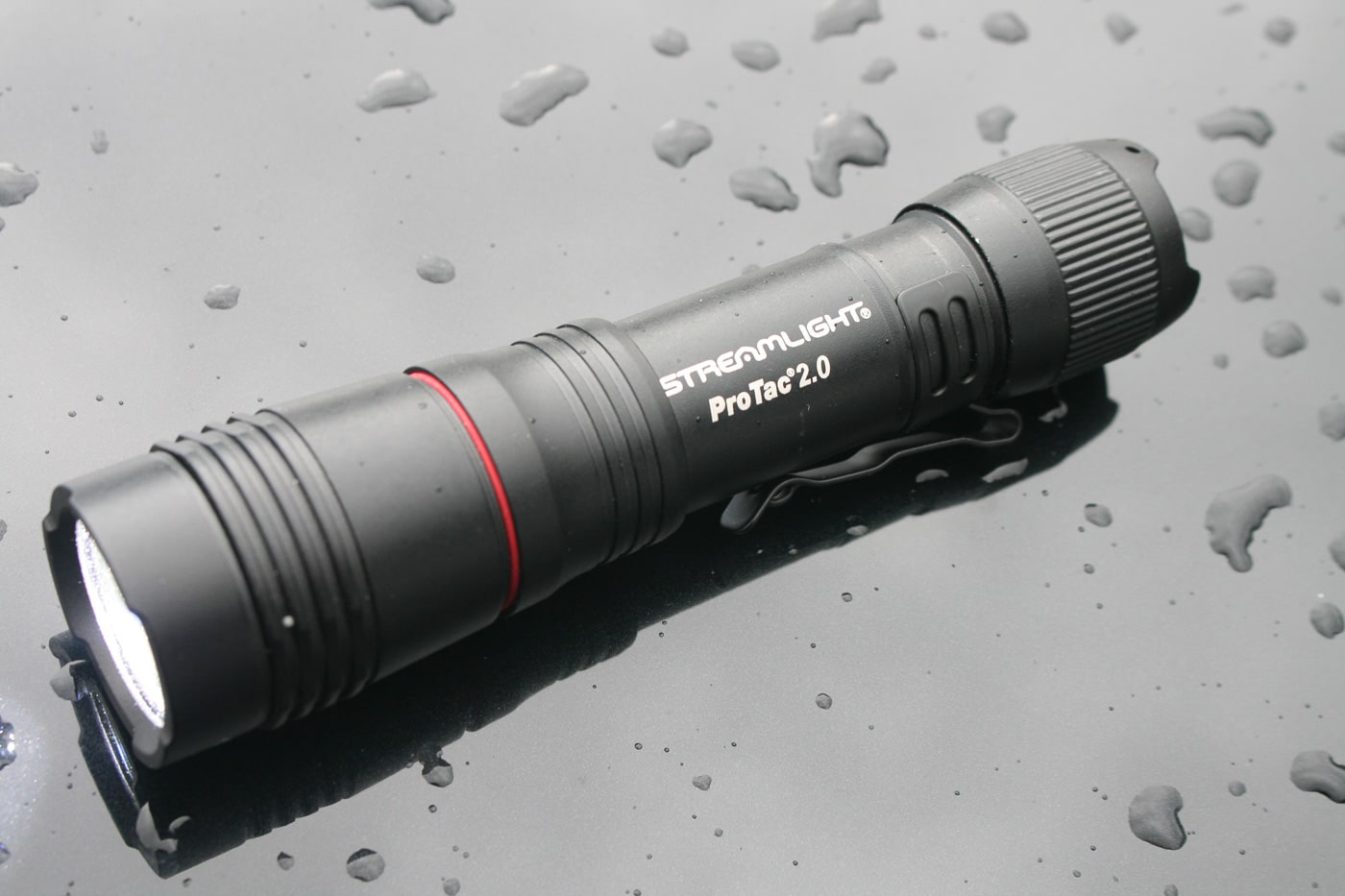 To my thinking, it occupies a slightly different niche than my tried-and-true ProTac 2L-X. I'm of the mind that if you carry a gun, you should also carry a light. The 2L-X is very well suited to everyday carry when dressed in casual clothing; however, the ProTac 2.0 may be a tad too large and heavy for that mission. But for the armed professional, it has much to offer. For those who must go in harm's way, the Streamlight ProTac 2.0 is a worthy successor to those large, police flashlights of old, and it outperforms them in every way.
Editor's Note: Please be sure to check out The Armory Life Forum, where you can comment about our daily articles, as well as just talk guns and gear. Click the "Go To Forum Thread" link below to jump in and discuss this article and much more!
Join the Discussion
Featured in this article
Continue Reading
Did you enjoy this article?
57