Suppressors, Beyond the Myth
August 19th, 2019
4 minute read
There are few items in the firearms world with as much mystique and wonder as the modern day suppressor. These handy devices have seen an astronomical increase in interest as people begin to discover all of the benefits of owning and using a suppressor on their firearms. The first step in this conversation about suppressors is to get a quick look at how these little gems work.
When we press the trigger the gun fires and a chain of events is set into motion. The fired round produces hot and pressurized gases that force the bullet down the barrel. Once they launch the round out of the barrel they escape into the open and in doing so experience a dramatic change in environment which causes the explosive sound we hear. Suppressors work by chambering and controlling those gases to more efficiently funnel them and cool them before they leave the gun.
The suppressor is composed of several parts depending on the brand and design, but essentially all share some common parts. The main body or expansion chamber is composed of a series of baffles that efficiently funnel, cool, and spread out the gasses to reduce their noise once they do reach the outside. The number and design of the baffles is often a trademarked item as each company looks to find the holy grail of silence. The end result of this gas pinball action is a quieter shot with reduced recoil.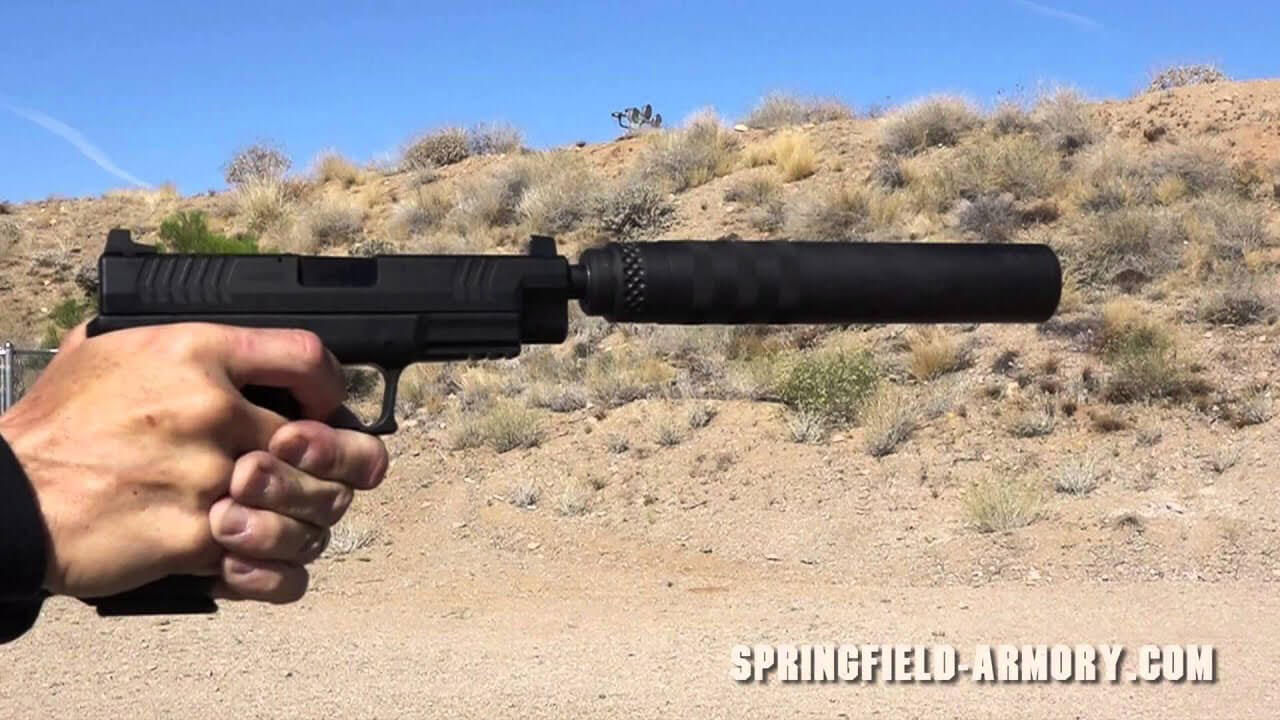 Contrary to popular belief, suppressors do not completely eliminate the sound of a weapon being fired. Some do an exceptional job but they are in no way truly silencers. The funny thing about that is that the ATF in the NFA division actually list suppressors as "silencers." Why they do so is not known to me, but my guess is that it was a term in common use when laws were written and it simply stuck. Suppressors are also commonly referred to as "cans" because of their design. The ultimate goal of a suppressor is to make the weapon "hearing safe." This means the sound is controlled and diminished to the point that hearing protection is not required. In some guns this is easy and made easier by the use of subsonic ammunition. Others, however, will never reach that level, but the percussion of the shots are less spleen damaging.
The perks of running a suppressor are many, but protecting your hearing is by far the most critical. This is especially true for shooters that put a lot of rounds down range each year. There is a cumulative effect and in time without superior hearing protection you will begin to notice the effects. Suppressors help to reduce and even eliminate that problem. Another benefit is a reduction in muzzle rise. This allows us to stay on target and in turn shoot faster. One last positive aspect of suppressors is their ability to diminish muzzle flash. This is very important to military and law enforcement that use night vision.
There are essentially three types of suppressors that we have access to. First is the thread on can. These devices attach to the threaded portion of your rifle or pistol barrel. Once the most common type of can, they are starting to become a little rarer as designs have improved. Our second can is the quick detach or QD can. These devices are sold with a host muzzle device that is attached to the rifle. The can simply slides on over the top of the device and then locks into place via the company's chosen method. These are popular because they allow us to more quickly move our can from one gun to another. All you need to do is buy additional muzzle devices and you can share one can across many guns. The last type are integral suppressors. These are devices that are incorporated into the actual barrel of the gun. These are considered to be the quietest cans because they have larger chambers and are set up for a specific gun. To the naked eye, these guns simply appear to have just a slightly thicker barrel. A great example of this is an integrally suppressed .22LR bolt rifle with a port. When using subsonic ammunition this gun is as close to silent as a suppressor can get. In fact the mechanical sounds produced by the gun such as the trigger clicking are many times louder than the shot.
The downside to suppressors is that they fall under the National Firearms Act or NFA. This means that in order to get one, you need to file specific paperwork with the ATF and pay a $200 tax stamp fee. The approval process can run anywhere from 90 days to nine months or more depending on how many forms the NFA has to process. Once approved you literally will get a stamp. It looks like a fancy postage stamp and is your golden ticket to owning your suppressor. You need to go through this process for each can you purchase and many people have become "stamp collectors."
Even with it being a pain in the caboose, owning a suppressor is a great idea. If you take a new friend shooting for the first time, using a suppressor is a good way to ease them into things. Once again, I will mention hearing protection as one of the major benefits. Overall, the benefits of having a suppressor far outweigh the downsides. More companies are making them and prices have dropped dramatically over the years. If you have been considering going quiet, I encourage you to make the jump. The quicker you do the paperwork, the faster you will get your can!
Join the Discussion
Continue Reading
Did you enjoy this article?
125