The 1911's Little Brother
September 21st, 2020
5 minute read
Are you the kind of guy who tried to name his firstborn daughter "John Moses?" Do you think that John Browning Day (lamentably not a real federal holiday) should actually be John Browning Month and that it should be celebrated every fiscal quarter?
If anything other than Condition One feels as awkward as walking into a convent naked, then the Springfield Armory 911 is the concealed carry pistol for you. The 9mm Springfield Armory 911 is the 1911-inspired deep cover gun that you can comfortably pack underneath shorts and a t-shirt.
Origin Story
In 1911 William Howard Taft was the President, and most of downtown Bangor, Maine, burned to the ground. Fenway Park opened for the first time in Boston, and the New York Public Library loaned out its first tome. On March 29th of that same year, the U.S. Army formally adopted John Browning's 1911 pistol as its standard sidearm.
Greater men than I have built successful careers around extolling the manifest virtues of this magnificent sidearm. I cannot get enough of it. The gun is indeed everything everybody makes it out to be. However, the one thing Browning's big powerful service pistol in full-size form absolutely is not is easily concealable.
Those original M1911 pistols were as long as a toaster and about as heavy. I've packed one underneath hot weather apparel before, but I wasn't happy.
Fortunately, our pals at Springfield Armory have taken all that 1911 awesome and packed it into a small chassis that you really can comfortably tote throughout a torrid Mississippi summer. They call it the 911, and it is indeed the best of both worlds.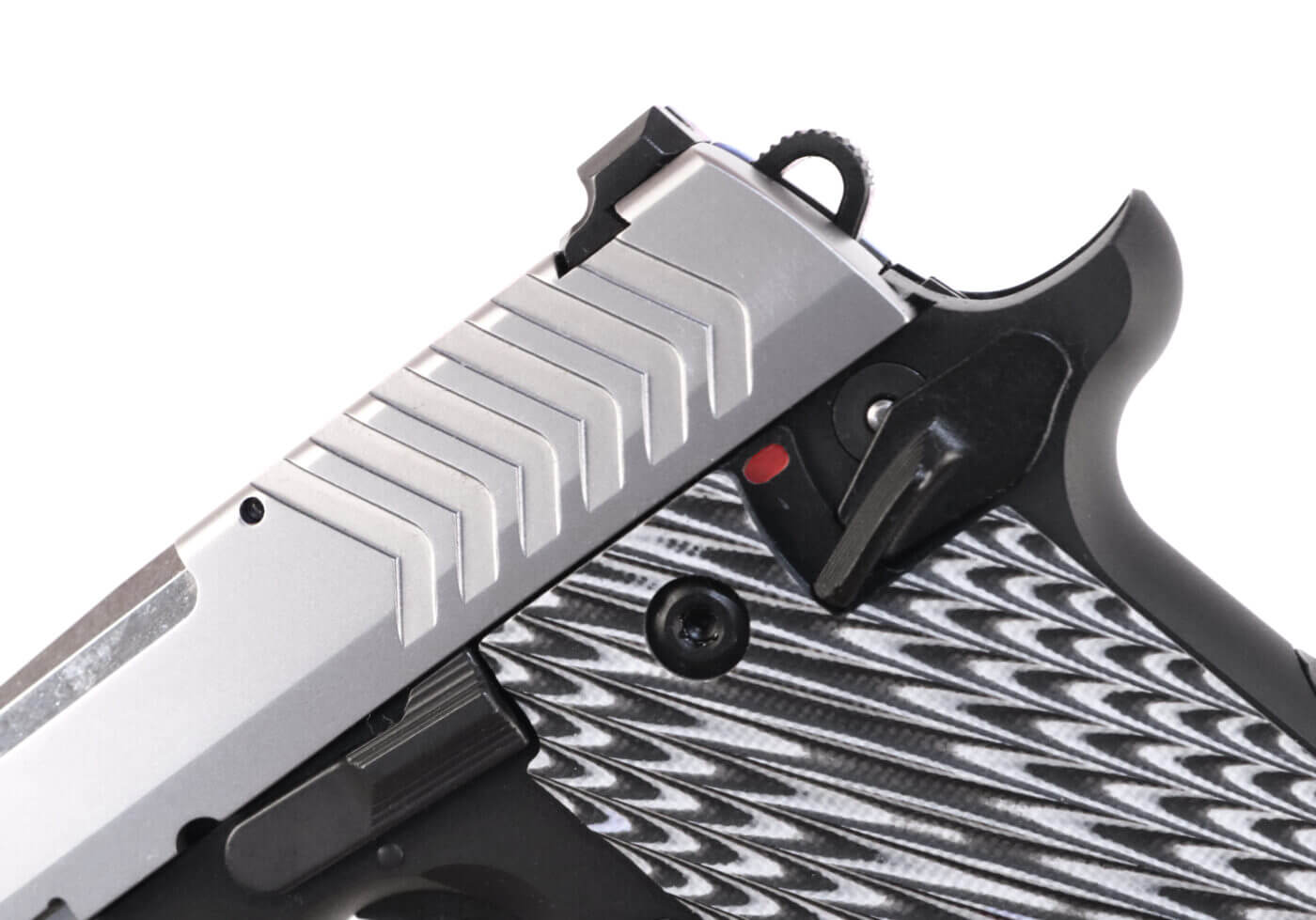 Pertinent Particulars
The 911 is available in both 9mm and .380 ACP versions with slides that are blackened or stainless. The unique frame-to-slide-to-triggerguard geometry retains that big gun feel in a pocket pistol chassis. Both versions weigh under one pound and feature barrels 3" and shorter. This is a small, packable pistol.
The business bits of the gun are overhung slightly to push the center of gravity forward and minimize muzzle flip. The controls will be foundational dogma to anyone who has ever run Browning's 1911.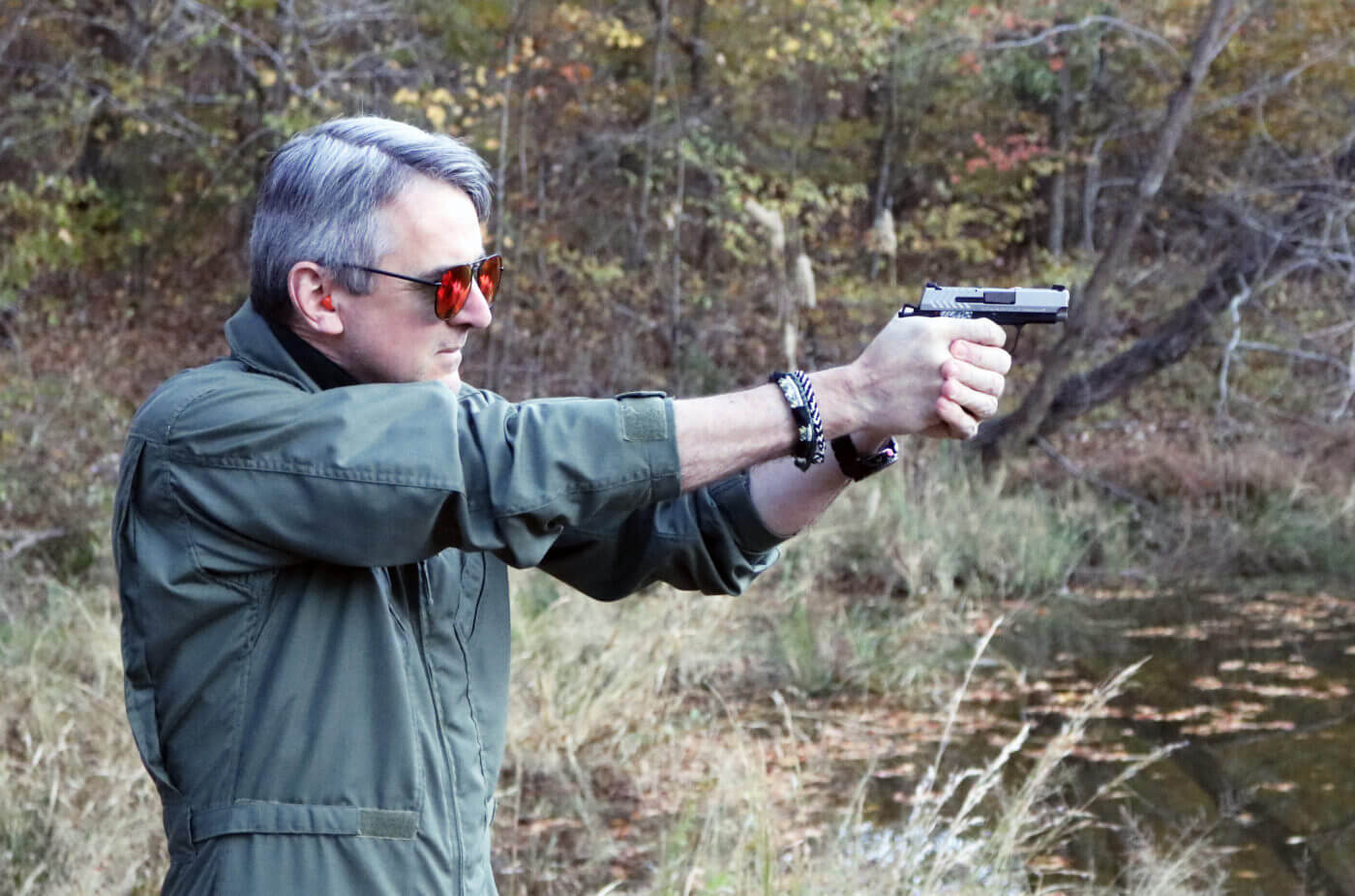 The trigger is a crisp single-action sort that's absolutely divine. Double-action and striker-fired triggers certainly have their places in concealed carry guns, but nothing beats the classic Browning single-action for precision. The hammer is skeletonized, and the thumb safety is mirrored on both sides of the frame. The magazine release is underneath the right thumb as it should be.
The synergistic combination of aggressively textured G10 grips and scallops on the front and back of the frame keep the gun firmly in your hand even when you are sweaty or terrified. The slide has a scant trapezoidal cross section that makes it more readily concealable. There are deep cocking grooves to ensure proper purchase. A generous beavertail protects your sensitive flesh, and all the edges are nicely melted.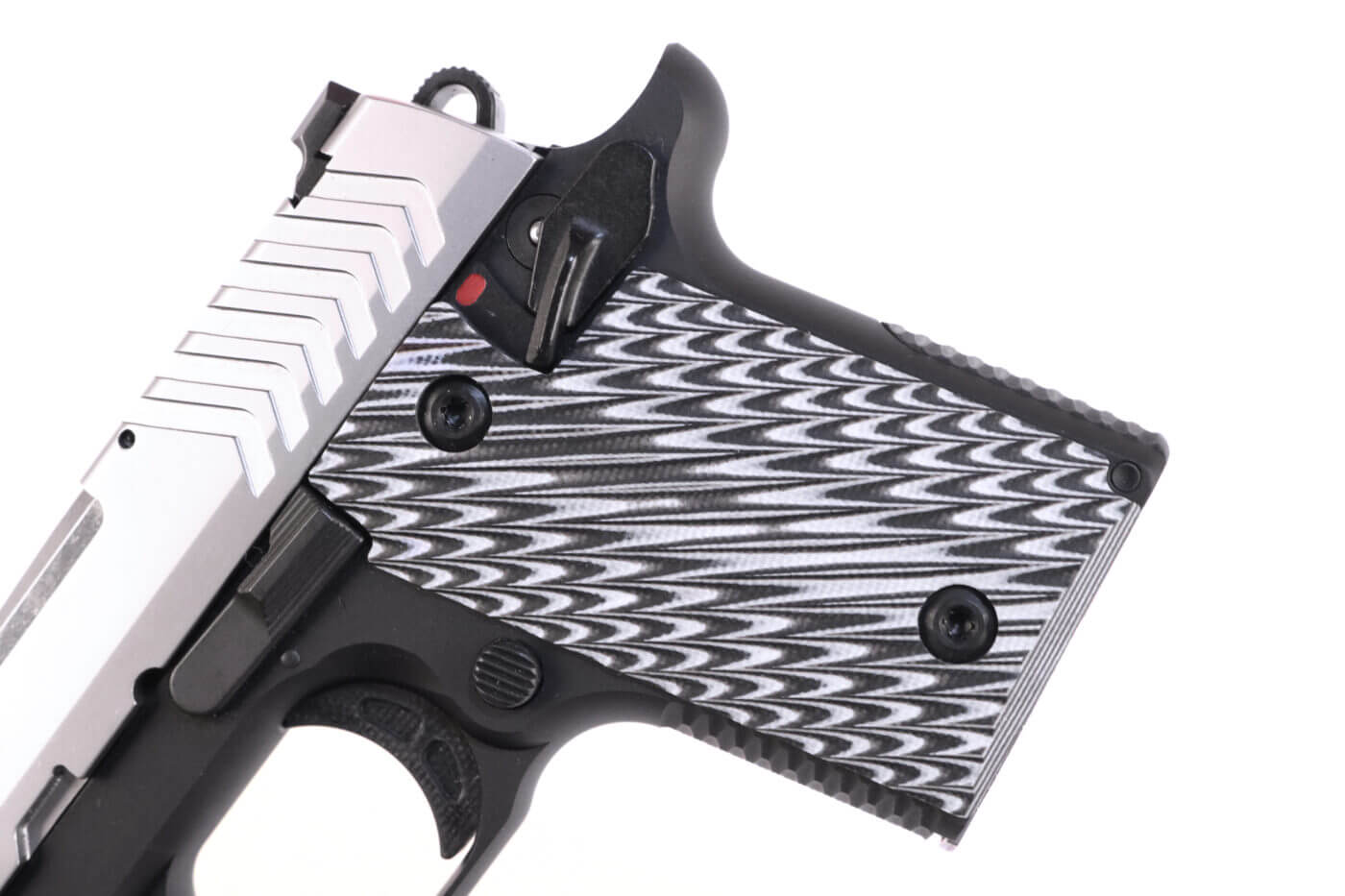 The slide release is like Goldilocks' porridge. It is small enough not to snag but sufficiently ample to make it easy to run. There is a dedicated loaded chamber indicator that is readily read both day and night. The external extractor is grossly overbuilt. The indestructible steel sights on my copy sport luminous tritium dots both front and rear.
One flush single-stack magazine holds six rounds for seven including one on tap. Another included one with a finger rest packs 7+1. The slim and skinny 911 packs like a pocket gun.
Range Report
The 9mm version I tested occupies the same envelope as might a typical .380 deep carry pistol. In an appropriate holster you could safely carry this gun inside the front pocket of a pair of jeans. Drop the 911 into a superlative Crossbreed IWB concealment rig and you can forget it's there.
This gun is absolutely tiny. That means the fifth finger on my moderately large hands dangles freely underneath the short magazine. That's the price you pay for a gun that's this easy to hide. The finger rest magazine accommodates all five digits perfectly.
The 911 groups inside a juice can lid at typical CQB ranges and, unlike many deep concealment pistols, is fun to shoot. Fun guns will accompany you to the range on Saturday afternoons. Miserable guns will not.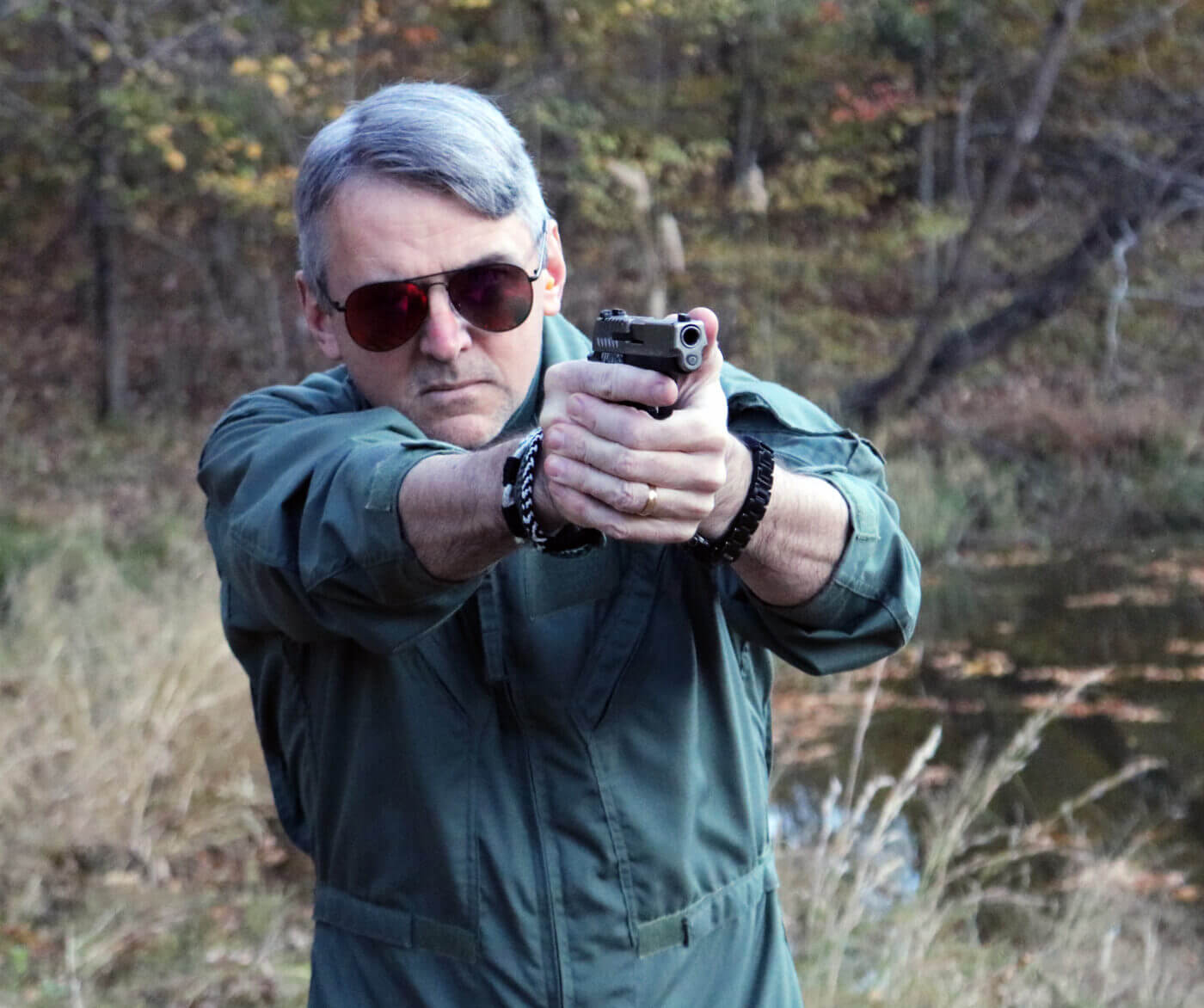 Conclusion
There is an implied intimacy to a proper concealed carry pistol. Should you ever have to actually use the thing, then that little machine will suddenly become more important than your entire retirement portfolio. Not everybody is looking for a deep cover gun they can safely pack in Condition One. However, for the refined shooter unwilling to sacrifice accuracy and performance for comfort and compactness, the 911 is all that and more.
Editor's Note: Please be sure to check out The Armory Life Forum, where you can comment about our daily articles, as well as just talk guns and gear. Click the "Go To Forum Thread" link below to jump in and discuss this article and much more!
Join the Discussion
Featured in this article
Continue Reading
Did you enjoy this article?
90