Do you shoot steel? Steel targets are one of the most practical and enjoyable ways to play and train at the range, not to mention they are amazing in competition. In fact, there is an entire sport – Steel Challenge – that is based on the practice of splattering softer metals against harder metals at high speeds. IDPA and USPSA continue to incorporate more steel into their stage designs, and Cowboy Action shooting was practically built on steel targets. What makes shooting steel so much more rewarding?
The answer to the above question is really a list of things. But before I get to that list, I'm going to define the scope of the conversation to my favorite brand of steel targets – Tactical AR500 Targets, Inc., or just TA Targets for short.
There is a great deal more to good steel targets than just knowing a guy at the local body shop who has some scrap iron and a cutting torch. Lest you think I'm just being sarcastic (a condition of which I am often guilty), that's basically how we made steel targets back in the 1980s. Luckily, I still have both my eyes and all my fingers – not everyone was so lucky.
Smart Choices
It doesn't matter how whiz-bang fun the steel target systems are if they are not safe for the shooter and bystanders. This is accomplished by using only proper quality steel and assembly materials, manufacturing them right, and starting with a good design.
Enter TA Targets, who scores the highest marks in all categories in my book. I was initially introduced to TA Targets when I saw a display several years ago at an industry event. I was impressed with not only the wide variety of styles and designs but the closer I looked the more quality I saw.
Edges are smooth and straight. Welds are full and solid. Hardware is high quality, and the designs are made to keep the action safe as well as fun. TA also fully paints all their targets before shipping.
What little assembly may be required is easy to do, and of course all hardware is included. Often, just a couple of nuts and bolts or a cotter pin to fasten, and you're ready to let lead fly!
Range Time
I use a variety of TA Targets in my range work, but I do admit that I have a favorite. The Mini Vital Zone target is the one I find myself going to most often these days. It is shaped in the familiar "hit zone" pattern of modern competition targets, with a head area and body area. The entire target is just 16" tall by 8" wide. It is constructed of 3/8" AR550 steel.
What makes this particular target more fun and challenging is the Vital Zone paddle in the center. The front plate has a rectangular cut-out that exposes the paddle plate behind it. When struck, the paddle reacts with both visual and audible response, providing that instant gratification that only steel can bring. I like to paint the vital zone a different color for contrast and interest, and that helps me zero in on it as the primary target. I find this system forces me to concentrate more on my fundamentals so that I can keep my hits "in the zone".
A Solid Foundation
The base of the target system is perhaps the most valuable and ingenious component. TA Targets bases are round. The channel that holds the 2×4 upright is located near the rear of the round base, which places the weight of the target at the center. This gives the system great balance and sturdiness – they simply do not tip or tilt.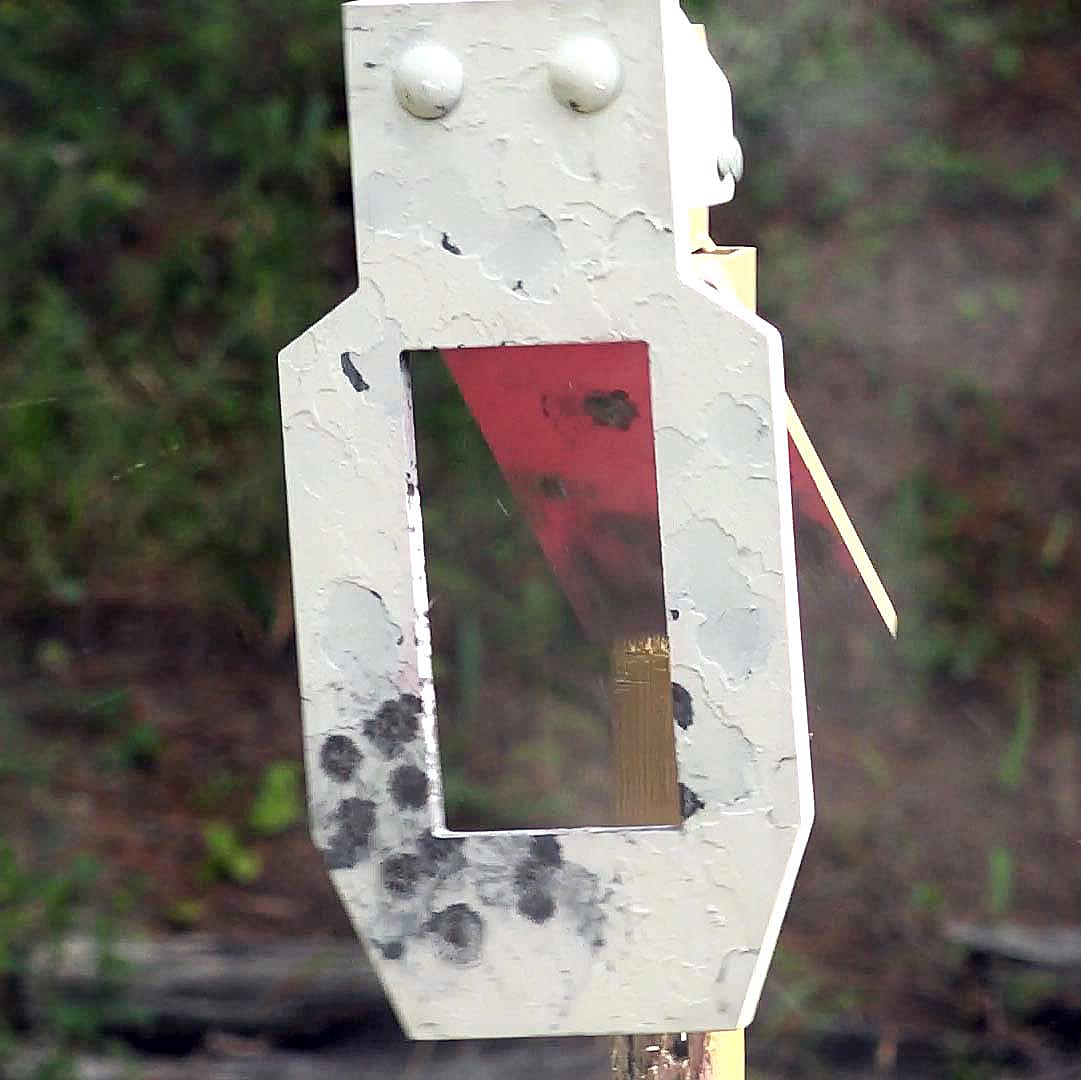 The base is 20" in diameter, and also has built-in holders for standard target sticks, set at 16" apart to accept regulation targets. This gives the shooter a choice between steel, paper, or both. I often like to shoot groups on paper targets while also hearing the ring of steel behind it – it's the best of both worlds!
Editor's Note: Please be sure to check out The Armory Life Forum, where you can comment about our daily articles, as well as just talk guns and gear. Click the "Go To Forum Thread" link below to jump in and discuss this article and much more!
Join the Discussion
Featured in this video
Continue Reading
Did you enjoy this video?
27