The Springfield Armory Range Officer 9mm
August 17th, 2019
4 minute read
When Springfield Armory brought out their Range Officer, a high-end, production-quality pistol with BoMar-like adjustable sights and a Parkerized finish to lower production costs, it was quickly recognized as perhaps the best 1911 .45 "target pistol" available for under $1,000. Sales were so good that it was only natural to expect a follow-on variation in 9mm.
Considered a contradiction in terms by most shooters when introduced circa 1950 by Colt, the 9mm 1911 today stands at the all-time height of its popularity and is available from many makers. Recoil in this format is so light it's "poofy," and thanks to the very light recoil spring the 9mm round requires in this platform, the slide is easy to operate for those who don't have hands like Hulk Hogan's. The trick has always been to get the 1911 running reliably with 9mm Parabellum, a cartridge distinctly shorter and less powerful than the .45 ACP these pistols were designed around.
Our sample 9mm Range Officer had a sweet trigger pull that felt a lot less than the five pounds, thirteen ounces it very consistently averaged on a Lyman digital pull-weight scale. Testing from the 25-yard bench showed it was also amply accurate for practical shooting matches. Employing the three most popular bullet weights for the caliber, we found that all of them printed under two inches for five shots at 25 yards.
The most accurate was the Winchester Winclean 147-grain subsonic with a jacketed truncated cone bullet. The five shot group measured 1.15″, and the best three hits were barely over half an inch apart: 0.55″. All groups were measured center to center to the nearest 0.05″, with the "best three" measurement taken based on experience and testing which proves that from a steady rest and experienced hand, this typically duplicates what the same gun will do with all five rounds from a machine rest.
SIG-Sauer has its own line of ammo now, and their new 124-grain JHP load delivered was the second tightest group from the Range Officer: 1.75″ for all five shots, and 0.85″ for the best three. Federal's Classic 9BP 115-grain JHP was a close third: it clustered into 1.90″ for all five, and 1.35″ for the best three. The 9mm Range Officer appears to be capable of one-inch 25-yard groups with the ammo it likes best.
Picking Nits
This is a hard pistol not to like. My only complaints are that Range Officers don't come with magazine chutes (I had one installed later on my .45 RO), and that this one came out of the box shooting way high right. However, that's what adjustable sights are for. No biggie. The edges on the big rear sight of my early Range Officer were kinda sharp; maybe I'm going blind, but the edges on the current 9mm version look a bit more rounded—a Good Thing.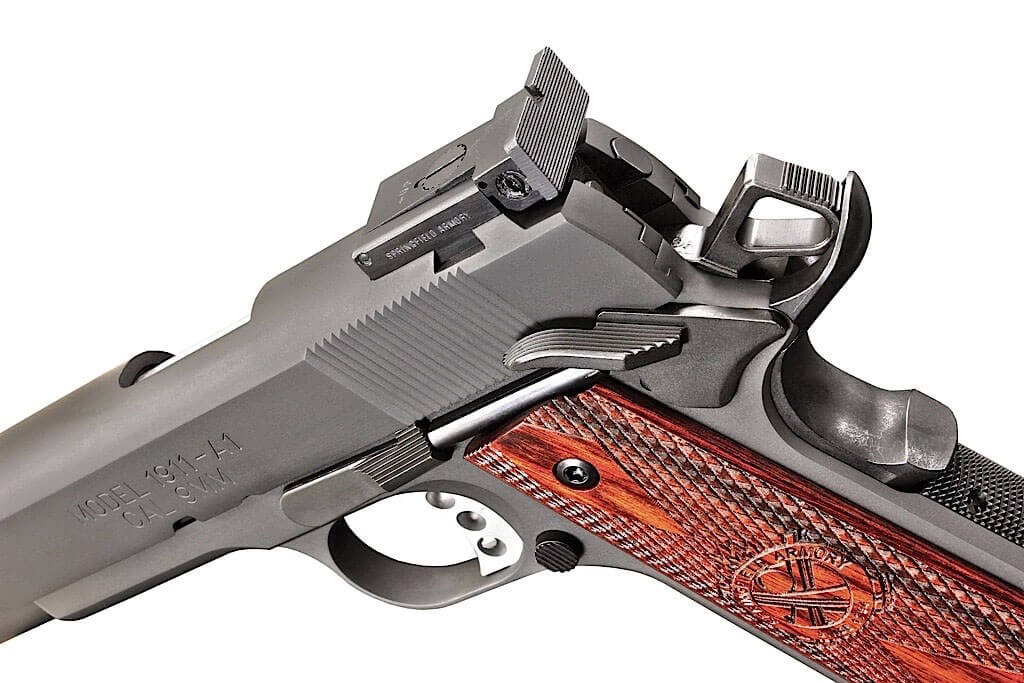 My friend, Kevin Williams, loves his 9mm Range Officer, he but noticed an issue you might find with any 9mm 1911. Kevin has big hands and shoots with high thumbs; he started getting jams, and at the Single Stack Nationals Rob Leatham told Kevin to keep his thumbs away from the slide. That instantly cured the problem. With the combination of the light recoil impulse and the relatively weak spring in a 9mm 1911, it's easy for thumb friction on the slide to cause a stoppage. Kevin is now through 800 or more rounds from his 9mm Range Officer, with no malfunctions he can't trace to human error. (I've seen him shoot it pretty darn well in competition, too.)
Summary
Out of the box, our sample Range Officer 9mm ran 100%, both with the two Metalform magazines that came with the pistol, and with my own 10-round Wilson magazines. This was even true with 147-grain subsonic, which more than one custom pistolsmith has told me is the toughest load to get a 1911 in this caliber to feed. For personal carry or home defense, I'd be inclined to load it up with Speer 124-grain +P Gold Dots, which have racked up an impressive street reputation from the NYPD to the Las Vegas Metro, or with Winchester 127-grain +P+, which for decades now has proven itself a spectacular 9mm "man-stopper" from the San Bernardino Sheriff's Department to the Orlando and Miami-Dade Police Departments. Recoil from a 9mm 1911 is so soft that ramping up to +P or +P+ creates no real control problems for most shooters.
Reliable and accurate, this adjustable-sight 9mm's soft recoil, good ergonomics, and solid build quality make it not only an excellent multi-purpose pistol, but also an extremely good value in today's market. See the 9mm Range Officer at your firearms retailer ($977), or for more information visit www.springfield-armory.com.
Editor's Note: This article was written by Massad Ayoob and shared with us by On Target Magazine.
Join the Discussion
Featured in this article
Continue Reading
Did you enjoy this article?
54