Ernest Langdon Interview: Custom
XD-E

Series
October 1st, 2019
4 minute read
Editor's Note: This interview is part one of a two-part series from Massad Ayoob covering the new XD-E Tactical Edition from Ernest Langdon and Langdon Tactical. Part two, which you can see here, is a full review of the pistol by the author.
Introduced in 2017 with the slogan "The Hammer Re-Invented," Springfield Armory's XD-E was the first pistol in the XD series to not be a striker-fired model. The hammer mentioned in the slogan is part of its double-action/single-action (DA/SA) system, and inevitably, it came to the attention of the most famous shooter of such in our time: Ernest Langdon.
But first, for those unfamiliar with DA/SA system on the XD-E, this is a pistol with a hammer-fired system and an exposed hammer. The gun can be carried with the hammer down, with the first shot being a long double-action pull that both cocks and releases the hammer. For follow-up shots, the slide cycles the action and cocks the hammer, giving you a lighter single-action pull that simply releases the hammer to fire all follow-up rounds.
On the XD-E, the manual safety can be swept downward to decock/drop the hammer safely. The pistol can also be carried "cocked and locked" with the hammer cocked and the safety in the upward "on" safe position.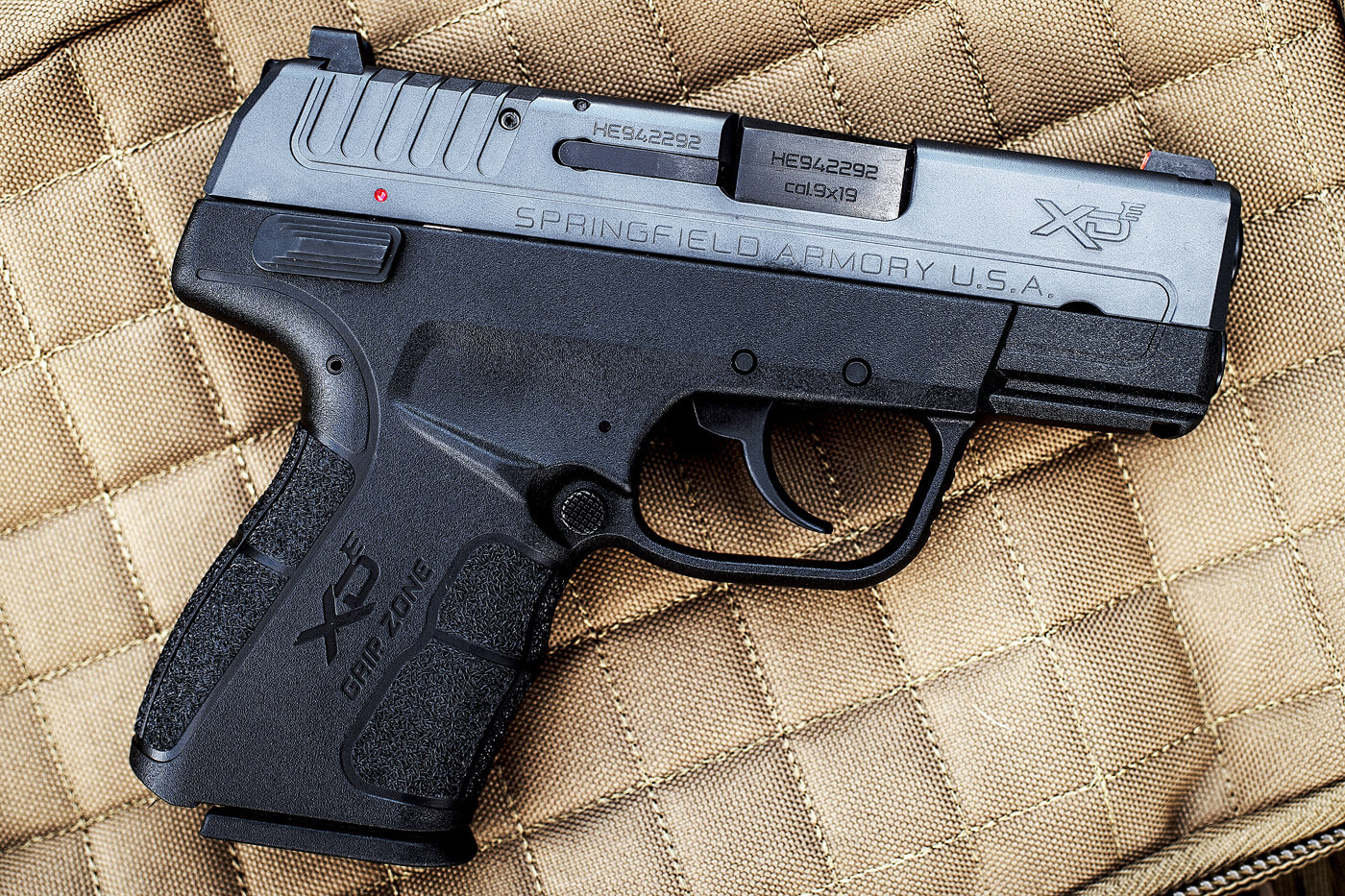 And Langdon is a true expert in using these DA/SA-type pistols. Before embarking on his current career as a pistolsmith, Langdon won nine national championships and two world champion titles in various forms of combat and action shooting, all with DA/SA pistols. He prefers for a pistol to have a relatively long and heavy first shot trigger pull, and an exposed hammer which can be held in place by the thumb when holstering, especially for "appendix carry." Famous today for his action work and other customizing on DA/SA autos, Langdon has made the XD-E his latest project.
I've been a fan of Landgon's work for a long time, so when I saw his new "Springfield Armory XD-E Tactical Edition" (offered in 9mm and .45), I wanted to learn more. I reached out to him and set up an interview to get some background on the new XD-E project, and why the pistol caught his eye. Following is my Q&A with him.
AYOOB: Ernest, why the XD-E?
LANGDON: More than anything else, it's the one single-stack, polymer-frame DA/SA gun on the market right now to my knowledge. Kudos to Springfield for thinking out of the box in offering it. It's a good, reliable pistol, shaped to fit a lot of people's concealed carry needs.
AYOOB: Tell us about your XD-E Tactical Edition modification package.
LANGDON: We enhance it with some trigger work, including the ISMI chrome silicone reduced-power hammer spring…and we polish the action as well. It's simply easier now to shoot double action. We do some work on the sear notch on the hammer, resulting in about an 8-pound double action and 4- to 4.5-pound single action pull.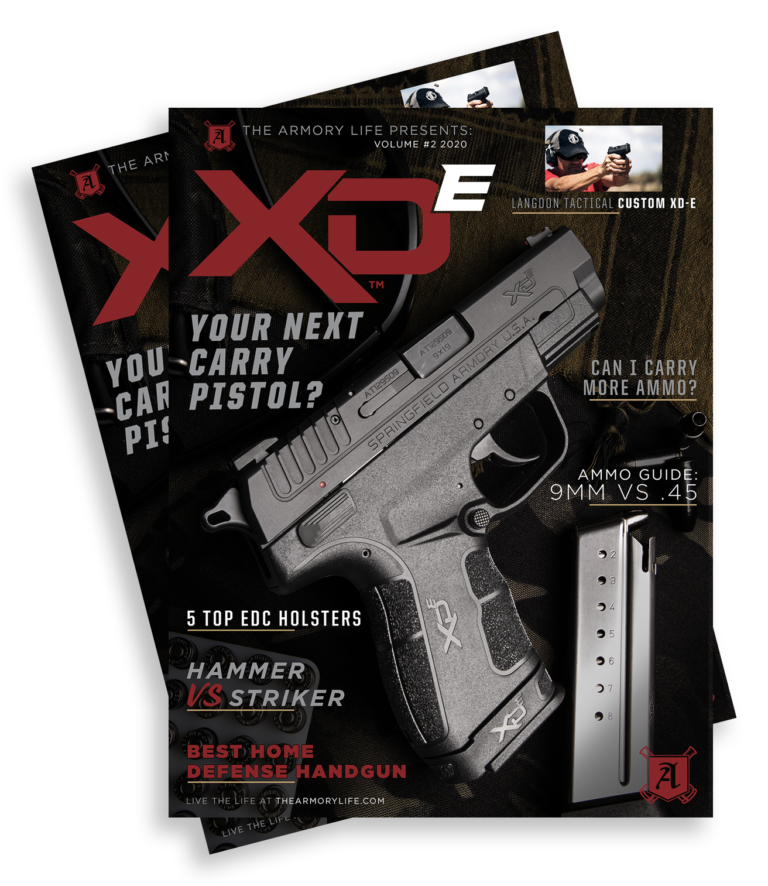 AYOOB: What about external modifications?
LANGDON: One of our most significant improvements, I feel, is the hammer spur. It…doesn't lend itself to appendix carry comfort. We have ground the spur off as far as we can. The interesting thing about this gun is that the hammer spring is actually in the hammer, as is the hammer spring guide. It's a unique design, but one reason they were able to keep the frame as thin as it is.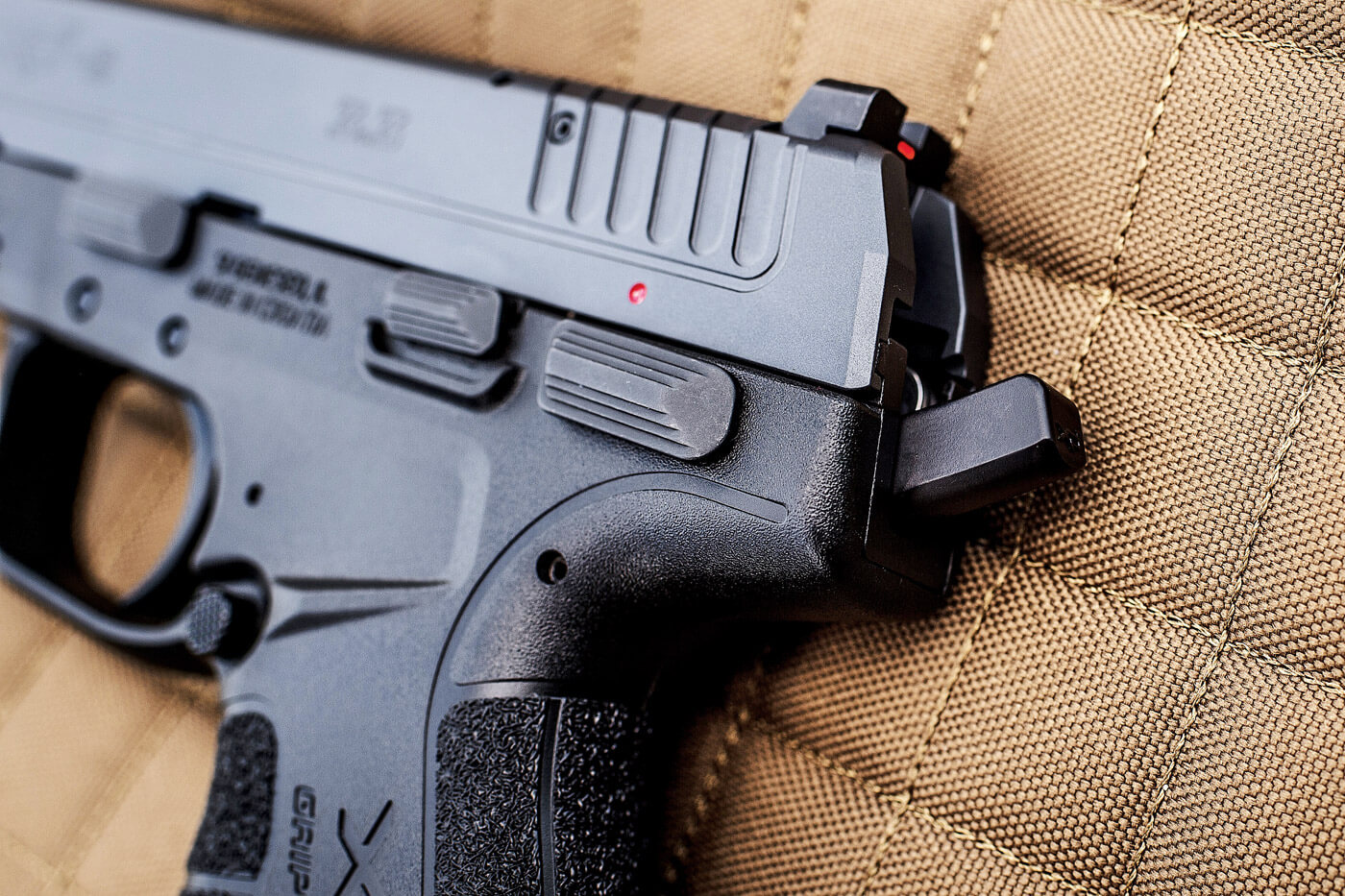 We are changing the sights. It comes with…fiber optic front and plain rear Novak. The Novak doesn't lend itself to one-hand malfunction clearing, though, so we went with Ameri-Glo CAP sights. These are good night sights, and work in a broader range of lighting conditions in my opinion. I don't have anything against fiber optic on a carry gun, but for me, that big square orange front is more adaptable to a range of lighting conditions than a fiber optic sight.
We're not changing the grip. We will explore stippling or Talon grips in the future.
We're Cerakoting the slide in sniper gray and adding a third magazine. The gun normally comes with two. These mags have the nine-round extended, and eight-round flush and eight-round with pinkie finger extension. We include all three.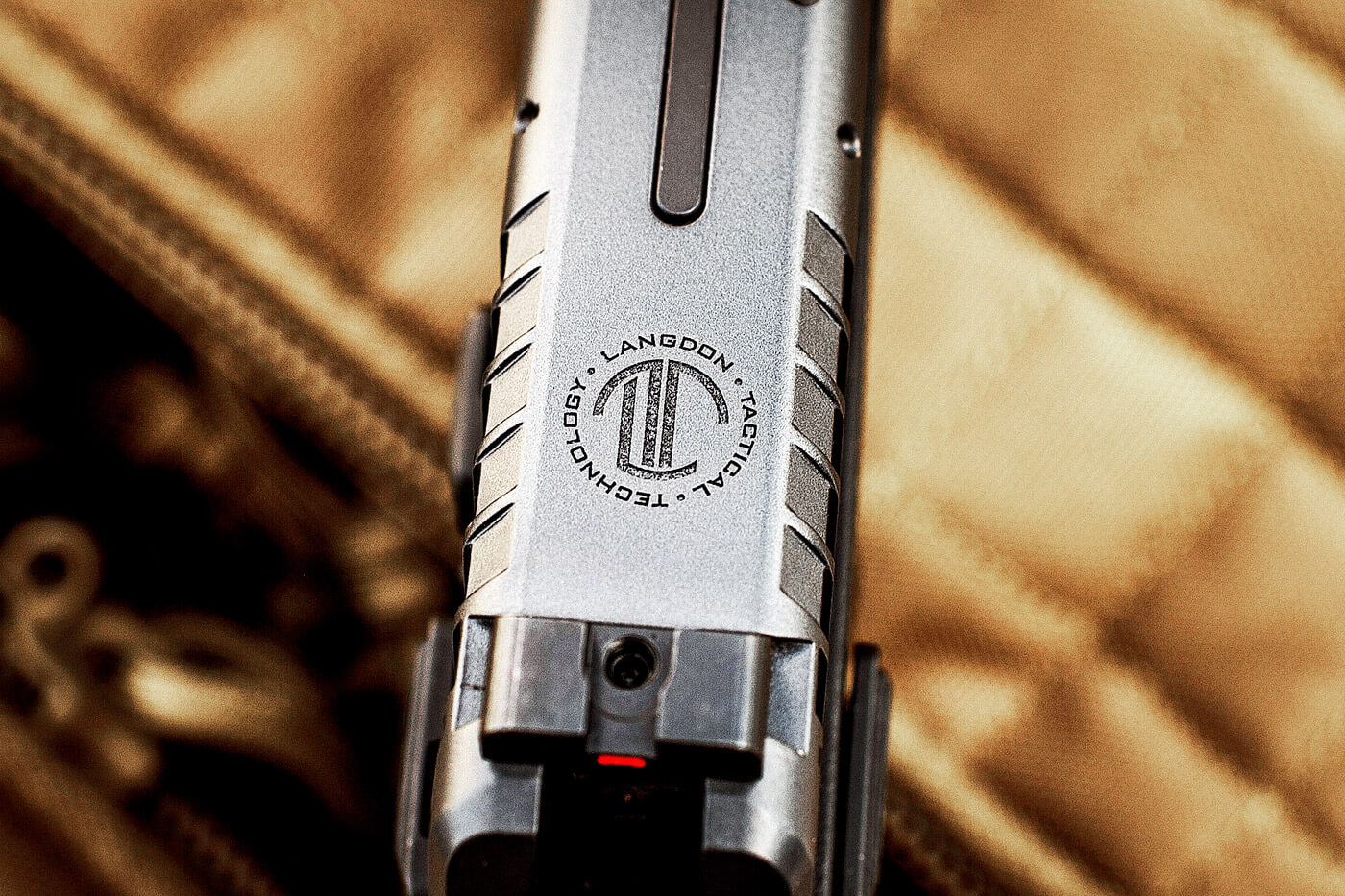 AYOOB: What models are you offering?
LANGDON: We are selling complete guns or will modify the customers' gun. Retail for ours is $738 for 9mm and $768 for .45, shipping free. On a customer's own gun, the only conversion package right now is the trigger work for $130. Shipping depends on where we're shipping to, but we will quote to the customer. We have new LTT XD-E pistols in stock, and can ship in a couple of days. It will take about two weeks to turn around a customer's gun.
AYOOB: Ernest, thank you for your time.
Editor's Note: If you would like to see Mas' full review of the custom XD-E pistol, click here. Also, be sure to check out The Armory Life Forum, where you can comment about our daily articles, as well as just talk guns and gear. Click the "Go To Forum Thread" link below to jump in!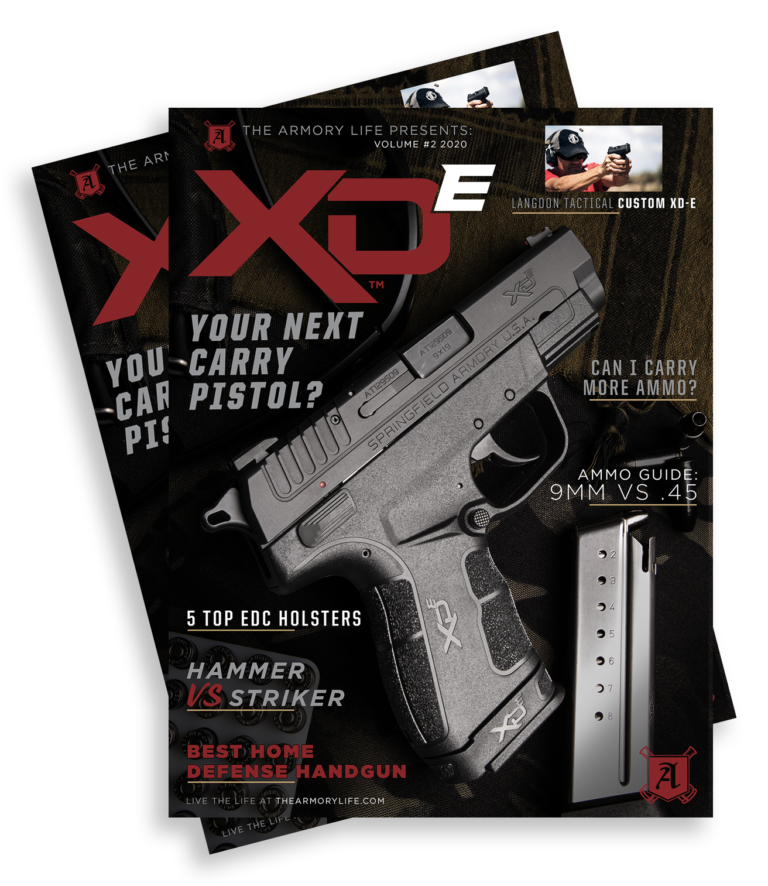 Join the Discussion
Featured in this article
Continue Reading
Did you enjoy this article?
96