Langdon Custom
XD-E

Tactical Edition
October 9th, 2019
5 minute read
Editor's Note: This is part two of a two-part series from Massad Ayoob covering the new XD-E Tactical Edition from Ernest Langdon and Langdon Tactical Technology. You can check out part one here, which was an interview with Ernest Langdon on this exciting new XD-E offering.
In part one of this two-part series, we interviewed Ernest Langdon about his new XD-E custom pistol project. We learned about his preference for hammer-fired double-action/single-action (DA/SA) pistols like the XD-E as well as the modification package Langdon Tactical Technology does on that pistol.
He starts with the smallest 3.3″ models in both 9mm and .45, and enhances them with trigger work, action-polishing, hammer spur bobbing, new sights, Cerakoting, an extra magazine, and more.
We found out what he likes about the design, and how and why he developed his own custom version of the pistol. This time around, we take our sample Langdon XD-E Tactical Edition to the range.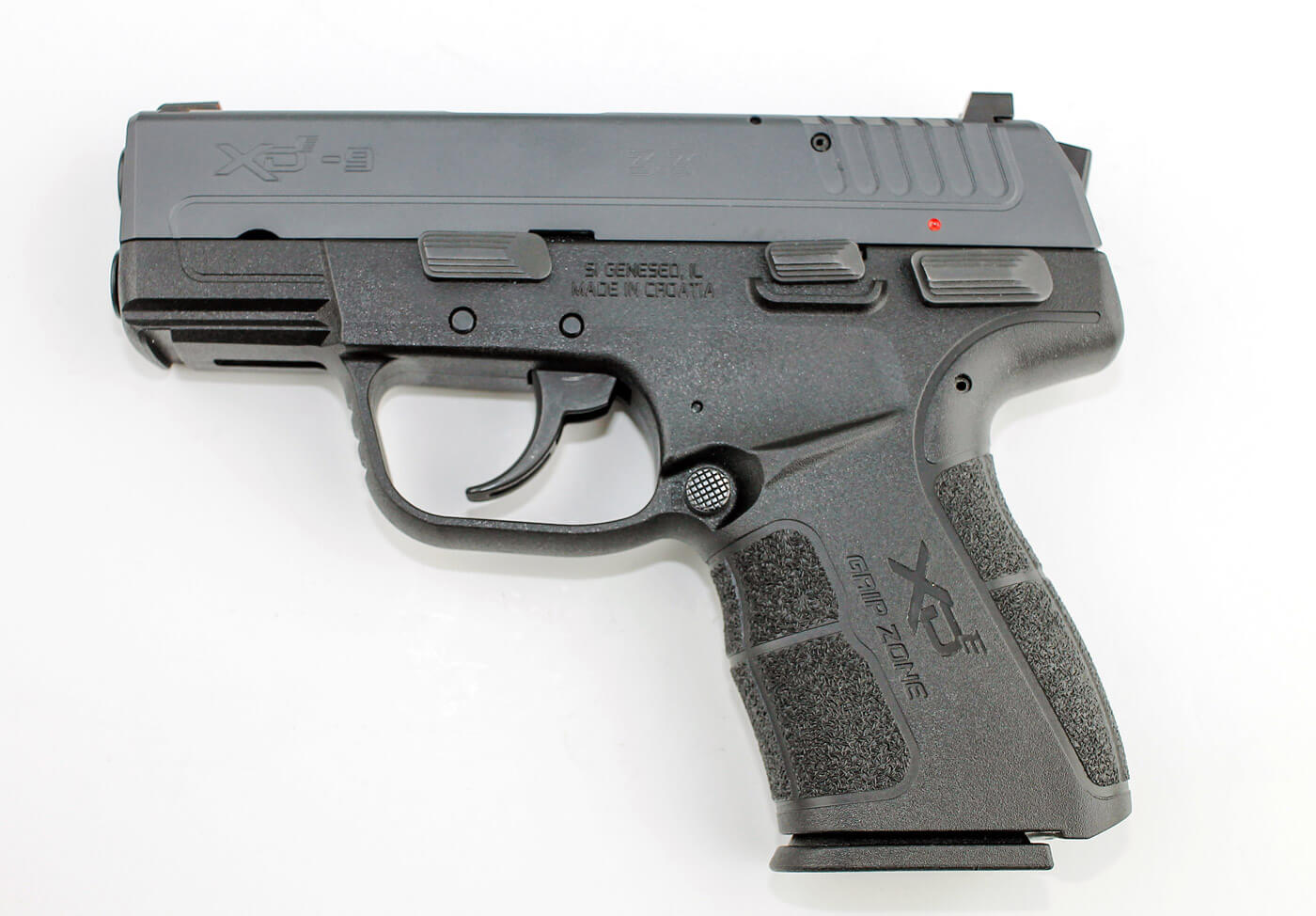 Matching the Hype?
During my interview with him, Ernest promised the trigger pull weight of his XD-E would be down to 8 pounds in double-action and 4 to 4½ pounds for subsequent single-action trigger pulls. He absolutely delivered. On my Lyman digital trigger pull gauge, test sample # HE940092 went exactly 8.00 pounds in double-action mode. I found that single-action averaged 4.82 pounds.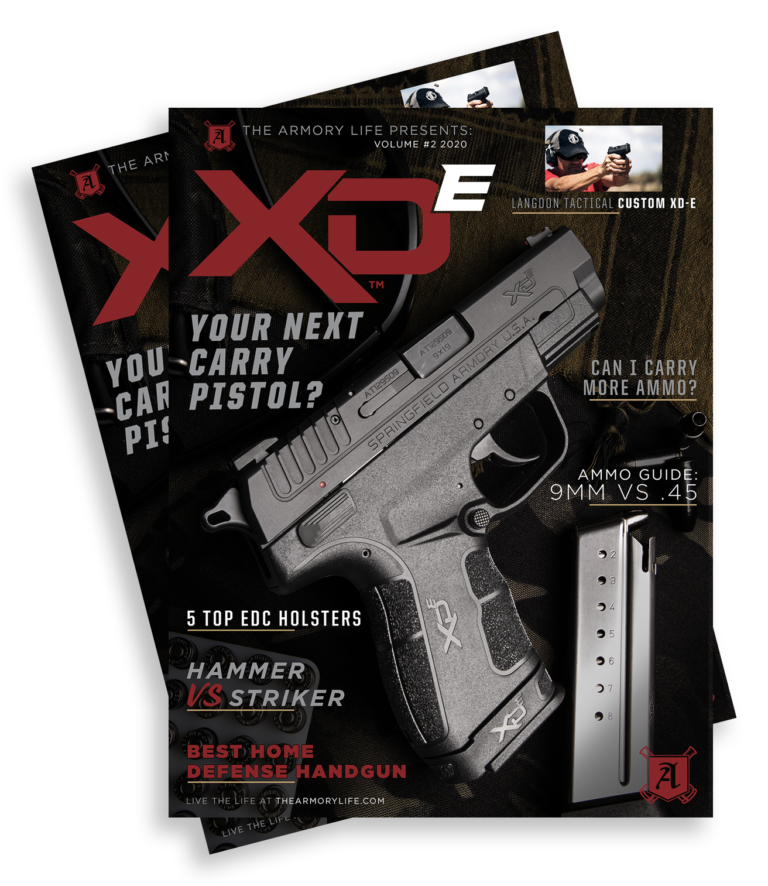 The double-action pull is still long, but not heavy. For comparison, my own out-of-the-box XD-E goes 10 pounds, plus. On the Landgon Tactical custom job, the stroke is glass-smooth and has no perceptible stacking; that is, the pull doesn't get heavier near the end of the stroke.
In single-action, there's a slight bit of take-up that has the effect of reminding us, "Yeah, we are pressing the trigger; are we sure we want to?" Then there's a short, smooth-as-ball-bearings roll of palpable resistance, and bang, the next shot is on its way. Repeat as necessary.
The gun's configuration is such that the trigger could move a little to the rear after the sear releases, a condition known as backlash, but it's not a problem. This is because the way most human fingers interact with the XD-E frame's shape, backlash just doesn't seem to happen. The trigger's return forward for follow-up shots is medium/long, but quick and easy to manage.
For shootability, I couldn't work in an IDPA Back Up Gun match or anything, so I shot it on a police-type, off-duty qualification course, timed at four to 15 yards. It encompassed one-hand-only firing with either hand, several speed reloads, shooting from cover positions, etc. The sweet Langdon Tactical Technologies Springfield XD-E gave me an easy 300 out of 300 possible score. The ambidextrous magazine release helped my old arthritic thumb, by the way. It's easier to hit the button with the trigger finger than the thumb, in my experience.
Ernest doesn't change the 3.3″ barrel, so you've still got "standard XD-E accuracy," but there's nothing wrong with that. Though it's "only" a sub-compact, it stayed well within the oft-quoted "acceptable service pistol accuracy" standard of four inches at 25 yards. The test sample shot a little high left for me, but that's easily cured by drifting the rear sight a tad to the right in its dovetail notch and holding a six o'clock aim. I did prefer the Ameri-Glo CAP sights that Langdon puts on to the standard factory sights, as discussed in part one.
Real-World Applications
With a slide less than 1″ wide, the XD-E is eminently concealable, particularly with its flush-bottom eight-round magazine. I carried it concealed for a while, in double-action mode on "safe," in Florida in late summer and the pistol simply disappeared. The most important Langdon modification in this respect is the bobbing of the hammer that he mentioned during our interview. It removes not only a bulge point but a potential discomfort "hot spot." This is most particularly noticeable when carrying AIWB — that is, inside the waistband at the front of the belly near the appendix.
The XD-E's features adapt well to concealed carry. Having mentioned the currently popular appendix carry, we should note the XD-E's particular suitability to wearing the gun pointed in the area of your genitalia and femoral artery. The option of having your thumb holding the hammer in place when holstering to prevent unintentional discharge if something interdicts the trigger is important. So is the option of on "safing" the pistol, and for the same reason.
Thus, the XD-E gives the wearer two additional safety nets in addition to the longer double-action pull. Being not only TDA (traditional double action) but selective TDA, it gives the wearer three carry modes, all safe with a live round in the chamber.
1: Double-action, off "safe"
2: Double-action, on "safe"
3: Cocked and locked (single-action, but on "safe")
With the frame-mounted ambidextrous safety lever, up is "safe" and down is "fire," which most consider more ergonomic than a slide-mounted lever. Pushing all the way down with the same lever will decock the gun, and unlike some other brands that operate in this mode I think it's all but impossible to go to decock instead of "fire" accidentally, at least in my hand. All good. And it won't surprise anyone familiar with the XD-E pistol that the Langdon Tactical pistol ran with 100 percent reliability throughout the test.
In addition to its numerous carry mode options, another beneficial XD-E feature is that because of its prognathous recoil spring guide, it has "stand-off" capability. This means that you can press it against your homicidal attacker's body and fire, without the gun going out of battery and failing to discharge.
All in all, the Langdon Tactical modification of the Springfield Armory XD-E pistol upholds the high reputation Ernest Langdon's work has righteously earned. He offers both 9mm and .45 versions of the pistol, as well as conversion work on customer-supplied XD-E pistols.
Editor's Note: Be sure to check out The Armory Life Forum, where you can comment about our daily articles, as well as just talk guns and gear. Click the "Go To Forum Thread" link below to jump in!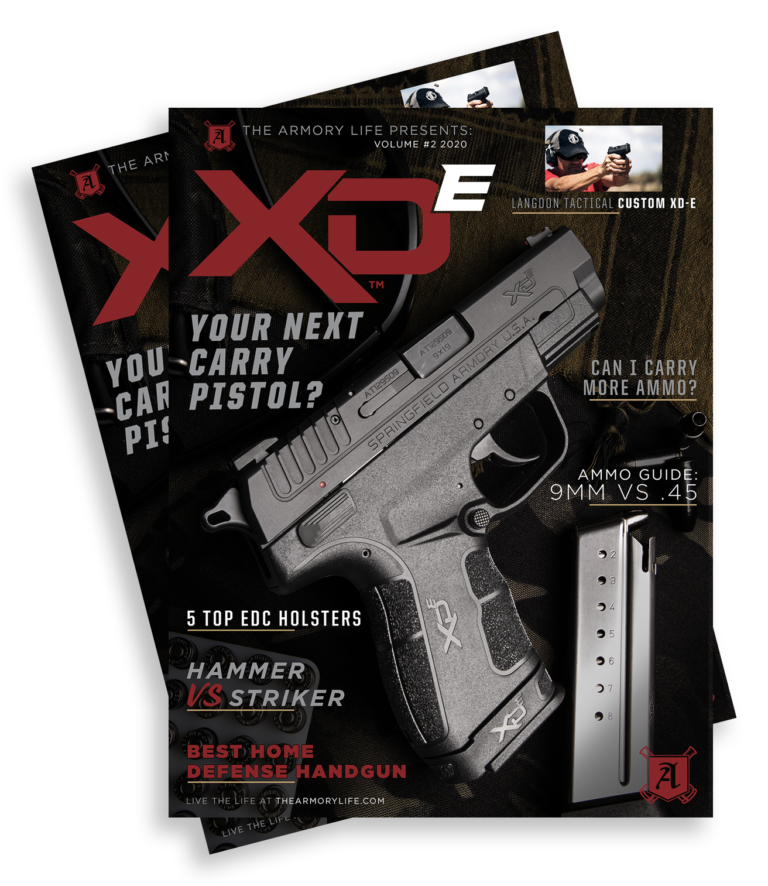 Join the Discussion
Featured in this article
Continue Reading
Did you enjoy this article?
125