The Story of German Ace Hans Joachim-Marseille's Bf 109 E
December 17th, 2022
7 minute read
August 24, 1940, was a Saturday. The Battle of Britain had been roaring in the skies over England for six long weeks. On this particular day a young Luftwaffe fighter pilot named Hans Joachim-Marseille found himself on his first combat sortie over the hostile island.
Joachim-Marseille was 21 years old, little more than a souped-up child. Of French Huguenot ancestry, the boy was the product of a difficult upbringing and a broken home. Influenza had nearly killed him when he was young. Joachim-Marseille went by Jochen to his friends.
Jochen completed fighter pilot school in Vienna in November of 1939. His instructors consistently rated him as a superlative natural pilot, but his social life threatened to put an end to his flying career before it got started. In retrospect, young Jochen was likely trying to fill some kind of void with women and alcohol. There were times he missed missions because of his excessive social pursuits the night before.
Fighter aircraft at the beginning of World War II were terrifyingly dangerous machines. They were immensely powerful, but aviation technology had been advancing at a breakneck pace. Most everything about combat aircraft of this era was still essentially experimental. As a result, young men strapped into these heavily-armed planes ready to meet death.
Fighter tactics were and are learned skills. German pilots fought in pairs called Rotte. Two pairs operated as a four-plane unit called a Schwarm. The lead pilot of the Rotte was responsible for everything out front. His wingman continuously cleared the rear to avoid an airborne ambush. It was beaten into combat pilots that you should never leave your wingman. As soon as young Jochen spotted his first British fighter plane, however, he broke formation and dove in the attack.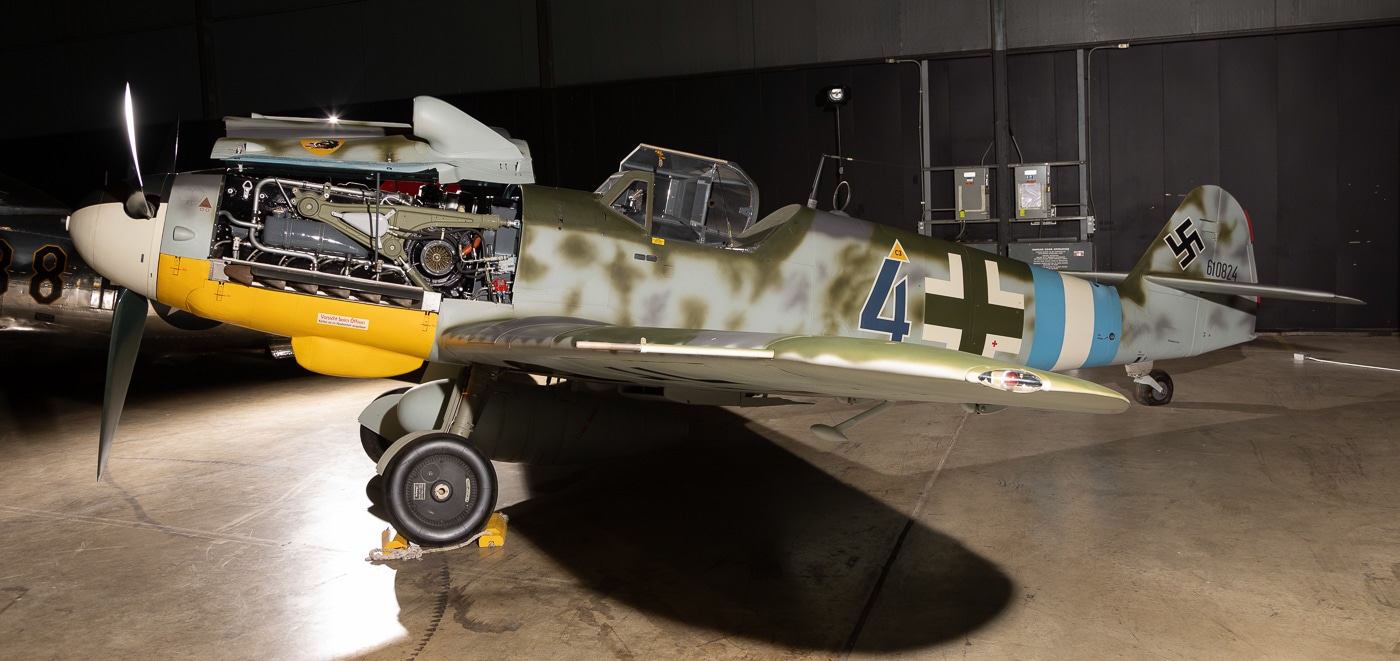 Joachim-Marseille had drawn Bf 109 E tail number 3579 for the mission that day. The "Emil" as it was called by its crews represented the state-of-the-art in fighter aircraft at the time. Jochen firewalled the throttle, totally fixated on his target.
The enemy plane was a Supermarine Spitfire. This particular example was flown by an experienced British pilot who was none too keen on falling to German guns. What began as a diving ambush evolved into a free-wheeling aerial melee wherein both pilots fought for their very lives.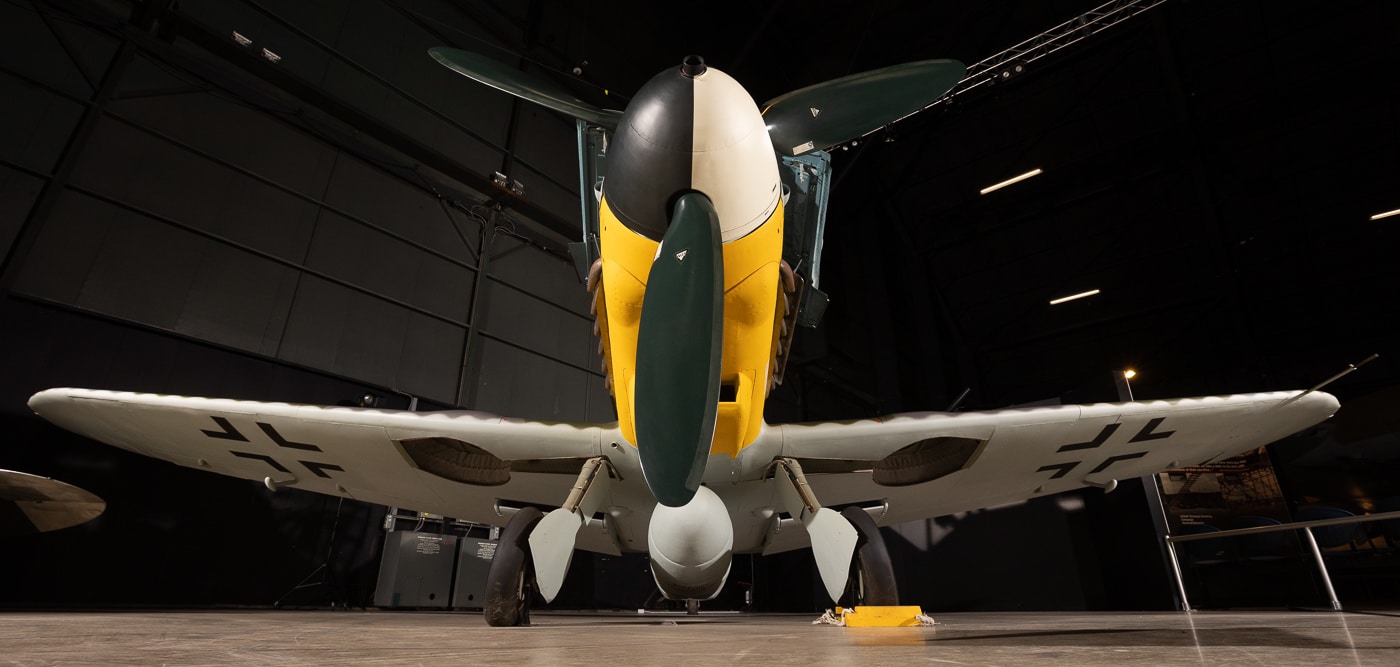 The battle lasted a mere four minutes, but four minutes is an eternity in aerial combat. With the nimble Spit vying for position on his tail, Joachim-Marseille pulled a tight chandelle wherein he described his minimal turning radius while climbing. This was a difficult maneuver in combat.
Successful air combat is all about energy management, and a chandelle left the plane relatively slow and disadvantaged. In this case, however, Joachim-Marseille ended his turn at a greater altitude. He momentarily centered the British fighter in his REVI gunsight and squeezed the trigger.
His plane carried a pair of 20mm MG FF cannon in the wings along with a brace of rifle-caliber MG-17 machine guns in the engine cowling. He also carried a third 20mm firing through the propellor hub. The combined firepower of these five guns chewed into the hapless Spitfire. Jochen connected with the Spit's Merlin engine, and the stricken plane rolled inverted before plunging into the English Channel.
Joachim-Marseille was then bounced by a gaggle of Spitfires bent on revenge. He dove his nimble Messerschmitt down to wavetop level and made a beeline for Calais and home. Once on the ground he was severely castigated. Though he had been successful, his lack of discipline in the air put his mates in jeopardy.
The Rest of the Story
Hans Joachim-Marseille's patterns of misconduct eventually landed him a posting to North Africa where his Bohemian proclivities might be better muted. While there, he found his stride, ultimately shooting down 158 Allied planes. All but seven of these were scored against the British Desert Air Force. No other Luftwaffe pilot claimed as many Western aircraft downed. All of his combat flying was in Bf 109s.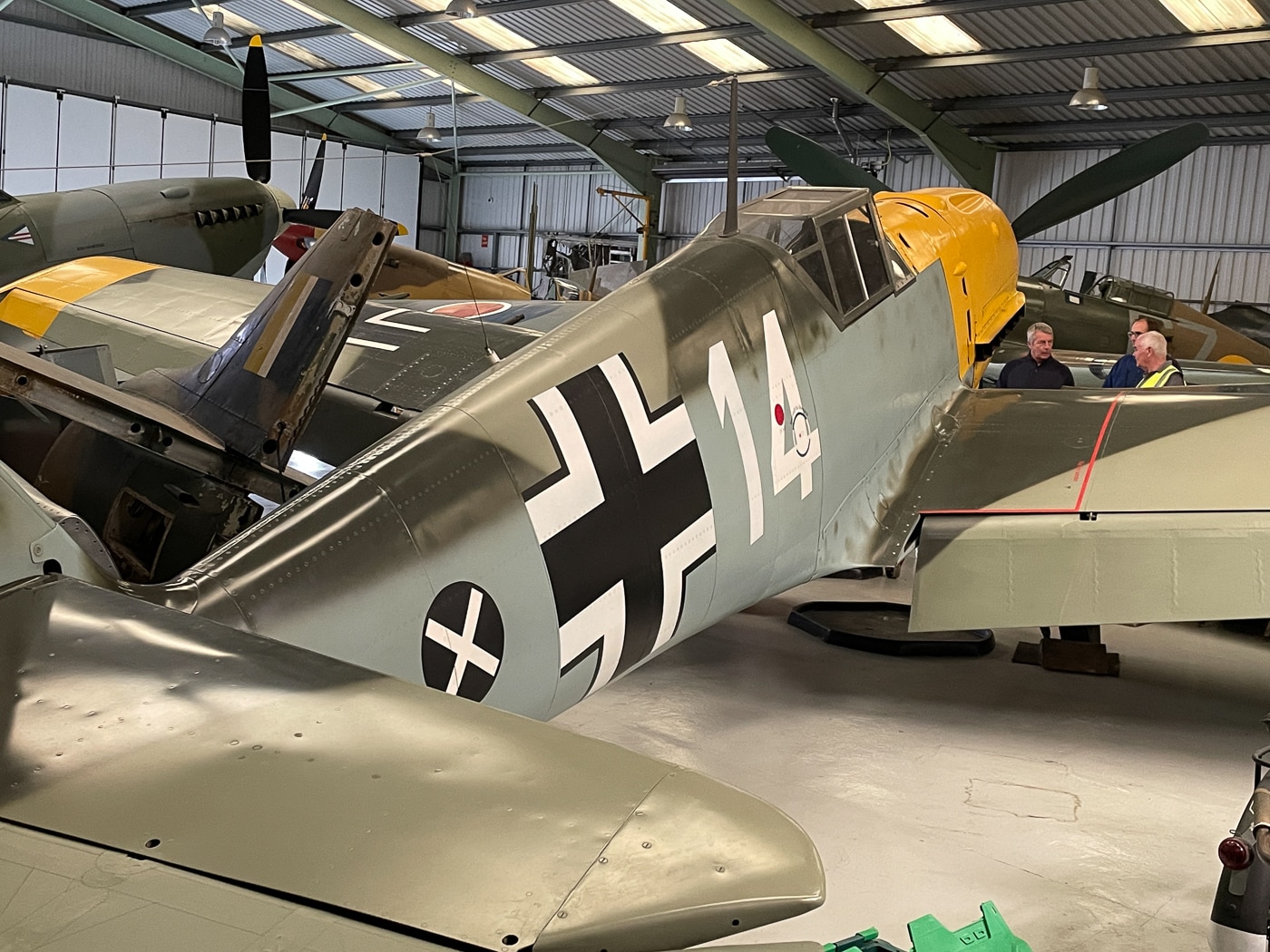 During the course of three sorties in a single day in September of 1942, Joachim-Marseille managed to down seventeen enemy aircraft. He was eventually awarded the Knight's Cross with Oak Leaves, Swords, and Diamonds. Joachim-Marseille was arguably the first of the Experten, the cream of the Luftwaffe fighter arm that was to be the scourge of the skies over Europe and North Africa. Thanks in no small part to Joseph Goebbels' propaganda machine, he became known as Der Stern von Afrika or "The Star of Africa" as a result.
On September 30, 1942, Joachim-Marseille was flying a brand-new Bf 109 G-2 on a Stuka escort mission. His flight encountered no enemy aircraft, but Jochen's engine began smoking on the return flight. His wingmen guided him back to friendly lines so that he could bail out of the stricken plane.
Jochen rolled his Messerschmitt inverted per protocol and jettisoned his canopy. However, the smoke apparently disoriented him such that he let the plane enter a steep dive. He eventually cleared the aircraft at around 400 mph and struck the vertical stabilizer on exit. The blow either killed him outright or rendered him unconscious and unable to activate his parachute. Hans Joachim-Marseille was 22 at the time of his death.
The Plane
The German Bf 109 Messerschmitt was the most-produced combat aircraft in history. Nearly 34,000 of them were built between 1937 and 1945. The last Bf 109 variants were not retired from combat duty with the Spanish Air Force until 1965.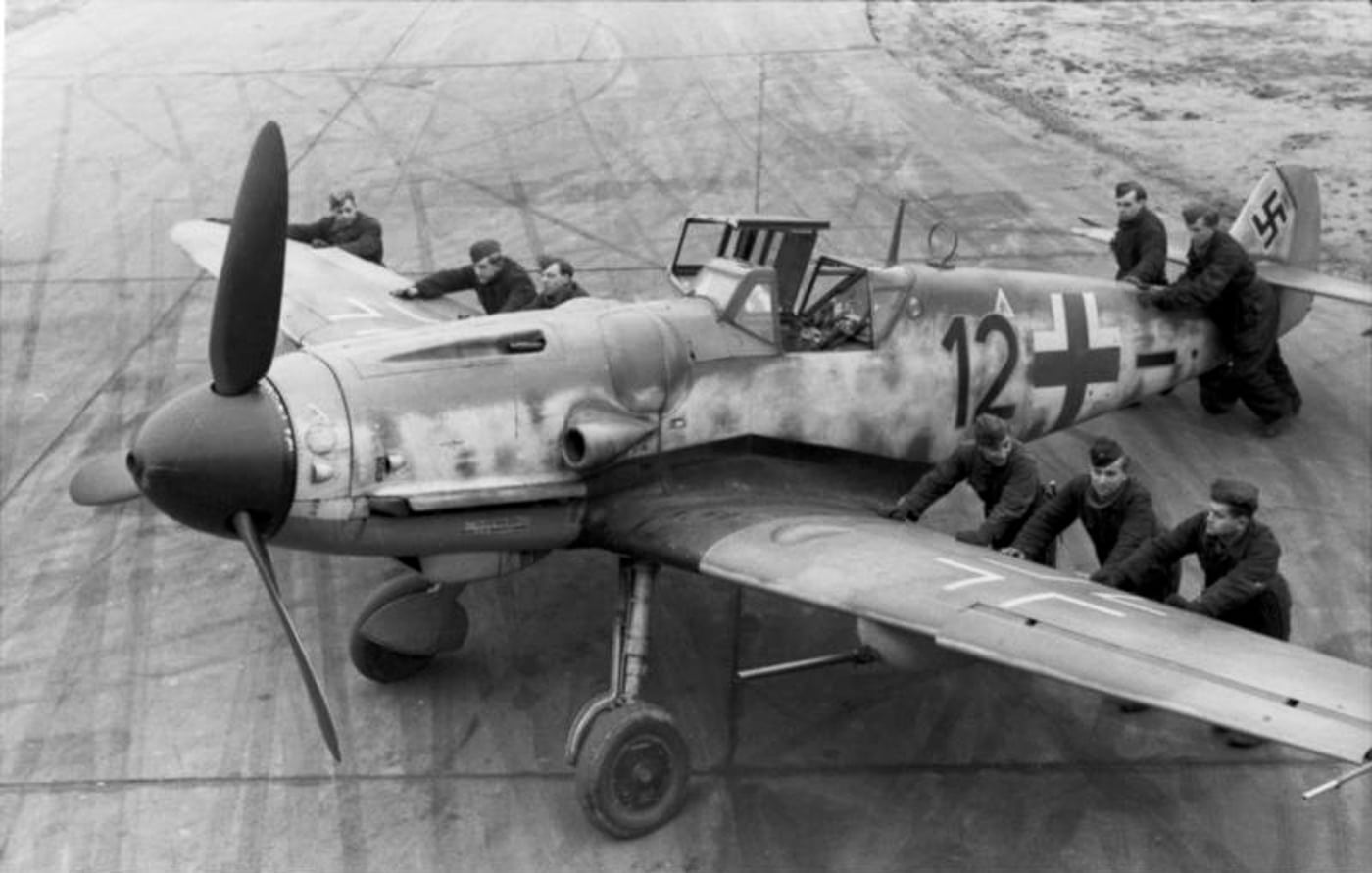 The Bf 109 incorporated a variety of radically advanced features. The inverted-V Daimler-Benz engine was fuel injected, which rendered the plane immune to negative-G flight conditions. By contrast, the Merlins on opposing Spitfires were carbureted and would therefore lose power in the negative-G flight state. The Messerschmitt also had leading edge slats in the wings that deployed automatically due to gravity and enhanced the nimble plane's turning radius.
The landing gear mounted to the fuselage. This kept the wings thin and slippery. It also made the wings easier to remove for servicing at the expense of an unusually narrow ground track. An inordinate number of Bf 109s were lost to ground handling accidents as a result.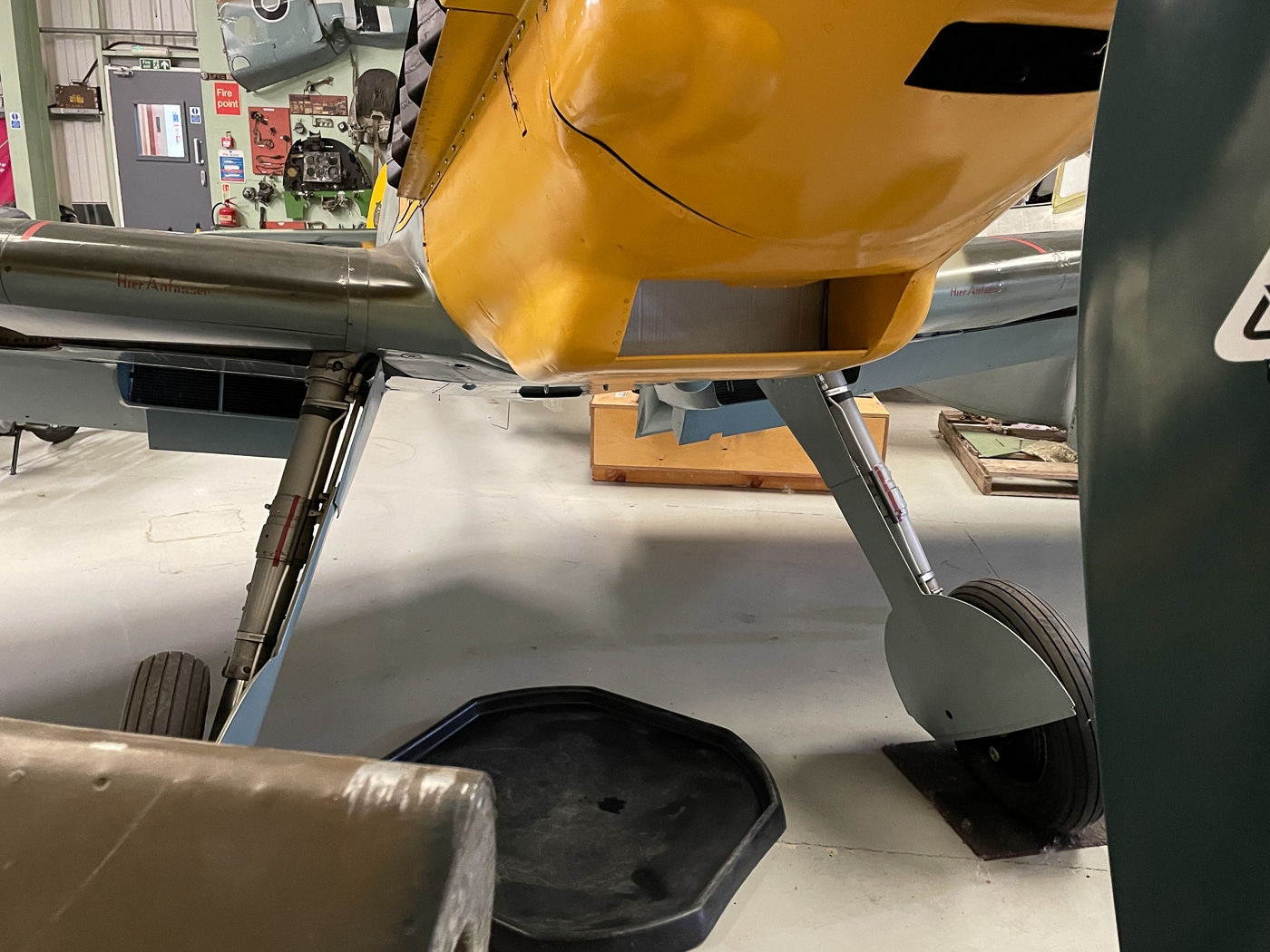 The Bf 109 advanced through a wide variety of upgrades that increased performance and enhanced armament. Despite its relatively advanced age, the late-war Bf 109K still had a rate of climb superior to that of the American P-51D as well as the British Spitfire Mk XIV and the Hawker Tempest. A total of 25 Czech-built Bf 109s served with the fledgling Israeli Air Force during their War of Independence in 1948.
Hans Joachim-Marseille's Particular Ride
The Bf 109E Werknummer 3579 that Joachim-Marseille flew on his first combat mission was later damaged in combat with Jochen in the pilot's seat and bellied in at Calais-Marck. After subsequent recovery and rebuild in Antwerp, the plane was issued to JG77 operating out of Alakutii, Russia. The plane was once more damaged in combat and rebuilt again, this time in Norway, before being returned to the Russian Front.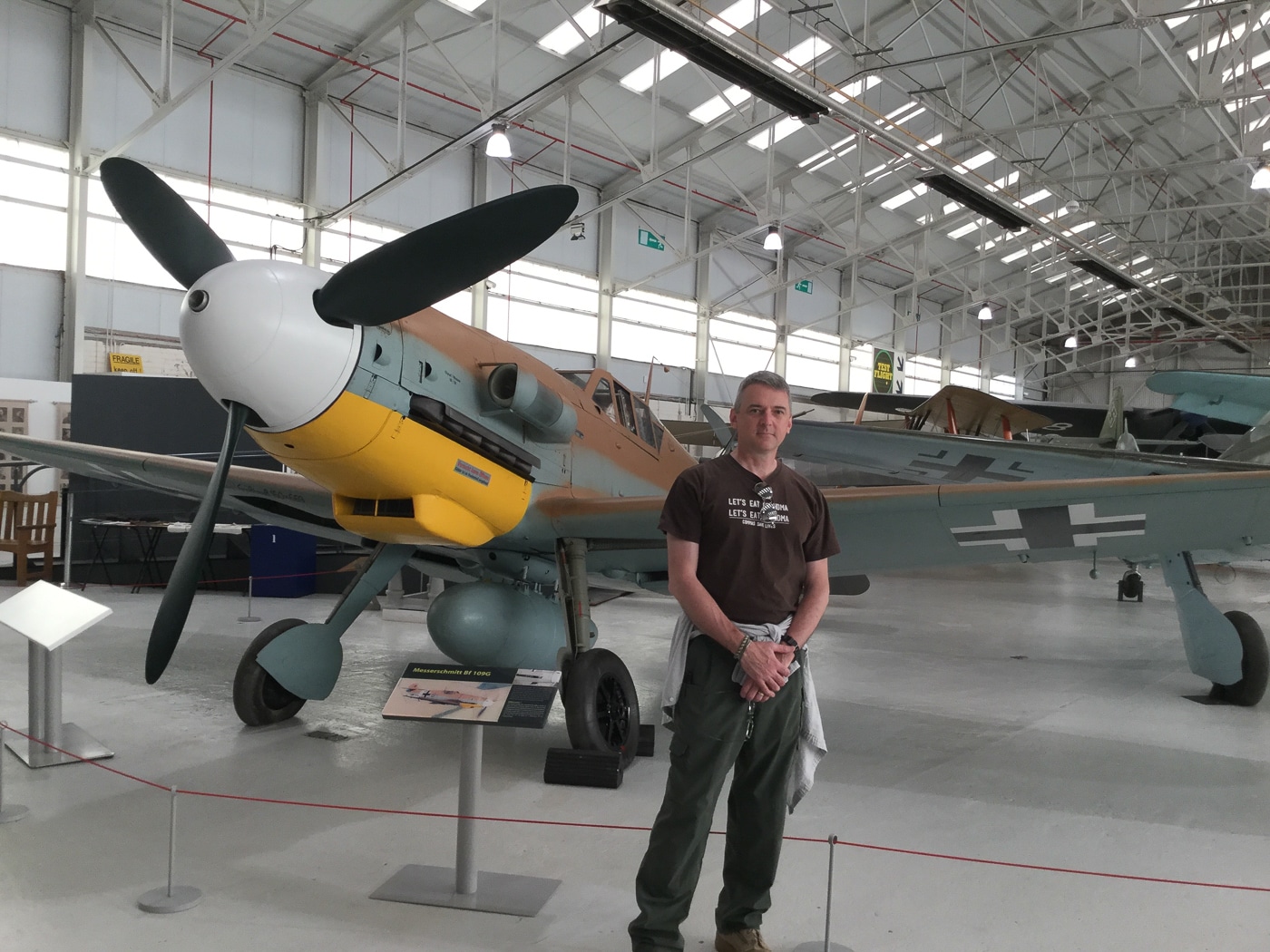 In August of 1942 with LT Kurt Hammel at the controls, 3579 was forced down near the FLOT (Forward Line of Troops) where it was abandoned. The wreckage was recovered in the Summer of 1992 by the Russian Aircraft Recovery Group and moved to Moscow. It was then purchased by an American company and rebuilt into flying condition. In 2014 the plane was sold and moved to its current location at Biggin Hill Aerodrome outside London.
This priceless aircraft with its extraordinary connection to one of the Luftwaffe's greatest fighter pilots is awe-inspiring up close. The plane looks like it just rolled out of the factory and is frankly a thing of extraordinary beauty. Special thanks to www.flyaspitfire.com for the priceless opportunity to study it up close.
Join the Discussion
Featured in this article
Continue Reading
Did you enjoy this article?
286