Updating a classic can be a touchy thing. In today's Trijicon RMR Type 2 review, the GunSpot crew takes a hard look at the red dot sight to see if it is a worthy upgrade to the battle-proven line.
I'm going to start this article with a list of things, and you see what picture pops into your head.
Handgun. Rifle. Shotgun. Pistol red dot.
The first couple, I suspect, could have been many different pictures for all of you different readers. For pistol, it could be a striker-fired, polymer-framed gun. Or, a 1911. Or, a revolver. For the rifle? Perhaps an AR, or maybe a bolt- or lever-action. For the shotgun? Possibly a side-by-side, or maybe a pump-action.
But for that last one, the pistol red dot, I'm willing to bet I can guess what image popped into your head. I bet you imagined the Trijicon RMR. Why? Simple. It's perhaps the most famous small-footprint, open reflex site that exists. Yes, I realize the RMR has been put on many rifles and PDWs as well as pistols, but you most often see it on a handgun.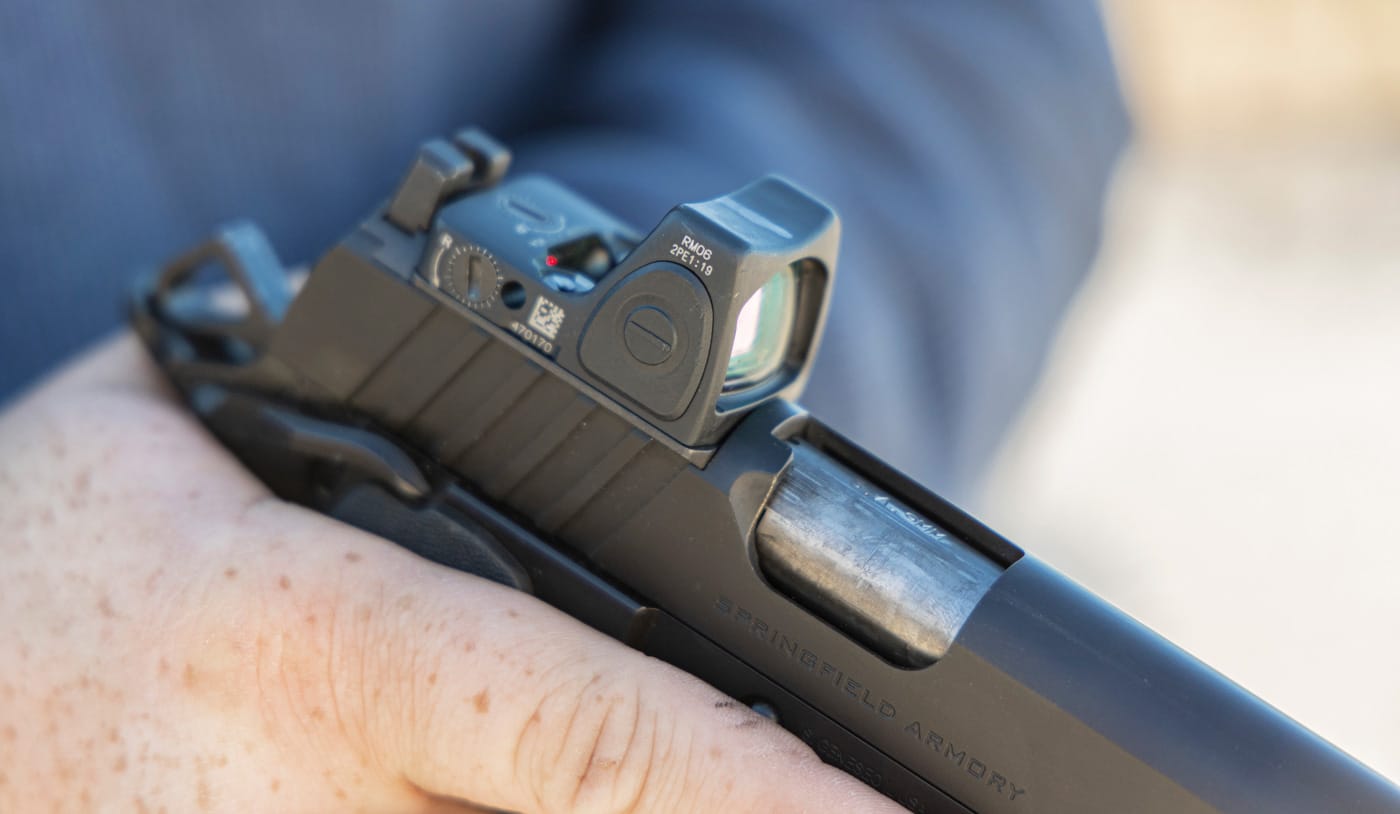 For those who may not know, RMR stands for "rugged miniaturized reflex". The RMR is an open reflex site with a long track record of success with not only civilian shooters, but also military and law enforcement use. It also carries the Trijicon name. This means this little reflex sight had big shoes to fill. Thankfully, Trijicon clearly succeeded.
A Solid Foundation
The RMR was introduced in 2009 as the world's first battery-free red dot sight. In fact, two versions were released. One was an LED-illuminated model, and the other a tritium/fiber optic illuminated version.
If I had to pick one thing that I think significantly contributed to the fame of the RMR, it would be its shape. The very distinct patented shape of the two "horns" or "owl ears" as some call them at the top of the optic makes it instantly recognizable. Most importantly, it's made the RMR extremely durable with seemingly unbreakable glass. There are tons of testimonials of people just abusing RMRs, and the optic holding up exceptionally well.
Fast forward to the years 2016 and 2017, and Trijicon launches the new RMR, now known as the RMR Type 2. The Type 2 has a patented housing shape, as mentioned above that diverts stresses away from the lens.
All About the Red Dot
The adjustable LED version, like we have, has large, tactile buttons, one on each side, to both increase and decrease the brightness of the reticle. These buttons can also put the RMR into automatic brightness mode and turn the RMR off for storage.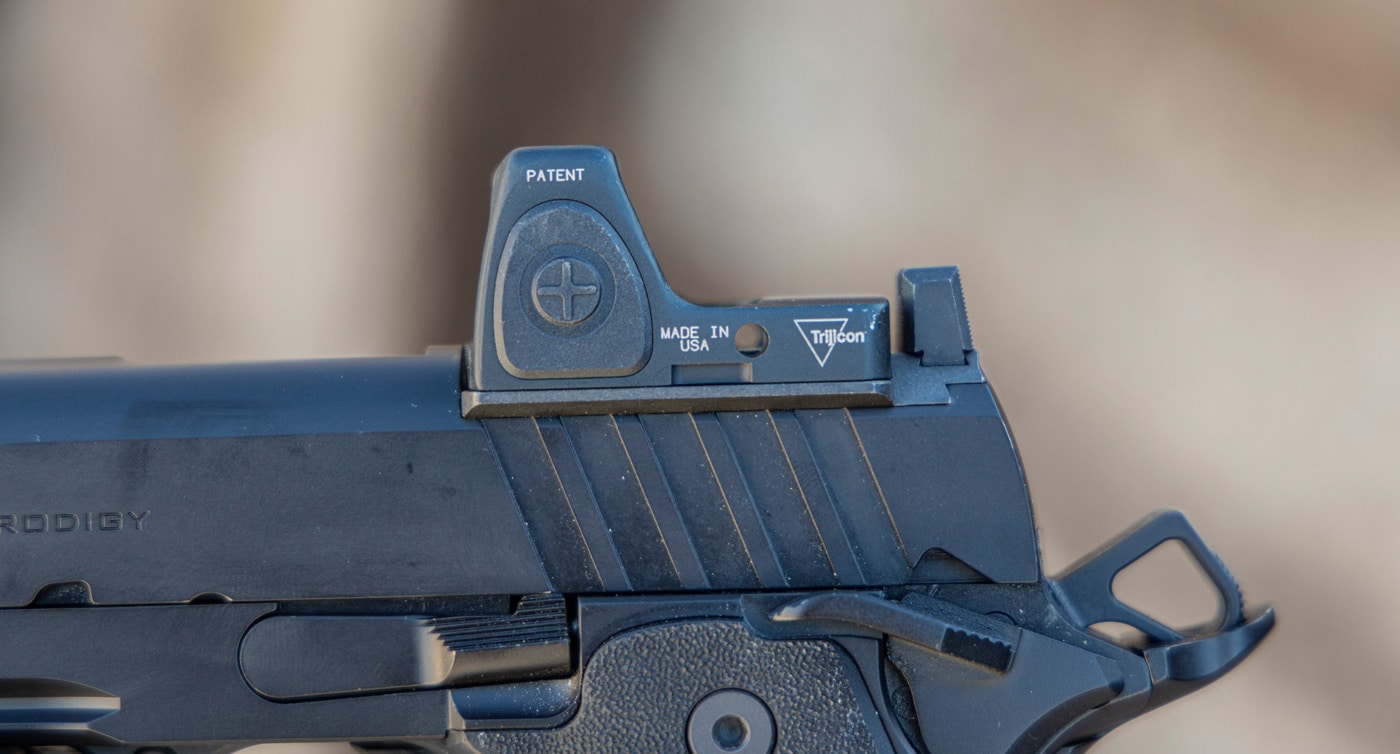 In the manual mode, there are 8 brightness settings. The lowest three levels are for low light conditions and are compatible with night vision gear. Brightness adjustment levels 4-8 are more suitable in conditions with brighter ambient light such as on a bright sunny day.
While many people like to manually adjust the levels for an optimal sight picture, other shooters prefer an adjustable brightness that automatically adjusts to the lighting conditions. To enter automatic brightness mode, press down both the positive and negative buttons, and you will now be in automatic mode.
I found the automatic mode to be better than most other red dot sights that I have used in an auto setting. I like my dot brighter than it technically needs to be for any given scenario, and I feel like this automatic mode accomplishes that. I felt as if the RMR runs a tad brighter than all other red dots when they are in automatic mode.
Being able to switch off the RMR for storage is a big plus for me. When you go to store the optic, it's nice to be able to quickly switch it off. To do so, you just have to hold the two buttons for three full seconds. The automatic mode functions the same as the LED RMR version. If a manual mode has been chosen, the RMR will remain in manual mode for 16.5 hours following the last push of a button. After 16.5 hours, the optic will default back to the automatic mode so that the RMR will be ready for your next mission or task. This ensures that the RMR is always ready. The only way it will turn off is if you turn it off.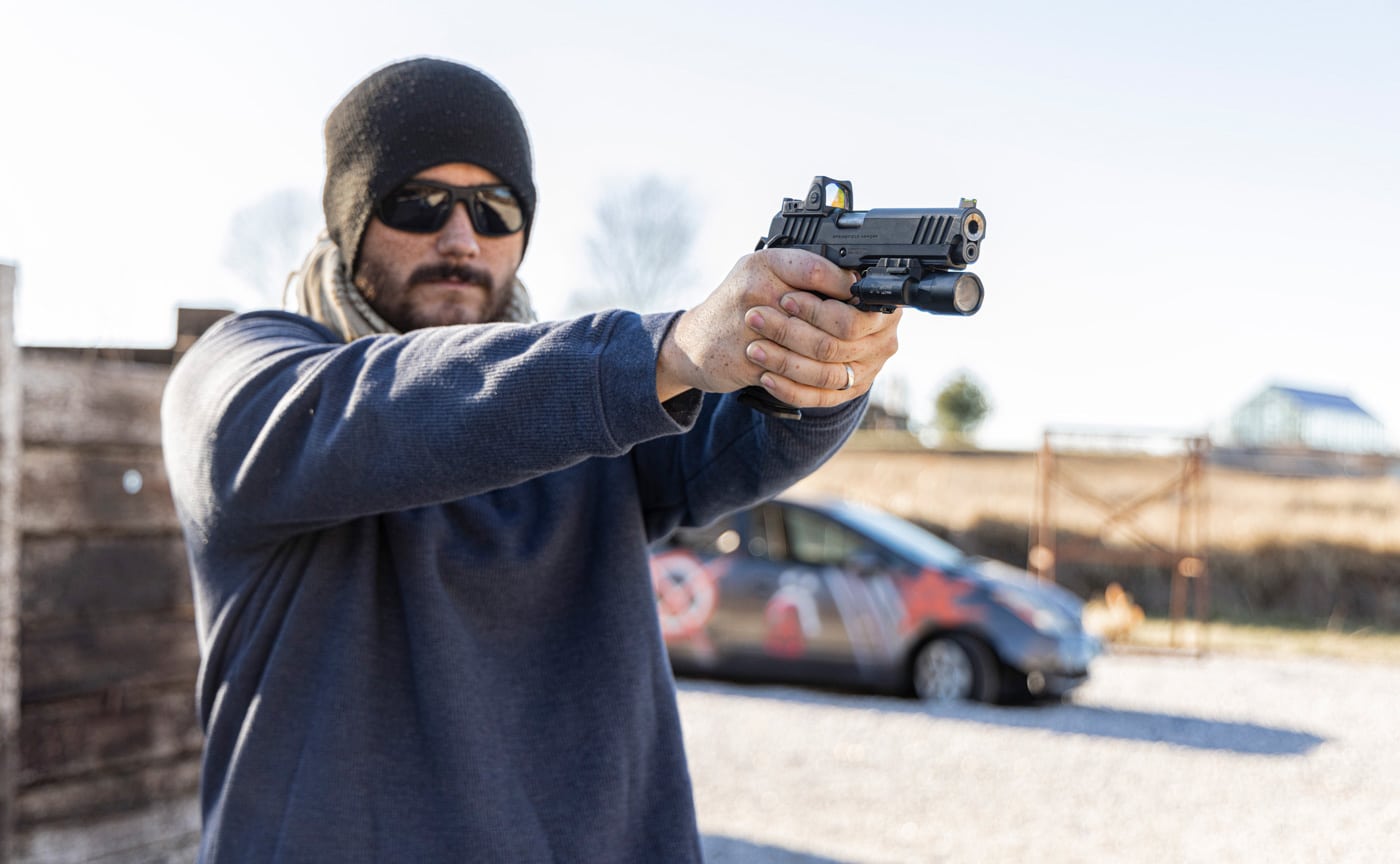 So, if it's in storage, don't forget to turn off the RMR to save battery. Users can also lock out the RMR buttons so that the RMR only functions in the automatic mode. All of these settings are conducive to duty work. Oftentimes with the demands of duty, work optics can have their settings changed accidentally.
The Trijicon RMR Type 2 has three different reticle options. All of them are a single red dot, but they vary in size. The size ranges available are 1, 3.25 and 6.5 MOA. The reticle of the RMR Type 2 is powered via one CR 2032. That CR 2032 has 17,000 hours of life but can last up to 35,000 hours. If the optic is left in dark storage, it will last approximately four years.
The CR2032 is mounted underneath the RMR Type 2. That means the optic must be unmounted, and then the battery swapped. So technically, you'd want to recheck your zero each time you un-mounted the optic.
Trijicon RMR Type 2 Specifications
| | |
| --- | --- |
| Dimensions | 1.8″x1.1″x1.0″ |
| Weight | 1.2 oz |
| Magnification | 1x |
| Reticle | Red, 3.25 MOA dot |
| Brightness Levels | Automatic or manual adjustment (8 levels) |
| Windage and Elevation Adjustments | 1 MOA per click |
| Body Housing | Forged aluminum with matte black finish |
| MSRP | $731.00 |
What's Included in the Box?
Trijicon includes everything you need to get going with this ruggedized miniature reflex sight. In addition to the micro red dot sight are a CR2032 battery, manual, warranty card and a Trijicon sticker. Also included to mount your sight are two screws and a hex wrench. A mounting plate is not included with the Trijicon sight, but most pistol companies ship plates with their guns anyway.
My Thoughts on the Mini Red Dot Optic
The RMR has all the specs to be a great optic. Plus, it has a reputation for reliability and rugged construction that precedes it. Considering the current offerings on the market, is it still a good optic? Is it as user-friendly as it sounds?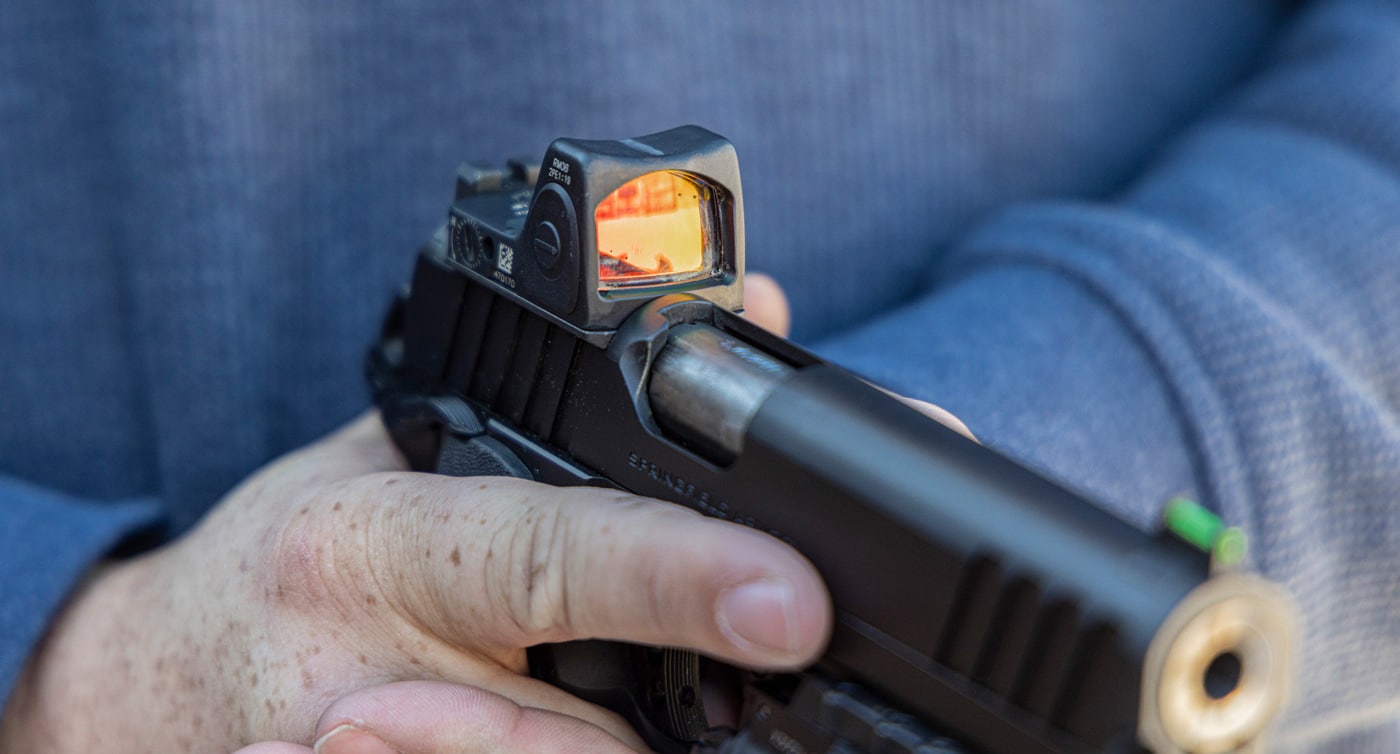 Well, I do enjoy it quite a bit. The pros outweigh any cons any way you cut it. The RMR Type 2 has a great track record, great battery life, automatic battery-saving features, and a reticle so bright you could shoot white steel targets on a snow-covered sunny January day and still see the optic plain as day.
The RMR is legendary, and it always will be. Its distinct shape makes it instantly recognizable and as tough as a tank. This optic, for its size, may have a notable price point (as tested, an MSRP of $731), but it's earned it and then some. If you are in the line of duty or you are just serious about your EDC gun, the RMR Type 2 will outclass most other reflex sites. The RMR is an investment and should be viewed as such. In many cases, I think it might just outlast the gun it rides on!
Editor's Note: Please be sure to check out The Armory Life Forum, where you can comment about our daily articles, as well as just talk guns and gear. Click the "Go To Forum Thread" link below to jump in and discuss this article and much more!
Join the Discussion
Featured in this video
Continue Reading
Did you enjoy this video?
39