While there is a lot of debate back and forth between iron sights versus red dots on handguns, we here at GunSpot have some strong feelings on the subject. Let's get it out of the way right here at the start — iron sights are not superior to a red dot, and we here at GunSpot are about to show you one of the main reasons why.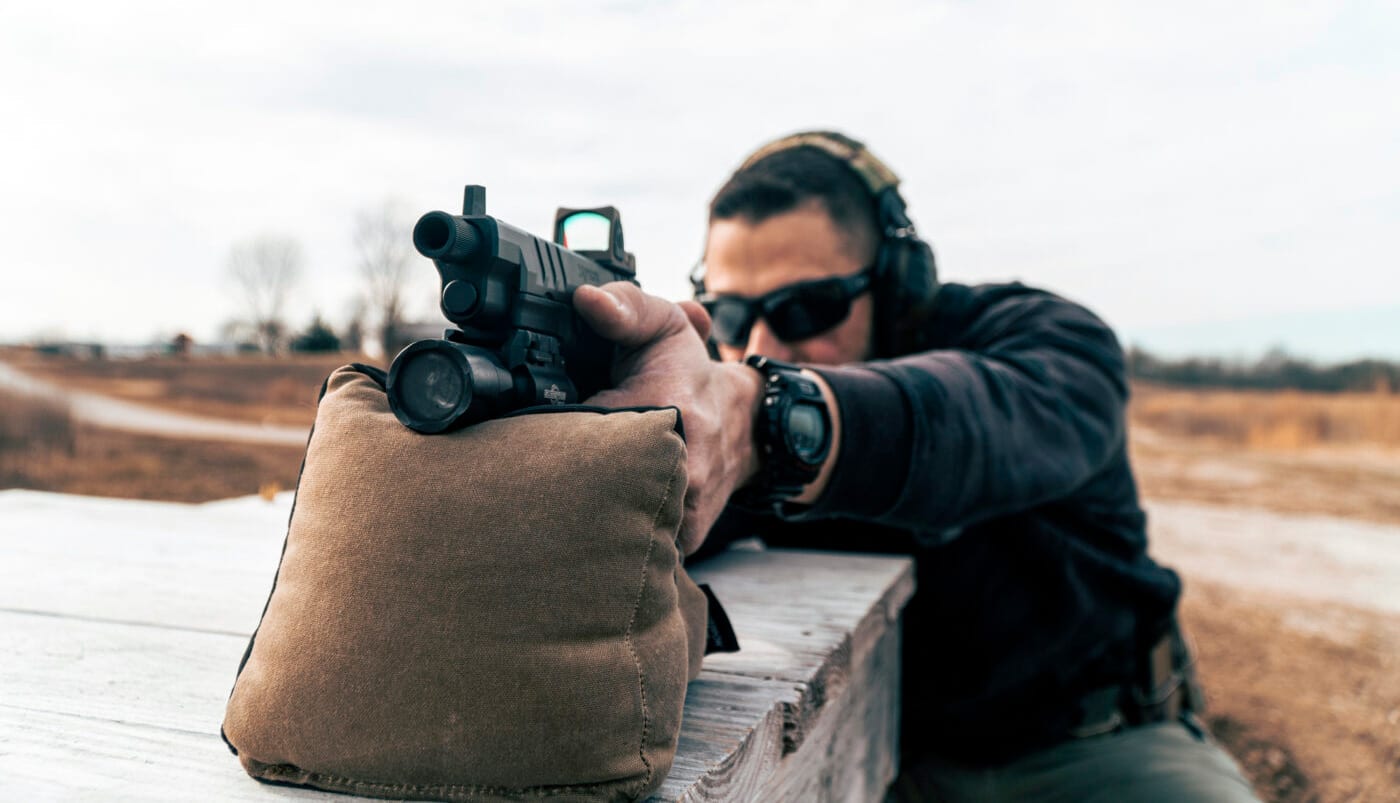 Parallax. Are you familiar with what this is? Red dot sights have parallax, which happens as your view, the dot and the target are all navigating in the same space. Because of parallax, your red dot may not be in the center of the optic's lens, but it may be on target. But how much does this actually matter? For certain optics of lesser value, it might matter a lot. But with a quality optic, you have some flexibility.
Our Goal
In our testing, we are using the Trijicon RMR on top of a Springfield Armory XD-M Elite Tactical OSP 9mm. This is a durable and capable optic and a very accurate gun. To test how much parallax actually matters, we decided to do a series of shots with the red dot on the target, but with the dot at the very top of the lens, the very bottom of the lens, on the far right of the lens and on the far left of the lens.
We held it to where it was just visible at each setting and we shot the gun off a bag, seated on a benchrest, to remove as much human error as possible. With this test, we would be able to determine how flexible a red dot is in aiming compared to iron sights.
The Test
Over the course of many rounds, we ran our XD-M Elite Tactical OSP with the Trijicon RMR to see how they would perform. We shot three-shot groups at 15 yards with all five positions of the dot (centered, and at all the corners), and we found all our groups landing on top of each other. We have no doubt, if you tried to do these same extreme sight alignments with iron sights, the groups would look much, much different.
If you are shooting at a longer distance, the farther and farther back you move the more parallax can come into play. At 15 yards and under, the bullets might be a half inch apart on target. But at 50 yards, it might be inches apart. The farther your target is away with a red dot, you want to be sure your dot is kept as much in the center of the glass as possible.
Why It Matters
Maybe you are still wondering why any of this matters? Let's say you're in a panic situation, with a threat such as a rabid animal or a person rapidly approaching you. It looks like you're about to meet a grisly end, unless you can pull your gun and get on target fast.
A red dot excels at being picked up in our field of vision due to the bright red dot. But now, we know as long as we see the dot on the target within that 15-yard range (or possibly farther in some cases), we will have a direct hit. It doesn't matter how well your sights are aligned like with iron sights.
Conclusion
In a rushed situation, it's easier to just pick up that red dot and squeeze the trigger. When we are under stress and in imminent danger, this kind of rapid target acquisition simply increases our chance for survival. If you ask us, red dots are the superior sighting system for handguns, and we believe they are here to stay for the long haul. Do you agree?
Editor's Note: Please be sure to check out The Armory Life Forum, where you can comment about our daily articles, as well as just talk guns and gear. Click the "Go To Forum Thread" link below to jump in!
Join the Discussion
Featured in this video
Continue Reading
Did you enjoy this video?
88