TruGlo is one of those great companies that makes a variety of different products for sportsmen. Arguably their different pistols sights are some of the best products they offer. They went from being a company that made their name with fiber optics to a company that makes some fantastic pistol sights. See my video about them above (article continues below).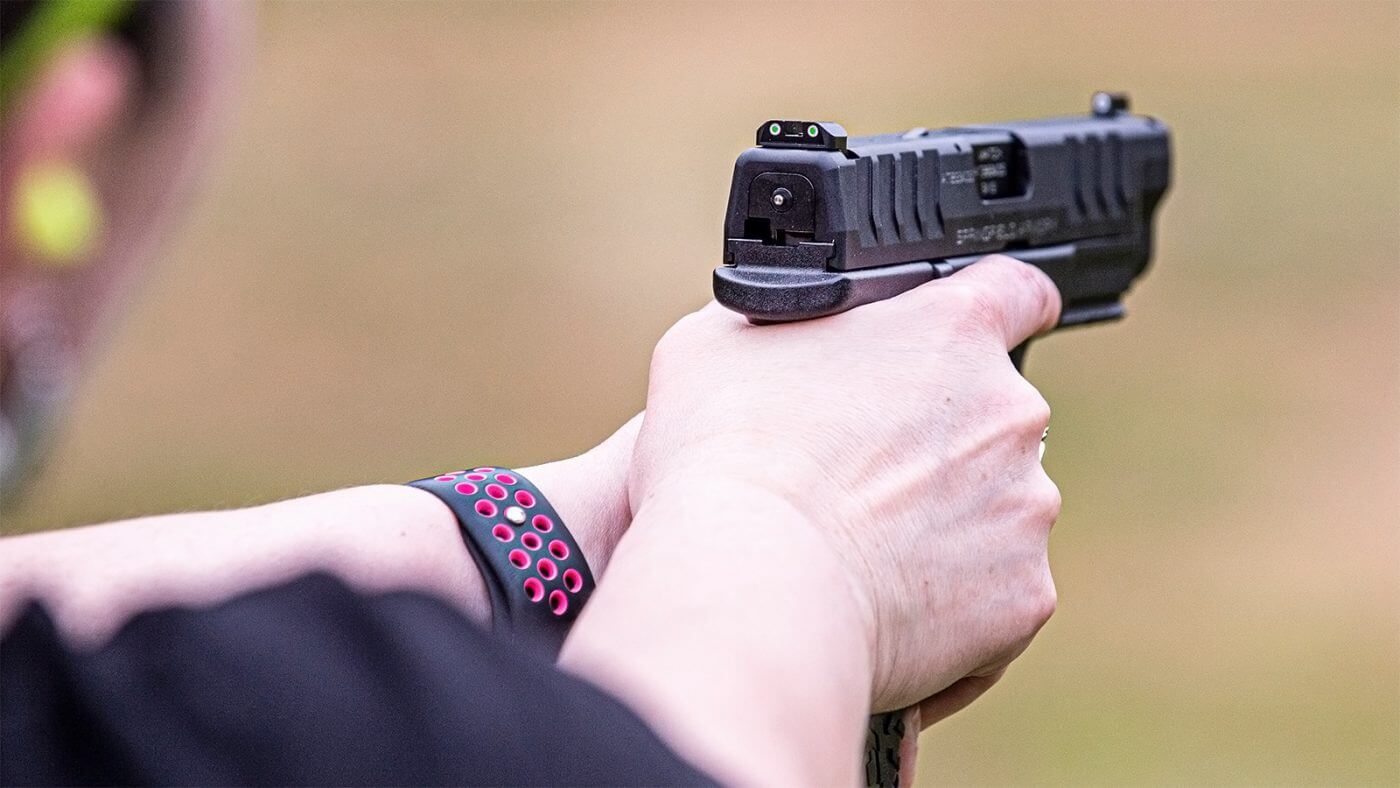 For example, take their TRITIUM series of night sights. They are the most affordable night sights that TruGlo makes. But, one of my favorite things about them is that even though they have the lowest entry price point, that does not mean that you lose out and have to compromise on quality. The sights are machined from steel, making them virtually indestructible. Then TruGlo went above and beyond by Meloniting the sights with their "Fortress Finish." This makes the sights not only tough, but rust-resistant as well. The tritium vials are protected with super tough sapphire glass face and have no exposed elements to break.
TruGlo makes a couple different models of tritium sights, and while it can seem confusing as to what will work with your pistol, it really isn't. TruGlo takes the guesswork out of choosing the proper sight to fit your pistol. Get this — TruGlo sights labeled as made for Springfield XDs should be a "drop-in" fit for virtually all XD pistols, including the just-released Hellcat! Please note that with the XD-M 5.25, only the front sight is compatible with TruGlo products.
When It Counts
TruGlo night sights come with a 12-year limited warranty. One thing you want to remember is that the install is one of the most important parts of owning night sights. To make sure that you get the full 12-year life of the TruGlo sights, TruGlo recommends that, "Handgun sights must be installed by a trained gunsmith using a 'sight press.' All other methods will void this warranty."
As someone who professionally installs sights, I can tell you that you never want to beat any set of sights onto your pistol. Using this method is sloppy and can damage your brand new sights and scuff up your pistol … not cool. Although it is not beyond a capable DIY'er with the proper tools, if you have any doubts at all then contact a professional. TruGlo will even recommend someone to you. If you do install the sights yourself, please note that the dovetails on the XD are not tapered and can be pushed in from either direction. You will want to center the sights in the slide and make sure you test fire to verify you are shooting straight.

Where It Counts
If you are new to TruGlo night sights, TruGlo uses what is called a combat sight picture. The best way to use the sights is to line up the three dots level with each other. Then move the front center dot and cover the bullseye. Your front sight dot should be the impact point. Slowly pull the trigger and have some fun. This is a great aiming system that is fast and intuitive. See how easy it is for your eyes to pick up the dots to aim?
All of the TRITIUM sights are traditional night sights that glow during the day or night. None of them require batteries and they do not need to be charged with a light. The green dots have a service life of 12 years. This means that your sights will glow 24 hours a day for the next decade and beyond. But remember that as you get closer to the 12-year birthday, they will be half as bright as when they were new.
The TRITIUM TruGlo sights have the smallest footprint in the TruGlo night sight family. They fit nicely on the smallest compact pistol, like the Hellcat, all the way to the largest, like the XD-M 10mm and more. The front sight has a nice short nose so you will get practically the same sight radius as factory sights. And don't worry, the sights use a snag-free design so they should all work nicely with almost any holster.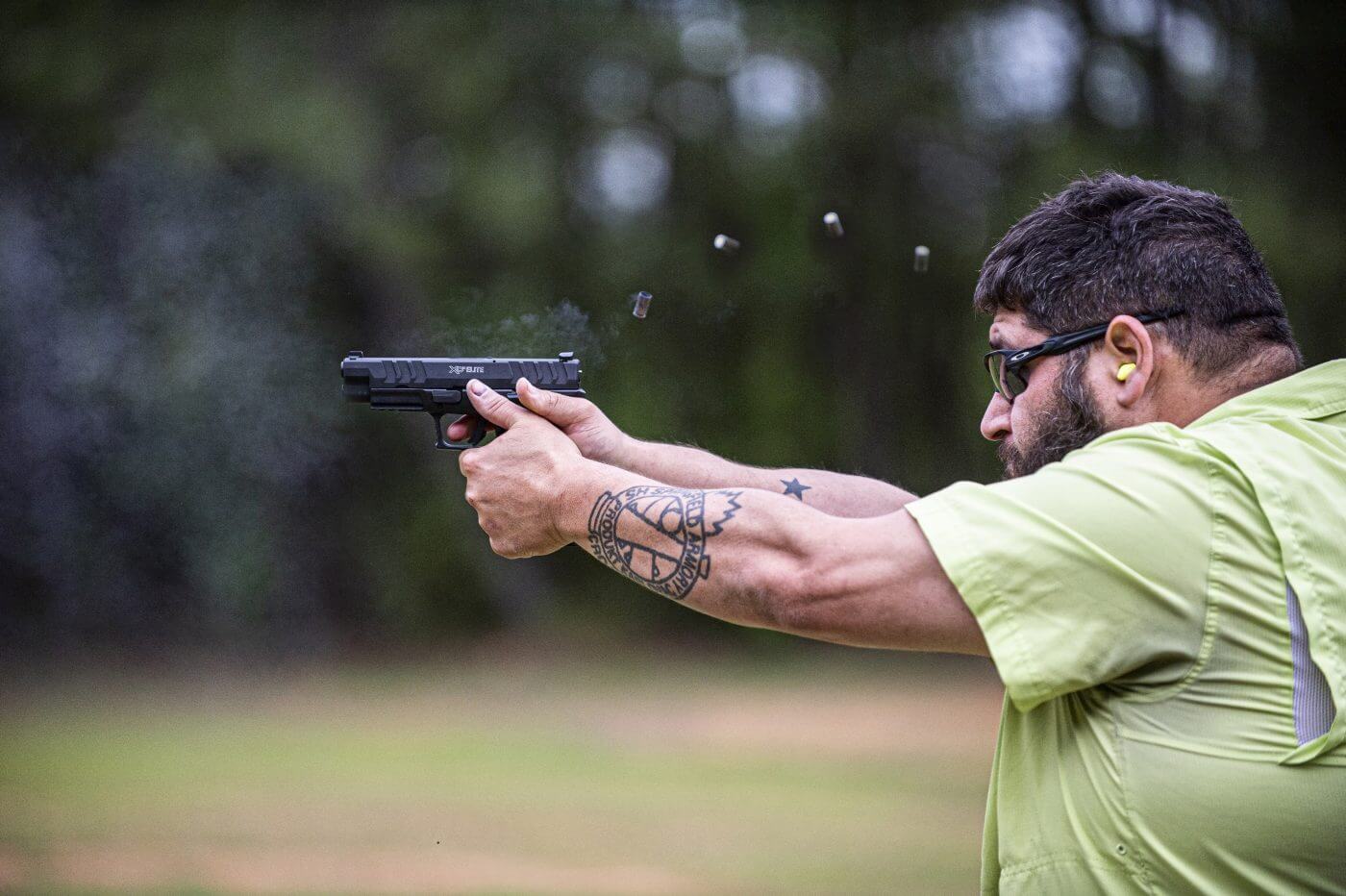 Myriad Choices
TruGlo makes three versions of their tritium only sights, so let's take a look at them and what makes each version unique:
TRITIUM Model: TG231X MSRP: $81.99
TRITIUM Pro (white) Model: TG231X1W MSRP: $95.99
TRITIUM Pro (orange) Model: TG231X1C MSRP: $95.99
All three versions use the same night sight vials, so they are the same in that respect. The TRITIUM model has really nice fine white lines that encircle all three aiming dots front and back. It features a nice slick look that does not get in the way. The two TRITIUM Pro versions add a front sight "Focus Lock" ring. Basically, the front sight glowing dot is encircled in a larger high-visibility ring.
You have your choice of either a white or orange front sight ring with these. The orange color is similar to the blaze orange used on safety vests. Both of these contrasting rings are great and aid in faster sight acquisition, potentially increasing accuracy and shooting speed.
In the TRITIUM Pro versions, TruGlo takes advantage of the big front sight dots and cuts a U-shaped notch in the rear sight. You still line up the three dots, but the front sight sits nicely in the U-shaped sight picture. To make the front sight even more visible the rear green dots are housed in black rings. These black rings nicely contrast with the front and make the rear dots nice and crisp.
One cool thing that I like is that the rear sight has an angled front face that makes a hook for emergency one-handed slide operation. Great for those users that work in hostile environments and depend on getting the pistol reloaded, even if injured. TruGlo's attention to detail extends to the shooter's side of the rear sight as well. They cut serrations into the rear face around the dots to further cut down on glare.
Conclusion
When it comes to my carry pistols, I always install night sights on them. It is easy to see why night sights are the number one upgrade most people make to their pistols. Night sights give you the ability to properly aim your pistol in different lighting conditions. TruGlo's quality and carefully thought out features give you an edge whenever you need to see your sights — day or night. That performance advantage is why I personally love TruGlo products.
TruGlo makes their handgun night sights for a multitude of different brands and models of handguns. To see if TruGlo makes a night sight compatible with your pistol, visit them over at www.TruGlo.com. Each sight they make has a page with a "select model" drop-down menu to see the fit options.
Editor's Note: Be sure to check out The Armory Life Forum, where you can comment about our daily articles, as well as just talk guns and gear. Click the "Go To Forum Thread" link below to jump in!
Join the Discussion
Featured in this video
Continue Reading
Did you enjoy this video?
40