Vaultek Smart Station DS2i Review: Bedside Clock Gun Safe?
May 22nd, 2023
5 minute read
Looking for a way to both conceal and secure your defensive pistol yet keep it close at hand? Scott Conditt reviews the Vaultek Smart Station DS2i to see if this bedside clock safe is the ideal home defense companion.
Something goes bump in the night. You wake up, groggy and in the dark. How close by do you store your personal defense weapon? Is it in a safe storage device, and can you access it rapidly?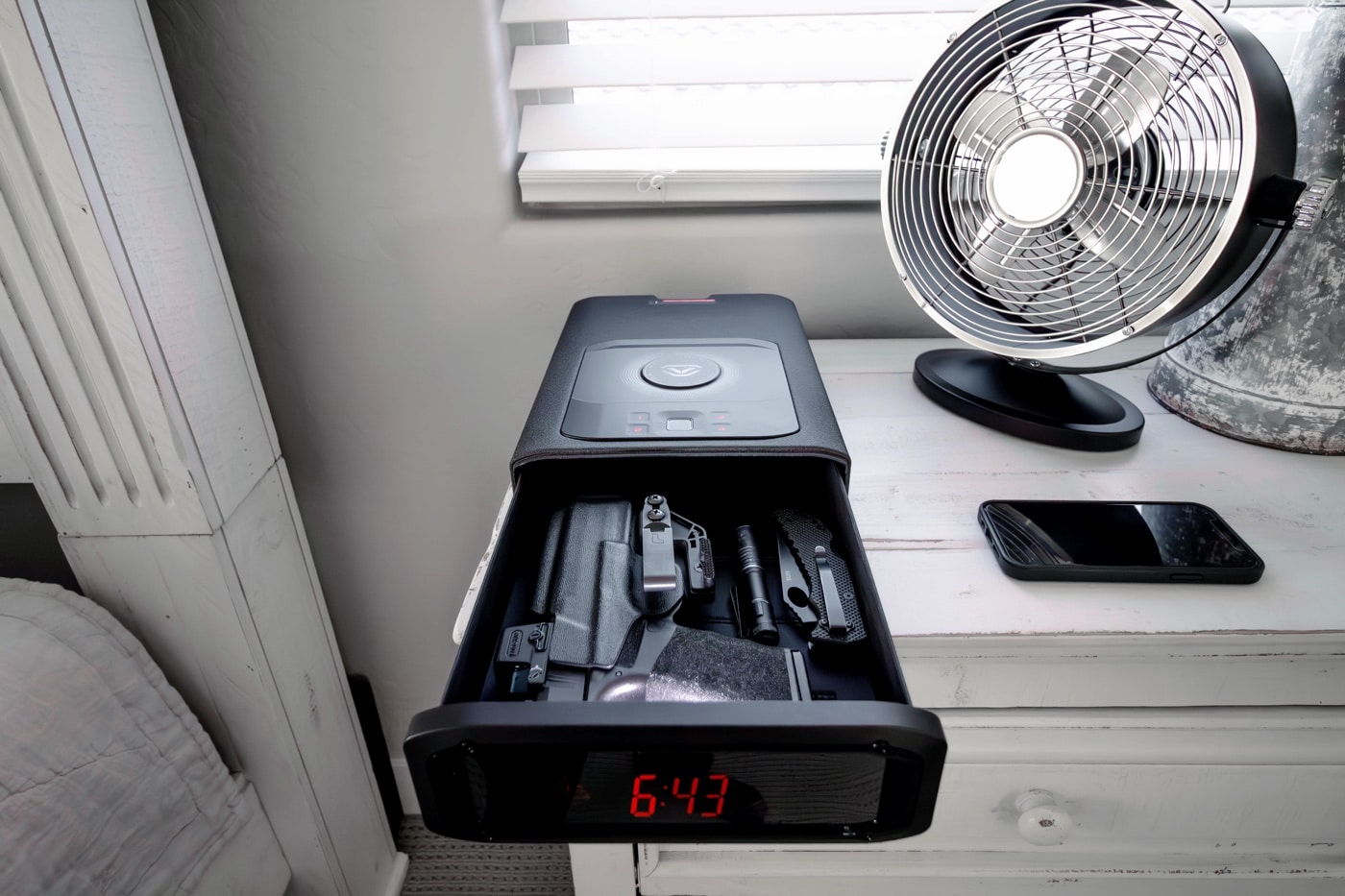 These are classic questions that anyone who takes home security and personal safety seriously has considered. This is why I was really excited to get my hands on the Vaultek Smart Station DS2i.
This sleek and modern device serves multiple functions, acting as a functional bedside clock and cell phone charging dock, while also providing a secure storage solution for firearms and other valuables. In this review, I will share my experience with the product and discuss its various uses.
What is It?
First and foremost, I found the Vaultek Smart Station DS2i to be an excellent choice for those with a gun storage need who also require a reliable bedside clock. I particularly like the large, easy-to-read and customizable LED display that provides time/temperature/humidity. It also features USB/USB-C accessory charging ports and a dimming function, making it easy to use in any lighting condition.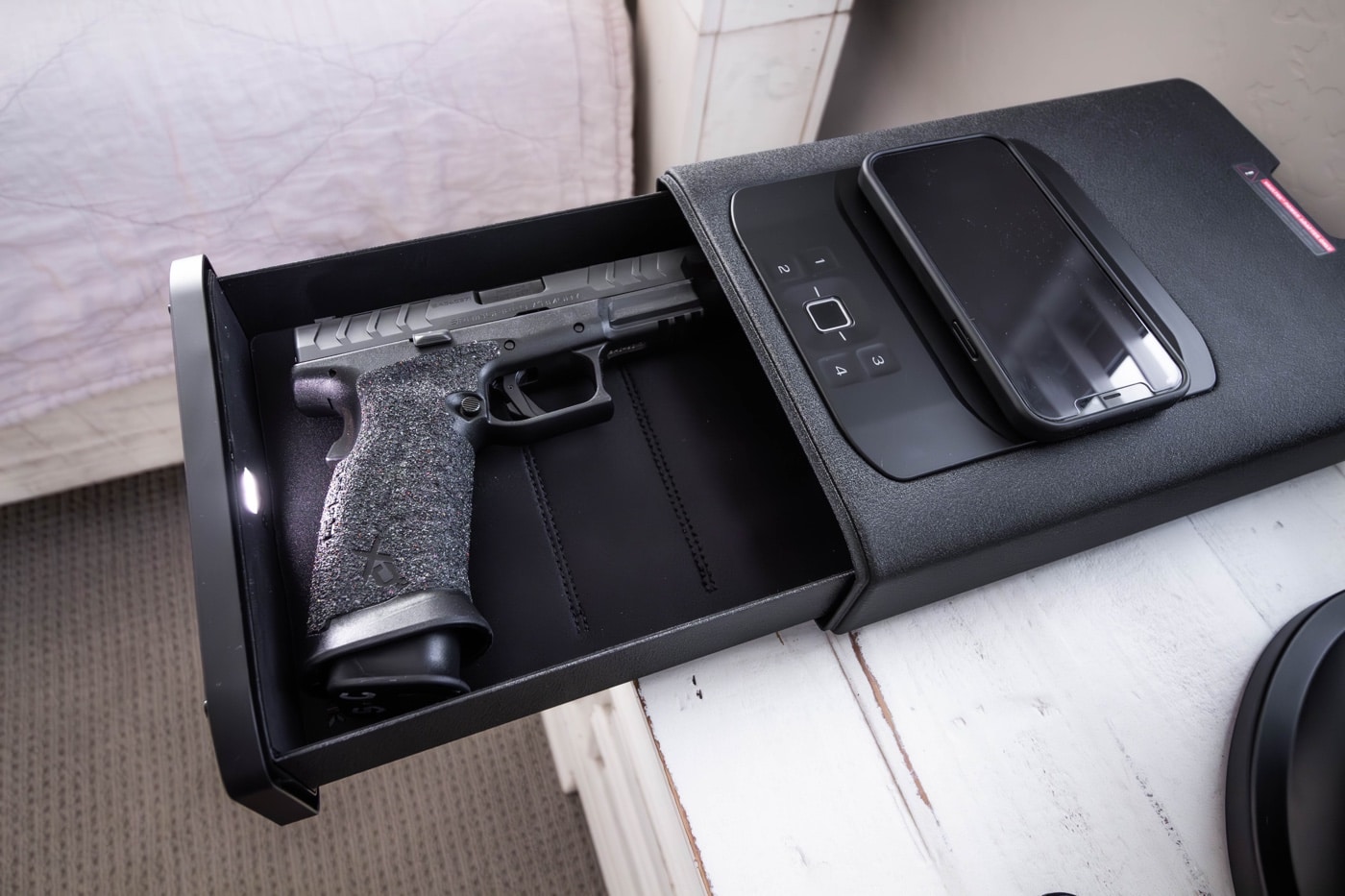 Personally, I found the clock to be very user-friendly and appreciate the ability to charge my phone overnight using the built-in charging dock. I also thought having access to the other charging ports for peripheral devices to be a really nice touch.
However, what really sets the Vaultek Smart Station DS2i apart from other bedside clocks is its built-in, concealed safe. This locking safe provides secure storage for firearms, valuables, or anything else you might want to keep out of sight and out of reach of unauthorized individuals.
Solid Construction
The safe features steel construction designed to resist forced entry, tampering, and prying with the anti-impact latch design + anti-pry construction. The safe can also detect tampering and activate a security sleep mode if multiple wrong codes/fingerprints are entered.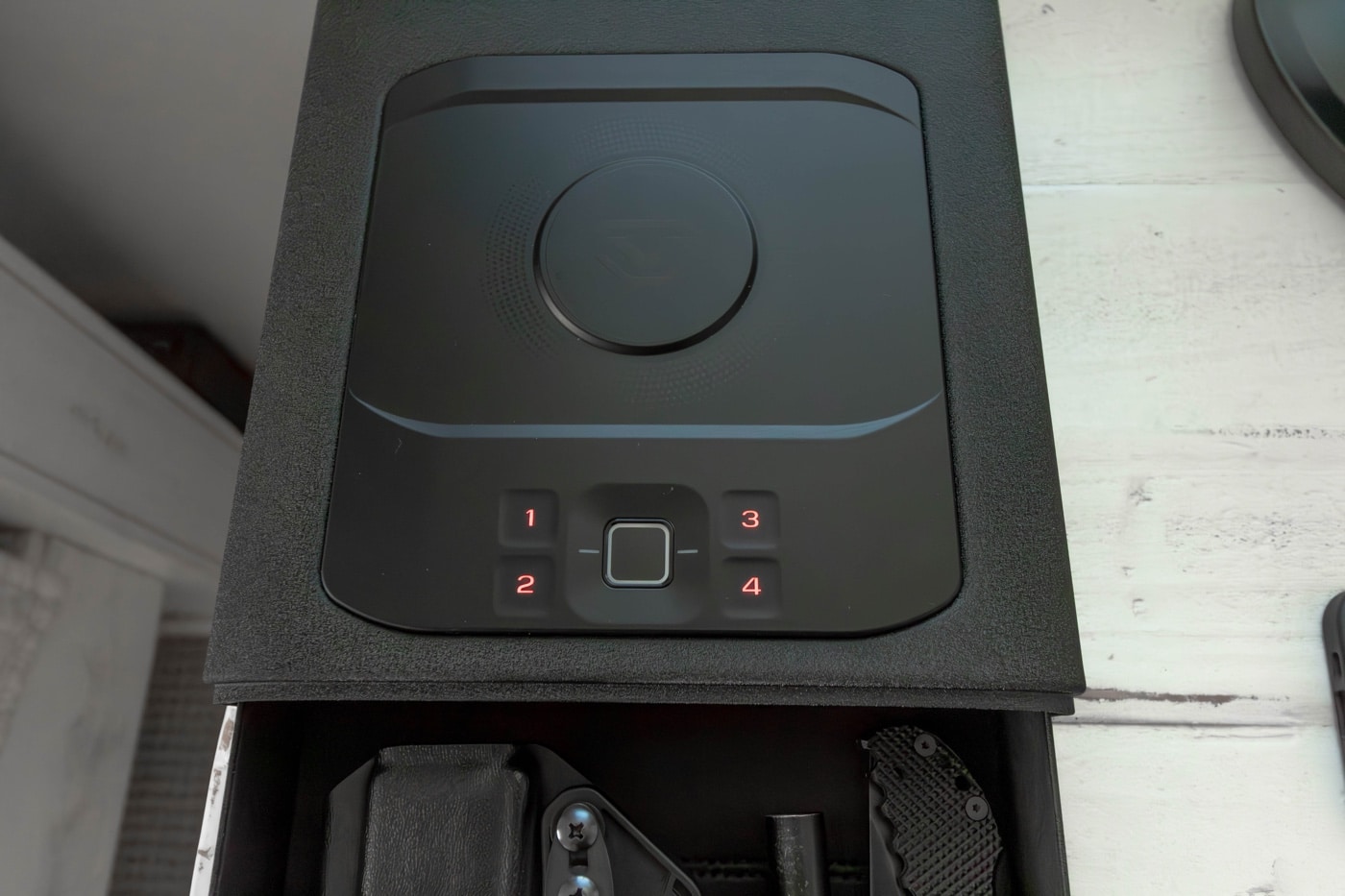 You can access the safe utilizing the vibrant LED-backlit HD fingerprint scanner, Smart Sense digital keypad, the Vaultek App, or a wireless and concealable remote access Nano Key 2.0 (sold separately).
As someone who really appreciates multifunctional gear, particularly when it is stylishly and tastefully designed, I found the safe/clock and docking station to be particularly useful for my day-to-day routine and lifestyle. Having rapid access to my EDC, the Hellcat Pro, while keeping it safely contained yet immediately within reach, gives me peace of mind in the event that something nefarious should go bump in the night.
Vaultek states that this safe is designed to hold up to two handguns, so I decided to check that myself. I discovered they are correct. But, this is, of course, dependent on the size of the guns. For example, I easily stored my Hellcat and Hellcat Pro pistols in the drawer together with room left over for a spare mag. However, I could not easily add a second pistol when I stored my 5" Prodigy with a red dot on it within the safe.
Personally, I intend to use the safe as a means to keep a single pistol with a light and a red dot sight on it at my bedside during the night for rapid access in the case of an emergency, so it works out perfectly for my needs. What I like most about this safe is that it provides me with a single point of safekeeping, phone charging, and there's extra room to store additional valuables like my wallet and keys as well, should I decide to. It's a win-win in my book. The safe is also equipped with a rechargeable lithium-ion battery that provides short-term power during an outage.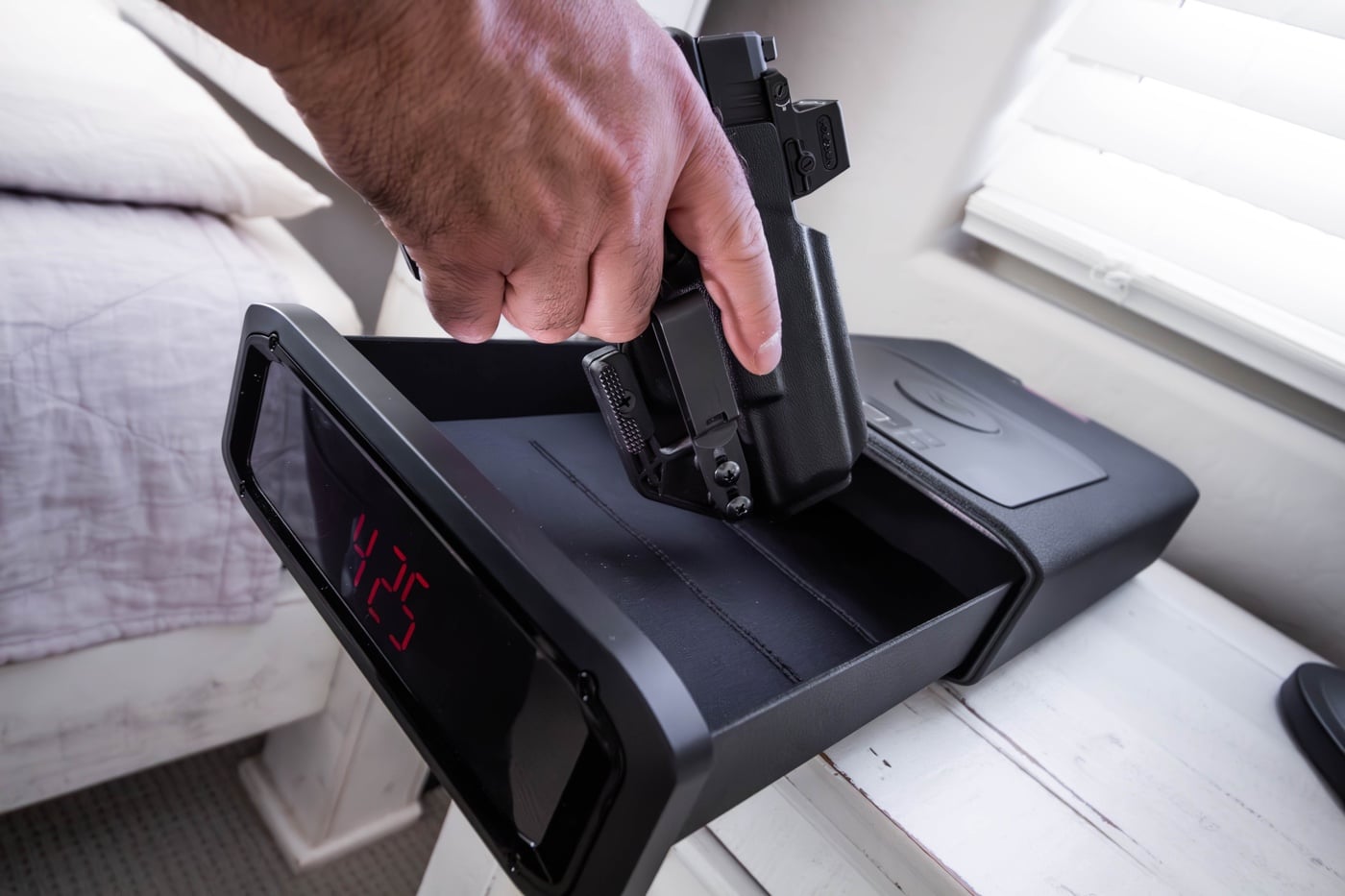 As you might have guessed, the Vaultek Smart Station DS2i is really geared toward the home defense market. In the event of a home invasion or other emergency situation, having quick access to a secured firearm can be critical. As such, the safe is designed to open quickly and quietly and when I accessed it, I was surprised how it glided almost silently open in about one second.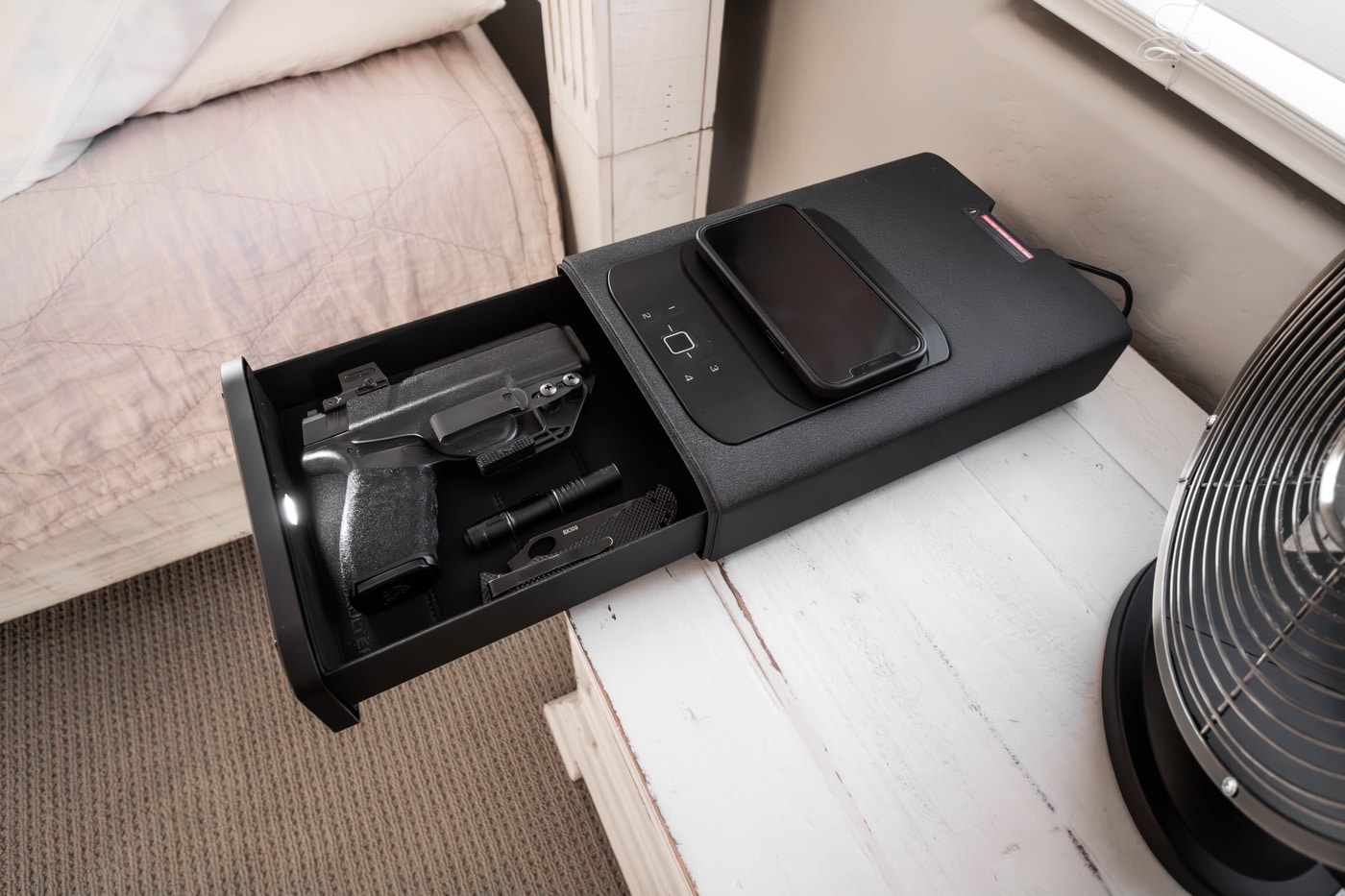 The DS2i also affords users multiple ways to access it. The safe can be unlocked using a key, a backlit touch numeric keypad, or via the Vaultek app on your smartphone. This means that in the event of an emergency, I can quickly and stealthily access my firearm without struggling with a combination lock or other more complex access solution.
Vaultek Clock Safe Specifications
| | |
| --- | --- |
| Backlit-Keypad | 4 button with proximity sensor |
| Display Type | Touch LED display |
| Touch Function | Touch to toggle clock or temperature/humidty (on/off), screen brightness, and safe settings |
| Display Function | Tamper indication, open door status, and locked status |
| Bluetooth | Bluetooth 5.0 with BLE PHY |
| Wi-Fi | Not available |
| Power | AC power adapter (included) |
| Max Wireless Charger Output | 15w (non-magsafe) |
| Built-In Backup Battery | Yes (short-term backup power) |
| Biometric Imaging Speed | 10 fps |
| Biometric Sensor Area | 9.0mm x 9.0mm |
| Biometric Sensor Pixels | 176 x 176 pixels @ 508 dpi |
| Biometric Storage Capacity | 20 unique fingerprints |
| Construction | 18-gauge steel |
| Exterior Product Dimensions | 12.125″ x 8.25″ x 3″ |
| Interior Product Dimensions | 9″ x 7.5″ x 1.5″ |
| Pin Code Length | 4-8 digits |
| Weight | 9.6 lbs |
Final Thoughts
Overall, I have been very impressed with the Vaultek Smart Station DS2i. It is a well-designed and functional device that serves multiple purposes and integrates seamlessly with my daily (and nightly) life. Whether you need a reliable bedside clock, a safe storage solution for firearms and valuables, a wireless and/or wired charging dock for your phone and small personal electronics, or quick access to your possessions in an emergency, the Vaultek Smart Station DS2i has you covered.
I highly recommend this product to anyone looking for a versatile and reliable security solution for their home who also appreciates sleek, well-designed, multifunctional gadgets that will enhance their daily life.
Editor's Note: Please be sure to check out The Armory Life Forum, where you can comment about our daily articles, as well as just talk guns and gear. Click the "Go To Forum Thread" link below to jump in!
Join the Discussion
Featured in this article
Continue Reading
Did you enjoy this article?
69