The AR-15 is a gun many choose to for the defense of their home. Its chambering is capable yet is not prone to over-penetration issues, it's light to carry and has minimal recoil, which is great for new shooters. Users can also easily mount attachments. In fact, the AR is a great gun for hunting, self-defense and range-time fun, so it's easy to see why this one is near the top of the list for inclusion in your home defense gear.
Surroundings
If the AR is the gun you choose to use for home defense, which I recommend, there are some things to consider when building it up. When choosing how to set up your AR, take into consideration your surroundings.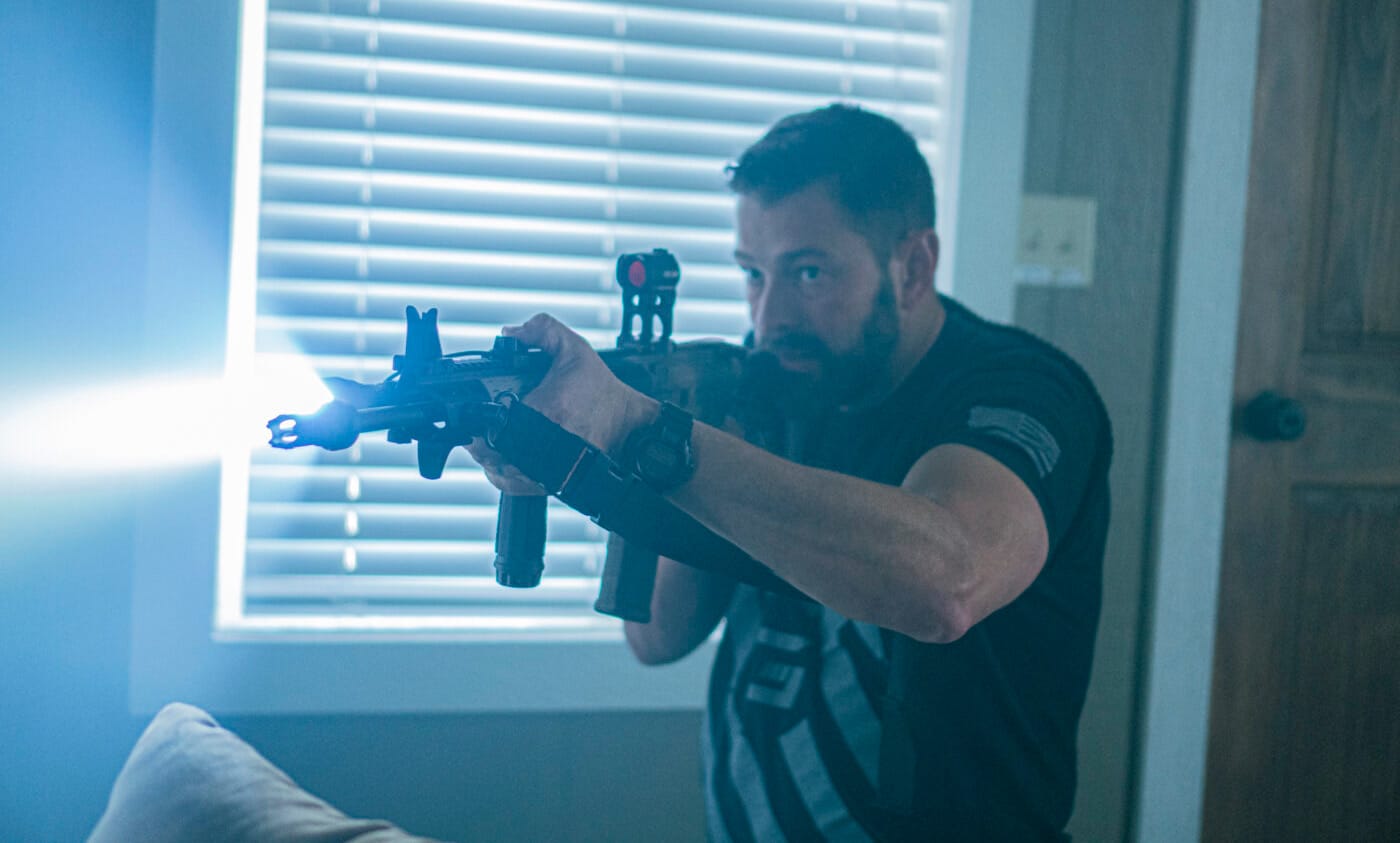 If you live in a rural area with an acre or two and maybe a barn on your land, your gear might need to be different from the rest of ours. If you have land like that, you might want to outfit your gun with a magnified optic to help you view possible tangible threats at distance. Check out this article on rural self-defense rifles.
However, if you are in a neighborhood with close-together houses or even an apartment building, you would want a different set-up. Regardless of the size of your property, having a max barrel length of 16" is a good idea. (Want an even shorter gun for home defense that still has a 16" barrel? Consider a bullpup rifle for self-defense.)
An AR of this size is still maneuverable indoors for going down tight hallways and corridors. An AR pistol with a barrel shorter than 16", or even a short-barreled rifle, is a possible choice for you as well. Just know that short-barreled rifles (SBRs) are covered under the National Firearms Act, so there are some extra steps to owning one of these.
Optics
After taking note of your surroundings, the next step is to select what optics you need. If you are dead set that iron sights are the way to go, then have at it. But there are ways to have the best of both worlds. So, don't just cross off optics over the reliability of iron sights.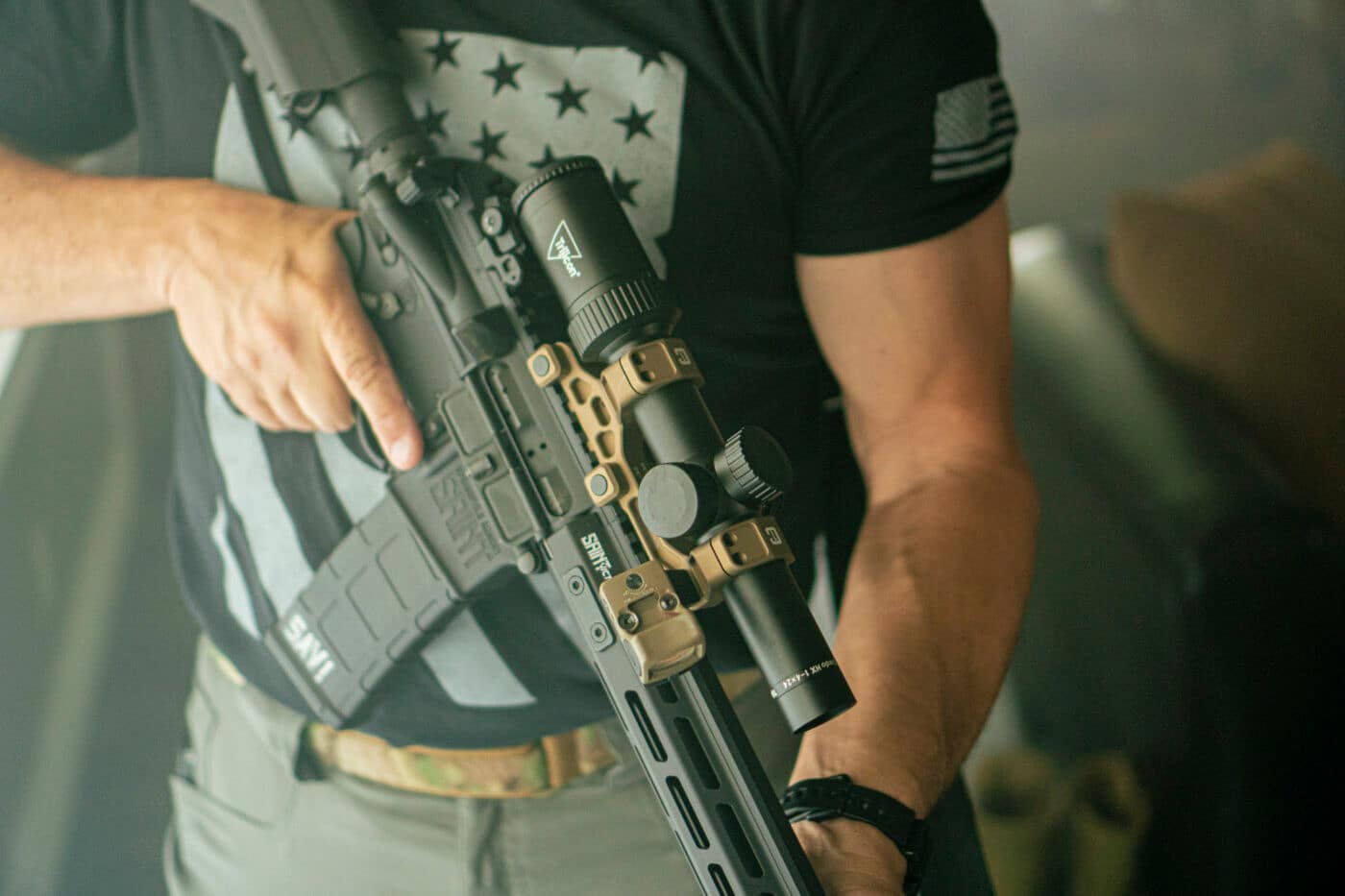 If you have a larger property, a low power variable optic (LPVO) scope may work for you, even though it would be silly for those of us in smaller neighborhoods. Being able to zoom to a higher power to view your surroundings if you live at a home in the country would be of immense value.
For those of us in small neighborhoods or even apartment complexes, we would benefit more from a red dot. Red dot sights don't have large magnification and have unlimited eye relief, which makes them fast for close-quarters combat. In our video above, we show a SAINT Victor that has a Trijicon LPVO that would be perfect for home defense on a small farm. We also show a SAINT Edge that would be perfect for home defense in a smaller home area equipped with a Holosun red dot sight.
The third option we show is a compromise between the two. It is a SAINT rifle with a Trijicon MRO red dot and a 3X flip-to-the-side magnifier. A red dot and magnifier combo is a compromise between both an LPVO and a red dot. Without the magnifier, there is unlimited eye relief. With the magnifier in place, you get 3X magnification. This is a great combination to make your rifle applicable at both near and far ranges. Again, it all comes down to your surroundings and asking yourself "what is my battleground?" Then, just outfit your rifle to match it.
Flashlights
For home defense, the next piece of gear every rifle should have is a flashlight. You never know if you're going to have to defend your home during the day or during the nighttime hours. If it's dark out, a good quality, durable, bright flashlight is going to be needed.
There are options to spend very little and, of course, there are very expensive flashlights. Here are a few things to consider. Get one that has a pressure switch that can turn the light on or off and preferably has a momentary press as well.
We like mounting it on the top rail of the handguard so that we can work the lift with either our right or left hand in case we would need to swap the shoulder from which we are shooting. You could certainly make it work with a side-mounted switch, but having the switch on top makes it very easy with either hand.
Another good fact to take into consideration is making sure the tailcap of your flashlight, where the pressure switch attaches to, threads onto the body of the light. Having a tailcap that threads on versus a magnetic one is a great option so that it doesn't accidentally come off.
Of course, flashlight specifications can go even deeper once you start talking about mounting options, lumens and candelas. Light brightness can be skewed a little on spec sheets, so it's good to try to do research on particular models. Additionally, you want to get professional training in low-light shooting tactics.
Conclusion
An AR with a great optic, bright light and pressure switch light will set you up perfectly for home defense. The last thing to consider is to not go throwing unnecessary weight on your home defense gun.
If you are using it for home defense, don't mount things like bipods, IR lasers and all that other stuff on there. If you don't have night vision goggles, you don't need an IR laser. If you aren't going to snipe your assaulter at 500 yards, you probably don't need a bipod, either.
Keep your rifle as light and agile as possible. Choose to invest the money in a good rifle, good optics and good light, and you will be set up well to defend your home.
Editor's Note: Be sure to check out The Armory Life Forum, where you can comment about our daily articles, as well as just talk guns and gear. Click the "Go To Forum Thread" link below to jump in!
Join the Discussion
Featured in this video
Continue Reading
Did you enjoy this video?
67