Home Defense Plan Essentials
August 22nd, 2020
5 minute read
Recently, many homeowners have purchased firearms for home defense. However, there is more to protecting your home than simply owning a gun; you need both a self-defense mindset and a plan.
A home defense plan is not a "one-size-fits-all" proposition and has many components. There are so many that there are entire books written on the subject. If you're not interested in reading a book on the subject and are simply looking to learn more about the essentials of home defense — such as, a self-defense mindset, planning, securing your home, selecting a safe room, a viable action plan and essential gear — continue reading.
Self-Defense Mindset
A self-defense mindset will keep you alive. Focus on moving quickly and finding cover in a secured position. This creates a tactical advantage and increases your chances of safely surviving a home invasion. The hunker-down mentality is the most important aspect of a good plan, next to practicing the plan with family members on a regular basis.
Developing a home defense plan involves the whole family. Give everybody a job to do. For example, you may want to put the eldest child in charge of securing and escorting the younger children to the safe room, if they are closer. Perhaps, the parents have designated children they are responsible for securely escorting to the safe room. Whatever the case, decide on it ahead of time and practice it. Routinely practice going to the safe room just as you would a fire drill or tornado drill. The best thing that you can do is be prepared. Everyone should know how to get to the safe room and when to get to the safe room.
Practice is a rehearsal, and every member of the family should be acting as if it is real. One member should practice the 911 call with the police, relaying critical information. Tell them where they can find a house key to make their entry if applicable. Tell them where in the house your safe room is located.
Securing Your Home
The foundation of a good home defense plan is a secure home. Keep in mind, if you can get out of your home, someone can get in. This means that creating an impenetrable fortress is not a realistic expectation, but with a little work you can make your home much more secure. In order to do this, homeowners must take the time to honestly assess the weak spots in their home and shore them up. For instance, all doors should have deadbolts and all windows should have working locks. Make sure there are no ladders, boxes, crates or wood piles next to the home that would offer the criminal a boost to a second floor window.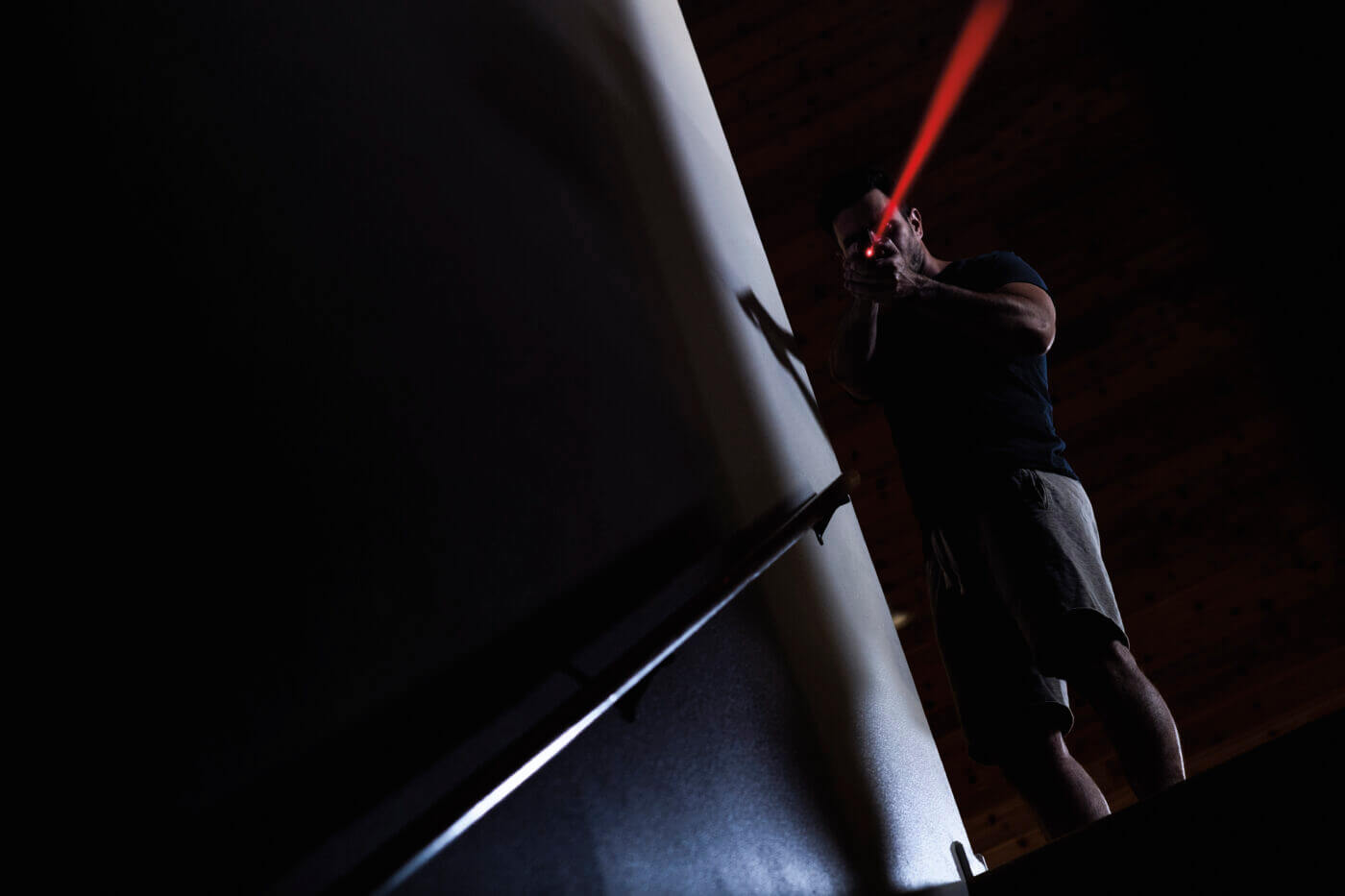 A secure home is equipped with outdoor lighting, whether it be a motion activated flood light or timed/light sensitive exterior lighting. You should have some way to signal a breach to the doors and windows. There are many ways to do this, such as owning a dog that will bark at an impending intrusion. No dog? Install a security system with door and window chimes, or as Mom use to do, place bells on the interior door handles of all exterior doors. Lastly, those pesky first floor windows are a convenient way for an intruder to enter your home. Consider planting thorny or prickly plants in front of these windows to discourage a criminal from using them to gain access.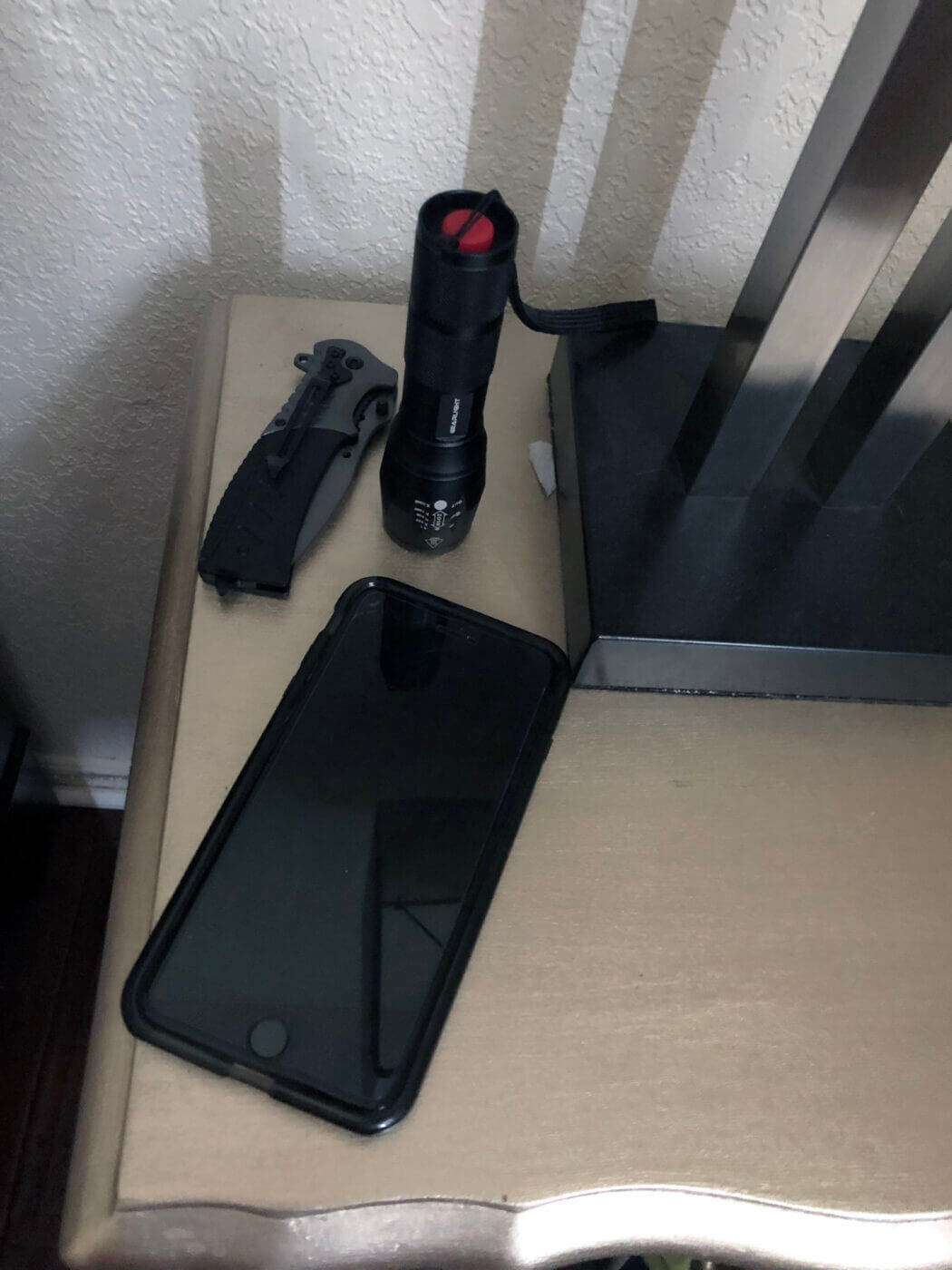 Safe Room and an Action Plan
Once you have identified all of the weak spots and shored them up, select a room with only one entrance from the interior of the home. The room should be easily accessed by the entire family and provide furniture for sufficient cover. A good safe room will offer a door that is easy to barricade and provide good sightlines with cover. It should also provide an escape route via a window should you need to evacuate the home due to a fire or police orders.
Stay in one location, forcing an intruder to come to you in a defensive position. You should focus on a small and easily defendable area with a safe and effective field of fire. This means finding cover by positioning yourself behind a piece of furniture or a bed with a clear aim at the doorway. This offers a clear view of anyone entering the room. Immediately call 911 and keep the dispatcher on the line to communicate your position in the home, to be notified that officers have arrived, and allow the police to monitor the situation as it unfolds.
After you barricade yourself in your safe room, speak loudly and clearly to intruder(s), telling them that you have contacted the police and you are armed. In most instances, this is enough to scare the perpetrator and they will leave. If this is not enough, then the intruder must enter a dark room that they know nothing about through a barricaded doorway.
Essential Gear
You have secured your weak spots, identified a safe room, developed an action plan and routinely practice. A home defense plan is not complete without staging the basic essentials for your survival and execution of your plan within arm's reach. Ideally, and at a minimum, a homeowner should have access to a tactical flashlight, cell phone and firearm. A good gun safe that offers quick access comes in handy for this. My wife and I keep my Hellcat OSP in a biometric safe in the bedroom, allowing us and only us to open the safe in a second's notice with our fingerprints.
The safe should be, at a minimum, inside the room, and preferably beside the bed. A good magazine capacity is preferable, similar to the 13-round capacity of the Hellcat. Why a pistol? It's easy for my wife to manage and hold steady for longer periods of time as opposed to other options such as a rifle or shotgun. However, if a long gun is best for your situation, that is an option.
Final Thought
Do not go looking for trouble. Keep your distance and take advantage of the tactical advantage of remaining in one secure area to keep yourself and your family safe.
Editor's Note: Please be sure to check out The Armory Life Forum, where you can comment about our daily articles, as well as just talk guns and gear. Click the "Go To Forum Thread" link below to jump in and discuss this article and much more!
Join the Discussion
Featured in this article
Continue Reading
Did you enjoy this article?
233